Tue May 12, 2020, 04:24 PM
catbyte (25,101 posts)
Guy Who 'Isn't A Cat Person' Gets Caught Dancing With His Girlfriend's Cat
"They're pretty much inseparable now."
BY CAITLIN JILL ANDERS
When Emily Young's parents moved to Japan, she and her boyfriend agreed to watch the family cat Momo until they could sort out the pet immigration procedures. Young's boyfriend Ryan had always considered himself to be "not a cat person" — but all that changed as soon as Momo moved in.
"It was pretty much love at first sight for Ryan," Young told The Dodo. "She spent the first night in bed with him and that was it. They're pretty much inseparable now."
Momo spends all day trying to cuddle and distract Ryan while he works, and then sleeps in bed with him at night. She loves Young too, of course, but she and Ryan have a special bond for some reason, and it could be that she's just so proud she won him over.
"She just adores him, she loves me too but it's definitely a special connection she has with him," Young said.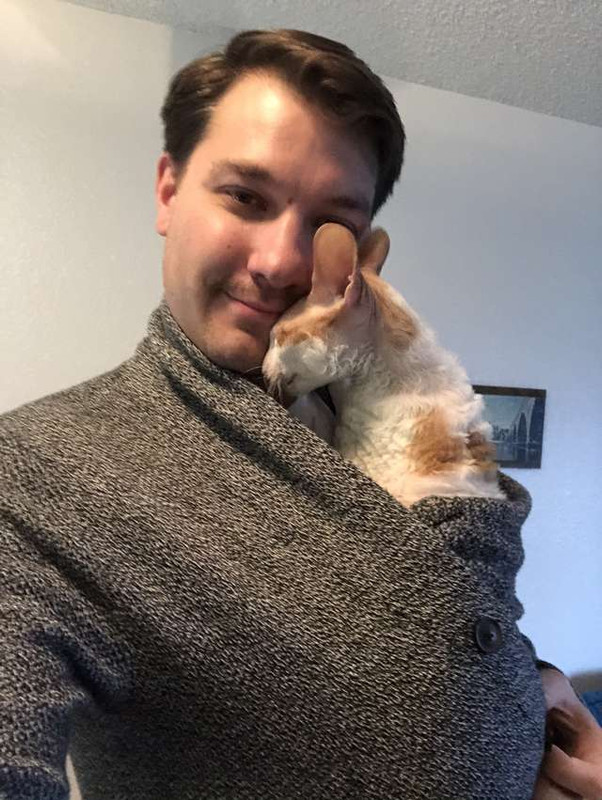 Even though he was never a cat person, Ryan now loves Momo right back and can't get enough of her …
… and even got caught dancing to a cute song with her, officially solidifying his title as a cat person.
https://www.thedodo.com/videos/close-to-home/guy-dances-with-girlfriends-cat
(after the annoying ad)
"Momo always loves to be part of the action, so when we're making dinner and dancing at night she always meows to be scooped up so she can be part of it," Young said.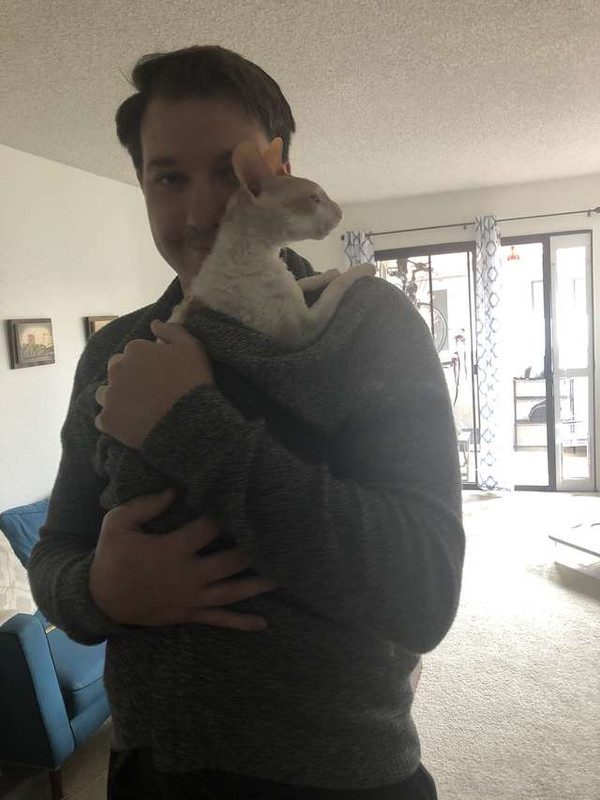 Momo has always been a super sweet and social cat, so it's no wonder that she was able to win Ryan over. Now the couple is also fostering another cat, Tanu, so there's no way around it — Ryan has officially turned into a cat person, and everyone is thrilled about it.
https://www.thedodo.com/close-to-home/guy-dances-with-his-girlfriends-cat
3 replies, 548 views
Replies to this discussion thread
| | | | |
| --- | --- | --- | --- |
| 3 replies | Author | Time | Post |
| Guy Who 'Isn't A Cat Person' Gets Caught Dancing With His Girlfriend's Cat (Original post) | catbyte | May 2020 | OP |
| | RKP5637 | May 2020 | #1 |
| | Doreen | May 2020 | #2 |
| | Rollo | May 2020 | #3 |
---
Response to catbyte (Original post)
Tue May 12, 2020, 04:27 PM
RKP5637 (60,588 posts)
1. Cute Kitty!!! K&R n/t
---
Response to catbyte (Original post)
Tue May 12, 2020, 04:44 PM
Doreen (10,782 posts)
2. How adorable! Looks like either a Cornish or Devon Rex.
I can not remember which one has the wavy hair.

I saved some rats years ago when I was married. My husband let me know that he was not happy about it. He never said anything about them after that. Well, one day I almost walked into the living room and stopped in my tracks. There is my husband petting and cooing at them and just being sweet to them and they were happy as could be hiding their heads into his beard. I walked into the living room and announced to him that he was now the "Rat Daddy."
This is the DU member formerly known as Doreen.
---
Response to catbyte (Original post)
Tue May 12, 2020, 05:01 PM
Rollo (2,411 posts)
3. Found pets can be the best...
I've had a number of cats over the years. It's always sad when they pass away. After the last one, I decided not to go get another. I needed a break; I figured I was done with cats for a while.

But fate said differently. There was a young female cat that I first spotted coming round my driveway about a year ago. She seemed curious but very shy. I put out some canned cat food I had left over from a cat that perished two years ago. She'd come and go but never close enough to pet. Turned out she hung out mostly at a house across the street, but they said she wasn't really theirs; they termed her an "outdoor cat". Then last fall I saw her coming round again, fairly hungry. I found out later that she'd already had a couple of litters, and she'd lost the kittens from her last one. Nobody knew what happened to them. Eventually she started coming inside my house and sleeping. She became fairly sweet and affectionate. Around December I took her to the animal rescue and had her fixed, along with basic shots and stuff. Not sure if she's my cat or if I'm her human. Perhaps a bit of both.