Fri May 2, 2014, 01:04 AM
Miles Archer (18,489 posts)
MMMMM...that IS a TASTY burger! (What's your favorite?)
I think my personal FAVORITE burger of all time comes from The Burger Pit in San Jose, CA. I can no longer get it because I now live 650 miles away, but man, was it a TASTY burger. It was one of those "ground steak" deals, TOP quality beef that really tasted like BEEF. They served it on a lightly toasted French roll with slices of tomato, lettuce, red onion and pickle...all fresh, no slimy tomatoes or slimy bagged lettuce. I'd order it with an ice cold Corona and a baked potato and my friends, "THAT was good eatin'..."
SO...
...fast food, pub, burger joint, high-end restaurant...what is YOUR favorite burger?
9 replies, 2547 views
Replies to this discussion thread
| | | | |
| --- | --- | --- | --- |
| 9 replies | Author | Time | Post |
| MMMMM...that IS a TASTY burger! (What's your favorite?) (Original post) | Miles Archer | May 2014 | OP |
| | Joe Shlabotnik | May 2014 | #1 |
| | Callmecrazy | May 2014 | #9 |
| | eShirl | May 2014 | #2 |
| | sharp_stick | May 2014 | #3 |
| | NV Whino | May 2014 | #4 |
| | Ryano42 | May 2014 | #5 |
| | frogmarch | May 2014 | #6 |
| | closeupready | May 2014 | #7 |
| | sir pball | May 2014 | #8 |
---
Response to Miles Archer (Original post)
Fri May 2, 2014, 01:45 AM
Joe Shlabotnik (5,604 posts)
1. As far as fast food burger joints go,
I love Dairy Queen burgers. But there aren't too many around here anymore that have the full brazier set up. Most just sell ice cream.
My other favorite place which is no longer around was a mom and pop type Italian restaurant that made their own patties. I got the recipe off of them before they closed. Their burgers were 1/2 lean ground beef, and 1/2 lean ground pork, with minisculey chopped Spanish onion, Italian breadcrumbs, and roasted garlic and pepper seasoning.
---
Response to Joe Shlabotnik (Reply #1)
Fri May 2, 2014, 11:49 PM
Callmecrazy (3,054 posts)
9. I have a Dairy Queen down the street...
I love the Flamethrower burgers.
---
Response to Miles Archer (Original post)
Fri May 2, 2014, 06:01 AM
eShirl (17,364 posts)
2. the patty melt from Friendly's
it's a cross between a toasted cheese sandwich (on rye!) and an onion burger
---
Response to Miles Archer (Original post)
Fri May 2, 2014, 09:44 AM
sharp_stick (14,399 posts)
3. My favorite around here
is the Plan B Burger Bar in Glastonbury
http://www.planbburger.com/flash.html
The burgers are fantastic and the Bourbon selection is incredible. I never really thought of burgers and Manhattans going together but it really works here.
I used to like The Charcoal Pit on Concorde Pike when I lived in Wilmington DE
http://charcoalpit.net/
My favorite fast food burger still comes from Five Guys.
---
Response to Miles Archer (Original post)
Fri May 2, 2014, 10:24 AM
NV Whino (20,886 posts)
4. I was just thinking about this yesterday
I went to a local burger joint that was reported to be good. Got one of those preformed thin paddies. Tough, gristly, no taste. It got me thinking about Bob's Big Boy burgers. Now, those were burgers! . Big, hand formed paddies, fresh lettuce, tomatoes, pickle, onion and their special sauce. And real fries. Not that reconstituted shit that pretends to be fries I specifically remember the one in Pasadena with the miniature golf course just down the bock. But even into adulthood the one in Silver Lake was pretty darned good, too.
---
Response to Miles Archer (Original post)
Fri May 2, 2014, 10:41 AM
Ryano42 (1,577 posts)
5. Oh so many...
Most over the top: Hodad's San Diego. After the first bite I had to just hang on or it would explode and fall apart! Darn tasyt though...
Green chile chesseburger: My hometown Santa Fe Bite (Formerly Bobcat Bite) The best example...losing their out of town location actually made them BETTER! And beer now too!
---
Response to Miles Archer (Original post)
Fri May 2, 2014, 11:30 AM
frogmarch (11,156 posts)
6. Coffee Burger
at Sioux Sundries in Harrison, NE. I don't eat meat, so I never did eat one, but I watched people eating them.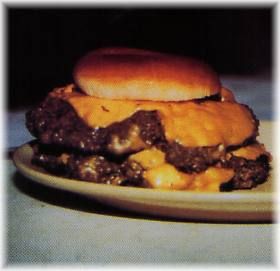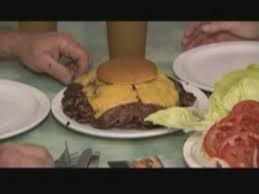 Video:
http://on.aol.com/video/visit-sioux-sundries-in-harrison--nebraska-259888211
Sioux Sundries is now closed. Each Coffee Burger weighed twenty-eight ounces, measured six inches across, and spilled out between regular-sized buns, topped off with onion, pickle, lettuce, cheese, mustard, and catsup... and a bag of cholesterol-free chips.
---
Response to Miles Archer (Original post)
Fri May 2, 2014, 11:32 AM
closeupready (29,503 posts)
7. There is a pub on 2nd Avenue in Midtown Manhattan where I used to
go to get the BEST, most delicious blue cheese burger. Haven't been there for years now, but I remember that burger fondly, lol.
As of today, I'm not so into burgers now as I was when I was younger. I'm fine with Wendy's burgers, to be honest. Used to like Shake Shack's burgers, but due to an unpleasant experience finding a metallic shard in one the last time I was there, I no longer go there.
---
Response to Miles Archer (Original post)
Fri May 2, 2014, 12:01 PM
sir pball (3,700 posts)
8. Unfair question, there's too many different kinds to choose from.
White Castle sliders, smashed patties (Shake Shack [only the OG Madison Square Park location is worth it, but the LINE], Schnippers, local joints), the basic fast-food style from 5 Guys or Frites n' Meats, pub/tavern styles from Bill's or 5 Napkin..

..but if I have to pick just one, of course it's gonna be the Black Label at Minetta Tavern. $28 and you get...a 70/30 dry-aged patty with grilled onions and some fries. No cheese, no bacon, no nothing. I question if a burger should ever cost thirty dollars, but it's a burger that's worth thirty dollars.