Sun Oct 26, 2014, 01:37 PM
hermetic (5,877 posts)
For your Halloween viewing pleasure: Ghosts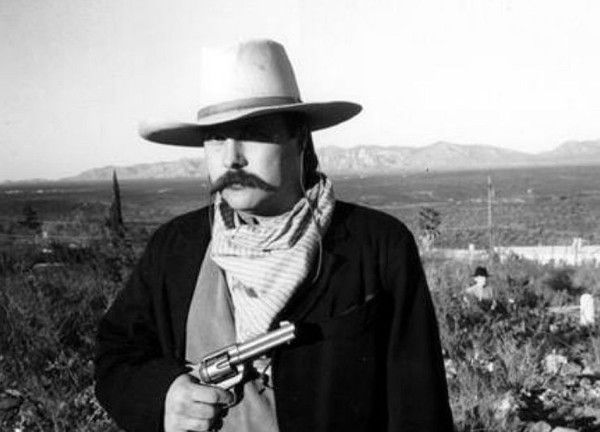 A friend of Terry Ike shot this photograph in Boothill Graveyard, in Tombstone, Arizona. Terry having been styled to look like an Old West man from the 1880s for the purpose of historical recreation of the Clanton Gang. Even though no one was around at the time the photo was taken, a mysterious figure that appeared to be rising from a grave appears in the background.

What's even creepier? Many think that the ghost is holding a knife.
More here:
http://www.littlethings.com/ghost-photos/?utm_content=bufferbd177&utm_medium=Facebook&utm_source=sungazing&utm_campaign=PFPost
I'd seen a few of these before, but not all of them.
7 replies, 1548 views
Replies to this discussion thread
| | | | |
| --- | --- | --- | --- |
| 7 replies | Author | Time | Post |
| For your Halloween viewing pleasure: Ghosts (Original post) | hermetic | Oct 2014 | OP |
| | ZombieHorde | Oct 2014 | #1 |
| | frogmarch | Oct 2014 | #2 |
| | ZombieHorde | Oct 2014 | #6 |
| | pinboy3niner | Oct 2014 | #3 |
| | NightWatcher | Oct 2014 | #4 |
| | orleans | Oct 2014 | #7 |
| | Kali | Oct 2014 | #5 |
---
Response to hermetic (Original post)
Sun Oct 26, 2014, 03:17 PM
ZombieHorde (29,047 posts)
1. I like this one.
Thanks for the Halloween pics!
---
Response to ZombieHorde (Reply #1)
Sun Oct 26, 2014, 07:24 PM
frogmarch (10,921 posts)
2. Apparently it's a fake
http://www.ghostresearch.org/ghostpics/fake/weird.html
Friendly Ghost

Not much is known about the circumstances behind this strange picture. However it was taken by a total stranger through a Nokia 7250 picture-phone at Eastwood City in Manila when a strange ghostly figure was seen apparently grabbing the arm of one of the women in the picture. Nothing was seen or felt at the time the picture was taken but it seems to be quite a friendly spirit.

This photograph most recently has been determined to be a fake. It is Smartphone Application called GhostCam. This image can be placed anywhere in the picture prior to snapping the photograph.
---
Response to frogmarch (Reply #2)
Mon Oct 27, 2014, 02:41 AM
ZombieHorde (29,047 posts)
6. I don't believe in ghosts, so I assume all of these are fakes.
It's my default position on this stuff. Some of the older pics may be fucked up cameras, but they're probably intentional fakes.

I still really like that picture.
---
Response to hermetic (Original post)
Sun Oct 26, 2014, 07:35 PM
pinboy3niner (53,339 posts)
3. The only ghost I believe in is this one...
---
Response to hermetic (Original post)
Sun Oct 26, 2014, 07:51 PM
NightWatcher (38,170 posts)
4. I do not believe in ghosts
That being said, I've seen two of them.

The first was that of my grandmother a few weeks after she had passed. She and my grandfather had moved back in with my dad when they became too old to take care of themselves. My grandmother passed peacefully, surrounded by family,in the bedroom down the hall from where I usually stayed when I visited. My grandfather stayed at the other end of the hall after she died. A few weeks later I was in town and stayed at my father's and when I had gotten up one night to go down the hall to the bathroom, I saw her coming out of the bathroom and she walked to the room where my grandfather was staying. I paused in the hallway but was not scared. She smiled when I saw her and she went into the room with my grandfather (without opening the door).

The next day I told my grandfather, "I don't want to sound..." he stopped me and said that he has seen her too a couple of times and that she is ok.

A couple of years later when my grandfather passed on (in the same room), we were at the graveside for his funeral. It was a cloudy, dreary day. After the preacher said a few words and turned the ceremony over to us, a wind came up and blew the clouds away. It was a clear blue sky and the wind stayed around for less than a minute before settling down and the clouds returned. "Well, Dad's gone home with Mom", my dad said. We all left knowing everything was groovy and were not too terribly sad. She had come to get him.
---
Response to NightWatcher (Reply #4)
Tue Oct 28, 2014, 11:56 PM
orleans (27,692 posts)
7. interesting story from a non-believer
how do you blend the belief with the incident?

do you think it was possible you were dreaming or still half asleep?

i know i was a staunch believer in the "when you're dead, you're dead" line of thought for a good part of my teens, twenties, & thirties. yet i had a similar type of run in with a family member when i was a kid--but it was in the daytime when i was playing. it scared the crap out of me! she looked as real as anyone and she spoke to me.

the "when you're dead you're dead" belief lead me to finally wonder how i could explain or justify what happened to me when i was a kid if, in fact, when you're dead you're dead is true. and i couldn't.

i tend to be a rather cynical "i'll believe it when i see it" type of person and eventually came to the realization that i did see it with my own eyes and had to admit that even though "when you're dead, you're dead" is so easy to be dismissive with, (such an easy go-to response)--it just isn't accurate.

so i'm just curious. you're reply of "I do not believe in ghosts. That being said, I've seen two of them" sounds like something i've probably said at one time. and i smiled when i read it.


---
Response to hermetic (Original post)
Sun Oct 26, 2014, 08:59 PM
Kali (50,547 posts)
5. probably a German tourist