Thu Feb 9, 2017, 09:26 PM
UTUSN (59,991 posts)
This is *so* exciting: Germinating hard shell seeds (royal poinciana) via scarification!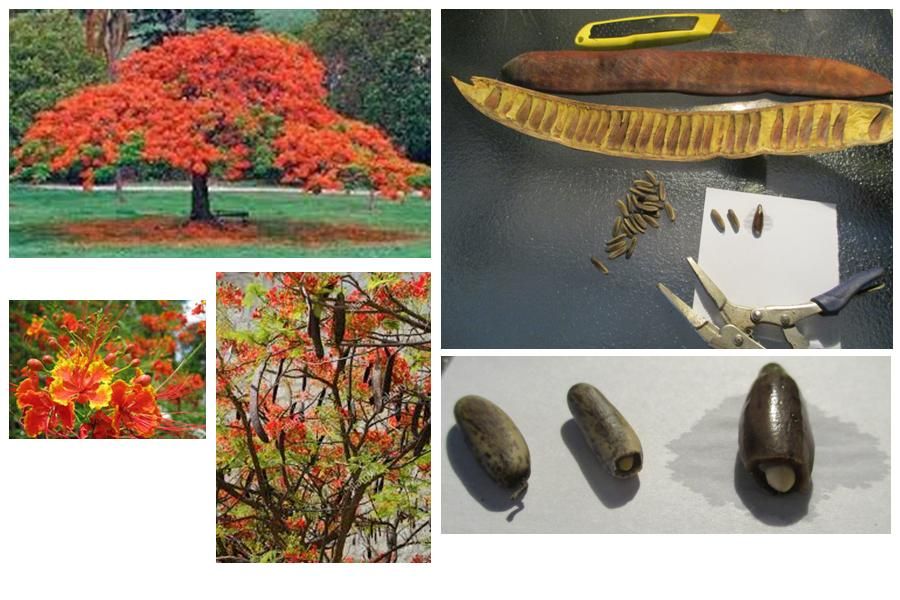 These are beauteous beasts. The one I have harks back to my childhood home and this one has frozen 2 or 3 times in the past 8 or so years, has been cut down to the ground but apparently the roots rule so it has come back every time and is currently at full height taller than the eaves. I planted it the Spring before a big water bearing storm, was waist high, and these things are water GUZZLERS, so the storm made it ZOOM the first year.
In the first five years it never bloomed. Then a couple of years ago it put one ONE puny bloom, and last year it popped out about ten, but this year it was COVERED, plus for the first time it put out SEED PODS, 30 or more! But I have never GROWN anything. Silly me, I thought seeds just were buried and watered.
Well, YouTube has several videos on getting these things to germinate. This is a HARD SHELL seed, like ebony seeds. You canít just soak them. Thereís something called SCARIFICATION, meaning clipping the business end of the seed, exposing what is the REAL seed inside (without clipping that white part), then soaking them for 24 hours or more, whereupon the inside REAL seed drinks up the water and swells up. Then you put it in potting soil or seed starter soil and lightly water them and wait for eleven days, whereupon the little plant supposedly pokes out. Who knows, will see in eleven days. Anyway, I have 30 pods and hundreds of seeds to try again if needed.
In the bottom right pic, the first seed is intact with its piggly wiggly thing; the middle one is after clipping that end without damaging the inner (real) seed; the 3rd is after soaking.
TOOLS are needed! Some of the seed pods might crack open on their own dropping the seeds on the ground. Mine and all the ones in YouTube were zipped up tight. They used a large knife to separate the woody package. What worked for me was a box cutter. The first info from YouTube said to use toenail clippers to snip the seed. This didnít work because the blades donít open wide enough to fit on the seed, which also is sort of slippery so doesnít allow for gripping it. Another thing they recommended were wire cutters. I had some pressure locking pliers that had a small wire cutter function, with a flat area with the cutting edge coming right where wanted.
Another thing was figuring out which end of the seed was the one to snip. There was only one video that addressed this, and the answer is: The one with the little hair. The other end (if the hair is missing) is shaped like the front end of a jet.
Caveat: I am now into the second day of the absolute worst allergy attack I've ever had. It started the morning BEFORE I was sawing into the woody pods so I can't blame the woody dust. Co-inky-dink?!1
7 replies, 2385 views
Replies to this discussion thread
| | | | |
| --- | --- | --- | --- |
| 7 replies | Author | Time | Post |
| This is *so* exciting: Germinating hard shell seeds (royal poinciana) via scarification! (Original post) | UTUSN | Feb 2017 | OP |
| | babylonsister | Feb 2017 | #1 |
| | UTUSN | Feb 2017 | #3 |
| | UTUSN | Feb 2017 | #2 |
| | irisblue | Feb 2017 | #4 |
| | UTUSN | Feb 2017 | #6 |
| | TexasBushwhacker | Feb 2017 | #5 |
| | UTUSN | Feb 2017 | #7 |
---
Response to UTUSN (Original post)
Thu Feb 9, 2017, 10:21 PM
babylonsister (167,750 posts)
1. What fun! That tree is stunning!
It's so much fun to grow stuff!
---
Response to babylonsister (Reply #1)
Fri Feb 10, 2017, 12:04 AM
UTUSN (59,991 posts)
3. I was trying to reply to you with post #2, bab
---
Response to UTUSN (Original post)
Thu Feb 9, 2017, 10:26 PM
UTUSN (59,991 posts)
2. I haven't been this nerve wracked since dealing with computer problems!1 n/t
---
Response to UTUSN (Original post)
Fri Feb 10, 2017, 12:08 AM
irisblue (26,121 posts)
4. so what zone are you in? that plant is gorgeous
---
Response to irisblue (Reply #4)
Fri Feb 10, 2017, 10:20 AM
UTUSN (59,991 posts)
6. This is the closest I've come to self-disclosure. Somewhere in here:
********QUOTE*******
http://davesgarden.com/guides/pf/go/2755/#b
[font size=5]Royal Poinciana, Flamboyant Tree, Flame Tree, Peacock Flower, Gulmohar
Delonix regia
Regional[/font]
This plant has been said to grow in the following regions:
, (4 reports)
Grenoble,
Mesa, Arizona
Amesti, California
Castro Valley, California
Fullerton, California
Hayward, California
Highgrove, California
Indio, California
Livermore, California
Newport Beach, California
San Diego, California
Big Pine Key, Florida
Boca Raton, Florida
Bonita Springs, Florida
Bradenton, Florida (2 reports)
Cape Coral, Florida (2 reports)
Fort Lauderdale, Florida (4 reports)
Fort Myers, Florida (2 reports)
Hollywood, Florida
Homestead, Florida
Jupiter, Florida
Key West, Florida
Lake Panasoffkee, Florida
Longwood, Florida
Loxahatchee, Florida
Marathon, Florida
Melbourne, Florida
Miami, Florida
Mulberry, Florida
Naples, Florida (2 reports)
Ocoee, Florida
Orange Park, Florida
Palm Bay, Florida
Parrish, Florida
Pompano Beach, Florida
Port Charlotte, Florida
Port Saint Lucie, Florida
Saint James City, Florida
Saint Petersburg, Florida
Sarasota, Florida (2 reports)
Tampa, Florida
Tarpon Springs, Florida
Vero Beach, Florida
West Palm Beach, Florida (2 reports)
Winter Park, Florida (2 reports)
Zephyrhills, Florida
Waynesville, Georgia
Honomu, Hawaii
Kihei, Hawaii
Las Vegas, Nevada
Trenton, New Jersey
Adjuntas, Puerto Rico
Aguadilla, Puerto Rico
Boqueron, Puerto Rico
Guaynabo, Puerto Rico
Ponce, Puerto Rico
Sabana Grande, Puerto Rico
San Juan, Puerto Rico (3 reports)
Vieques, Puerto Rico
Westmoreland, Tennessee
Brownsville, Texas (3 reports)
Conroe, Texas
Converse, Texas
Corpus Christi, Texas (2 reports)
East Bernard, Texas
Flower Mound, Texas
Galveston, Texas
Harlingen, Texas
Hitchcock, Texas
Houston, Texas (4 reports)
La Porte, Texas
Mcallen, Texas
Missouri City, Texas
Red Rock, Texas
San Antonio, Texas
San Saba, Texas
St John, Virgin Islands
********UNQUOTE********
---
Response to UTUSN (Original post)
Fri Feb 10, 2017, 05:19 AM
TexasBushwhacker (17,185 posts)
5. Have you tried freezing the seeds?
Another way to break down that seed coat is to freeze the seeds for a couple of days and then soak in room temp water overnight to thaw them out.

Texas bluebonnets have a hard seed coat. They're in the bean family. When we've a good cold winter with some hard freezes, the crop of bluebonnets will be big and beautiful. After mild winters the crop is disappointing.
---
Response to TexasBushwhacker (Reply #5)
Fri Feb 10, 2017, 10:38 AM
UTUSN (59,991 posts)
7. Nope, this is my first try at anything like this, & am usually in a rut about things.
Some of the videos featured odd things, like lining a covered jar with sandpaper, putting the seeds inside, then rock'n'rolling (for 10 minutes?). I have an impossible time imagining how this would work and am not about to try it.