Thu Oct 2, 2014, 05:50 AM
Tom Kitten (7,061 posts)
Dance Fire
I've finally gotten around to uploading some pictures I said I would share earlier. I've been hesitant to show these, it was the second day I had used my (then) new camera, and was just learning to use it. A little history, here. I used to have an SLR but it broke when I was standing on a steep riverbank just off the road and the earth gave way, dashing the camera against the pavement. Don't worry about me, though, I'm OK. I did suffer a deep abrasion on my knee and it did take a few weeks to heal. But that was in the 90s, and since then I had used one of those plastic cameras you get at Walgreen's (hey, free film refill when you brought it in for developing!). So I guess you can say I've been learning all over again. And I do mean learn! For one thing, I've learned photography and frustration do indeed go hand in hand.
These pictures were taken one month after what I learned was called the Dance Fire in and adjacent to Orleans, CA. It happened in July 2013 and was deliberately set. 577 acres and one home were burned. The entire town had to be evacuated.
It was just after Labor Day and 100 degrees the time I went there. The air was blue and hazy from several nearby forest fires. I was told about this remarkably colorful area of burned manzanita and madrone trees by my best friend's mother, who was born there. It was just off a road that climbed two hills and there was no way my car could make it up there, so I hiked up. I sure am glad I brought water!
This is what I saw.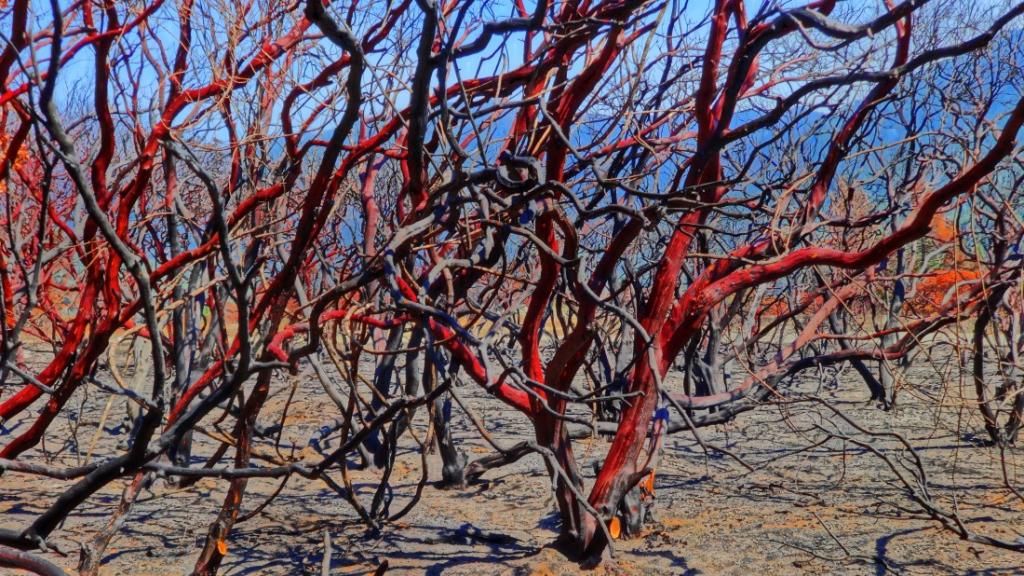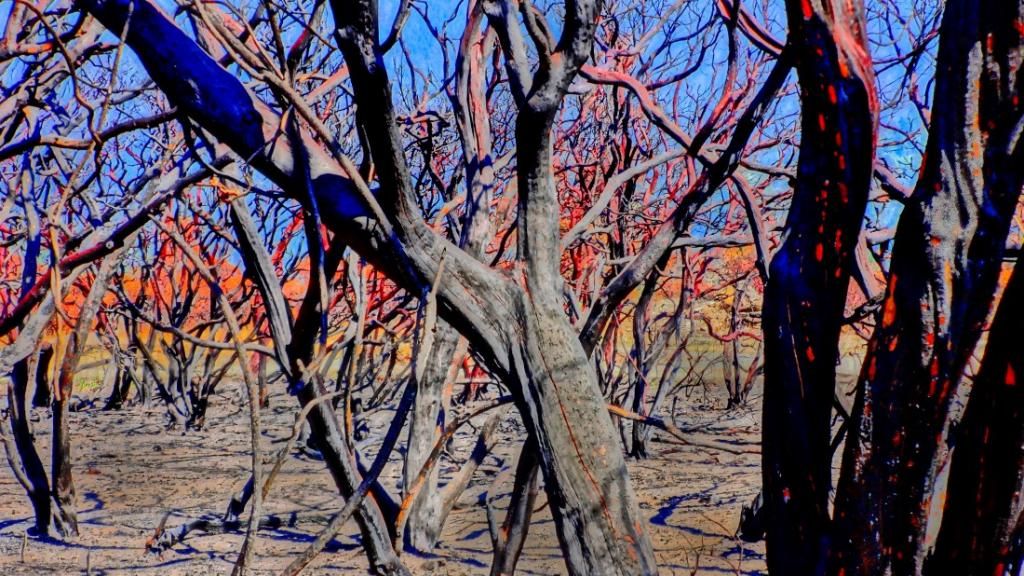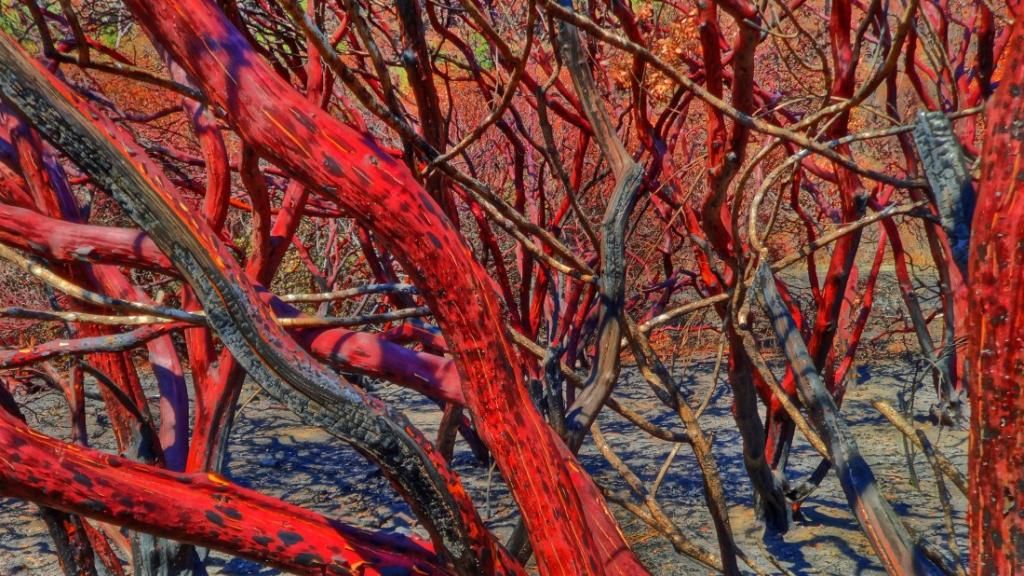 Dance Fire seems strangely appropriate. Poor trees look like they danced in agony as they burned.
However, only a month later, there's already signs of new life! Does anybody know what these shrubs are?
Also, I'm sure everyone knows about simulacrum. I see a creepy face in the middle of this picture. Do you? The earth is mad at us and she is letting us know.
Now, this where my newbie naivety shines bright! I definitely learned a lesson here. My camera has a paint function so I switched to that. Make your photo look like a painting! I'm an artist so I was down with that. The pictures on my little viewfinder looked great! However, viewing later full-size on my computer was a different matter...
These two turned out OK, I guess...
However, most turned out like these. I'm posting these two as examples of what not to do! I learned digital photography has this thing called the halo effect, you can see it clearly here! It is practically impossible to fix. Through my former job I have Photoshop experience going back to PSD 2 on Mac OS8 or whatever back in the early 90s and I spent hours trying to "fix" these pictures and I gave up. Not worth the time and effort, and it's futile anyways, so beware fellow neophytes!
That's not haze in them there hills, that's the halo effect! Trees aren't that that blue, anyways. (I think I zoomed in on that one)
This could have been a nice picture, but trees don't have a white glow around them like that. Needless to say, I don't use that function anymore! I do learn quickly. Welcome to the world of digital photography, you amateur! (I'm talking to myself here)
Well there you are. I do think I took some good pictures, and I have gotten better since. And I am ready for an upgrade to a better camera. Sorry for the wordiness, but I enjoy sharing!
6 replies, 1345 views
Replies to this discussion thread
| | | | |
| --- | --- | --- | --- |
| 6 replies | Author | Time | Post |
| Dance Fire (Original post) | Tom Kitten | Oct 2014 | OP |
| | elleng | Oct 2014 | #1 |
| | NV Whino | Oct 2014 | #2 |
| | Solly Mack | Oct 2014 | #3 |
| | Blue_In_AK | Oct 2014 | #4 |
| | Tom Kitten | Oct 2014 | #6 |
| | CrispyQ | Oct 2014 | #5 |
---
Response to Tom Kitten (Original post)
Thu Oct 2, 2014, 08:42 AM
elleng (121,886 posts)
1. Great pictures!
and thanks for the story! I had an SLR years ago which was damaged, and then misplaced when the house and family broke up. Thinking of getting another to use along with my Samsung Galaxy, to study attributes of both.
---
Response to Tom Kitten (Original post)
Thu Oct 2, 2014, 09:11 AM
NV Whino (20,886 posts)
2. I think your little green shrub making a comeback is greasewood
Fires just love that stuff. Burns fast and furious. Some great pics there, and a good story.
---
Response to Tom Kitten (Original post)
Thu Oct 2, 2014, 10:29 AM
Solly Mack (88,724 posts)
3. Fantastic and Fantastical!
Beautiful even in its destruction.
---
Response to Tom Kitten (Original post)
Thu Oct 2, 2014, 11:24 AM
Blue_In_AK (46,436 posts)
4. Nice!
---
Response to Blue_In_AK (Reply #4)
Thu Oct 2, 2014, 01:17 PM
Tom Kitten (7,061 posts)
6. The orange colored grove in the first photos are
Manzanita and the blackened trees in the last few pictures are, I believe, Madrone. The two species are related but manzanita reaches a maximum height of about 20 feet while madrone can grow over 100 feet high. Both have orange to red bark that is constantly peeling.
They have extremely hard wood and are very drought and fire resistant. That makes me think that not all these trees are dead. I'm thinking of revisiting the area and would like to see what's there, a year later. The drought is really bad there.
---
Response to Tom Kitten (Original post)
Thu Oct 2, 2014, 01:07 PM
CrispyQ (33,487 posts)
5. Stunning photos!
The colors are so vibrant.

A paint function on a camera? I'm going to have to look at that little dial on mine a bit closer & see what functions I have.