Tue Oct 7, 2014, 08:52 PM
Tom Kitten (7,062 posts)
Thinking of textures for October, I found these spooky pictures lurking...On my computer
I don't think I'll use any for the contest, though. I'd rather shoot something new, maybe something more light hearted.
I did take this in October, but last year. Anybody see the movie "The Haunting?" (the original) The scene with the face in the wall and the murmuring? This reminds me of that scene. It's just a piece of plywood in a boarded up warehouse window, here in Portland. Just add some murmuring chants! Or some chanting murmurs. Feel free to scare yourself. It's on the house!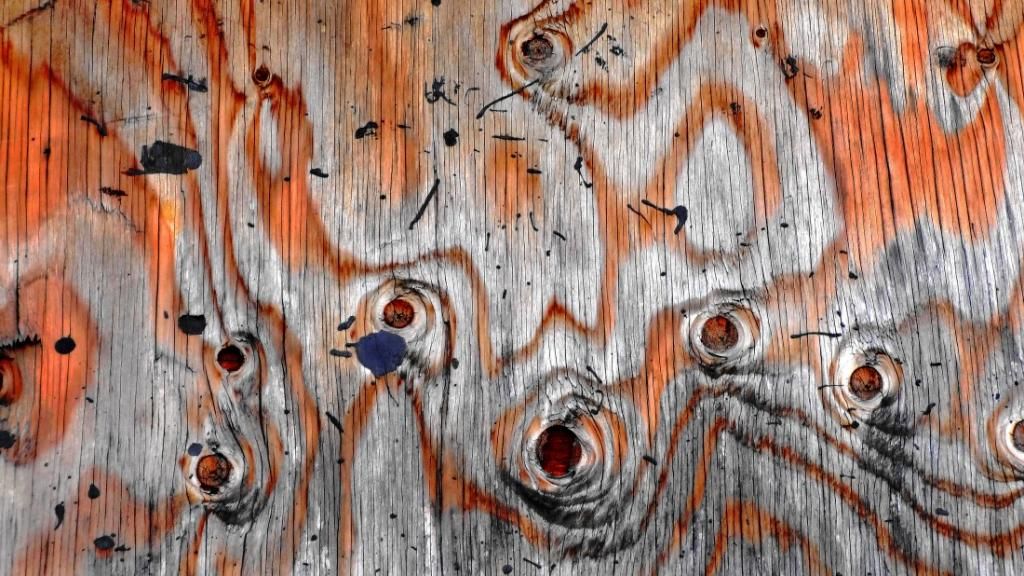 This one, too. I took this in San Francisco, at the Sutros Baths ruins. A big bank of soft orange rock carved with, graffiti, I guess you'd call it...
Let's take a closer look, shall we?
The shadows seem to dissipate the orange here...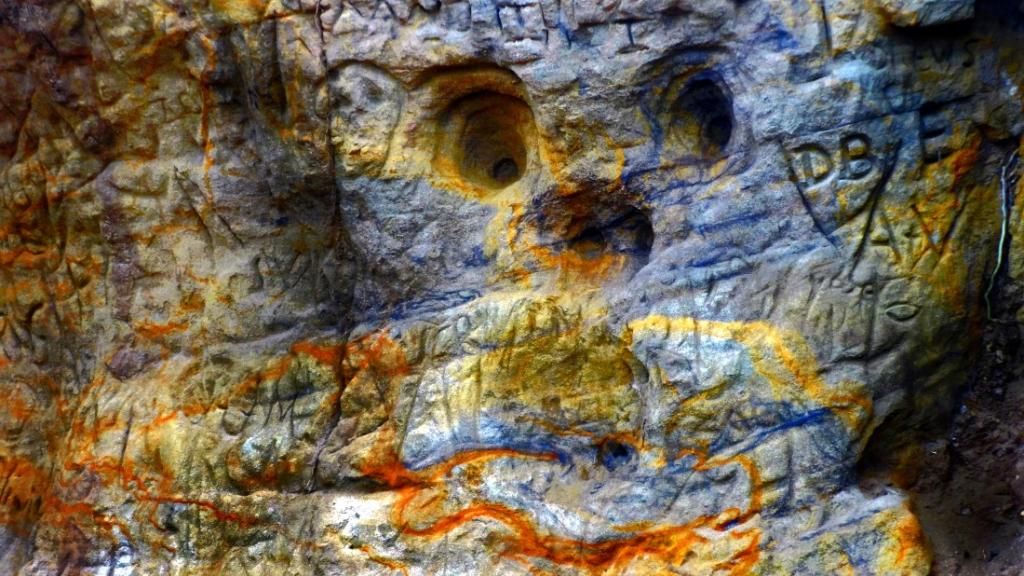 Don't be scared here! He's just a dummy in a rubber mask. One of those animatrons in a booth you feed coins too and tells your fortune. He's in Calico, CA. Sort of a restored "ghost town" or tourist attraction. Beautiful area, though.
From deep in the bowels of Alcatraz. I spent a day there earlier this year. A more oppressively depressing place I've yet to find myself. (No, I haven't been to Washington DC!) They say the place is haunted, too. I can believe it!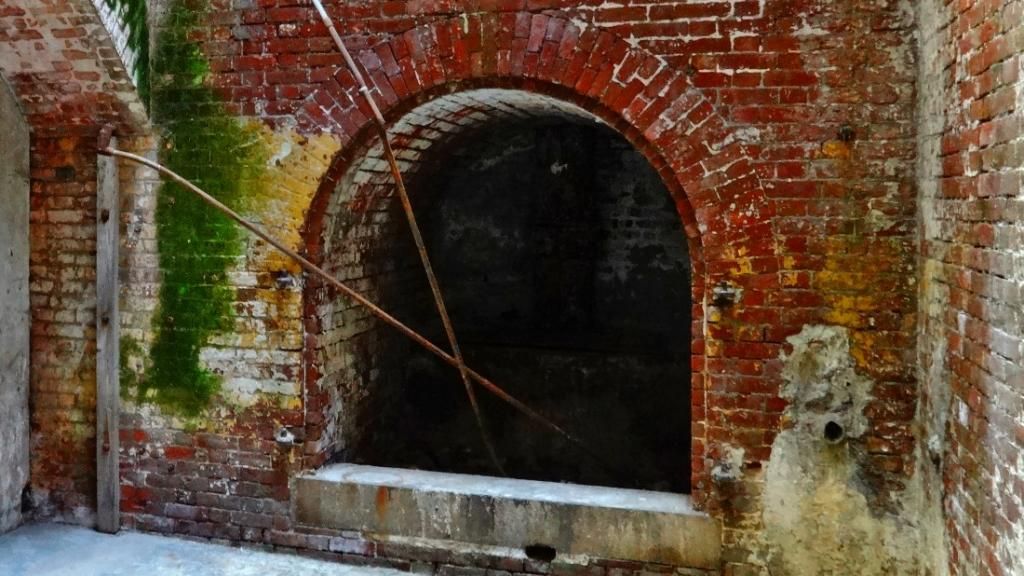 A study of some finely crafted brickmaso- wait, whazzat say?
I took this in Bombay Beach, CA, on the shore of the Salton Sea. Pretty much a modern ghost town. A remarkable place. I'm planning on posting some sets from the ghost towns and ruins I visited around Halloween time. If you're into that, stick around! This place was mind-boggling! And I went there...all alone.
From another, different ghost town out in the desert. This was in a (mostly, I think?) deserted motel compound. There was a newer model car parked nearby. Only unit without broken windows. I really wasn't into finding out if anybody lives there, though!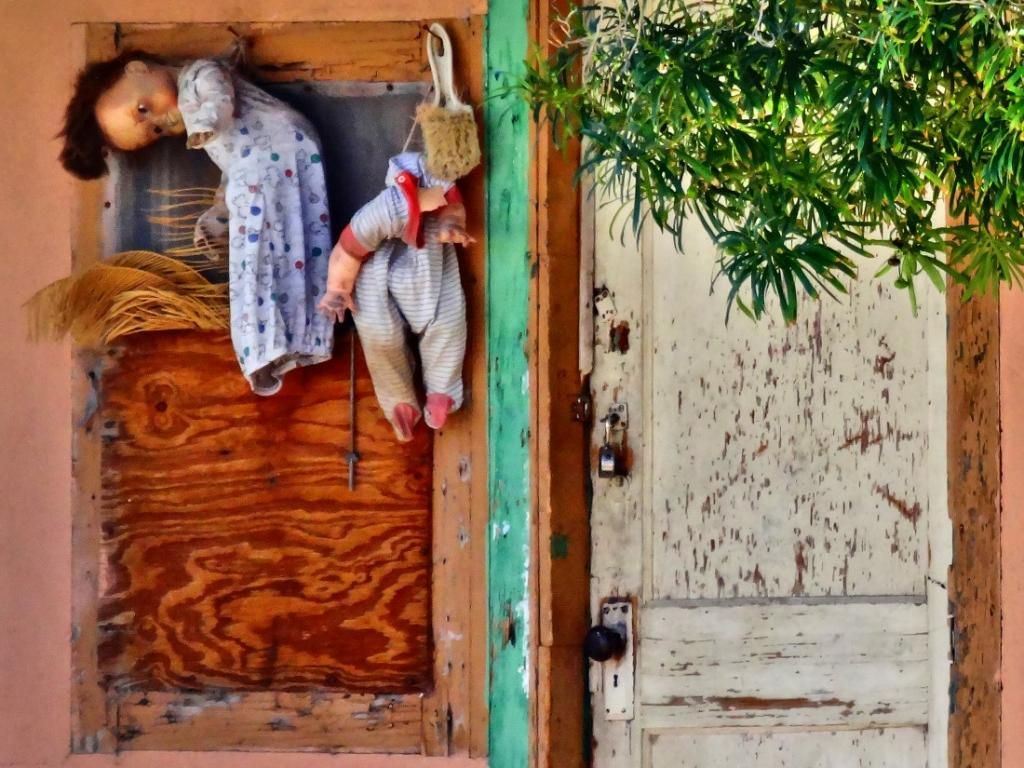 Some spooky stuff, eh?
4 replies, 1845 views
Replies to this discussion thread
| | | | |
| --- | --- | --- | --- |
| 4 replies | Author | Time | Post |
| Thinking of textures for October, I found these spooky pictures lurking...On my computer (Original post) | Tom Kitten | Oct 2014 | OP |
| | valerief | Oct 2014 | #1 |
| | Curmudgeoness | Oct 2014 | #2 |
| | CrispyQ | Oct 2014 | #3 |
| | handmade34 | Oct 2014 | #4 |
---
Response to Tom Kitten (Original post)
Tue Oct 7, 2014, 08:57 PM
valerief (53,235 posts)
1. They're all terrifically spooky. Love the face and horns in #2 and #3. nt
---
Response to Tom Kitten (Original post)
Wed Oct 8, 2014, 10:09 AM
Curmudgeoness (18,219 posts)
2. These are great.
I especially like the rubber mask, and with all the texture in it, I think you could have won the October contest with that one. Good luck getting some great shots this year.

---
Response to Tom Kitten (Original post)
Wed Oct 8, 2014, 12:40 PM
CrispyQ (33,523 posts)
3. They are all great, but the first one really resonates!
---
Response to Tom Kitten (Original post)
Wed Oct 8, 2014, 04:15 PM
handmade34 (22,189 posts)
4. great find