Mon Dec 9, 2019, 07:01 PM
Denzil_DC (5,705 posts)
Johnson refuses to look at picture of boy forced to sleep on hospital floor
PM refuses to look at picture of boy forced to sleep on hospital floor
Boris Johnson accused of not caring after refusing reporter's requests several times
Boris Johnson has been accused of not caring after he repeatedly refused during a TV interview to look at a photo of a four-year-old boy forced to sleep on the floor at an overcrowded A&E unit, before pocketing the reporter's phone on which he was being shown the picture.
In an ITV interview during a campaign visit to a factory in Sunderland, the prime minister was challenged about the plight of Jack Williment-Barr, who was
pictured sleeping under coats
on a hospital floor in Leeds as he waited for a bed, despite having suspected pneumonia.
Johnson refused to look at the photo and, out of camera shot, eventually took the phone from the reporter and put it in his own pocket. ...
The reporter challenged him on this: "You've refused to look at the photo, you've taken my phone and put it in your pocket, prime minister. His mother says the NHS is in crisis. What's your response to that?"
At this point, Johnson removed the phone and looked at the picture for the first time: "It's a terrible, terrible photo, and I apologise, obviously, to the family and all of those who have terrible experiences in the NHS. But what we are doing is supporting the NHS and on the whole, I think patients in the NHS have a much, much better experience than this poor kid has had."
https://www.theguardian.com/politics/2019/dec/09/refuses-to-look-at-picture-of-boy-forced-to-sleep-on-hospital-floor
Link to tweet
Joe Pike ✔
@joepike

Tried to show @BorisJohnson the picture of Jack Williment-Barr. The 4-year-old with suspected pneumonia forced to lie on a pile of coats on the floor of a Leeds hospital.

The PM grabbed my phone and put it in his pocket: @itvcalendar | #GE19

[Twitter video]
If this wasn't such a grim story, you could be forgiven for assuming it was from
The Onion
or
NewsThump
.
It wasn't just grim for Johnson and his infantile instinctive attempt to hide an inconvenient truth which he couldn't immediately spin - on a par with his attempt a few weeks ago to claim to a distraught father in hospital that there were no media present when they were actually filming their confrontation.
Realizing that Johnson's "gaffe" over the boy's picture and his attempt to hide it were potentially embarrassing, Tory campaign managers dispatched the cavalry in the shape of Nick Hancock (some measure of desperation) to try to salvage the situation.
They then briefed the media that a Labour activist had "punched in the face" one of Hancock's advisers in the hospital car park. This was a blatant lie, but it was immediately parroted on social media by the BBC's Political Editor Laura Kuenssberg and ITV's Political Editor Robert Peston. Unfortunately for them, this dead cat counter-briefing couldn't survive scrutiny for any length of time.
Tories forced into climbdown over claim aide was hit by Labour protester
The Tories were forced to make an embarrassing climbdown after aides briefed that an adviser to Matt Hancock had been hit by a Labour protester in an incident that it later emerged had been innocuous.
...
Aides initially briefed that Hancock's adviser had been "punched in the face" and tried to point the finger at a Labour "thug". But a video emerged that appeared to show the adviser walking into a protester's arm.
Link to tweet
Having seen that footage, aides were forced to acknowledge that it looked like the adviser was hit in the face accidentally, but still tried to turn the story on Labour by claiming the activists' behaviour and language had been unacceptable.
https://www.theguardian.com/politics/2019/dec/09/matt-hancock-aide-altercation-hospital-campaign-visit
So it wasn't just the Tories who were "forced to make an embarrassing climbdown", but Kuenssberg, who's been accused in recent times of serving as a conduit for government propaganda by tweeting unquestioningly whatever "government sources" want her to propagate, Peston and many others who were apparently taken in by this shoddy, clumsy, blatant ploy.
Link to tweet
Laura Kuenssberg ✔
@bbclaurak

Have video from Hancock leaving Leeds General just come through so you can see for yourself - doesn't look like punch thrown, rather, one of Tory team walks into protestor's arm, pretty grim encounter

[Twitter video]
Link to tweet
Robert Peston ✔
@Peston

It is completely clear from video footage that @MattHancock's adviser was not whacked by a protestor, as I was told by senior Tories, but that he inadvertently walked into a protestor's hand. I apologise for getting this wrong.

[Twitter video]
1 replies, 908 views
Replies to this discussion thread
| | | | |
| --- | --- | --- | --- |
| 1 replies | Author | Time | Post |
| Johnson refuses to look at picture of boy forced to sleep on hospital floor (Original post) | Denzil_DC | Dec 2019 | OP |
| | Denzil_DC | Dec 2019 | #1 |
---
Response to Denzil_DC (Original post)
Tue Dec 10, 2019, 08:24 AM
Denzil_DC (5,705 posts)
1. Tory supporters have been flooding Twitter and Facebook with a claim the photo was faked.
This is almost entirely based on a single post from Facebook which was copied in whole or part, sometimes as an image, sometimes as text, onto just about any thread where the issue was being discussed, often seeming as if the poster had the direct information: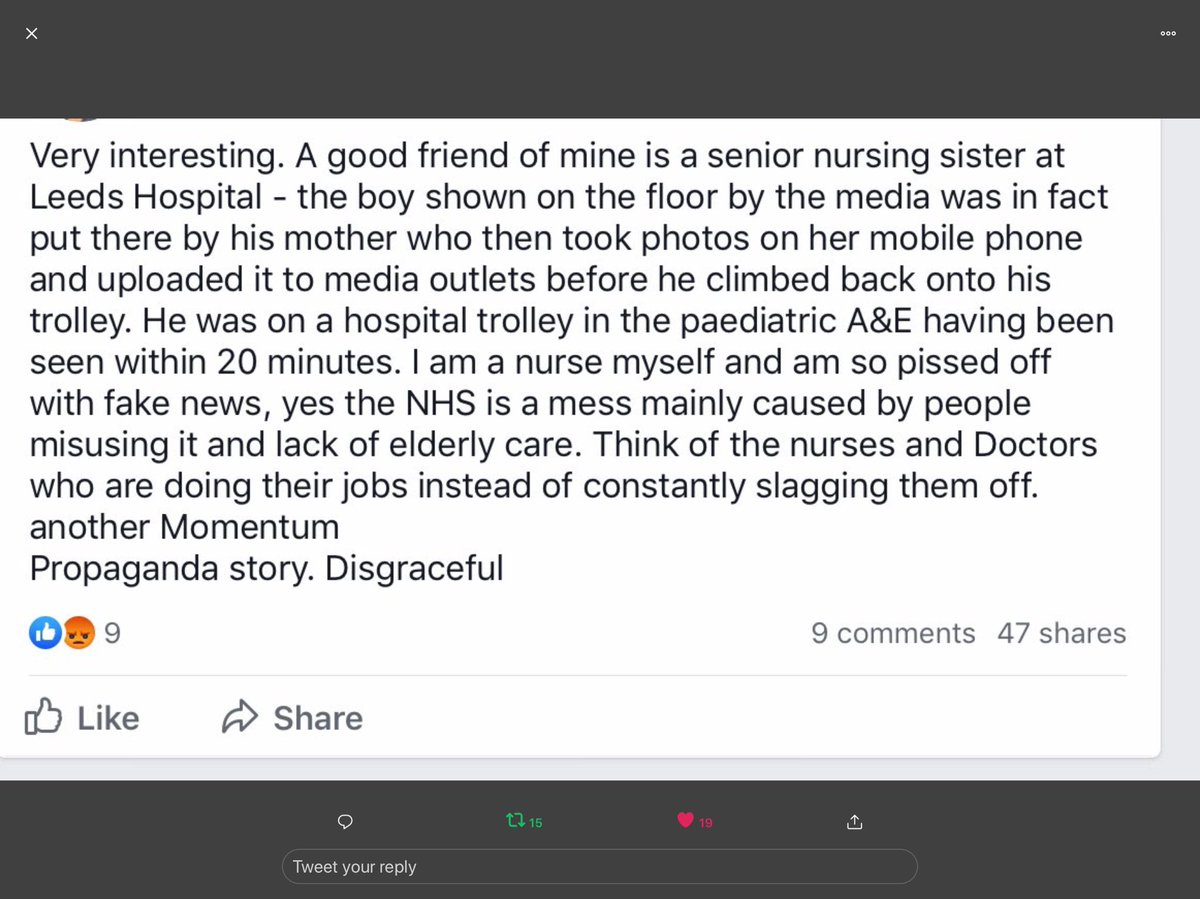 Fake claim about hospital boy 'came from hacked account'
Woman whose name was on the post denies claiming photo of four-year-old had been staged
A false online story that the photograph of an ill boy lying on the floor of Leeds General infirmary was staged came from a hacked account, according to the medical secretary whose name was attached to the initial post.
The woman, whose name the Guardian is withholding because she says she has received death threats since the post was made, denied posting the allegation that four-year-old Jack Willment-Barr's mother placed him on the floor specifically to take the picture, which was on the front page of Monday's Daily Mirror.
"I was hacked. I am not a nurse and I certainly don't know anyone in Leeds," the woman told the Guardian. "I've had to delete everything as I have had death threats to myself and my children."
She said she had tried to report the hack of her Facebook account to Action Fraud.
https://www.theguardian.com/media/2019/dec/10/woman-says-account-hacked-to-post-fake-story-about-hospital-boy