Tue Jul 21, 2020, 03:15 PM
Denzil_DC (5,101 posts)
What does the Russia report mean for British people and politics?
What does the report tell us?
The Russia report accuses the government of failing to investigate Russian interference in British politics, in particular during the 2016 EU referendum. The Commons intelligence and security committee's language is scathing. It says Downing Street showed a "lack of curiosity" over Kremlin meddling. The report doesn't say whether this complacency was deliberate or an omission. Either way, it amounts to a stunning rebuke of Boris Johnson and his predecessor as prime minister, Theresa May. We now know why Johnson sought to bury the report before last December's general election. It is embarrassing. He burned political capital to keep it secret.
The report broadly reflects the expert view of Christopher Steele, a former MI6 spy who gave evidence to the ISC in 2018. He said Johnson, as foreign secretary, and May "threw a blanket" over indications that the Russians had pushed for Brexit and may have covertly funded the campaign. They put Tory party politics above national security, Steele alleged. The ISC says: "The written evidence provided to us appeared to suggest that HMG [Her Majesty's government] had not seen or sought evidence of successful interference in UK democratic processes or any activity that has had a material impact on an election, for example influencing results."
There is abundant evidence that the Russians were actively seeking to undermine British democracy, the report says. The intelligence agencies – including MI6, MI5 and GCHQ – were acutely aware of Kremlin activity around the 2014 Scottish independence referendum. They had early warning in spring 2016 of Moscow's email hacking and dumping operation against the Democrats in the US, done to damage the party's then presidential candidate, Hillary Clinton, and to help the Republicans' Donald Trump. Yet no Russian "threat assessment" was carried out before the 2016 EU vote, the ISC says. The referendum was therefore left "unprotected", it says.
The report is equally critical of the spy agencies. They appear to have been reluctant to take responsibility for defending the UK from hostile state meddling, it suggests. None of the agencies carried out an assessment of what Moscow did during the EU vote. When asked, MI5 sent the committee a cursory six-line note. GCHQ failed to provide information about the numerous pro-leave troll accounts run from inside Russia. And the report suggests MI6 didn't ask its secret agents "to provide information on the extent or nature of Russian influence campaigns". The big picture is damning: of a government that didn't want to know, and of spooks who were too timid to ask.
https://www.theguardian.com/politics/2020/jul/21/what-does-the-russia-report-mean-for-british-people-and-politics
The arguments about Russian interference in UK politics will not be resolved by this report - indeed, the main complaints are about blase attitudes in government and the security services which mean that any evidence hasn't seriously been sought or explored, or worse, has been papered over.
The mention of interference in the 2014 Scottish independence referendum has predictably been pounced on by some as a handy distraction, including whoever drafted the
Telegraph
's front page, but the report devotes a mere few lines to it and presents no hard evidence, just relying on "open source commentary", which amounts to no more than somebody's expressed opinion:

There's no suggestion of interference with voting processes in any election or referendum, more attempts via social media to influence voters - and if it did spread misinformation during any votes, Russia was far from the only bad faith actor, as events since have proven. Russia expressed scepticism at the result after the 2014 independence referendum, but David Cameron's on record as having appealed to Putin to intervene:
Cameron's plea to Putin: help me stop Salmond
DAVID Cameron's Government wants the backing of Russian President Vladimir Putin in the battle against Scottish independence, the former USSR's leading news agency has reported.
Itar-Tass, citing a source in the Conservative Prime Minister's office, said Britain was "extremely interested" in referendum support from Russia, which this year holds the presidency of the influential G8 group of rich industrial nations.
https://www.heraldscotland.com/news/13140055.camerons-plea-to-putin-help-me-stop-salmond/
More important in my view is the report's focus on Russian money laundering and influence-peddling via the UK. This Twitter thread by the
New York Times
's Jane Bradley covers the main points:
Link to tweet
Jane Bradley
@jane__bradley
The Russia Report is finally out — I'll tweet key lines.
• The UK is one of Russia's top intelligence targets, yet the UK government has "actively avoided looking for evidence of Russian interference" which the committee brands "astonishing".
• London was allowed to become a 'laundromat' for illicit finance. The arrival of Russian money has resulted in a growth of "enablers" including lawyers, accountants and estate agents who wittingly or unwittingly became 'de facto agents' of Russian state.
• Nobody in government is protecting the UK from Russian interference.
"The outrage isn't that there is interference, the outrage is that nobody wanted to find out whether there was interference."
• The mechanics of the UK's paper-based voting system makes direct interference difficult, so Russia has instead sought to influence voters *before* they cast their vote through the likes of state-owned media, bots and trolls, and leaks and hacks.
• "The UK welcomed Russian money, and few questions if any were asked about the provenance of this considerable wealth." Highlighted as particular issues:
• The UK's investment visa scheme
• Housing market
• Judicial system
• PR firms etc offering "reputation laundering"
• "Russian influence in the UK is the new normal. There are a lot of Russians with very close links to Putin who are well integrated into the UK business and social scene, and accepted because of their wealth."
Committee calls on the government to make legislative changes.
• Report raises the important issue of Russians at risk in UK and questions whether the UK intelligence services has picture of which Russians are at risk in the UK.
• Salisbury attack shows that it's not only people "critical of Putin who are at risk here in the UK."
• Report cites a 2017 BuzzFeed investigation into 14 suspicious deaths in Britain (which I was part of) that warned the UK authorities weren't fully investigating possible Russian hits. The report evidence is redacted (!) but you can read the series
here
Given how widely it's been known for quite some time that the Tories have received numerous sizeable donations from Russian oligarchs, it's a scandal that each example hasn't been headline news.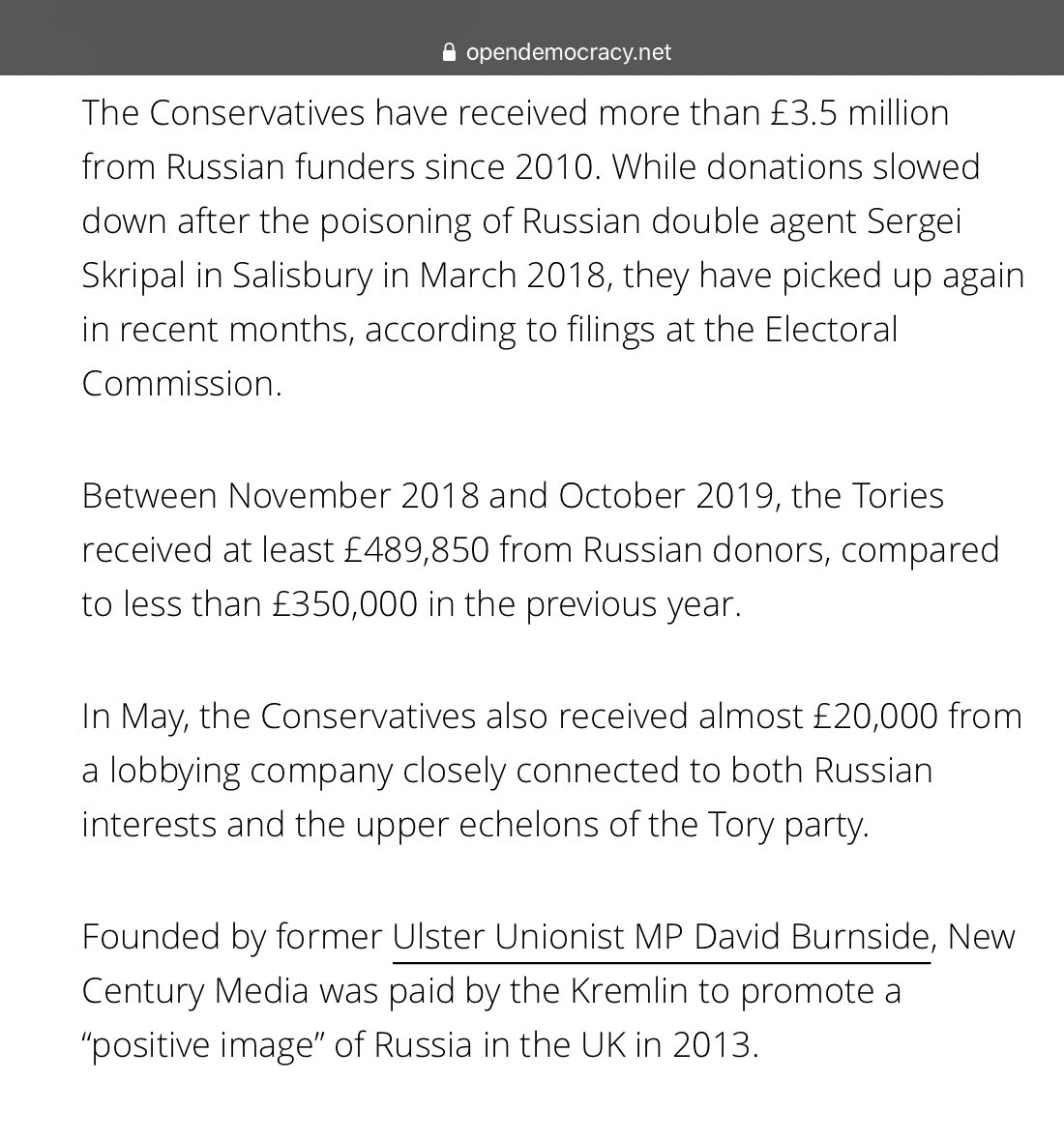 3 replies, 878 views
Replies to this discussion thread
| | | | |
| --- | --- | --- | --- |
| 3 replies | Author | Time | Post |
| What does the Russia report mean for British people and politics? (Original post) | Denzil_DC | Jul 21 | OP |
| | SharonAnn | Jul 21 | #1 |
| | erronis | Jul 21 | #2 |
| | Grins | Jul 21 | #3 |
---
Response to Denzil_DC (Original post)
Tue Jul 21, 2020, 03:26 PM
SharonAnn (12,537 posts)
1. Same as here. Some Politicians are funded by Russian oligarchs to look the other way.
---
Response to Denzil_DC (Original post)
Tue Jul 21, 2020, 04:22 PM
erronis (8,837 posts)
2. While I'm sure western countries have meddled in other's politics, the russkis do it better.
Well, I think. But who's to tell?

I almost see a similarity for how westerners view the markets or bottom lines. "How fast can we get a big return?" And then bail out with those rewards.

Statecraft takes long-term strategizing and cunning. Something a chess-playing oriented country would be much better than trump's "crazy-8s" or "slap-jack".

---
Response to Denzil_DC (Original post)
Tue Jul 21, 2020, 06:14 PM
Grins (3,108 posts)
3. All all those persons are linked to...
...the Mercer's, Steve Brannon, Cambridge Analyalitca, Nigel Farage, to Miss. Gov. Bryant, to the Republican National Committee, to Breitbart, to Jeff Sessions, to David Horowitz, and so many more.

How does Putin stop laughing?