Fri Oct 23, 2020, 05:49 PM
Denzil_DC (5,715 posts)
When a footballer is more of a statesman than anybody in government ...
Parliament voted 321-261 on 21 October not to provide free school meals over school holidays to children in England who qualify. The roll call of who voted how
can be seen here
.
This is in contrast to the Welsh, Scottish and Northern Ireland governments' decisions to provide this help at least up to Easter next year.
The sums involved are minor compared to other often eyewatering and too often horrendously wasteful outlay during the COVID pandemic - e.g. the initiative will cost £10-11 million in both Wales and Scotland.
It's hard to think of any other intervention at the moment that could be more cost-effective other than paying Dominic Cummings, Boris Johnson, the cabinet - indeed, the whole Tory government - to fuck off somewhere very distant and remote and never plague us again.
The backlash has been immediate, from the trivial of
Rishi Sunak being given a life ban from his local pub
to
Tory MP Caroline Ansell resigning as parliamentary private secretary at the Department for Environment, Food and Rural Affairs
to Nigel Farage tweeting "If the government can subsidise Eat Out to Help Out, not being seen to give poor kids lunch in the school holidays looks mean and is wrong." to a groundswell of initiatives from businesses and councils to fill the gap.
If you've been following the news over last day or so, you'll no doubt gather the footballer I'm referring to in the OP title is Marcus Rashford, who's ridden the wave of revulsion, and constructive action in response, since the vote and is serving as a very effective figurehead.
Throughout the last couple of days his Twitter account has been retweeting initiatives from all across England, ranging from Macdonald's donation of 1 million free meals to other national and local businesses offering their contributions to local councils finding the money from their already overstretched budgets to make humanitarian provision.
His last tweet this evening reads:
Link to tweet
Marcus Rashford MBE
@MarcusRashford

I'm signing off with a feeling a pride tonight. The superstars of this nation lie in local communities. Even after taking the biggest hits you have wrapped your arms around your community to catch children as they fell. I really can't thank you enough, you're amazing ♥️

The hashtag
#endchildfoodpoverty
is being used to spread the word, campaign and share resources and information.
It's not hard to be heartened, like Rashford, at the outpouring of goodwill, which has gone far beyond wellwishes to concrete action.
This contrasts unflatteringly with what's come out of the government and Tories at large before, during and after the vote.
Here's Ben Bradley (FSM = free school meals):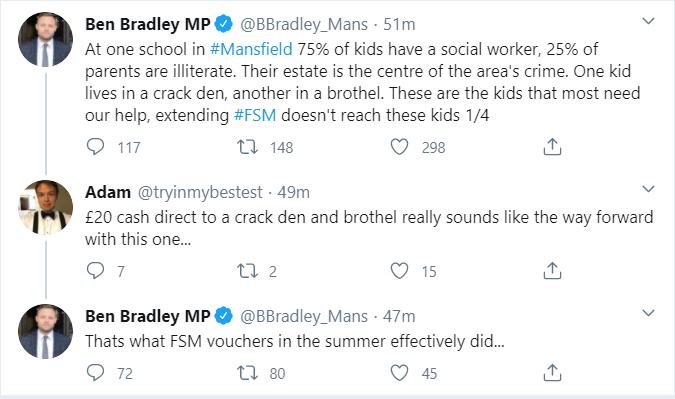 His main contribution so far has been to pathetically pester Rashford on Twitter to attend some self-seeking local photo opportunity under the guise of "dialogue":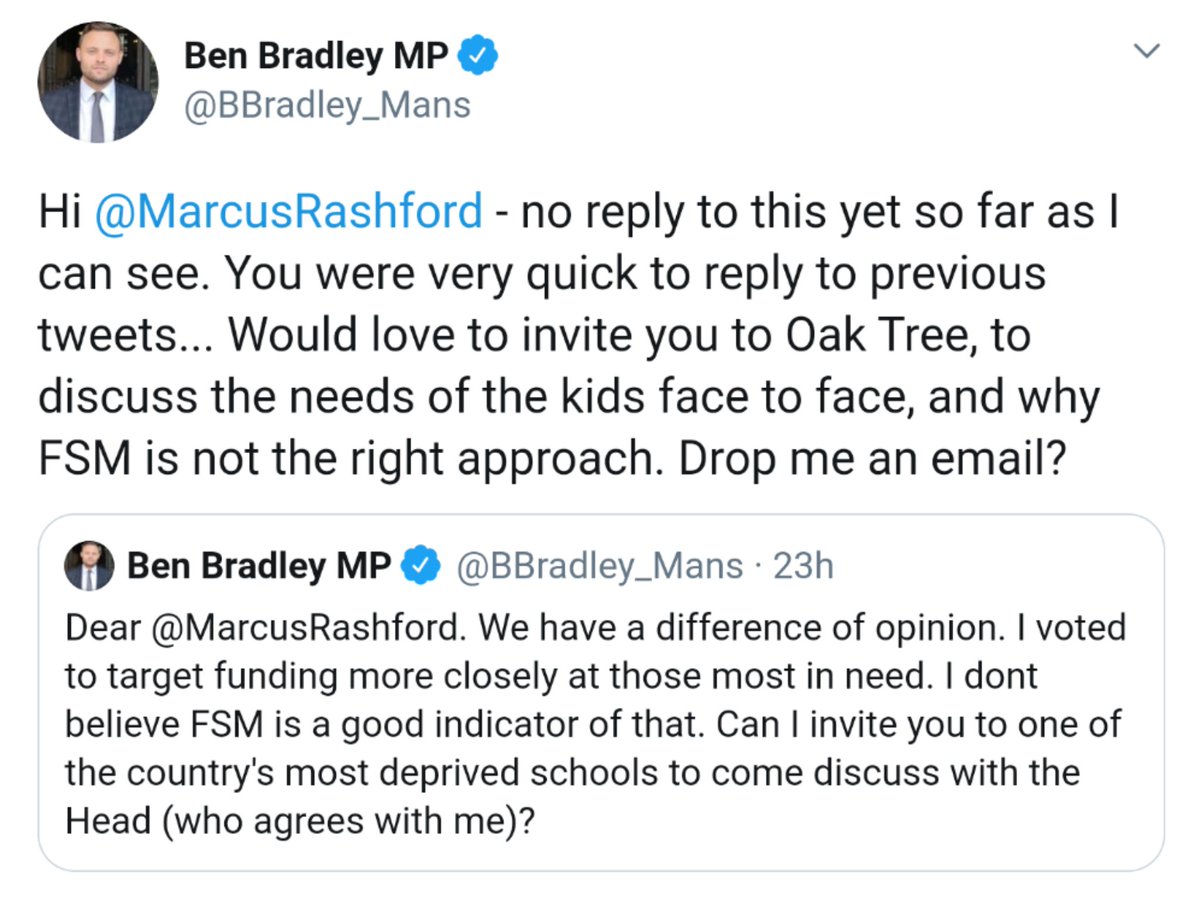 Here's Baronness Nicky Morgan on last night's
BBC Question Time
, peering down from her new elevated position in the Lords to show that charity begins at home - her home, apparently, and nobody else's - and adding an unappetizing soupçon of childish spite as her
pièce de résistance
:
Link to tweet
BBC Question Time
@bbcquestiontime

"The Labour party might have found they got more supporters if the deputy leader hadn't called one of the Conservative MPs scum."

Nicky Morgan clashes with @bphillipsonMP over free school meals. On #bbcqt, 10:45pm, @bbcone
"Scum" is among the milder expressions that are flying about at the moment:
Link to tweet
ComradeGeordie
@ComradeGeordie
Working class North east people voting Tory! What did you expect would happen? Ice cream and Jelly! Save your crocodile tears
😡
I'm not the only one to have been reminded of the stellar words of a superb German comedian: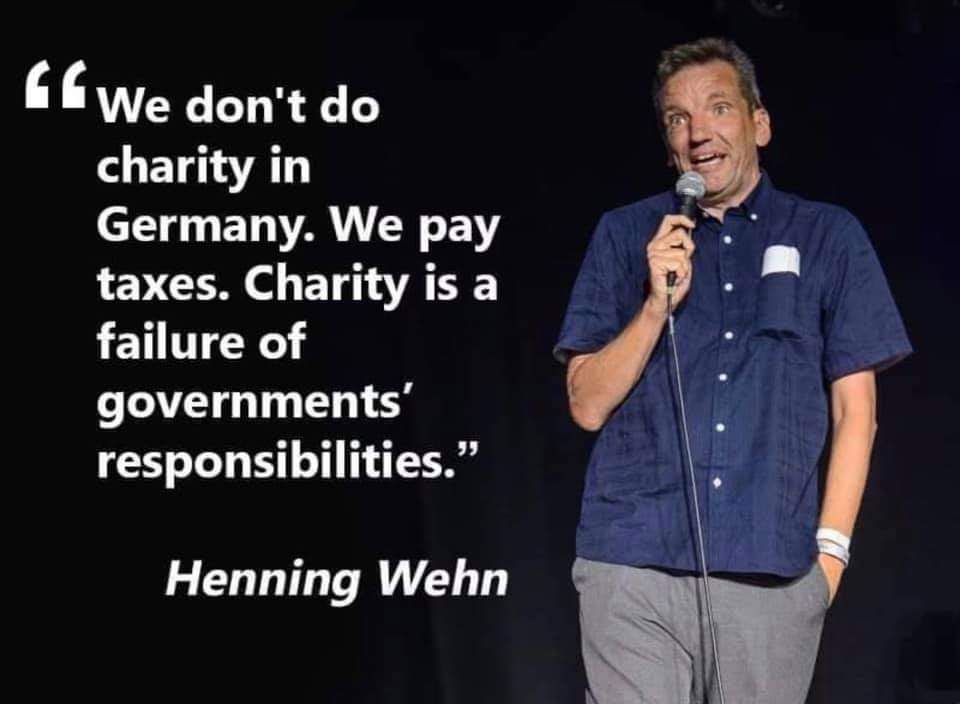 Many do pay their taxes in the UK (as an aside, charity is not unknown in Germany, either). Needless to say, the richest pay the least proportionately, and too many make it a mark of honour - good business - to pay as little as possible or none.
There's plenty of money sloshing around in the COVID slurry at the moment. The sums involved in free school meal provision are minuscule compared to the billions wasted on unscrutinized contracts that will never be fulfilled.
Maybe each and every schoolkid in need to should put in a bid to supply PPE to the government - if as successful as the Tories' cronies, they'd never go hungry again.
5 replies, 785 views
Replies to this discussion thread
| | | | |
| --- | --- | --- | --- |
| 5 replies | Author | Time | Post |
| When a footballer is more of a statesman than anybody in government ... (Original post) | Denzil_DC | Oct 2020 | OP |
| | Soph0571 | Oct 2020 | #1 |
| | Denzil_DC | Oct 2020 | #2 |
| | T_i_B | Oct 2020 | #3 |
| | Denzil_DC | Oct 2020 | #4 |
| | Denzil_DC | Oct 2020 | #5 |
---
Response to Denzil_DC (Original post)
Fri Oct 23, 2020, 06:10 PM
Soph0571 (9,238 posts)
1. Ben Bradley is a fucking ... i know I get deleted if i use the word but it begins with a T
The far right in government right now are so stuck to the ideological bollocks of yester year that it is a foreign language for them to feed hungry kids. Where will it end they cry. Providing safe and affordable housing! Making sure that education is fit for purpose! Ensuring a living wage means exactly that! Oh no!!! That is hardly empire chaps, when the many were sacrificed for the few... isn't that what Brexit was about after all? Wankers.
---
Response to Denzil_DC (Original post)
Fri Oct 23, 2020, 07:33 PM
Denzil_DC (5,715 posts)
2. A governor at the school Bradley maligned has popped up to contradict him on Twitter:
Link to tweet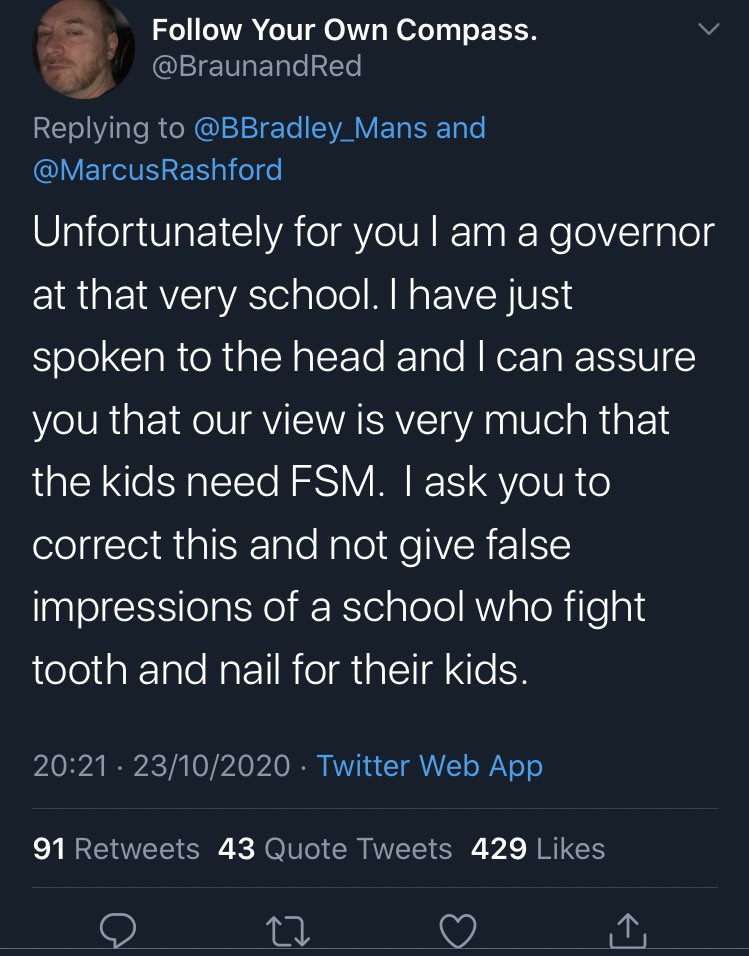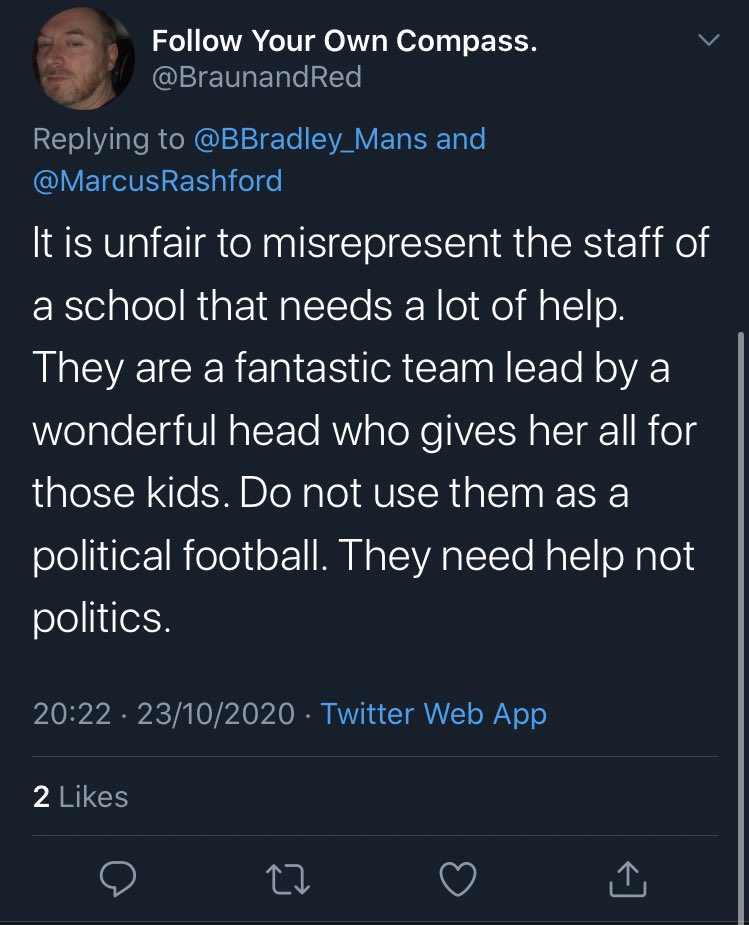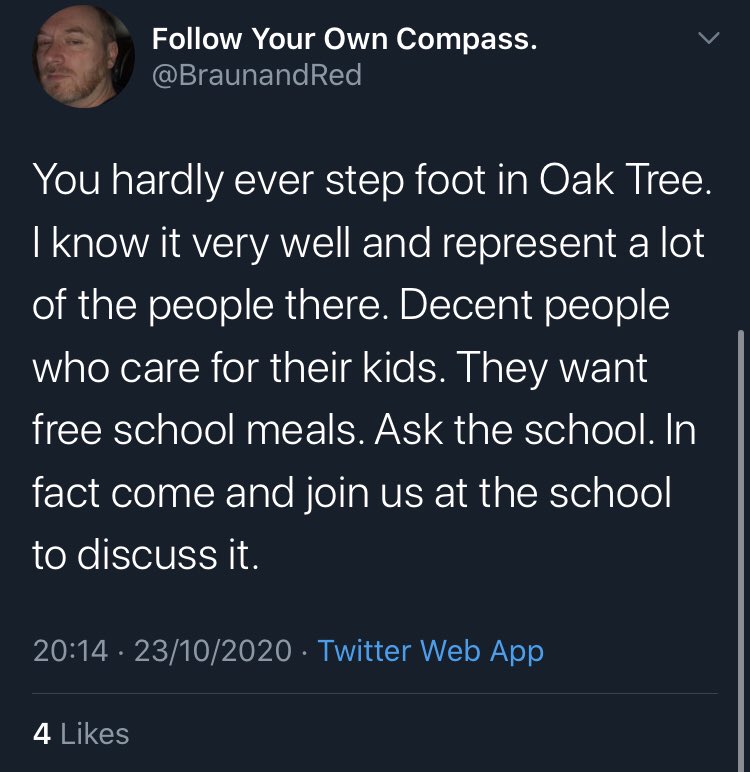 Bradley is now whining abjectly about poor him being pilloried for his own words on Twitter today:
Link to tweet
Ben Bradley MP
@BBradley_Mans
Angela. Please remove this clickbait nonsense. If the context is not clear, I will clarify, but thats 100% NOT what I've said. Please don't drag this debate in to the gutter. What you've put here is NOT TRUE.
🌈 Angela Rayner 🌈
@AngelaRayner
A Conservative MP has said that free school meals are effectively a direct payment to brothels and drug dealers.

Notwithstanding the fact that the vouchers in summer could only be used to purchase food, this stigmatisation of working class families is disgraceful and disgusting.

Link to tweet
Ben Bradley MP
@BBradley_Mans

Pretty clear that I'm about to get hammered across social media/papers for the crime of a tweet where the context wasn't as clear as I'd thought it was. Needless to say, I haven't said what I'm being accused of, nor would I ever. I'm sorry if others get dragged in to the fire.

Link to tweet
Ben Bradley MP
@BBradley_Mans

If you want a proper debate you have to accept that sometimes you get it wrong. Proper debate is important. You learn from it, you move on. We're all human.
That last sentence is open to debate.
Meanwhile, Labour Shadow minister Tulip Siddiq has written to the Tory Party asking for an apology from Bradley: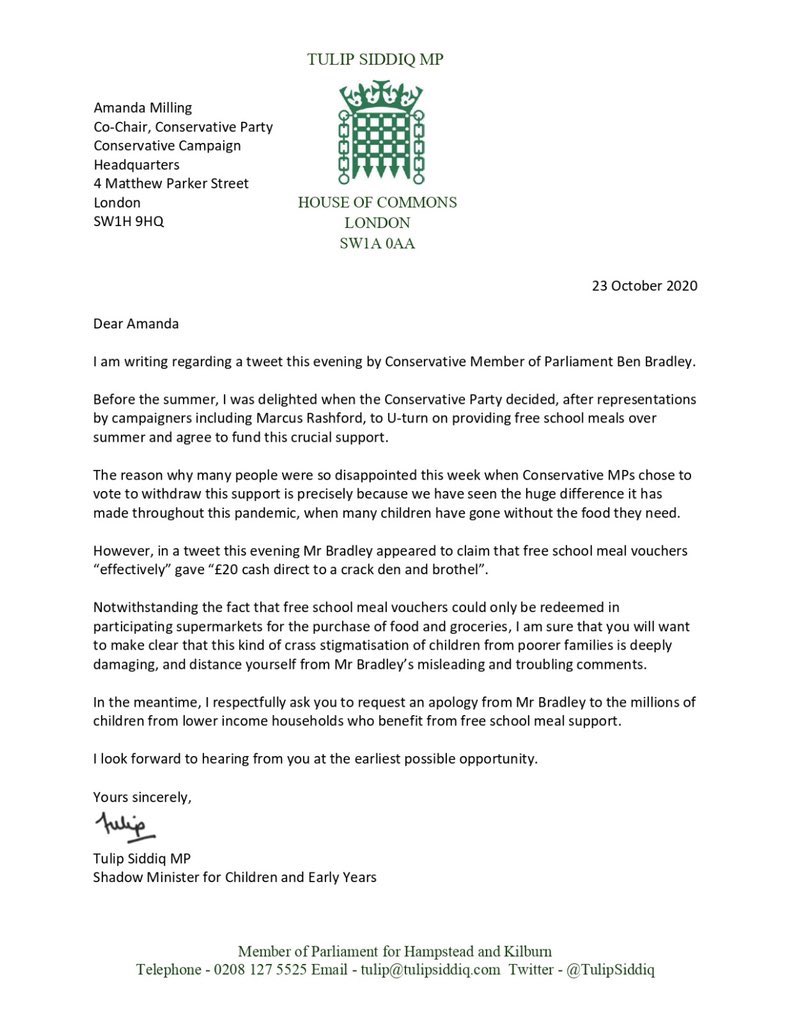 A large number of Bradley's constituents are lighting up Facebook and Twitter tonight. They're not very supportive of him ...
---
Response to Denzil_DC (Reply #2)
Sat Oct 24, 2020, 01:47 AM
T_i_B (14,588 posts)
3. Whines that he's been taken out of context by Rayner
When she's using screenshots of his own tweets, with context.

Suspect Bradley is drunk tweeting or similar. Either way he's a massively dishonest, spiteful arsehole who doesn't have the slightest clue what he's wittering on about.
---
Response to T_i_B (Reply #3)
Sat Oct 24, 2020, 08:06 AM
Denzil_DC (5,715 posts)
4. He's looked quite groggy in his media appearances last night and this morning.
That's right, he's still digging.
Last night's BBC
Newsnight
:
Link to tweet
Simon Gosden. Esq. #fbpe 3.5% 🕷 🇪🇺 🇬🇧 🏴‍☠️ 🦠 🦠
@g_gosden

"Not everything has to be done from central government… there are lots of support mechanisms out there" says Ben Bradley who claimed £59,000 in expenses last year.
Children in Need is on November 13th. #torybrexit Britain

[Twitter video]

This morning's
BBC Breakfast
:
Link to tweet
Toby Earle
@TobyonTV

1) Ben Bradley draws a school into his argument
2) School disagrees with him
3) Ben Bradley says he doesn't want to draw a school into an argument
4) Naga Munchetty points out he has

[Twitter video]

Spare a thought for an innocent US TV anchorman called Ben Bradley and UK MP Ben Bradshaw, who've been fielding some quite colourful if misdirected tweets in the last 12 hours or so.
Meanwhile, 100 Tory MPs have written to Keir Skarmer complaining that Angela Rayner calling one of them "scum" in the House (she's apologized for doing so) has led to them receiving "widespread abuse".
I'm sure it's all down to Angela Raynor, and nothing to do with their own behaviour.
---
Response to Denzil_DC (Original post)
Sat Oct 24, 2020, 08:58 AM
Denzil_DC (5,715 posts)
5. The Tories seem intent on continuing to spread the love.
Last edited Sat Oct 24, 2020, 11:33 AM - Edit history (1)
North Devon Tory MP Selaine Saxby posted on Facebook:

She deleted the post after it excited considerable pushback, then - you may have guessed - claimed her words were "taken out of context".
Here's the full "context":
Here's some of the backlash:
'Regrets' from Devon MP Selaine Saxby over free food for children efforts sparks even more anger
"Regrets" expressed by North Devon MP Selaine Saxby for "attacking" the hospitality industry for giving children free food has sparked even more anger after she claimed her comments were taken "out of context".
...
After demands were made for a public apology, including from North Devon Lib Dem spokesperson Alex White, Saxby posted a statement on social media this morning.
She said: "The portrayal of my recent comments on social media, out of context, does not accurately convey my views. I, of course, deeply regret any offence which may have been caused.
"I am proud that we live in a community where local businesses are keen to help others and it is this widespread community spirit that has got us through the first wave of the pandemic.
"The recent behaviour from a small but hostile element toward myself, my office staff and on social media has become aggressive and personally abusive, and we have been inundated with emails of an abhorrent nature.
"My door is always open, however, I will not work with personal attacks and threatening behaviour towards myself and my team."
https://www.devonlive.com/news/devon-news/selaine-saxby-free-food-apology-4637503
Link to tweet