Sun Nov 1, 2020, 11:13 AM
left-of-center2012 (28,783 posts)
Huge spider assumed extinct in Britain discovered on MoD training site
One of Britain's largest spiders has been discovered on a Ministry of Defence training ground in Surrey having not been seen in the country for 27 years.
The great fox-spider is a night-time hunter, known for its speed and agility, as well as its eight black eyes which give it wraparound vision. The critically endangered spider was assumed extinct in Britain after last being spotted in 1993 on Hankley Common in Surrey. The two-inch-wide (5cm) arachnid had previously also been spotted at two sites in Morden Heath in Dorset. These are the only three areas in Britain, all in the comparatively warmer south, where it has been recorded.
Mike Waite from Surrey Wildlife Trust discovered the elusive spider after two years of trawling around after dark looking for it on the Surrey military site, which the MoD is not naming for security reasons.
"As soon as my torch fell on it I knew what it was. I was elated.
The great fox-spider is one of the largest members of the wolf-spider family, hunting spiders that do not use webs to catch prey. It chases down beetles, ants and smaller spiders before pouncing on them and injecting deadly venom. The prey is immobilised and its internal organs liquefy. The spider – which poses no risk to humans – feeds using fang-bearing jaws.
https://www.theguardian.com/environment/2020/oct/31/huge-spider-assumed-extinct-in-britain-discovered-on-mod-site-aoe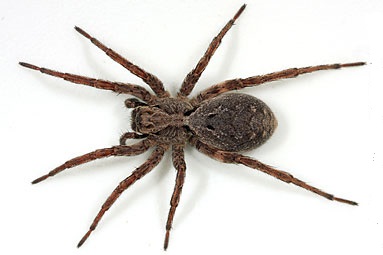 3 replies, 1086 views
Replies to this discussion thread
| | | | |
| --- | --- | --- | --- |
| 3 replies | Author | Time | Post |
| Huge spider assumed extinct in Britain discovered on MoD training site (Original post) | left-of-center2012 | Nov 2020 | OP |
| | Cirque du So-What | Nov 2020 | #1 |
| | 58Sunliner | Nov 2020 | #2 |
| | LeftishBrit | Nov 2020 | #3 |
---
Response to left-of-center2012 (Original post)
Sun Nov 1, 2020, 11:20 AM
Cirque du So-What (18,792 posts)
1. No risk to humans?
I know people who would inadvertently jump in front of trains to get away from that bastid.
---
Response to left-of-center2012 (Original post)
Sun Nov 1, 2020, 11:51 AM
58Sunliner (3,541 posts)
2. Wolf spiders are great. They mate for life and have a lot of personality.
I used to see them in my place in Tucson. They would run over to check you out. Even my cats wouldnt bother them. Being stared at by eight eyes is a little weird however.
---
Response to left-of-center2012 (Original post)
Tue Nov 3, 2020, 05:10 PM
LeftishBrit (39,694 posts)
3. That's nothing; a huge boa constrictor is said to be on the loose in my town!