Sat May 8, 2021, 05:31 PM
Emrys (5,673 posts)
Scottish Parliament election results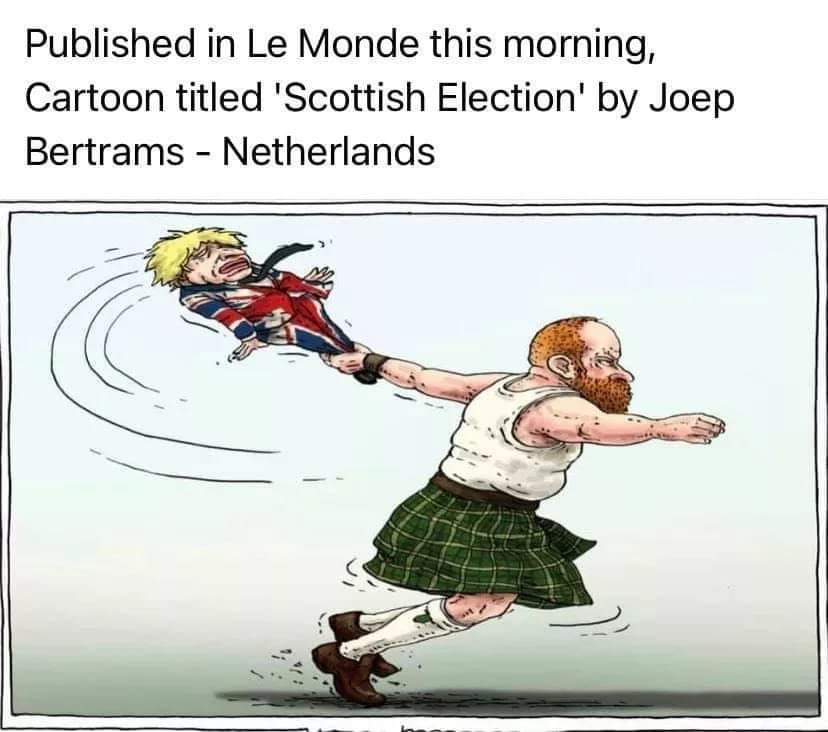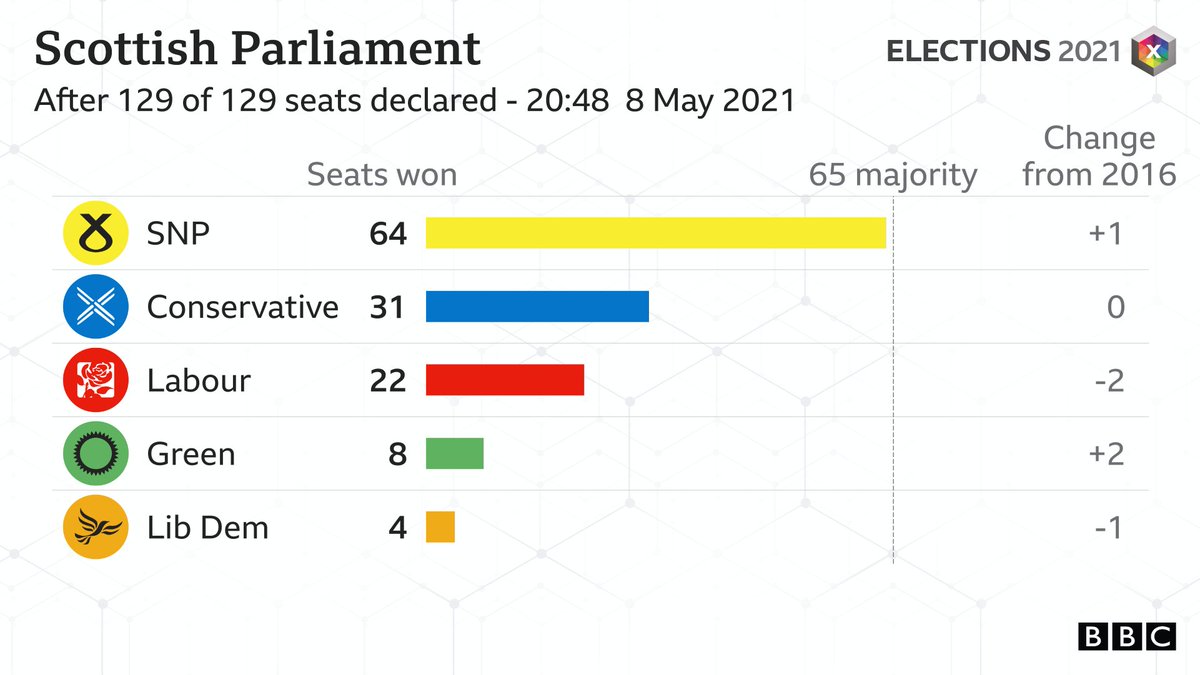 SNP: 64 (+1)
Conservative: 31 (-)
Labour: 22 (-2)
Green: 8 (+2)
Lib Dem: 4 (-1)
This puts the SNP one seat short of an overall majority - something the parliament's PR election system is supposed to deny any party. Allied with the Greens, either in a loose confidence and supply agreement as in the previous parliament (most likely, I think) or a full-blown coalition, this gives a majority of 72 for independence versus 57 against.
The vast bulk of the SNP's seats were won on the first-past-the-post constituency votes, where its totals broke all records since Holyrood was founded. Without the regional list seats, the results would read:
SNP: 62
Conservative: 5
Labour: 2
Green: 0
Lib Dem: 4
This didn't stop the BBC's Laura Kuenssberg last night describing the state of play when most of the constituencies had declared as "knife-edge".
Sadly, in my own constituency, Dumbarton, Labour's long-serving Jackie Baillie increased her scant majority over the SNP in Scotland's most marginal constituency thanks to what looks unmistakeably like heavy tactical voting by local Tories (their party barely had any posters on lamp posts, which is a first):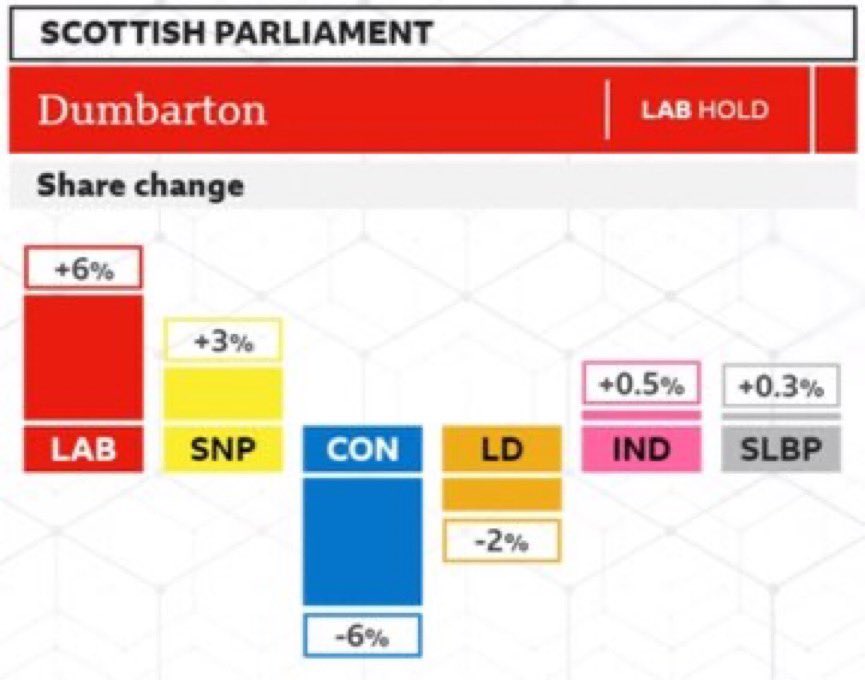 Indeed, both Labour and the Tories had focused in their campaigns on the potential for tactical anti-SNP voting on the regional list and selected local contests. For instance, Labour crossover votes helped ex-Scottish Tory leader Jackson Carlaw retain his Eastwood constituency.
I couldn't put it any better than this:
Link to tweet
Malcolm Tucker 🏴‍☠️
@Tucker5law

Labour folk voting for Jackson Coleslaw means they've got no real socialist principles.
Tories voting for Baillie means that they don't think she has.
The Tories, having banged on about their opposition to another independence referendum incessantly during the campaign, and almost to the exclusion of all else in their campaign literature, are now trying to claim the election wasn't about independence at all.
Labour will be disappointed that their new leader, Anas Sarwar, failed to improve their fortunes, gaining them their worst result since Holyrood was established. Sarwar himself was beaten by Nicola Sturgeon in their Glasgow South constituency contest and later got in on the list.
The Lib Dems have now fallen below the five-seat threshold in the Scottish parliament that means they are no longer classed as a major party, and will lose committee appointments and funding resources.
The Greens saw co-leader Patrick Harvie miss out on a Glasgow contituency seat, but gain a place in parliament on the regional list. In the very last result of the whole election, his co-leader, newcomer Lorna Slater, also won the final slot on her constituency list to bring the Greens' representation up to eight MSPs:
Link to tweet
Patrick Harvie 🇪🇺 🌈
@patrickharvie
Well one of us had to be able to dance!
Tom Eden
@TomEden11

A boogie from @scottishgreens co-leader @lornaslater as she celebrates her election to Holyrood and the Greens' best-ever election performance

[Twitter video]
The Alba Party, predictably, figured nowhere, gaining just over 2% of the vote in its best-performing region. What future it may have, we'll have to wait and see.
The new parliament will look a little different to the old one, as many long-serving MSPs retired. The new intake includes a larger proportion of women, the first two female BAME MSPs and the first wheelchair-reliant MSP.
The coming parliament is sure to be a challenging one. I have some confidence the politicians we've elected will be up to the job
0 replies, 774 views