Tue May 25, 2021, 04:17 PM
Backseat Driver (2,787 posts)
Where Did the Monkeys Near Fort Lauderdale Airport Come From?
https://www.labroots.com/trending/plants-and-animals/20505/monkeys-near-fort-lauderdale-airport-from
A colony of wild African vervet monkeys calls a thick mangrove forest near Fort Lauderdale's airport home. New research has investigated this colony of monkeys, which apparently settled in the area near Dania Beach, over 70 years ago. This is an urban area, and locals are well aware of these monkeys, but little is known about their history. [snip]
Really did not know there were monkeys living in the wild in Florida. Weird.
12 replies, 1508 views
Replies to this discussion thread
| | | | |
| --- | --- | --- | --- |
| 12 replies | Author | Time | Post |
| Where Did the Monkeys Near Fort Lauderdale Airport Come From? (Original post) | Backseat Driver | May 2021 | OP |
| | Scrivener7 | May 2021 | #1 |
| | PoliticAverse | May 2021 | #2 |
| | kirkuchiyo | May 2021 | #3 |
| | 3Hotdogs | May 2021 | #4 |
| | Buckeye_Democrat | May 2021 | #5 |
| | 3Hotdogs | May 2021 | #6 |
| | Buckeye_Democrat | May 2021 | #7 |
| | 3Hotdogs | May 2021 | #9 |
| | Buckeye_Democrat | May 2021 | #10 |
| | 3Hotdogs | May 2021 | #11 |
| | csziggy | May 2021 | #8 |
| | Javaman | May 2021 | #12 |
---
Response to Backseat Driver (Original post)
Tue May 25, 2021, 04:22 PM
Scrivener7 (42,393 posts)
1. Does this story make anyone else wonder how Recursion is doing?
"The monkeys have taken over the cabana! Repeat: the moneys have taken over the cabana!"

He hasn't posted since January! I hope he's OK.
---
Response to Backseat Driver (Original post)
Tue May 25, 2021, 04:32 PM
PoliticAverse (25,989 posts)
2. I would guess that "wild African vervet monkeys" came from Africa. n/t
---
Response to Backseat Driver (Original post)
Tue May 25, 2021, 05:10 PM
kirkuchiyo (402 posts)
3. I'd guess pets released intl the wild and they were fruitful and multiplied... nt
---
Response to Backseat Driver (Original post)
Tue May 25, 2021, 06:25 PM
3Hotdogs (7,890 posts)
4. I remember when I was a 'ute. Parents took me to Silver Springs Fl -- approx 1955.
Store was selling monkeys. I wanted one but my cheap parents wouldn't get one for me.

W.T.F. ?


Last year, my 46 y.o. daughter was complaining to me that I wouldn't buy her a pony when she was a kid.

What goes around.....
---
Response to 3Hotdogs (Reply #4)
Tue May 25, 2021, 06:28 PM
Buckeye_Democrat (13,969 posts)
5. Selling monkeys?!
You've done it!
You shared a story from the past that I never knew about, even as a prodigious reader!
---
Response to Buckeye_Democrat (Reply #5)
Tue May 25, 2021, 06:29 PM
3Hotdogs (7,890 posts)
6. Yeah, there were a couple of shops. You could buy a monkey or baby alligator.
---
Response to 3Hotdogs (Reply #6)
Tue May 25, 2021, 06:38 PM
Buckeye_Democrat (13,969 posts)
7. It's one of those things that slipped through the cracks...
... for me about the past, but now you've opened the floodgates.
---
Response to Buckeye_Democrat (Reply #7)
Tue May 25, 2021, 11:24 PM
3Hotdogs (7,890 posts)
9. My first time in Fl. was roughly 1950. My uncle was out of WW 2, waist gunner.
Fucked up in the head from the experience and from being raised by my grandmother. So he moved to a town, Palatka, Fl. population - around 400. He wanted to be away from people and Palatka was a good place to accomplish that..... until Hudson Paper Products opened a plant there, on the banks of the St. John's River. Population increased to around 4,000, "overnight."

We lived in N.J. and going to visit him, well, as memory serves me, 2 1/2 days of driving. The interstate highway was not yet built. For miles and miles, there were signs on the road for a place, "South of the Border." When we finally reached there, it was kind of a disappointment. The next landmark was Shorty's Motel. Kind of a run-down affair on Rt 1. And the third landmark was Brunswick BBQ. Oh, and the Burma Shave signs.

I would recall the separate drinking fountains but we never saw those. Fact is, we didn't see any drinking fountains in any of our stops. But there were separate rest rooms for "colored." A little more of that later.

During one or two of the trips to visit my uncle and his family, my parents stopped by a cotton farm and a tobacco farm to ask the farmer if we could have a couple of bolls of cotton and a tobacco leaf to take back to N.J. for show and tell. I was probably in the third grade.

Segregation, I recall signs in restaurants, "We reserve the right to refuse service...." I don't recall the exact wording. I remember feeling lucky I could go into any restaurant I wanted. Downtown, Palatka, If a white person was on the sidewalk, and the sidewalk across the street had no white people on it, any black people had to walk across the street to the "empty" sidewalk.

But the episode I recall most vividly, I went with my aunt to register my cousin for Kindergarten. While we were inside, a buzzer went off. It was a black woman at a service window outside the building. She had to register her kid from outside of the Board of Ed.
headquarters.

Palatka was also where I had my first taste of hominy grits. l still slow cook grits every Sunday morning. It was also a place of open range. There were a few people who raised cattle and dairy. But they were not fenced in. They were allowed to go where ever they wanted. Uncle said ya can't shoot them if they come on your property but if they damage your property, the farmer had to pay for the damage.

Well, ten years later, a major highway was built. Shorty's motel was remodeled and expanded and "South of the Border" is still in business selling fireworks and whatever.

That's about all the stuff I remember about my trips to f.... well, one more. She was blond, about 15 and gorgeous and making out in the back of her brother's car.... mosquitos be damned.


---
Response to 3Hotdogs (Reply #9)
Wed May 26, 2021, 12:30 AM
Buckeye_Democrat (13,969 posts)
10. Thanks for sharing that story!
I looked up a brief history of US Highway 1 as a result of your post. For such a long highway, from Key West FL to Fort Kent ME, I've never traveled on it.
Stephen King wrote a book about it, using his Richard Bachman pseudonym, in 1979. The plot is a dystopian future with contestants required to continuously walk on US Hwy 1, starting in Maine, with the winner being the only contestant still alive.
I even looked up the landmarks that you mentioned from your trip and found this photo from 1960 of Shorty's Motel, which is apparently long out of business.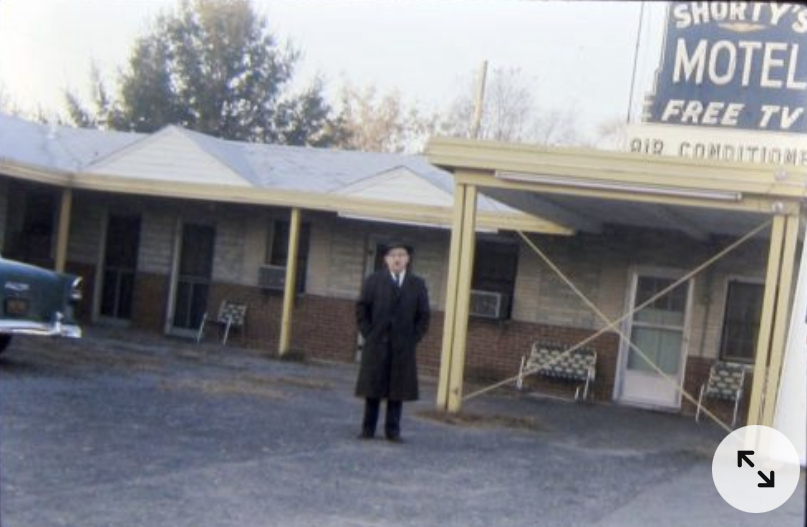 Very sad to read about the segregation rules that you witnessed, despite me being long-aware of that sort of thing.
My family stopped at a fast food joint in Tennessee back in the 70's, before drive-thru's were more common, and my Dad stomped out of there without any food. He said the black customer in front of him was told that he couldn't eat inside the place with his family. He could order food, but would need to eat it outside. So Dad decided to not give them his business, and we continued driving for many more miles before finally getting some burgers in Kentucky somewhere.
Your memory is great! I couldn't begin to name most of the businesses from my old family vacations! I can sometimes remember the names of tourist spots, like caverns or whatever we visited for awhile, but that's about it. On the other hand, those landmarks might've been like oases on a mostly desolate road for you, making them easier to stick in your mind.
---
Response to Buckeye_Democrat (Reply #10)
Wed May 26, 2021, 07:25 AM
3Hotdogs (7,890 posts)
11. U.S. 1. Long and desolate. For miles, nothing but farms or forests.
The commercial buildings that were there, were nondescript things that were put together without imagination... just utilitarian buildings to keep the rain out of whatever was going on inside. There are a parts of southern N.J. with secondary highways that have a few such buildings standing. About half are vacant. The rest have succumbed to strip malls or convenience store/gas stations.

U.s. 1 is also known as the Post Road. It was built from Boston to New Orleans and was chartered by Ben Franklin to facilitate the carrying of mail. There were stone markers along the road and the postage fee was calculated by the miles. I recall seeing a few of those markers along the side of the highway, outside of Trenton, N.J,. until the 1980's. They were later removed to widen the highway.

Several parts of the highway are still named Post Road. A Post Road exists in Bronx, N.Y. Others are in New England towns.

The second argument leading to the Civil War was in early 1800's. Congress passed a Bonus Bill that provided for paving the section of the road from Washington D.C. to Boston. No parts of U.S. 1 in southern states was to be paved.
---
Response to Backseat Driver (Original post)
Tue May 25, 2021, 09:56 PM
csziggy (33,520 posts)
8. That's the third monkey colony I have heard of in Florida
There are monkeys that were released or escaped from Silver Springs; A possible colony in the Green Swamp north of Lakeland; and now this one.





All of those have been caught:



There was a single monkey loose in Tampa:




---
Response to Backseat Driver (Original post)
Wed May 26, 2021, 09:55 PM
Javaman (59,372 posts)
12. The (Really) Wild Monkeys Of South Texas
https://www.tpr.org/environment/2020-10-03/the-really-wild-monkeys-of-south-texas
It seems unlikely, but the harsh environment of South Texas plays host to a large population of Japanese Snow Monkeys. They've been housed in a sanctuary near Dilley for many years. But stories continue to circulate about Japanese Snow Monkeys being spotted in the wild. It's a story that goes back almost 50 years.
The year is 1972, the Vietnam war is dragging on. A South Texas Rancher named Edward Dryden heard about the plight of a troupe of Japanese Snow Monkeys, which had become a nuisance in a small Japanese town. The locals wanted them gone.
Dryden wasn't an animal rights activist. In fact he planned on reselling some of the primates to U.S. medical researchers. About 150 monkeys were transported to his ranch near Encinal.
And then the story gets complicated.