Sat May 25, 2013, 07:08 PM
Catherina (35,568 posts)
FARC-EP Reject new Colombian Minister Ultimatum
FARC-EP Reject new Colombian Minister Ultimatum

Havana, May 25 (Prensa Latina) ...

...

Colombia's Interior Minister compared the proposals on rural development in the insurgency with a "gift list" and a "Christmas tree."

...


After reading out the text, Laura Villa stated that the formulations of the guerrillas in talks collect popular demands and are not a "gift list", but the record of rights that have been violated to the people and the State has the duty to guarantee them without further delay.

The purpose is to maximize farm production and rural communities in terms of food sovereignty and full improvement of the living conditions of the impoverished rural population and displaced by the conflict imposed by the power elites, according to the source.

The FARC-EP considered urgent and necessary to end the concentration of land ownership that, in their opinion, has resulted in the deepening of extreme inequality, expressed in a Gini coefficient (a measure of income inequality within a country) greater than 0.89, "the most outrageous and unfair on the continent."

sus/gpm-lac/yp
Modificado el ( sábado, 25 de mayo de 2013 )
1 replies, 692 views
Replies to this discussion thread
| | | | |
| --- | --- | --- | --- |
| 1 replies | Author | Time | Post |
| FARC-EP Reject new Colombian Minister Ultimatum (Original post) | Catherina | May 2013 | OP |
| | Judi Lynn | May 2013 | #1 |
---
Response to Catherina (Original post)
Sun May 26, 2013, 02:47 AM
Judi Lynn (145,877 posts)
1. Yeah, that's what they're after, their "gift list" and their "Christmas tree."
What a great mind he is! A great mind for a world controlled by corporations alone with the able assistance of a vast military.
[center]
[/center]
Here's his Wikipedia:

Fernando Carrillo Flórez (born 13 May 1963) is the current Minister of the Interior of Colombia. A lawyer and economist from the Pontifical Xavierian University in Bogotá with postgraduate studies from Harvard University, he has also served as Minister of Justice from 1991 to 1992.

Academic career [edit]

Carrillo attended the Cervantes Lyceum from where he graduated in 1978,[1] he then went on to College at the Pontifical Xavierian University from where graduated summa cum laude with a Bachelor of Economics and a Juris Doctor; his thesis, Sector Financiero y Delincuencia Económica (Financial Sector and Economic Delinquency), co-authored with Jorge Pinzon Sanchez was published by Editorial Temis Librería. Carrillo pursued further studies in the United States attending Harvard Law School where he earned a Master of Laws in 1987, and returned in the 90's earning a Master of Public Administration from the John F. Kennedy School of Government in 1994.

Right out off college Carrillo began teaching at his alma mater as Professor of Constitutional Law; he also been Professor of Public Finance at Our Lady of the Rosary University, and the University of La Sabana; Professor of Commercial Law at the University of the Andes, Saint Thomas Aquinas University, and ICESI University; and visiting scholar at various other institutions including Sciences Po, University of Paris III: Sorbonne Nouvelle, American University, and the Charles III University of Madrid.

On 13 September 2012 Carrillo was named Corresponding Member of the Colombian Academy of Jurisprudence.[2]

Political career [edit]

Constituent Assembly [edit]

On 7 August 1990, the newly-inaugurated President of Colombia, César Gaviria Trujillo, appointed Carrillo as Presidential Adviser on Constituent Assembly Matters.[3] Because of constitutional restrictions on sitting officials, Carrillo resigned his post to run for a seat in the Constituent Assembly,[4] feat that he managed when the elections were held in December. On 5 February 1991 the National Constituent Assembly was convened with Carrillo as a member.

More:
https://en.wikipedia.org/wiki/Fernando_Carrillo_Fl%C3%B3rez
[center]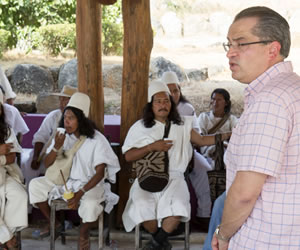 Is he there to tell them about his life as
an Inter-American Development Bankster? [/center]