Thu Dec 24, 2015, 05:00 PM
forest444 (5,902 posts)
Grandmothers of Plaza de Mayo founder Chicha Mariani finds granddaughter abducted in 1976.
After an epic search that lasted 39 years, María Isabel "Chicha" Chorobik de Mariani, the founder of the Grandmothers of Plaza de Mayo, located the granddaughter snatched as an infant during the country's last military dictatorship.
Fundación Anahí, the association created by Mariani, 92, when she left Grandmothers of Plaza de Mayo in 1989, confirmed the news Thursday.
Her granddaughter, Clara Anahí, read one of the letters written by Mariani and decided to approach Fundación Anahí because she had doubts about her real identity. Sources told the Herald that the woman, who lives in Córdoba Province, conducted blood tests at a private lab to determine whether she was the baby who had been snatched from Diana Teruggi's arms in 1976. A judicial filing will be made on Monday.
Diana, Chicha's daughter-in-law, was killed when the military launched an atack on the house where she lived in the city of La Plata on November 24, 1976. Her son, Daniel Mariani, was killed in 1977. Both were members of Montoneros, the Peronist left-wing armed group. At the time, several dictatorship officials told Mariani that her granddaughter had been killed in the attack. She refused to believe them, however, and continued what many had told her was a pointless search.
"Many people know what happened to Clara Anahí, but they have hidden the information. For years, they only told lies: that she was killed, that my son was alive and had taken her to Spain. Horrible and painful lies. The worst thing was that many people believed what (dictatorship-era Buenos Aires Province Police Chief Ramón) Camps said, and did not trust me," Chicha told the Herald in 2013.
At:
http://buenosairesherald.com/article/205563/iconic-grandmothers-of-plaza-de-mayo-founder-chicha-mariani-finds-her-granddaughter
7 replies, 3237 views
Replies to this discussion thread
| | | | |
| --- | --- | --- | --- |
| 7 replies | Author | Time | Post |
| Grandmothers of Plaza de Mayo founder Chicha Mariani finds granddaughter abducted in 1976. (Original post) | forest444 | Dec 2015 | OP |
| | MADem | Dec 2015 | #1 |
| | forest444 | Dec 2015 | #2 |
| | MADem | Dec 2015 | #3 |
| | Judi Lynn | Dec 2015 | #4 |
| | forest444 | Dec 2015 | #5 |
| | brer cat | Dec 2015 | #6 |
| | forest444 | Dec 2015 | #7 |
---
Response to forest444 (Original post)
Thu Dec 24, 2015, 05:09 PM
MADem (135,425 posts)
1. WOW!!!!!!!!!!!!!!!!!!!!!!!!!! WOW!!!!!!!!!!
That is nothing short of a miracle.

Amazing! What wonderful news for her at Christmas.


---
Response to MADem (Reply #1)
Thu Dec 24, 2015, 05:33 PM
forest444 (5,902 posts)
2. Well said, MADem - and Merry Christmas!
Some, like President Macrisis there, like to think that human rights is just a "scam."
There's no doubt in my mind that some that callousness stems from his own difficult family relationships - something so many people can probably relate to, unfortunately. But I hope that this Christmas even he can be touched by seeing families reunited after everything that happened.
---
Response to forest444 (Reply #2)
Thu Dec 24, 2015, 05:37 PM
MADem (135,425 posts)
3. I am overjoyed for both of them.
At 92, the sense of mortality is quite real. I wonder how often she despaired down the years of ever seeing or finding her grandchild. And how wonderful that the granddaughter felt a tug, a need, to get answers--it just the most remarkable story, and so wonderful that she who worked so hard to give voice to those who disappeared is given this gift in the winter of her life.
---
Response to forest444 (Original post)
Thu Dec 24, 2015, 06:25 PM
Judi Lynn (147,298 posts)
4. Astonishing answer to a very old prayer for this long-suffering, compassionate, hard-working woman.
No doubt she had almost given up on her own hope. What a day it must have been when she learned her search was successful,
that her efforts had not been in vane, and that the child wanted to find her, as well.
[center]
The lady's son and his wife, the parents of the granddaughter.
Clara Anahi's murdered parents, Daniel Mariani and Diana Teruggi.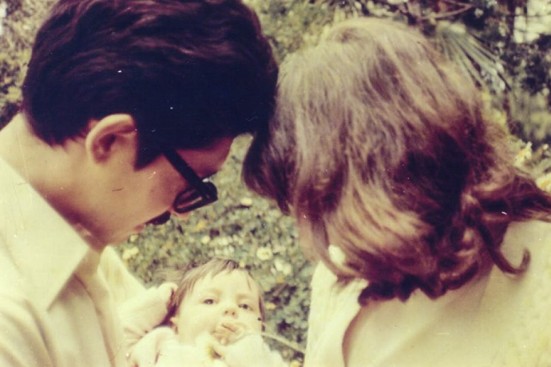 [font size=1]

Chicha Mariani, at the bullet-scarred house of her son, daughter-in-law, and granddaughter. Armed forces attacked the house in 1976.

Photograph from Kameraphoto[/font]
[/center]
A Reporter at Large
March 19, 2012 Issue
Children of the Dirty War
Argentina's stolen orphans.
By Francisco Goldman
n November 24, 1976, eight months after a military junta took power in Argentina, launching the Dirty War that introduced the term los desaparecidos—"the disappeared"—to the world, a house in a peaceful, tree-lined neighborhood of La Plata, about forty miles southeast of Buenos Aires, came under attack. The assault, which involved two hundred armed forces on the ground and bombing and strafing from the air, lasted for four hours. María Isabel Chorobik de Mariani (known as Chicha), an art-history teacher who lived a few blocks away, heard it, as did others throughout the city. The next day, Mariani found out that it was her son's house that had been attacked. Daniel Mariani, an economist, and his wife, a graduate student, were both members of the leftist guerrilla group known as the Montoneros. They had been in the house that day with their three-month-old daughter and three other militants. Neighbors called the building the House of Rabbits, because the people who lived there bred and sold rabbits, but that business was a front; the basement held the printing press that put out the underground newspaper Evita. The militants were only lightly armed. "They should have surrendered," Mariani told me. Instead, they resisted.
Daniel, it turned out, had left for a meeting in Buenos Aires shortly before the attack. His wife, Diana Teruggi, was slain on the patio. She had hidden their daughter, Clara Anahí, in a bathtub, covered with towels. After the attack, a soldier found the baby and carried her out to the street. He asked the commander of the operation, Colonel Ramón Camps, what to do with her. Two police officers were sitting in a car nearby, and Camps told the soldier to give the baby to them. Thirty years later, a neighbor told Chicha Mariani that she had seen one of the policemen place Clara Anahí in an ambulance. When the policeman noticed her watching, he shouted at her to go back into her house or he'd kill her.
As soon as Mariani found out that her granddaughter had been in the house, she began to search for Clara Anahí, checking police stations, hospitals, juvenile courts, and churches. In months of looking, she found no trace of the child and no one who would discuss the situation with her. Even Mariani's closest friends now crossed the street to avoid her. Finally, a woman working in a juvenile court took pity on her. "You're very alone, Señora," she said. She suggested that Mariani meet up with other women who were searching for missing children, and gave her the telephone number of Alicia de la Cuadra. De la Cuadra, whose daughter had been pregnant when she was "disappeared," told Mariani about a group she belonged to—the Madres de Plaza de Mayo—which had been created in April, 1977, by mothers searching for children who had been detained by the military regime. The Madres gathered in front of the Presidential Palace in Buenos Aires every Thursday to march in silent protest around the plaza, wearing white kerchiefs embroidered with their missing children's names. Mariani participated in a protest with the Madres and soon formed another group, with de la Cuadra and ten other Madres who were also looking for missing grandchildren. They became known as the Abuelas de Plaza de Mayo.
Mariani's son, who had continued his militant life, was shot dead in a La Plata street eight months after the death of his wife. Years later, Mariani's husband, a symphony conductor, still often hallucinated that the floors of their home were soaked with blood. He spent most of his time in Italy, and he died in 2003. Mariani stayed in La Plata and dedicated her life to finding Clara Anahí.
More:
http://www.newyorker.com/magazine/2012/03/19/children-of-the-dirty-war
Thank you, forest444!
What a loving triumph snatched from the jaws of defeat.
---
Response to Judi Lynn (Reply #4)
Thu Dec 24, 2015, 06:37 PM
forest444 (5,902 posts)
5. And thank you for all this research, Judi Lynn!
My post was merely a summary; your reply really tells the story as it should be told. The
New Yorker
was great to bring this saga to U.S. readers, especially because there were 500 more almost exactly like it in Argentina (and no doubt thousands more around the world).
As MADem mentioned, the fact that Mariani found her long-lost granddaughter in the winter of her years (age 92) adds even more poignancy to these news - especially coming during the holiday season as it does.
Thank you, as always.
And Merry Christmas!
---
Response to forest444 (Original post)
Thu Dec 24, 2015, 07:56 PM
brer cat (14,529 posts)
6. How amazing!
What a blessing in her last years to have her long-lost grandchild.

A wonderful Christmas Eve story, forest444. Thank you for sharing.
---
Response to brer cat (Reply #6)
Thu Dec 24, 2015, 08:41 PM
forest444 (5,902 posts)
7. You bet.
Stories like this one (one of an estimated 500 such cases of infants abducted from left-wing parents by the dictatorship) are why the new, far-right president, Mauricio Macri, must not be allowed to halt or impede the ongoing human rights trials against the 1,000 or so officers involved in the Dirty War. He hasn't actively tried to yet; but he has certainly already declared his inclination to do so.
Happy Holidays to you and yours, brer cat!