Fri Sep 16, 2016, 11:46 PM
forest444 (5,902 posts)
Argentina marks 40th anniversary of 'Night of the Pencils' disappearance of eleven high schoolers.
The "Night of the Pencils" - the abduction of eleven high schoolers in the city of La Plata by security forces in retaliation for organizing protests in favor of a bus fare discount booklet for students - took place 40 years ago. The incident would become one of the most emblematic in the Dirty War being waged in the mid-to-late 1970s against dissidents, violent or non-violent, by the dictatorship at the time.
The students, whose ages ranged from 16 to 19, were all classmates at the Normal (teacher's) School N° 3 in La Plata, about 30 miles Southeast of Buenos Aires. They had earlier organized a mobilization that in October 1975 succeeded in having the Provincial Government implement a Secondary Student Ticket Book that allowed students to ride local buses at half fare. The benefit was demanded to help needy students, whose parents did not generally own cars, meet the soaring cost of public transport during that highly inflationary period.
The benefit was rescinded in August 1976, however, as the right-wing military dictatorship that had taken power that March implemented
an austerity program featuring public sector layoffs, sharply higher interest rates, and reduced social spending
. The students called a protest in response, and within days a Provincial Police Commissioner, Alfredo Fernández, presented a report calling for their disappearance as part of "a hotbed of a subversive potential."
Commissioner Fernández's 1976 report, found years later during the National Commission on Disappearances (CONADEP) investigation launched shortly after the dictatorship stepped down in 1983, was entitled
Noche de los Lápices
- the "Night of the Pencils."
The abductions were carried out in a joint operation by the Buenos Aires Provincial Police (based in La Plata) and the Army Battalion 601 over the course of two nights - September 16 and 17, 1976.
Due in part to the many inquiries by their parents and other loved ones, the students were transferred among several detention centers in La Plata and the southern districts of metro Buenos Aires. The dictatorship maintained around 300 such facilities nationwide, and an estimated 30,000 people were killed or disappeared in these between 1975 and 1979.
María Clara Ciocchini, Claudio de Acha, María Claudia Falcone (the leader), Francisco López Muntaner, Daniel Racero, Víctor Treviño, and Horacio Ungaro perished by firing squad, after prolonged torture and/or rape, in January 1977. Despite years of work by the Argentine Forensic Anthropology Team (EAAF), their remains have not yet been identified.
The four that survived - Gustavo Calotti, Pablo Díaz, Patricia Miranda, and Emilse Moller - did so thanks to family connections with police or the powerful Roman Catholic Church, most of whose leadership approved of and helped conceal the Dirty War. The Archbishop of La Plata at the time, Msgr. Antonio Plaza, was aware of these incidents and backed the Dirty War as well as amnesty years later - lest, in his words, "
we face something like the Nürnberg Trials or people who might come for us, like they did with poor Adolf Eichmann
."
These experiences were recounted by María Seoane and Héctor Ruiz Nuñez in the book
La Noche de los Lápices
, published in 1985. The book was made into a film of the same name by director Héctor Olivera in 1986.
Calotti was freed in 1977 and later emigrated to France, where he teaches school. Moller and Miranda, who were close friends, were freed in 1978; Moller is now a human rights activist and member of the Provincial Commission on Memory. Díaz, freed in 1980, testified in the historic Trial of the Juntas in 1985, which resulted in jail sentences for most of the former Junta leaders - but not for over 600 subordinates charged at the time, most of whom would enjoy amnesty until it was repealed by President Néstor Kirchner in 2003.
One of them, Buenos Aires Provincial Police Chief Inspector Miguel Etchecolatz, was sentenced to life in prison in 2006 for his role in multiple atrocities - including the Night of the Pencils. The star witness in his trial, 76 year-old
Jorge Julio López
, was himself abducted days after testifying against Etchecolatz, and remains missing.
Etchecolatz was granted house arrest by a La Plata tribunal on August 20 on account of his advanced age (87). The ruling has been appealed by plaintiffs -
but not by the right-wing Mauricio Macri administration
, whose Justice Minister, Germán Garavano, was revealed to have held secret talks with Argentina's most prominent Dirty War apologist, Cecilia Pando.
The Students' Ticket Book was ultimately reinstated by former Governor Daniel Scioli in 2015. In recognition of the victims of this tragedy and of their struggle for the sake of their fellow students, September 16 is commemorated in Argentina as the Day of Reaffirmation of Rights of Secondary Students.
At:
https://translate.google.com/translate?hl=en&sl=es&u=http://www.infonews.com/nota/301671/se-cumplen-40-anos-de-la-noche-de-los-lapices&prev=search
1 replies, 1664 views
Replies to this discussion thread
| | | | |
| --- | --- | --- | --- |
| 1 replies | Author | Time | Post |
| Argentina marks 40th anniversary of 'Night of the Pencils' disappearance of eleven high schoolers. (Original post) | forest444 | Sep 2016 | OP |
| | Judi Lynn | Sep 2016 | #1 |
---
Response to forest444 (Original post)
Sun Sep 18, 2016, 02:37 AM
Judi Lynn (147,053 posts)
1. Not a minute too soon. Memories must be reactivated.
[center]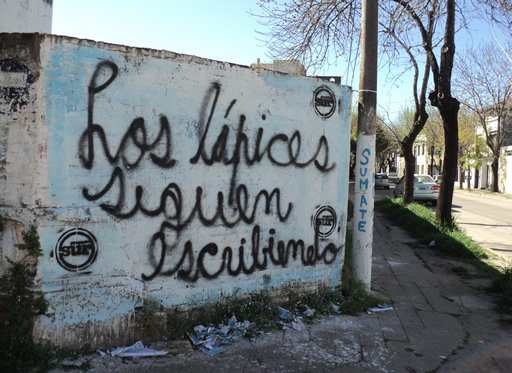 [/center]
So the last dictatorship started exactly the way Macri has implemented. Doesn't leave too much to the imagination, does it?
Day of Reaffirmation of Rights of Secondary Students, hope to see it next year.
Thank you.