Sat May 20, 2017, 11:17 PM
sandensea (14,470 posts)
Macri intelligence chief Arribas to face Congressional scrutiny over bribery claims
Last edited Sat May 20, 2017, 11:50 PM - Edit history (1)
Argentina's Congressional Intelligence Committee has called Federal Intelligence Agency (AFI) chief Gustavo Arribas to testify after the key witness in the Brazilian Lava Jato bribery scandal testified that Arribas received $850,000 in bribes.
Leonardo Meirelles, a Brazilian "doleiro" (bag man) for the disgraced São Paulo-based public contractor Odebrecht, testified last week that Arribas had been bribed with $850,000 in 10 transfers to two bank accounts in Switzerland.
Like Odebrecht CEO Marcelo Odebrecht, Meirelles is currently serving time for his role in the massive Lava Jato (car wash) scandal.
·Congressional summons·
Following the Meirelles testimony, Arribas was invited to appear before the Bicameral Intelligence Monitoring Committee this week - but declined to attend. Accordingly, the Committee unanimously agreed to formally summon Arribas in the near future.
Senator Juan Carlos Marino of the centrist UCR said that Arribas "made a mistake" in not attending. The senator noted that there had been calls during the closed door meeting for Arribas to be suspended from his post until these allegations are cleared up.
Evidence had already surfaced on January 11 that Arribas had received at least $594,000 in wire transfers from the same Odebrecht-controlled account - RFY Import & Export Limited, in Hong Kong. The firm, Meirelles testified, was a cutout used solely for issuing bribes.
In a controversial ruling, Arribas was cleared on March 31 by Federal Judge Rodolfo Canicoba Corral. An appeal has been filed in light of this new evidence, however, and the case may soon be re-opened. Arribas has denied the accusations.
·Accustomed to trickery·
President Mauricio Macri, who appointed Arribas by decree within days of taking office 17 months ago, has resisted growing calls to dismiss the AFI boss - even from members of his right-wing "Let's Change" caucus.
"This doesn't worry me at all," said Macri. "The information that Arribas presented was clear and (Justice) Minister Germán Garavano has already said everything."
Arribas, one of numerous administration officials with close personal ties to the president, has a longstanding business relationship with Macri as a deal maker and currently resides in an apartment rented from Macri.
In an interview published on Wednesday, the president admitted to local journalist Laura di Marco that he appointed Arribas as head of intelligence because "he was the most accustomed to trickery."
At:
http://www.buenosairesherald.com/article/225696/arribas-to-face-congressional-scrutiny-over-bribery-claims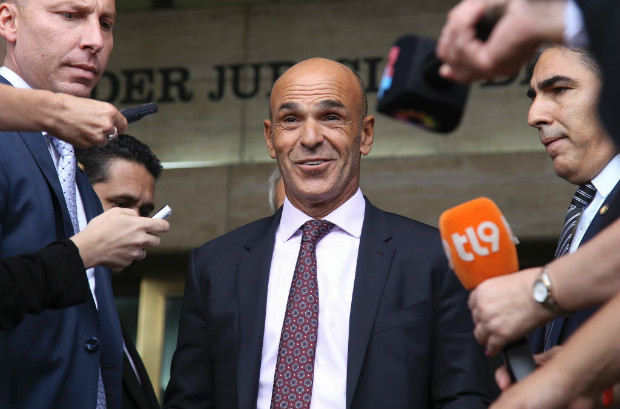 Macri intelligence chief Gustavo Arribas: "accustomed to tricks"
3 replies, 4289 views
Replies to this discussion thread
| | | | |
| --- | --- | --- | --- |
| 3 replies | Author | Time | Post |
| Macri intelligence chief Arribas to face Congressional scrutiny over bribery claims (Original post) | sandensea | May 2017 | OP |
| | Judi Lynn | May 2017 | #1 |
| | sandensea | May 2017 | #2 |
| | Judi Lynn | May 2017 | #3 |
---
Response to sandensea (Original post)
Sun May 21, 2017, 12:23 AM
Judi Lynn (147,878 posts)
1. Macri is completely surrounded professionally, and in his family life by criminals
who so far have been powerful enough to have stayed out of prison. Like Trump. This is a stunning revelation.

Not only bribed himself, but handed a stash of bribe money to use for other corrupt people whose services are needed.

Salute to Laura di Marco for having the courage to publicly mention Macri's flagrant, cocky, slimy comment regarding his evil pal.

You have to wonder if Macri or Arribas is going to slap her down for that!

Great information, sandensea. Macri's true intentions are growing more and more conspicuous. What a jerk.


---
Response to Judi Lynn (Reply #1)
Sun May 21, 2017, 12:59 AM
sandensea (14,470 posts)
2. Little wonder that Trump and Macri are such good pals
Both have business histories marked by bad debts and tax evasion, both owe their two divorces to infidelities, both have done a shameless 180 on all major campaign promises, and most relevantly: both have similar governing styles (trickle-down policies, decrees, nepotism, etc.).

The way things are going, neither may end up completing their respective terms.

Thank you for the feedback and your thoughts, Judi Lynn. Much appreciated.
---
Response to sandensea (Reply #2)
Sun May 21, 2017, 05:30 AM
Judi Lynn (147,878 posts)
3. It would be so right to see them getting led away.
It would show there is still something decent working in the countries tricked into letting them slime their way into office.
Didn't know Macri links up so well with Trump in the business histories, too. It must be capitalistic governments offer the same weaknesses for born criminals to exploit.