Sat Jan 25, 2020, 07:46 PM
Judi Lynn (148,577 posts)
El Salvador general admits army carried out El Mozote massacre
Last edited Sat Jan 25, 2020, 08:53 PM - Edit history (1)
El Salvador general admits army carried out El Mozote massacre
US-trained Atlacatl Battalion killed some 1,000 people in Latin America's most brutal massacre of 20th century.
7 hours ago
Former Salvadoran air force commander in chief during the civil war, general Juan Rafael Bustillo, attends the court hearing in the case of El Mozote Massacre in San Francisco Gotera, El Salvador [Jose Cabezas/Reuters]
A retired Salvadoran general has acknowledged for the first time that the armed forces were responsible for a notorious 1981 massacre of nearly 1,000 people during the country's civil war.
Juan Rafael Bustillo, a former commander of the Air Force, told a court on Friday that the elite United States-trained Atlacatl Battalion carried out the El Mozote massacre in eastern El Salvador in which unarmed villagers, most of them women and children, were slaughtered.
According to a United Nations report, soldiers tortured and executed nearly 1,000 residents of El Mozote and surrounding hamlets in the Morazan department, 180 kilometres (112 miles) northeast of San Salvador, as they searched for rebel fighters in December 1981.
At a court hearing in the eastern town of San Francisco Gotera in Morazan, Bustillo testified he had had no part in the operation which he said was conducted at the behest of Colonel Domingo Monterrosa, commander of the feared Atlacatl Battalion.
More:
https://www.aljazeera.com/news/2020/01/el-salvador-general-admits-army-carried-el-mozote-massacre-200125155053149.html
~ ~ ~
December 11, 1981: The Salvadoran Army Murders More Than 800 Civilians in El Mozote
"President Reagan certified to Congress that the government of El Salvador was making 'a concerted and significant effort' to respect human rights."
By Richard Kreitner Twitter DECEMBER 11, 2015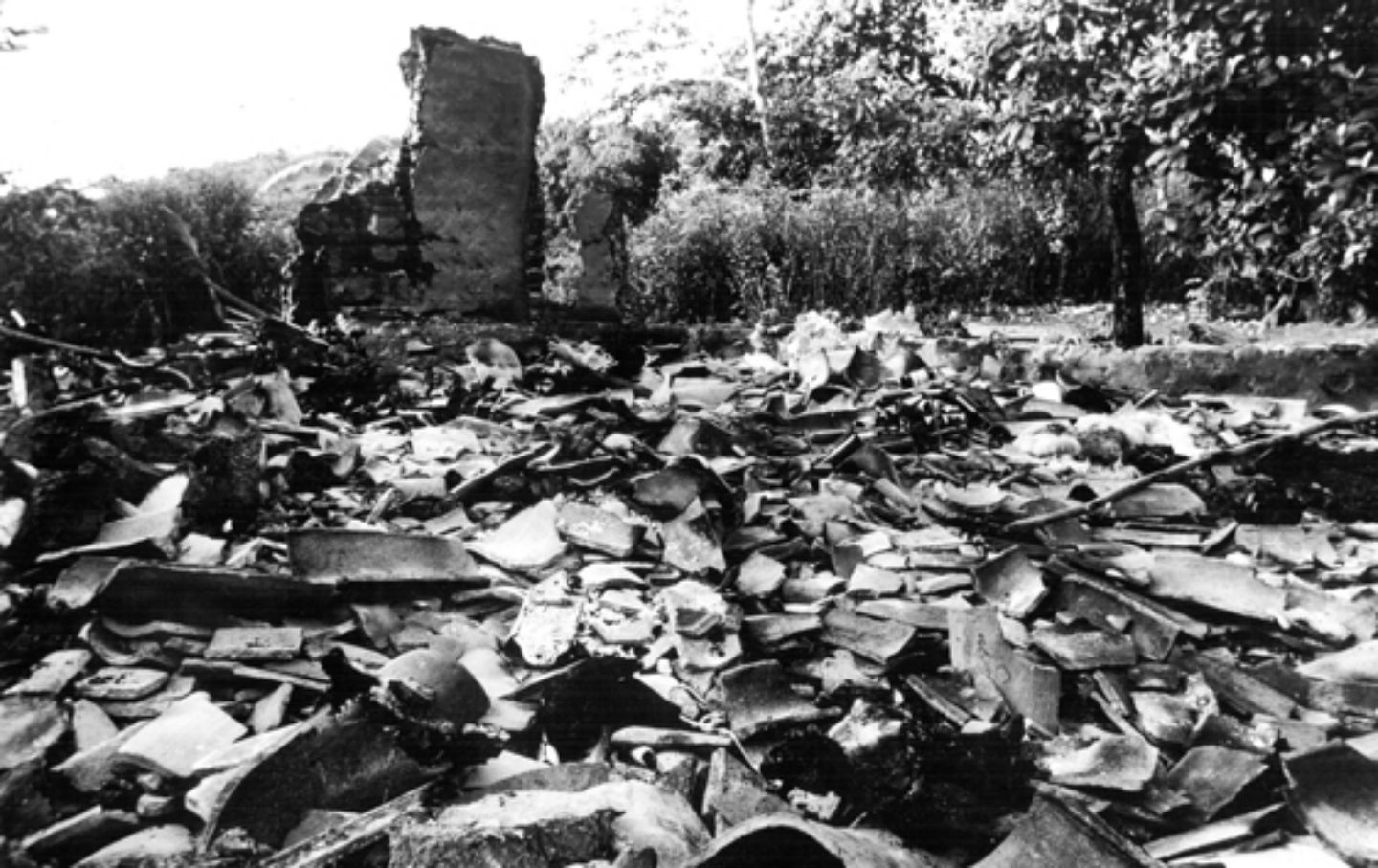 el_mozote_edu_img
The remains of a rural Salvadoran village after members of the Atlacatl Battalion destroyed it during the massacre. (Loyola University Chicago Digital Special Collections)
On this day in 1981 the Salvadoran Army, which operated with the backing of the United States, murdered some 800 civilians in the El Mozote region of El Salvador. As the photographer Steven Salisbury wrote in "A 'Death List' for the Salvadoran Army," published in The Nation a year after the massacre, the United States embassy in the country's capital, San Salvador, knew full well that the Salvadorans were targeting civilians for murder just after the El Mozote massacre took place, but that didn't stop President Ronald Reagan, who avidly supported the army's campaign against revolutionary guerrillas, from assuring the public that the Salvadoran army was protecting the human rights of civilians.
Sometime before January of this year the Salvadoran Army high command apparently issued a death list targeting 462 peasants in the El Mozote region in northeastern El Salvador. Despite the fact that the death list was read and copied by senior officials in the American Embassy in Sal Salvador on January 6, President Reagan certified to Congress three weeks later that the government of El Salvador was making "a concerted and significant effort" to respect human rights.

'I was a freelance photographer camping out with government troops at a makeshift National Guard post in a small town a few kilometers north of El Mozote. On January 3, a corporal, asking for money, gave me a leaflet written in Spanish that was being passed out to the troops. He and his comrades made it abundantly clear what it was for: the identification and location—and thus the murder—of suspected government opponents.…

The New York Times and The Washington Post on January 27 published reports that Salvadoran soldiers had massacred as many as 926 civilians in El Mozote and surrounding hamlets during search-and-destroy missions against guerrillas between December 8 and December 21, 1981. Times correspondent Raymond Bonner reported eyewitness accounts of survivors who accused government troops of the killings. One of the survivors, Cesar Martinez of La Joya, a village near El Mozote, reported that his mother, his sister and his sister's two children were killed by soldiers. The leaflet I obtained listed a Cesar Martinez and other Martinezes under a grouping of hamlets that included La Joya. The list also contained the names of at least eight other people killed, according to the El Salvador Commission on Human Rights.
https://www.thenation.com/article/archive/december-11-1981-the-salvadoran-army-murders-more-than-800-civilians-in-el-mozote/
Many more graphic images, and the articles with the thumbnails:
https://tinyurl.com/udr4zpp
2 replies, 651 views
Replies to this discussion thread
| | | | |
| --- | --- | --- | --- |
| 2 replies | Author | Time | Post |
| El Salvador general admits army carried out El Mozote massacre (Original post) | Judi Lynn | Jan 2020 | OP |
| | LessAspin | Jan 2020 | #1 |
| | Judi Lynn | Jan 2020 | #2 |
---
Response to Judi Lynn (Original post)
Sun Jan 26, 2020, 06:52 PM
LessAspin (811 posts)
1. Elliot Abrams will not be pleased...
---
Response to LessAspin (Reply #1)
Mon Jan 27, 2020, 04:27 AM
Judi Lynn (148,577 posts)
2. So true. He's a man with a mission, probably going mad knowing there are still so many poor people
he hasn't terrorized, tortured, or had massacred by gov't death squads. What a hero.

Thank you for the links. Really glad to see them, it's so good to know there are people keeping the search for the truth alive.