Tue Jul 14, 2020, 04:21 AM
Judi Lynn (148,471 posts)
Why Cuban cigars are so expensive
Andy Ash Jul 12, 2020, 5:00 AM
- see video at link -
Below is a transcript of the video:
Narrator: Cuban cigars hold a reputation as the world's most opulent tobacco product. A box of good-quality Habanos can cost thousands of dollars. Every hand-rolled Cuban cigar goes through about 500 manual tasks from seed to cigar. But over the last 25 years, cigars made in other countries in the Caribbean and Central America have become comparable in quality, consistency, and cost. Worse still for American smokers, your Cuban cigar could be fake. Some experts suggest that up to 95% of all Cuban cigars in the US are actually counterfeit. So why are Cuban cigars so desirable? And is that why they're so expensive? For more than 200 years, the culture of cigar making in Cuba hasn't changed. In a process that takes about a year, tobacco leaves are grown, harvested, and hung in drying houses called secaderos before a slow fermentation occurs, which enhances flavor, aroma, and burning characteristics. Each leaf is inspected for its type, appearance, and quality and handed to a torcedor, a highly skilled cigar roller, greatly respected in Cuban society.
José Castelar Cairo: "My name is José Castelar Cairo. I work here in La Triada. I have been a cigar maker for 61 years. To make cigars here in Cuba, we depend on five types of leaves: a leaf that is called ligero, which is the one that gives strength in the cigar; another leaf that is called seco, the one with the aroma; another leaf is called volado, which is in charge of the combustion inside the cigar. It is followed by the binder that wraps the ligero, seco, and volado. And the last leaf is the wrapper, which is what I am doing, is the one that dresses the cigar, and the wrapper gives presence to the cigar."
Narrator: The heartland of Cuban cigar production is in Pinar del Río, the westernmost province of the island, where 70% of premium cigar tobacco used by state-run cigar companies is grown. Cuban tobacco growers claim that the fundamental influence on quality is the region's terroir, the unique environmental factors that affect a crop.
Richey Morin Rico: "The first thing to be considered as the best cigar in the world is that four factors make it unique. It is the soil where it is grown, the climate of the region where it is grown, the manual labor, and the variety of black tobacco used. I know that they have tried to take the strain many times, have tried to take the seed, and have tried to take the workmanship. Still, in all the places where they have put it with similar conditions, it has not been achieved in the same way."
More:
https://www.businessinsider.com/why-are-cuban-cigars-so-expensive-2020-7
~ ~ ~
It was charming learning about this habit which has evolved in Cuba in the places which make cigars. I had to go find an article on the readers to add to this article:
Page last updated at 17:57 GMT, Thursday, 10 December 2009
Reading while rolling Cuba's famous cigars
How cigars are produced in Cuba
Despite a slump in sales due to the recession, Cuba continues to be the world's largest producer of cigars. Could its success be due to cigar factory readers? BBC correspondent in Havana, Michael Voss, finds out.
The air in H Upmann's cigar factory in Havana's Vedado district is thick with the sweet pungent smell of tobacco.
It's hot and humid. There is no air conditioning because that would dry out the precious leaves.
In the long main galley, row upon row of workers sit side by side on long wooden benches - dozens of men and women all rolling cigar after cigar.
Producing Cuba's famous handmade cigars is a highly skilled but monotonous job which demands concentration.
There's no time for chatting to workmates - quotas must be met.
At the front of the room there's a raised platform where a lone figure sits in front of a microphone, reading out loud the official state newspaper Granma.
Instead of canned music, many cigar factories in Cuba still rely on the ancient tradition of employing a reader to help workers pass away the day.
Gricel Valdes-Lombillo, a matronly former school teacher, has been this factory's official reader for the past 20 years.
In the morning she goes through the state-run newspaper Granma cover to cover.
Later in the day she returns to the platform to read a book.
More:
http://news.bbc.co.uk/2/hi/8406641.stm
Photos of readers, from google images:
https://images2.minutemediacdn.com/image/upload/c_fill,g_auto,h_1248,w_2220/f_auto,q_auto,w_1100/v1555375852/shape/mentalfloss/pretexts.jpg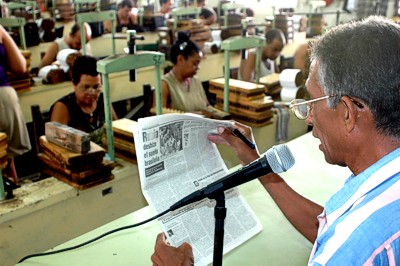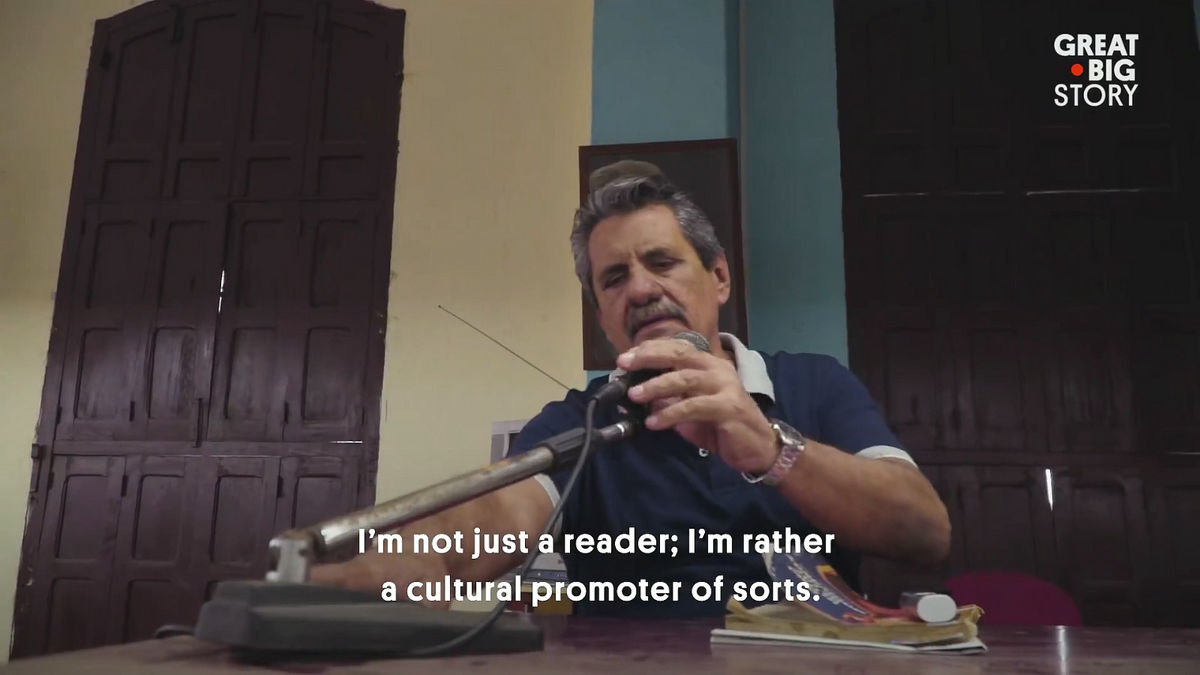 9 replies, 901 views
Replies to this discussion thread
| | | | |
| --- | --- | --- | --- |
| 9 replies | Author | Time | Post |
| Why Cuban cigars are so expensive (Original post) | Judi Lynn | Jul 2020 | OP |
| | tblue37 | Jul 2020 | #1 |
| | Judi Lynn | Jul 2020 | #2 |
| | Layzeebeaver | Jul 2020 | #3 |
| | soothsayer | Jul 2020 | #7 |
| | PoindexterOglethorpe | Jul 2020 | #4 |
| | secondwind | Jul 2020 | #5 |
| | sinkingfeeling | Jul 2020 | #6 |
| | Judi Lynn | Jul 2020 | #9 |
| | Chainfire | Jul 2020 | #8 |
---
Response to Judi Lynn (Original post)
Tue Jul 14, 2020, 04:40 AM
tblue37 (47,605 posts)
1. Fascinating. K&R and thanks! nt
---
Response to tblue37 (Reply #1)
Tue Jul 14, 2020, 04:54 AM
Judi Lynn (148,471 posts)
2. Thank you, tblue37. 🌴🌴🌴🌴 🦜️
---
Response to Judi Lynn (Original post)
Tue Jul 14, 2020, 04:57 AM
Layzeebeaver (727 posts)
3. Lovely to see this
It made me remember a lovely evening event in the (now defunct) Dunhill upstairs Humidor/Lounge on Jermyn Street in Central London - a walk in humidor which featured only specially selected Cuban Cigars and accommodating seating for a half dozen in deep leather club chairs.

That evening, Dunhill hosted a master cigar roller along with a cultural history presentation. At the conclusion, we were each handed a very large Cuaba. It was strongly suggested to let them mature a few months before smoking. My wife and I kept ours for several years in our home humidor - and then lit them up one afternoon at home sitting out on our front balcony overlooking our street in Notting Hill.

Holy crap! It knocked the living shit out of us both! I couldn't walk safely for about 90 minutes. Or maybe it was the decision to combine it with a bottle of Bollinger. Either way it was F.A.B. !

The smoking ban took away much of that culture (although I appreciate the result very much!) - I can hardly imagine the vile disgust likely directed at us when we commonly sat in the middle of Harvey Nichols 5th floor restaurant smoking Cohibas and quaffing our Remy - Crazy!

There nothing quite like a good Cuban cigar enjoyed in the correct environment and mood. But to be fair it's not for everyone.

Thanks for this!
---
Response to Layzeebeaver (Reply #3)
Tue Jul 14, 2020, 08:55 AM
soothsayer (38,601 posts)
7. Nothing like a good Cuban! I'm envious
---
Response to Judi Lynn (Original post)
Tue Jul 14, 2020, 05:32 AM
PoindexterOglethorpe (20,006 posts)
4. Because cigars are so good for you.
Other than making you stink and causing serious health problems, they are just fine, right?
---
Response to Judi Lynn (Original post)
Tue Jul 14, 2020, 05:45 AM
secondwind (12,764 posts)
5. My husband and I were in one of those drying sheds about
8 years ago while on a tour. Very interesting.

Somewhere I have a photo of a worker out in the field, surrounded by all the leaves.
---
Response to Judi Lynn (Original post)
Tue Jul 14, 2020, 08:15 AM
sinkingfeeling (44,334 posts)
6. I visited a cigar making facility in Cuba in 2018. All of the workers were
very specialized and they were using ancient molds. One of the many great experiences I had on the island.
---
Response to sinkingfeeling (Reply #6)
Wed Jul 15, 2020, 06:00 AM
Judi Lynn (148,471 posts)
9. Wonderful! They do have the very finest ones in the world.
Had not heard that molds are used. It surely does make sense.

When we get a sane President in the White House again there's no doubt President Obama's intention to cease hostilities completely against Cuba and Cubans will be completed, and people can travel there freely.

It must have been exciting to investigate the island, the people, etc. What a breakthrough experience! Enviable.
---
Response to Judi Lynn (Original post)
Tue Jul 14, 2020, 09:26 AM
Chainfire (6,257 posts)
8. Where I grew up,
Gadsden County, Fl., grew tobacco for cigar wrappers. It brought wealth and jobs to the county. Wealth to the farmers and minimal jobs for the workers. The rich kids worked in tobacco in the summer for spending money or because their families owned the farms. Poor kids worked for school clothes or food on the table. (my first wage at age 12 was .25/hr for 12 hour days.) School years were designed around the tobacco harvest. By the time I was in high school, as an experienced hand, I made .75 per hour.

Black families worked on the farms and lived in farm housing that was, many times, worse than barns; no indoor plumbing, fireplaces were the only HVAC systems, and you could see lights through the cracks in the walls when you drove by at night. In the winter, the only warm place in the house was in front of the fireplace. The black help were no better off than indentured servants and were treated no better than slaves. The farm owners had the status of plantation owners, the sheriffs dept. worked with the farmers to "keep the help in line." The Farm owners were all good Christians who saw no inconsistency in their religion and their behavior.

By around 1970 the market for Florida cigar wrapper tobacco dried up. The farms dried up and the economy dried up. The county went from being one of the richest to the second poorest in the state.

I don't have a taste for cigars, foreign or domestic.