Wed Jul 22, 2020, 03:50 PM
Judi Lynn (148,678 posts)
Earliest evidence for humans in the Americas
By Paul Rincon
Science editor, BBC News website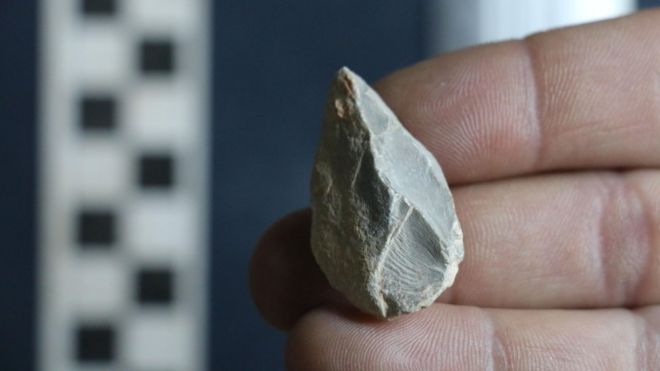 CIPRIAN ARDELEAN
One of the stone artefacts found at the cave
Humans settled in the Americas much earlier than previously thought, according to new finds from Mexico.
They suggest people were living there 33,000 years ago, twice the widely accepted age for the earliest settlement of the Americas.
The results are based on work at Chiquihuite Cave, a high-altitude rock shelter in central Mexico.
Archaeologists found thousands of stone tools suggesting the cave was used by people for at least 20,000 years.
Ice age
During the second half of the 20th Century, a consensus emerged among North American archaeologists the Clovis people had been the first to reach the Americas, about 11,500 years ago.
The Clovis were thought to have crossed a land bridge linking Siberia to Alaska during the last ice age.
More:
https://www.bbc.com/news/science-environment-53486868
Also posted in Anthropology, added to a spectacular article from the Smithsonian already posted by left of center 2012:
https://www.democraticunderground.com/12295855#post1
7 replies, 882 views
Replies to this discussion thread
| | | | |
| --- | --- | --- | --- |
| 7 replies | Author | Time | Post |
| Earliest evidence for humans in the Americas (Original post) | Judi Lynn | Jul 2020 | OP |
| | FirstLight | Jul 2020 | #1 |
| | Judi Lynn | Jul 2020 | #2 |
| | Judi Lynn | Jul 2020 | #3 |
| | abqtommy | Jul 2020 | #4 |
| | Judi Lynn | Jul 2020 | #5 |
| | abqtommy | Jul 2020 | #6 |
| | niyad | Jul 2020 | #7 |
---
Response to Judi Lynn (Original post)
Wed Jul 22, 2020, 04:09 PM
FirstLight (12,418 posts)
1. amazing!
So that means the original idea of crossing the Bering Straight is waayyy off, and that the tribes that make up the Olmec, Hopi, etc were really the first one's here?

gotta read the articles, but this is really interesting. Also lends creedence to those tribes' creation stories!

Thanks for posting these awesome finds!
---
Response to FirstLight (Reply #1)
Wed Jul 22, 2020, 04:28 PM
Judi Lynn (148,678 posts)
2. It's all picking up speed now. An amazing time for people in these fields,
and for everyone who wants to know about it!
---
Response to Judi Lynn (Original post)
Wed Jul 22, 2020, 04:29 PM
Judi Lynn (148,678 posts)
3. Surprise cave discoveries may double the time people lived in the Americas
Barren and remote, Chiquihuite Cave in Mexico seemed an unlikely place for anyone to live. But stone objects recovered from deep inside the cave may tell another story.
BY KRISTIN ROMEY
PUBLISHED JULY 22, 2020
WHEN RESEARCHERS FIRST arrived at a cave high in the desert mountains of north-central Mexico, they hoped to learn what the environment was like there thousands of years ago. But the unexpected discovery of what they believe is an ancient projectile point led to a decade-long excavation that could rewrite the history of the Americas.
According to a paper published today in the journal Nature, the site, known as Chiquihuite Cave, may contain evidence of human occupation that places people in North America around 30,000 years ago—roughly twice as early as most current estimates for when the first humans arrived on the continent.
The question of when people first arrived in the Americas has been debated for more than a century. For much of that time the reigning theory put the arrival around 13,500 years ago. But archaeologists are now exploring sites that keep pushing the date farther back, including some who have reported finding signs of human presence beyond 30,000 years ago. The evidence supporting those claims is hotly contested, and this latest discovery is already stirring more controversy.
. . .
New find suggests humans in North America pre-date the last great ice age.
The earth's Last Glacial Maximum ended 19,000 years ago. During this time, vast ice sheets covered land and sea level was about 400 feet lower than today's. Previous models for explaining the arrival of Homo sapiens to North America supposed that migration into the continent came after glaciers retreated. But a new discovery of stone tools in a Mexican cave indicate human arrival possibly occuring thousands of years earlier.
More:
https://www.nationalgeographic.com/history/2020/07/surprise-chiquihuite-cave-discovery-mexico-double-peopling-americas/
---
Response to Judi Lynn (Original post)
Wed Jul 22, 2020, 04:30 PM
abqtommy (10,893 posts)
4. I'll accept the 33,000 bpe figure. Here in New Mexico we have dormant volcanoes just west of
Albuquerque that we're told last erupted 50,000 years ago. Since none of the many indigenous
groups who live here have any legends of these eruptions then they weren't here then. I've always thought that 12,000 years was too late, though...
Some scientists also feel that the Clovis people were the descendants of the Solutrean people who
traveled from Europe to eastern North America by following the face of the ice limit across the
Atlantic some 20,000 years ago.
link:
https://insider.si.edu/2012/03/ice-age-mariners-from-europe-were-the-first-people-to-reach-north-america/
Looking for scientific "facts" is just a matter of finding information we approve of since the scientists
don't all agree either...
---
Response to abqtommy (Reply #4)
Wed Jul 22, 2020, 05:46 PM
Judi Lynn (148,678 posts)
5. This is the first time I've seen experts describing this view, and it makes so much sense.
Have wondered so long how any of the first claims showed sites on the Pacific side, and also indicated they merely made their way across the north of the country to the east, while not believing anything of value appeared in the middle which would make a better case.

The Atlantic Ice Shelf makes far more sense, doesn't it?

Have never heard of the volcano which was active where New Mexico is. That is deeply interesting, considering all the others are right along the coast, except for Iceland, I think.

It has always been so overwhelming that they have skulls bearing evidence of a great number of facial structures throughout the Americas from thousands of years ago.

CanNOT wait to hear more about this new thought, and the man from the Smithsonian said at the end of the article, they are just getting underway with this, too.

Thank you, so much.
---
Response to Judi Lynn (Reply #5)
Wed Jul 22, 2020, 05:54 PM
abqtommy (10,893 posts)
6. I enjoy sharing. A lot of things I've been exposed to long ago, like the Solutrean info. But as far
as volcanism in New Mexico, you can't drive west of Albuquerque without seeing large areas covered
with old lava flows (The Malpais/Bad Land) and signs urging drivers to visit this or that volcanic cone.
There's even a remnant of a supervolcano here in the state and I never knew it before I moved here
in 2005! Life is indeed for learning! Thanks for providing a venue for my muse!
---
Response to Judi Lynn (Original post)
Wed Jul 22, 2020, 07:57 PM
niyad (78,938 posts)
7. As always, thank you for these amazing posts. It is important to know that incredible work
in advancing knowledge continues, even with all the crises we are facing.