Sat Aug 22, 2020, 04:28 PM
Judi Lynn (148,540 posts)
Ex-official says former Mexico president directed corruption
Rafael Cabrera, Associated Press
Updated 10:44 pm CDT, Wednesday, August 19, 2020
MEXICO CITY (AP) — In some of the most explosive accusations in recent Mexican political history, the former head of the state-owned oil company directly accused former President Enrique Peña Nieto and his treasury secretary of directing a scheme of kickbacks and embezzlement directly from the president's office.
Emilio Lozoya, the former head of Petroleos Mexicanos who himself faces corruption charges, alleges Peña Nieto and Luis Videgaray used the state-owned Pemex as a conduit to "fulfill promises made during the (2012) campaign," among other allegations he makes in a leaked 60-page document whose authenticity was confirmed by Mexican authorities Wednesday.
"Enrique Peña Nieto and Luis Videgaray Caso created a scheme of corruption in the federal government, in which the common denominator was that all the people who supported in some way the presidential campaign had to be recompensed or repaid," usually in the form of cushy government contracts, Lozoya wrote.
. . .
"The president and the afore-mentioned treasury secretary used me to create a criminal conspiracy aimed at enriching themselves, not only by (taking) government funds, but also by extorting money from individuals and companies, fraud and deceit," he wrote.
More:
https://www.chron.com/news/article/Mexican-governor-denies-corruption-as-president-15495445.php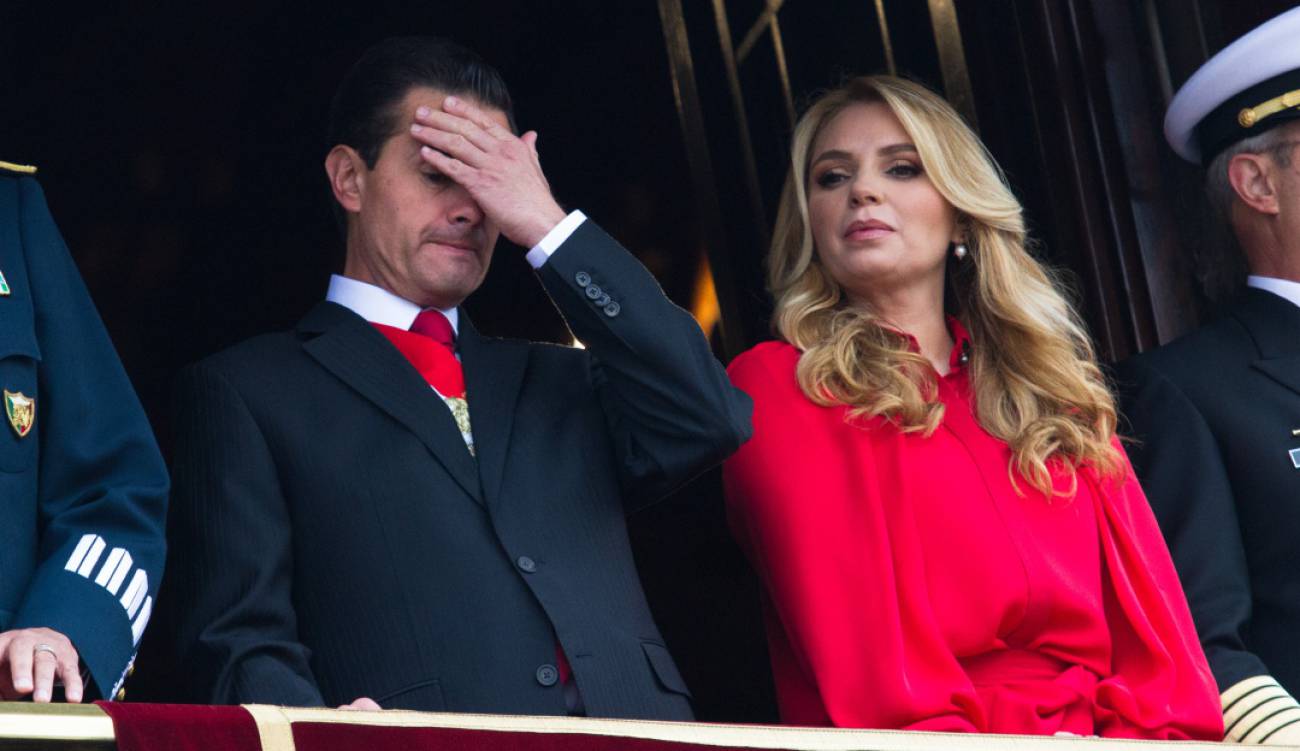 Enrique Peña Nieto was Mexico's President while Trump was trying to bully Mexico into paying for the wall.
His redeeming action was standing up to Trump, and refusing to obligate Mexico's people to that vile demand.
5 replies, 888 views
Replies to this discussion thread
| | | | |
| --- | --- | --- | --- |
| 5 replies | Author | Time | Post |
| Ex-official says former Mexico president directed corruption (Original post) | Judi Lynn | Aug 2020 | OP |
| | alwaysinasnit | Aug 2020 | #1 |
| | mr_lebowski | Aug 2020 | #2 |
| | Mike 03 | Aug 2020 | #3 |
| | LessAspin | Dec 2020 | #4 |
| | Judi Lynn | Dec 2020 | #5 |
---
Response to Judi Lynn (Original post)
Sat Aug 22, 2020, 04:31 PM
alwaysinasnit (3,855 posts)
1. k&r for visibility
---
Response to Judi Lynn (Original post)
Sat Aug 22, 2020, 04:37 PM
mr_lebowski (23,044 posts)
2. That sounds real, real familiar ... can't wait until the new AG gets their teeth into the sweeping
corrupt criminality of this current regime.

Trump has been paying off his 'contributors' with OUR money since day 1.
---
Response to Judi Lynn (Original post)
Sat Aug 22, 2020, 04:45 PM
Mike 03 (16,577 posts)
3. Remember this surprise from the El Chapo trial?
Former Mexican President Peña Nieto Took $100 Million Bribe, Witness at El Chapo Trial Says
https://www.nytimes.com/2019/01/15/nyregion/el-chapo-trial.html
The former president of Mexico, Enrique Peña Nieto, took a $100 million bribe from Joaquín Guzmán Loera, the infamous crime lord known as El Chapo, according to a witness at Mr. Guzman's trial.

The stunning testimony was delivered Tuesday in a New York courtroom by Alex Cifuentes Villa, a Colombian drug lord who worked closely with Mr. Guzmán from 2007 to 2013, when the kingpin was hiding from the law at a series of remote ranches in the Sierra Madre mountains.

"Mr. Guzmán paid a bribe of $100 million to President Peña Nieto?" Jeffrey Lichtman, one of Mr. Guzmán's lawyers, asked Mr. Cifuentes during cross-examination.

"Yes," Mr. Cifuentes said.

Mr. Guzmán may offer more details soon. Shortly after the jury was excused around 4:30 p.m. Tuesday, Mr. Lichtman submitted his client's name to the prosecution as a potential witness for the defense, confirming that the drug trafficker might testify in his own trial.
---
Response to Judi Lynn (Original post)
Wed Dec 9, 2020, 06:35 PM
LessAspin (811 posts)
4. PEMEX
The Shadow War
Preface
In 1985 during the Reagan administration, the United States Geological Survey published the results of fieldwork surveying the natural hydrocarbon resources in northeastern Mexico. The survey concluded that "giant" natural gas, coal and potentially oil deposits were present primarily in the Burgos and Sabinas basins.
... ... ... ... ...
On October 22, 2020, members of the United States Congress wrote a letter to U.S. President Donald J. Trump voicing concerns about the supposed preferential treatment of state-owned Petróleos Mexicanos (PEMEX) over U.S. companies and the delaying or cancellation of contracts by the Government of Mexico under President Andrés Manuel López Obrador. Their grievance was that the interests of U.S. companies were not being considered following significant investments in infrastructure and transnational bidirectional pipelines after the 2014 energy reform which opened Mexico's oil and gas resources to foreign investment and exploitation. In total, 43 members of the House and Senate signed the letter, including John Cornyn, Ted Cruz, Chip Roy and Henry Cuellar.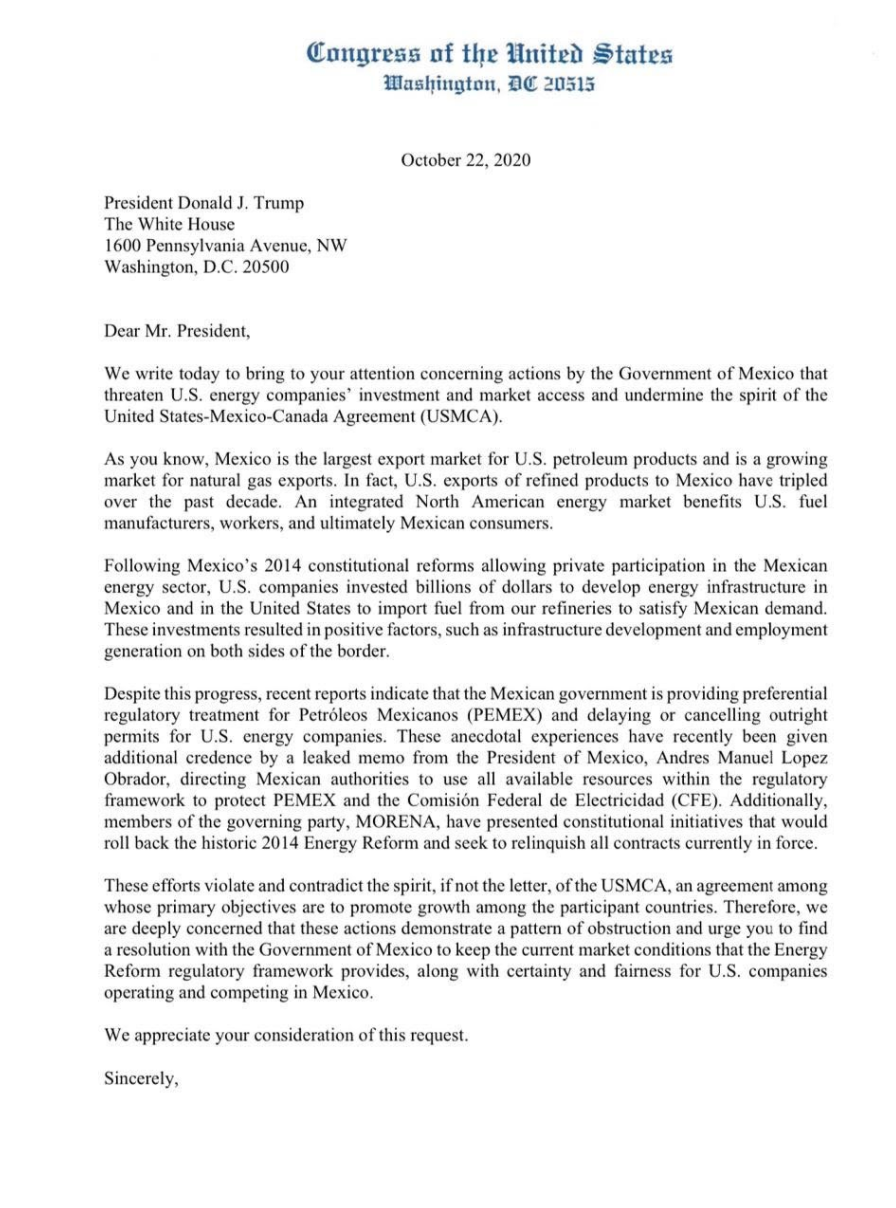 It's worth mentioning that the author and several co-sponsors of the 2019 Drug Cartel Terrorist Designation Act (H.R.1700) also signed the letter. The significance of this will become clearer by the end of the story...
https://narco.news/the-shadow-war
Link to tweet
---
Response to LessAspin (Reply #4)
Thu Dec 10, 2020, 05:03 AM
Judi Lynn (148,540 posts)
5. This is tremendous material.AMLO should put his own country's interests first.He's their president.
All these Congressmen, in Washington to do the bidding of the fossil fuel energy industries, are nothing more than thieves and liars, and worse. People have been tortured, murdered, in great numbers, in other countries who were considered contrary to US industrial interests. It has been a persistant war upon the human race, with smug, morally diseased criminals in Washington directing the suffering, earning their blood money from their unacknowledged employers.

The resources you have linked will call for some closer attention when time permits. There's a lot of useful information there.

The photo of the people at the bridge is the starkest one I've seen so far. Clearly, the people who do it know exactly what they are doing, as it's very methodical by now, as if they've been doing that for years. Some very hardened people involved, all the way up the line.

I realized starting to look at the information that it all leads to events I've read years earlier, a long story of international criminality in government, down to the most depraved henchmen who do all the dirty work. So much needs cleaning...

Thanks for handing us these resources, and a lot to think about, LessAspin.