Sat Aug 22, 2020, 08:47 PM
Judi Lynn (149,447 posts)
Former‌ ‌Police‌ ‌Officer‌ ‌Arrested‌ ‌For‌ ‌Blinding‌ ‌Gustavo‌ ‌Gatica‌ ‌
by Fernanda Gandara22 August, 2020
Reading Time: 2 minutes
SANTIAGO — Chilean Investigative Police (PDI) arrested Claudio Crespo at his home. He is a former police officer accused of blinding 21-year-old Gustavo Gatica during the 2019 protests. Crespo was removed from the police force recently for allegedly deleting footage from the day Gatica was blinded.
In the early hours of Aug. 21, former lieutenant colonel Claudio Crespo was apprehended at his house. He is being accused of shooting Gustavo Gatica in the face during the 2019 protests. Gatica lost his eyesight as a result.
The 2019 protests were a wake-up call. But during the large-scale protests across the country, hundreds sustained eye injuries due to rubber bullets shot and tear gas canisters thrown by police for crowd dispersal. The human rights institute (INDH) reported that from October 2019 to February 2020, 445 people suffered eye injuries related to police action.
Of the total injured, Gustavo Gatica and Fabiola Campillay were left completely blind. Campillay received a tear gas canister in her face while on her way to work.
More:
https://chiletoday.cl/site/former%e2%80%8c-%e2%80%8cpolice%e2%80%8c-%e2%80%8cofficer%e2%80%8c-%e2%80%8carrested%e2%80%8c-%e2%80%8cfor%e2%80%8c-%e2%80%8cblinding%e2%80%8c-%e2%80%8cgustavo%e2%80%8c-%e2%80%8cgatica%e2%80%8c/
Gustavo Gatica, before being blinded.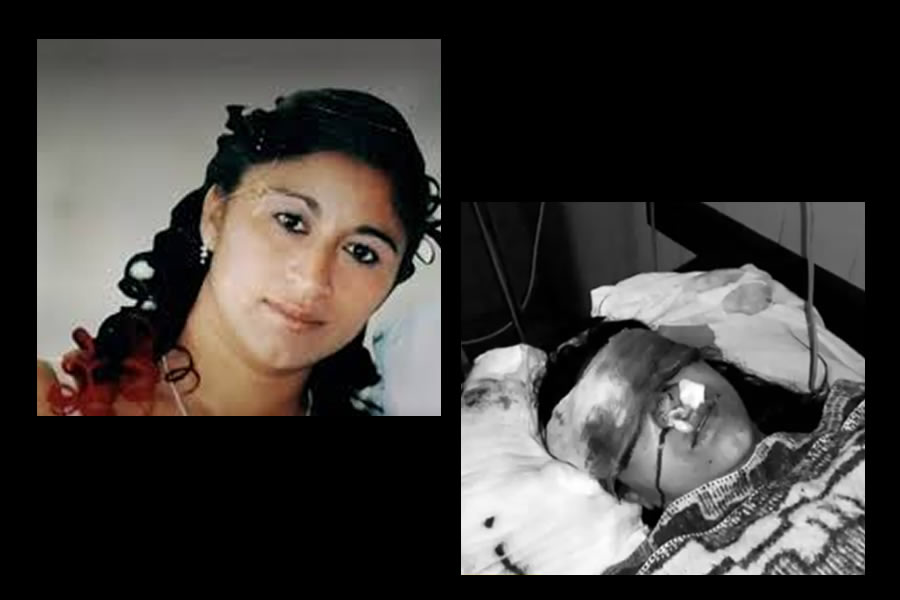 Fabiola Campillay
3 replies, 467 views
Replies to this discussion thread
| | | | |
| --- | --- | --- | --- |
| 3 replies | Author | Time | Post |
| Former‌ ‌Police‌ ‌Officer‌ ‌Arrested‌ ‌For‌ ‌Blinding‌ ‌Gustavo‌ ‌Gatica‌ ‌ (Original post) | Judi Lynn | Aug 2020 | OP |
| | tblue37 | Aug 2020 | #1 |
| | Judi Lynn | Aug 2020 | #2 |
| | tblue37 | Aug 2020 | #3 |
---
Response to Judi Lynn (Original post)
Sat Aug 22, 2020, 09:19 PM
tblue37 (48,281 posts)
1. Here in the US they also deliberately aim at the head and face, although they are not supposed to.
Several U.S. protesters have lost an eye because of that practice.
---
Response to tblue37 (Reply #1)
Sun Aug 23, 2020, 01:00 AM
Judi Lynn (149,447 posts)
2. As soon as I heard about these things happening in Seattle, I thought immediately of Chile.
We know Chile has been a savage place in our lifetimes because of the bloody, vicious US-backed, Nixon and Kissinger supported and aided Geleral Augusto Pinochet, who even had one of his political opponents car bombed on the streets of Washington, D.C.

It's painful realizing that by now our own modern police forces have already given themselves permission to repeat these sadistic, terroristic attacks on mere U.S. protesters, themselves!

Makes you absolutely dread what comes after this.
---
Response to Judi Lynn (Reply #2)
Sun Aug 23, 2020, 01:11 AM
tblue37 (48,281 posts)
3. +1. nt