Mon Aug 24, 2020, 09:16 PM
Judi Lynn (149,494 posts)
Brazilian President Jair Bolsonaro Threatens to Punch Reporter in the Face
President reacted after being asked about deposits made by ex-policeman in the account of the first lady
Aug.24.2020 11:45AM
Pedro Ladeira
Renato Onofre
Isabella Macedo
BRASÍLIA
President Jair Bolsonaro (without a party) said on Sunday (23) he wanted to attack a reporter for the newspaper O Globo after being asked about the deposits made by former military policeman Fabrício Queiroz in the account of First Lady Michelle Bolsonaro.
During a five-minute visit to vendors at the Cathedral of Brasilia, the journalist asked the president why his son's former adviser Flávio Bolsonaro (Republicanos-RJ) and his wife transferred R$ 89,000 (US$ 16,000) to Michelle's account.
Initially, the president countered by asking about the alleged monthly transfers made by the money changer Dario Messer to the Marinho family, owner of Rede Globo.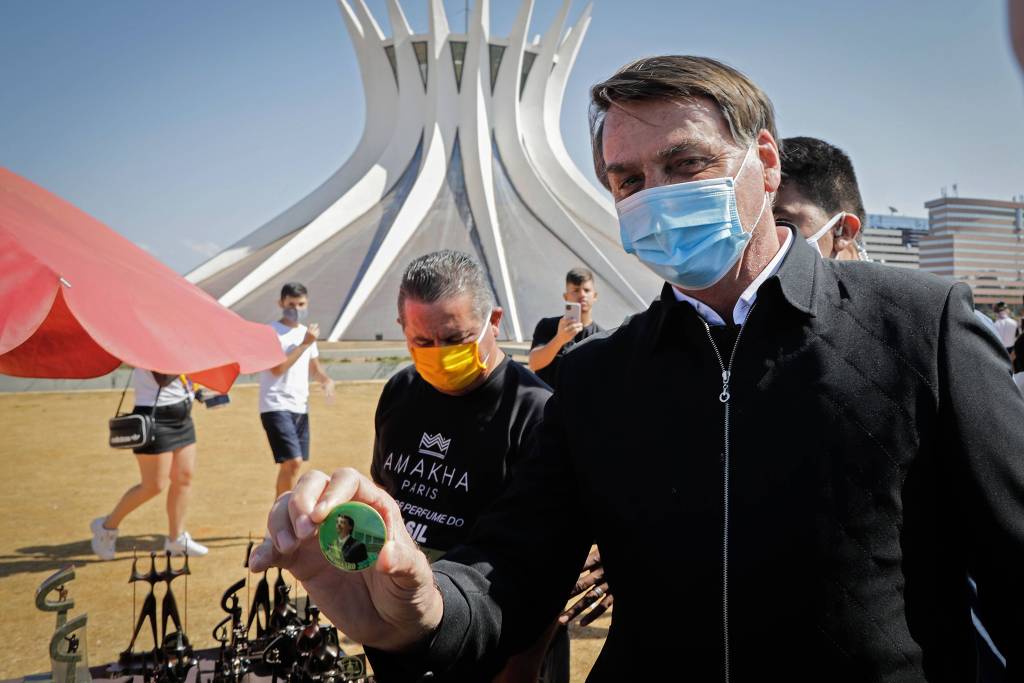 Brazilian President Jair Bolsonaro holds a pin of himself outside the Cathedral in Brasília, on August 23, 2020. - Bolsonaro on Sunday threatened to punch a reporter repeatedly in the mouth after being asked about his wife's links to an alleged corruption scheme. "I so want to pound your mouth with punches," the far-right president said when a reporter from O Globo, posed the question. (Photo by Sergio Lima / AFP) - AFP
According to Veja magazine, in a deposition on June 24, Messer said that he had made transfers of dollars in cash to the Marines on several occasions since the 1990s. The family denies any wrongdoing.
More:
https://www1.folha.uol.com.br/internacional/en/brazil/2020/08/brazilian-president-jair-bolsonaro-threatens-to-punch-reporter-in-the-face.shtml?utm_source=newsletter&utm_medium=email&utm_campaign=newsen
2 replies, 307 views
Replies to this discussion thread
| | | | |
| --- | --- | --- | --- |
| 2 replies | Author | Time | Post |
| Brazilian President Jair Bolsonaro Threatens to Punch Reporter in the Face (Original post) | Judi Lynn | Aug 2020 | OP |
| | Judi Lynn | Aug 2020 | #1 |
| | Judi Lynn | Aug 2020 | #2 |
---
Response to Judi Lynn (Original post)
Mon Aug 24, 2020, 09:32 PM
Judi Lynn (149,494 posts)
1. Bolsonaro's attempt to shut down debate over mystery payments backfires
After Brazilian president threatens journalist over questions about family's financial dealings, reporters flood social media with the same question
Tom Phillips Latin America correspondent
Mon 24 Aug 2020 16.14 EDT
Brazil's social media-savvy leader is facing perhaps the most severe online backlash of his presidency after unsuccessfully trying to snuff out questions about his family's financial dealings by warning a journalist he wanted to "smash his face in".
Jair Bolsonaro issued the threat on Sunday, after a reporter from one of Brazil's leading newspapers asked him to explain why a former policeman with alleged links to Rio's mafia had paid thousands of pounds into the bank account of his wife, Michelle Bolsonaro.
But the menacing remark quickly backfired as Brazilian journalists flooded social media with the very same question.
"President Jair Bolsonaro, why did your wife Michelle receive 89,000 reais from Fabrício Queiroz?" they tweeted in unison at Brazil's far-right leader.
More:
https://www.theguardian.com/world/2020/aug/24/jair-bolsonaro-threat-journalist-backfires-social-media
---