Sat Sep 5, 2020, 04:47 AM
Judi Lynn (149,396 posts)
"I Don't Know why The Bolsonaro Family Cares about Me So Much," Says Argentine President
Alberto Fernández responded to criticisms made by Eduardo Bolsonaro against his government
Sep.4.2020 2:36PM
BUENOS AIRES
Argentine President Alberto Fernández said in an interview with a local broadcaster on Wednesday night (2) that he does not know why "the Bolsonaro family is so concerned" about him.
The statement was a response to recent tweets by federal deputy Eduardo Bolsonaro (PSL-SP). Hours earlier, the son of the Brazilian president had claimed, through social media, that a "calamity" was happening in Argentina due to the long quarantine. And that the country had been "destroyed by his socialist government in a few months."
It is not the first time that Eduardo criticizes the Fernández government. On the 22 of last month, when Argentina declared that cellular telephony and internet services were of national interest and, because of that, their tariffs could not be increased until December 31, Eduardo made several posts to affirm that Argentina was transforming into a "new Venezuela."
"Fernández and Kirchner's Argentina is taking measures similar to Chavez's and Maduro's Venezuela."
More:
https://www1.folha.uol.com.br/internacional/en/world/2020/09/i-dont-know-why-the-bolsonaro-family-cares-about-me-so-much-says-argentine-president.shtml?utm_source=newsletter&utm_medium=email&utm_campaign=newsen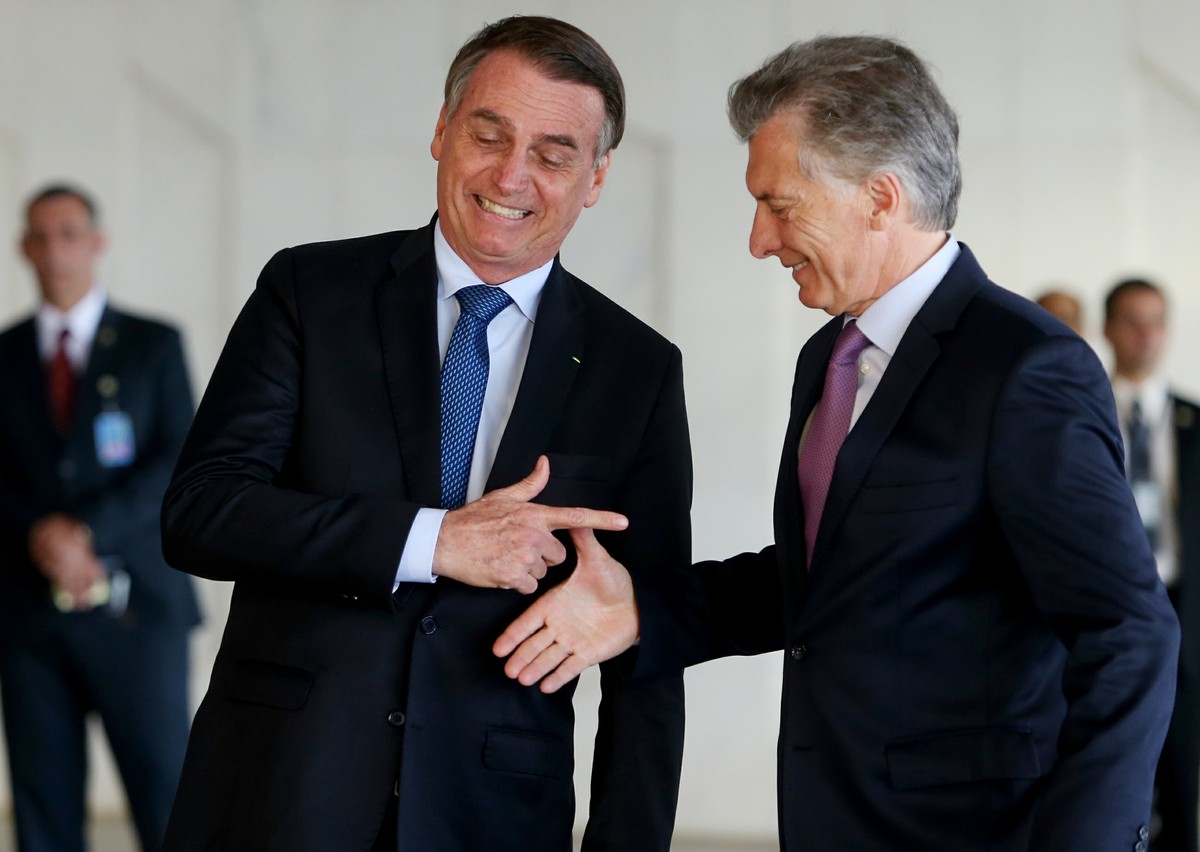 Mauricio Macri, Argentina's previous hard-right President attempts to shake hands with hard-right Bolsonaro who's busy making his hand/gun sign. Mixed signals, apparently. Possibly they're playing "paper, gun, and scissors."
2 replies, 411 views
Replies to this discussion thread
| | | | |
| --- | --- | --- | --- |
| 2 replies | Author | Time | Post |
| "I Don't Know why The Bolsonaro Family Cares about Me So Much," Says Argentine President (Original post) | Judi Lynn | Sep 2020 | OP |
| | sandensea | Sep 2020 | #1 |
| | Judi Lynn | Sep 2020 | #2 |
---
Response to Judi Lynn (Original post)
Sat Sep 5, 2020, 01:32 PM
sandensea (15,078 posts)
1. It's a cheap way to distract their own people from Brazil's health-care collapse and economic crisis
But talk about having a full platter of problems, this man Fernández.

Besides inheriting a "Macrisis," he's had this Covid calamity to contend with just months into office, all the Covid-related socio-economic problems - and as if that weren't enough, Argentina's biggest neighbor (Brazil) being ruled by a Joe Bananas (a mentally unstable mafia boss).

All the while, Fernández is also dealing with a treasonous right-wing opposition who's not above trying to speed the spread Covid in hopes of forcing him to resign.

They do this openly, by calling frequent protests (thinly attended, thank goodness) and constantly encouraging people to disregard social distancing and even facemask use (!).

Fernández is certainly paying his dues.
---
Response to sandensea (Reply #1)
Sun Sep 6, 2020, 08:04 AM
Judi Lynn (149,396 posts)
2. The right-wing in Argentina sounds as if it's taking its "guidance" from Bolsonaro/Trump.
I would have expected them to be a little more subtle about it, but, they're the same people who encouraged the police demolishing the stands independent farmers were running to give free produce to Argentine people suffering during Macri's devastating attack on the economy.