Tue Sep 15, 2020, 05:27 AM
Judi Lynn (149,451 posts)
Kidnappers release former Paraguay vice-president
Óscar Denis was taken by Paraguayan People's Army days after military killed two 11-year-old girls in unclear circumstances
William Costa in Asunción
Tue 15 Sep 2020 02.15 EDT
Violence has intensified in Paraguay in the conflict between security forces and the Paraguayan People's Army (EPP) – a communist guerrilla movement active in the country's north-east.
A former vice-president was kidnapped by rebels days after the military killed two 11-year-old girls in unclear circumstances during an operation against the EPP, which human rights organisations described as a possible "state crime".
Óscar Denis, Paraguayan vice-president from 2012 to 2013, was kidnapped from his ranch in the Amambay department on 9 September alongside employee Adelio Mendoza, who belongs to the Paĩ Tavyterã indigenous people.
Notes found in Denis's abandoned vehicle attributed the kidnapping to the EPP, considered a criminal organisation by the Paraguayan state estimated to have 20-50 members. Since emerging in 2008, it has been linked to multiple kidnappings and more than 60 deaths.
While the EPP's political discourse has focused on the great needs of Paraguay's poor, they are widely repudiated for employing violence and extortion.
More:
https://www.theguardian.com/global-development/2020/sep/15/former-paraguay-vice-president-oscar-denis-kidnapped-amid-conflict-between-guerrillas-and-military
4 replies, 518 views
Replies to this discussion thread
| | | | |
| --- | --- | --- | --- |
| 4 replies | Author | Time | Post |
| Kidnappers release former Paraguay vice-president (Original post) | Judi Lynn | Sep 2020 | OP |
| | Judi Lynn | Sep 2020 | #1 |
| | Judi Lynn | Sep 2020 | #2 |
| | LessAspin | Dec 2020 | #3 |
| | Judi Lynn | Dec 2020 | #4 |
---
Response to Judi Lynn (Original post)
Tue Sep 15, 2020, 05:35 AM
Judi Lynn (149,451 posts)
1. Alfredo Stroessner, US supported genocidal Paraguayan dictator
Wikipedia:
Alfredo Stroessner Matiauda (Spanish: [alˈfɾeðo estɾozˈneɾ]; November 3, 1912 – August 16, 2006) was a Paraguayan Army officer who served as dictator of Paraguay from 1954 to 1989. He ascended to the position after leading an army coup in 1954. His 35-year-long rule, marked by an uninterrupted period of repression in his country, is the longest in modern South American history.
In 1954, he ousted Federico Chávez, becoming president after winning an election in which he was the sole candidate. As an anti-communist, Stroessner had the backing of the United States for most of his time in power. His supporters packed the legislature and ran the courts, and he ruthlessly suppressed all opposition. He kept his country in what he called a constant "state of siege" that overruled civil liberties, enforced a cult of personality, and tortured and killed political opponents. Membership in his Colorado Party was a prerequisite for job promotion, free medical care and other services. The constitution had to be modified in 1967 and 1977 to legitimize his six consecutive elections to the presidency. Stroessner provided exile for Nazi war criminals (including Josef Mengele) as well as overthrown dictators, such as Argentina's Juan Perón and Nicaragua's Anastasio Somoza Debayle (later assassinated in Paraguay).
. . .
Soon after taking office, Stroessner declared a state of siege, which allowed him to suspend civil liberties. The state-of-siege provisions allowed the government to arrest and detain anyone indefinitely without trial, as well as forbid public meetings and demonstrations. It was renewed every 90 days until 1987, except for a brief period in 1959. Although it technically only applied to Asunción after 1970, the courts ruled that anyone charged with security offenses could be brought to the capital and charged under the state-of-siege provisions—even if the offense took place outside the capital.[2][3] Apart from one 24-hour period on election days, Stroessner ruled under what amounted to martial law for nearly all of his tenure. A devoted anti-communist who brought Paraguay into the World Anti-Communist League, he justified his repression as a necessary measure to protect the country.
. . .
As leader of the Colorado Party, Stroessner exercised nearly complete control over the nation's political scene. Although opposition parties were nominally permitted after 1962 (the Colorado Party had been the only legal party in the country since 1947), Paraguay remained for all intents and purposes a one-party state. Elections were so heavily rigged in favor of the Colorados that the opposition had no realistic chance of winning, and opposition figures were subjected to varying degrees of harassment. Furthermore, Stroessner's Paraguay became a haven for Nazi war criminals, including Josef Mengele,[13][14] and non-communist peaceful opposition was crushed. Given Stroessner's affinity for Nazism and harboring of Nazi war criminals, foreign press often referred to his government as the "poor man's Nazi regime".[7]
Stroessner's rule brought more stability than most of the country's living residents had previously known. From 1927 to 1954, the country had had 22 presidents, including six from 1948 to 1954 alone.[15] However, it came at a high cost. Corruption was rampant (Stroessner himself did not dispute charges of corruption at some levels in his government) and Paraguay's human rights record was considered one of the poorest in South America.[16] During Stroessner's regime, an estimated 3,000 to 4,000 people were murdered, 400 to 500 more "disappeared," and thousands more imprisoned and tortured.[17][18]
. . .
Under Stroessner, egregious human rights violations were committed against the Aché Indian population of Paraguay's eastern districts, largely as the result of U.S. and European corporations wanting access to the country's forests, mines and grazing lands.[31]
[7] The Aché Indians resided on land that was coveted and had resisted relocation attempts by the Paraguayan army. The government retaliated with massacres and forced many Aché into slavery. In 1974 the UN accused Paraguay of slavery and genocide. Only a few hundred Aché remained alive by the late 1970s.[7] The Stroessner regime financed this genocide with U.S. aid.[7]
More:
https://en.wikipedia.org/wiki/Alfredo_Stroessner
---
Response to Judi Lynn (Original post)
Tue Sep 15, 2020, 05:43 AM
Judi Lynn (149,451 posts)
2. No Land in Paraguay
The preservation of indigenous peoples' territories in Paraguay has a vital role in maintaining spiritual, cultural, and communal well­being. Despite this important reality, many indigenous communities' bonds with their land have been shattered.
By William Costa
Members of the Tekoha Sauce community, one of 38 Ava Guaraní communities displaced during the construction of the enormous Itaipú Dam. They have undertaken a long legal struggle for reparations. Photograph by William Costa
March 10
2020
Paraguay's nineteen indigenous groups abound in diversity. From the Paĩ Tavyterã communities of the subtropical northeast to the Ayoreo tribes in the far reaches of the arid Chaco region in the west, they each have unique cultural and linguistic heritage. In spite of these differences, they all face similar challenges as a result of negligence and discrimination from the Paraguayan state. While the government's department of tourism adorns its information offices in Asunción—the capital—with indigenous crafts, other state institutions continue to pursue a development model benefitting an economic elite while robbing indigenous people of their land, culture, and the most basic of public services. Urgent measures must be taken by the state to protect indigenous rights and begin to repair the social, cultural, and economic damage dealt by a history of destructive policies.
The approximately 117,000 people self-identifying as indigenous in Paraguay— roughly 2 percent of the population— face extreme hardship: they are the sector with the country's lowest living standards. A 2015 report by the United Nations' Special Rapporteur on the rights of indigenous peoples reveals that 75 percent live in poverty. Notably, while on average across Paraguay 26 percent of under-fives live in extreme poverty (households with less than $1.90 per day per person), this figure stands at 63 percent for the indigenous population. The report mentions that indigenous people have low access to electricity and running water and that 40 percent are illiterate compared to 5.1 percent of the non-indigenous population.
Fewer People, More Soy
In recent years, the crisis affecting indigenous groups has become increasingly visible to urban Paraguayans, who have historically been geographically and culturally removed from the trials of native groups in the country. Paraguay's media shows increasing numbers of indigenous people, especially children and the youth, to be living in squalid conditions on the streets of Asunción. Something is clearly not working for Paraguay's indigenous population.
At the problem's core is the issue of land access. The preservation of indigenous territories has a vital role in maintaining spiritual, cultural, and communal well­being as well as providing subsistence through hunting and gathering. Despite this important reality, many indigenous communities' bonds with their land have been shattered. The 2015 UN report states that 134 of Paraguay's almost five hundred communities are landless and a further 145 are facing land possession issues, such as ownership disputes with private entities.
This directly violates Paraguayan law, which recognizes the rights of indigenous peoples, including guaranteeing them access to land. It also represents a failure to uphold international conventions on the rights of indigenous peoples of which the state is a signatory. Far from remedying this situation, the Paraguayan state's actions inflict further damage.
The land access issue seems an unlikely problem in Paraguay, given its low population density: just eighteen people per square kilometer, half that of the United States.
However, a long history of policies favoring accumulation by a wealthy few has made Paraguay the country with the world's highest inequality of land distribution according to the World Bank.
In a country where agriculture is the main source of wealth, 2.5 percent of landowners control at least 85 percent of the arable surface area and have devoted most of it to cattle ranching and growing soybeans for export. The state has historically favored the elite while causing enormous hardship for indigenous and small-scale farming groups.
More:
https://www.thecairoreview.com/essays/no-land-in-paraguay/
This picture of a small group is worth far more than a thousand words. It tells you everything about what has happened to native people in this tragically abused Western Hemisphere. History is very much all around us, in spite of evil efforts to conceal it.
---
Response to Judi Lynn (Reply #2)
Wed Dec 2, 2020, 04:22 PM
LessAspin (824 posts)
3. Limpio, Paraguay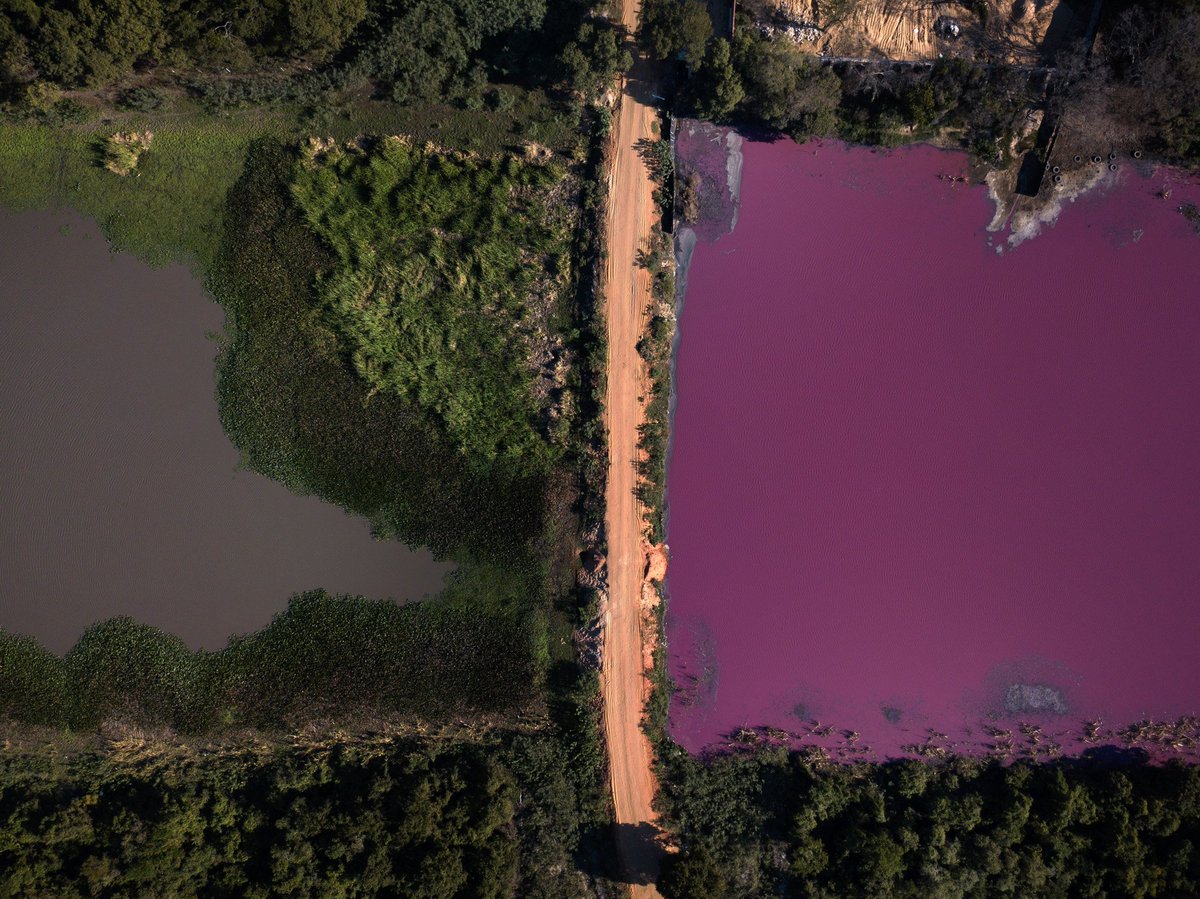 A road divides the Cerro Lagoon, where the water at right is colored and the Waltrading S.A. tannery stands on the bank, top right, in Limpio, Paraguay, on Aug. 5, 2020. According to Francisco Ferreira, a technician at the National University Multidisciplinary Lab, the color of the water is due to the presence of heavy metals like chromium, commonly used in the tannery process. (AP Photo/Jorge Saenz)
https://apnews.com/article/ap-photos-2020-virus-racial-injustice-2dffd369c407c5b313f3db0c1fa35377
---
Response to LessAspin (Reply #3)
Wed Dec 2, 2020, 09:04 PM
Judi Lynn (149,451 posts)
4. Incredible, and startling collection of photos of recent events.A few more of the Cerro Lagoon:
Waltrading S.A. tannery
Pollution Turns Paraguayan Lagoon Purple While The Other Side Remains Blue
Anuj Tiwari
Updated on Aug 07, 2020, 14:37 IST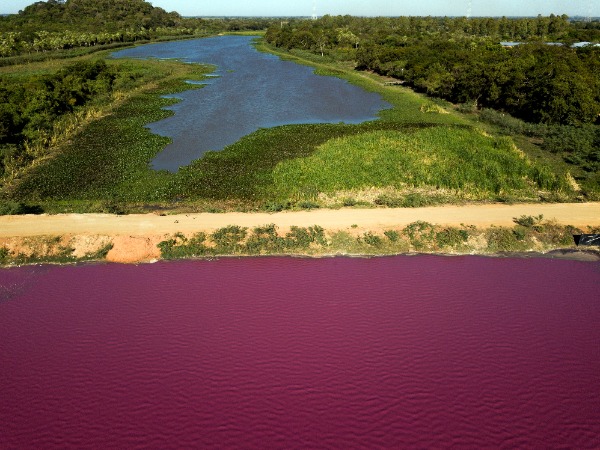 More:
https://www.indiatimes.com/trending/environment/pollution-paraguayan-lagoon-purple-519777.html
~ ~ ~
Lagoon Turns Pink Due to Tannery Pollution
LIMPIO, PARAGUAY - SEPTEMBER 13: Aerial view of polluted Cerro Lagoon on September 13, 2020 in Limpio, Paraguay. Ministry of the Environment and Sustainable Development of Paraguay fined the tannery WalTrading SA with around 250,000 USD and will force the company to repair the environmental damage caused. The Cerro Lagoon was split by construction of an embankment and roadway to carry trucks to and from local factories. One side remains pink and smells foul. Government carried tests that confirmed presence of heavy metals like chromium, used in the tannery process. (Photo by Juan Carlos Meza/Getty Images)
Photo:
https://www.gettyimages.co.uk/detail/news-photo/aerial-view-of-polluted-cerro-lagoon-on-september-13-2020-news-photo/1272468191
~ ~ ~
Neighbors denounce environmental destruction in Limpio, Paraguay
August 23, 2020 Soledad Quartucci
any natural phenomenon or is caused by sediments or anything of the sort. The bloody red water of the Cerro de Piquete Cue lagoon, in Limpio, Paraguay is the result of toxic liquids drained into the lagoon by Brazilian-owned tannery, WalTrading SA. The company processes bovine animal skins and has been operating next to the lagoon for six months, according to neighbors' reports.
Shortly after setting up next to the lagoon, WalTrading SA split the lagoon to facilitate transportation of their goods. Prior to the environmental disaster, the lagoon was frequently visited by tourists and served as a fishing spot for locals. The neighbors of the San Francisco community in Piquete Cue, Limpio, blame the tannery for contaminating the water and air systems and for destroying the ecosystem of the region. Despite protests and warnings, neighbors have told local news that the company has continued irregular operations for the last 4 months.
The Lagoon is Split into two parts; a division built by the tannery to facilitate the transport of their products. Photo, Jorge Saenz.
Since the rise of the environmental destruction of the lagoon, neighbors have been actively demonstrating against the contamination of the Laguna Cerro. Locals say their protest gained momentum when actor and activist, Leonardo DiCaprio spread the news internationally by posting Jorge Saenz' incredible photography on DiCaprio's social media channels.
More information, more photos:
https://latinarepublic.com/2020/08/23/neighbors-denounce-environmental-destruction-in-limpio-paraguay/
~ ~ ~
Thank you, so much, for spotting this situation, and providing the information. The company, Waltrading S.A., should face some severe judgements right away, so it can't keep kicking it all down the road while it continues to destroy everything it touches while making profits from its criminality. We're running out of living organisms, fish, birds, animals, water, breathable air, and health while waiting for the "movers and shakers" to have a change of heart, or actually feel satisfied with what they have, finally.