Mon Nov 23, 2020, 08:15 PM
Judi Lynn (149,469 posts)
Cuba's Frank Pais Airport increases commercial operations
Holguin, Cuba, 23 Nov (Prensa Latina) The Frank Pais International Airport, in this eastern Cuban province, is reporting a gradual rise in commercial operations as a result of tourists' acceptance for this destination, one of the most important in the country.
A little more than 20 days after the reopening of the air terminal, the companies Air Transat, Sunrise Airways, Viva Aerobus and Bahamas Air connected Canada, Haiti, Mexico and the Bahamas, respectively, with the city of Holguin, some 700 kilometers east of Havana.
Yoel Hechavarria, general coordinator of Frank Pais Airport, told Prensa Latina that so far, some 17 aircrafts with over 1,400 passengers have arrived in Holguin.
That way, the airport's executives expect to retake, little by little, the usual movement of these months of the year, when they used to handle an average of 75 weekly flights, with almost 2,000 passengers per day.
More:
https://www.plenglish.com/index.php?o=rn&id=62128&SEO=cubas-frank-pais-airport-increases-commercial-operations
Holguin, Cuba
~ ~ ~ ~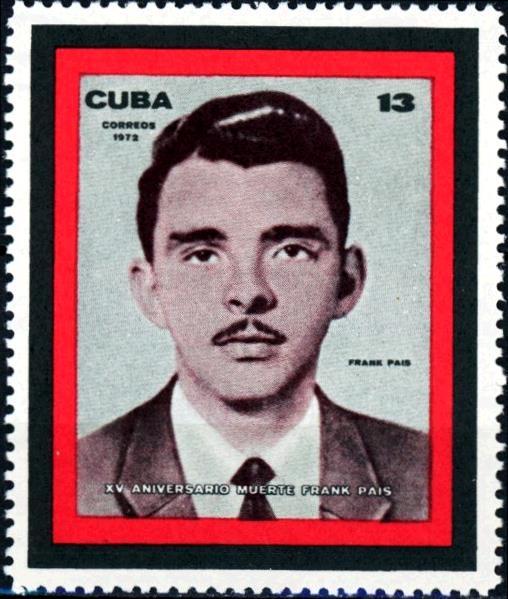 Stamp made in honor of Frank Pais
Wikipedia:
Frank País García (December 7, 1934 – July 30, 1957) was a Cuban revolutionary who campaigned for the overthrow of General Fulgencio Batista's government in Cuba. País was the urban coordinator of the 26th of July Movement, and was a key organizer within the urban underground movement, collaborating with Fidel Castro's guerrilla forces which were conducting activities in the Sierra Maestra mountains.[1] País was killed in the streets of Santiago de Cuba by the Santiago police on July 30, 1957.[2][3]
. . .
Early life
His father was Francisco País Pesqueira, a Protestant pastor married to Rosario García Calviño. Both were from Marín in Galicia, Spain and immigrants to Cuba. Francisco País Pesqueira was one of the founding members of the First Baptist Church of Santiago de Cuba. On his death, Rosario García Calviño took sole charge of 5-year-old Frank and his younger brothers Augustin, 3, and Josué, 2.[4]
The family struggled financially, although his mother taught piano to make ends meet.[5] Frank began to study architecture, but abandoned his studies to enroll in the Oriente Teacher's College which he graduated from on July 6, 1953. Unlike the majority of the revolutionary movement, Pais was actively religious, working in a Baptist church as a Sunday school teacher.[6]
Role in Cuba's urban underground movements
Although the activity of Fidel Castro's guerrillas in the Sierra Maestra mountains came to preoccupy the forces of General Fulgencio Batista, and also formed the cornerstone of subsequent accounts of the Cuban revolution, campaigns by rebel groups in the major cities and towns of Cuba also played a key role in bringing an end to Batista's reign. It is in these cities and towns, in both open and underground organizations, that plans were debated and actions implemented. These organizations included labor unions, where the Communists were organizing "fighting committees", and university and high school groups, where the Directorio Revolucionario Estudantil and July 26 Movement had influence. Groups were also forming in the professional and business organizations of the middle and upper classes.[7] The underground movement against Batista was everywhere, but nowhere was it stronger than in Santiago, the home of Frank País.
. . .
Death and legacy
Mural depicting Frank País at the bus terminal in Holguin, Cuba
On June 30, 1957 Frank's younger brother, Josué Pais, was killed by the Santiago police.
During the latter part of July 1957 a wave of systematic police searches forced Frank País into hiding in Santiago de Cuba. On July 30 he was in a safe house with Raúl Pujol, despite warnings from other members of the Movement that it was not secure. The Santiago police under Colonel José Salas Cañizares surrounded the building. Frank and Raúl attempted to escape. However, an informant betrayed them as they tried to walk to a waiting getaway car. The police officers drove the two men to the Callejón del Muro (Rampart Lane) and shot them in the back of the head.[9] In defiance of Batista's regime, he was buried in the Santa Ifigenia Cemetery in the olive green uniform and red and black armband of July 26 Movement.[10] In response to the death of País, the workers of Santiago declared a spontaneous general strike. This strike was the largest popular demonstration in the city up to that point. The mobilization of July 30, 1957 is considered one of the most decisive dates in both the Cuban Revolution and the fall of Batista's dictatorship. This day has been instituted in Cuba as the Day of the Martyrs of the Revolution. The Frank País Second Front, the guerrilla unit led by Raúl Castro in the Sierra Maestra was named for the fallen revolutionary.[11] His childhood home at 226 San Bartolomé Street was turned into The Santiago Frank País García House Museum and designated as a national monument.[5] Also, the international airport in Holguín, Cuba bears his name.[12]
https://en.wikipedia.org/wiki/Frank_Pa%C3%ADs#/media/File:Frank_Pais_murale_in_Holguin,_Cuba.JPG
4 replies, 523 views
Replies to this discussion thread
| | | | |
| --- | --- | --- | --- |
| 4 replies | Author | Time | Post |
| Cuba's Frank Pais Airport increases commercial operations (Original post) | Judi Lynn | Nov 2020 | OP |
| | sinkingfeeling | Nov 2020 | #1 |
| | Judi Lynn | Nov 2020 | #2 |
| | dhill926 | Nov 2020 | #3 |
| | Judi Lynn | Nov 2020 | #4 |
---
Response to Judi Lynn (Original post)
Mon Nov 23, 2020, 08:53 PM
sinkingfeeling (44,571 posts)
1. That's where my American flight flew into back in 2018. Thanks
for reminding me about those awesome steps. I bought a painting from a local artist up at the top.
---
Response to sinkingfeeling (Reply #1)
Mon Nov 23, 2020, 09:06 PM
Judi Lynn (149,469 posts)
2. Wonderful! That photo view is so beautiful. It's so great learning you were there.
Had no idea it would be so pretty in Holguin until looking for photos of the place to post. I was amazed that it's so nice. People in the States don't really hear of Holguin a lot, at all.
The scenery is truly awesome.
There aren't too many US citizens who have been there, yet. You are really lucky.
Thanks for your post.
---
Response to Judi Lynn (Original post)
Mon Nov 23, 2020, 09:23 PM
dhill926 (13,225 posts)
3. hoping President Biden (that was sure fun to type)...
follows up on Obama's efforts to open up Cuba. Really, really want to go....
---
Response to dhill926 (Reply #3)
Tue Nov 24, 2020, 05:25 AM
Judi Lynn (149,469 posts)
4. That's the first time I've seen it, by golly! It looks good, for sure!
Have been hoping that happens, as well.

It would really be a gift to ordinary US citizens, as well as Cubans, who were looking forward to it so much following President Obama's trip (as well as Jimmy Carter's trip, during Dubya's occupation). Cuban-Americans have been coming and going to Cuba for a long time, and that really never seemed fair, since they ran here claiming to be fleeing from dangerous commies in the first place. Crazy!