Fri Dec 4, 2020, 05:08 AM
Judi Lynn (149,447 posts)
Martyred Missionaries: The Lives and Legacies of Maura Clarke, Jean Donovan, Ita Ford, and Dorothy K
DECEMBER 4, 2020
Martyred Missionaries: The Lives and Legacies of Maura Clarke, Jean Donovan, Ita Ford, and Dorothy Kazel
BY BRETT WILKINS
On the night of December 2, 1980, Maura Clarke, Jean Donovan, Ita Ford, and Dorothy Kazel, Catholic missionaries from the United States, were kidnapped, beaten, raped, and murdered by a U.S.-backed death squad while working to help the poor and oppressed people of El Salvador.
In their lives, work, and tragic, untimely deaths, the women inspired people in El Salvador who, deeply moved by their ultimate sacrifice, would at long last prevail in their freedom struggle.
Four Women, One Calling
Maura, Jean, Ita, and Dorothy were four very different women united in their common calling to serve their God and the suffering Salvadoran people. Maura, who was 49 when she was killed, was the oldest and most experienced missionary of the group. She grew up in an Irish American family in Queens, New York and joined the Maryknoll Sisters, an order of nuns dedicated to helping needy people overseas, when she was 19.
Ita, 40 at the time of her murder, was from Brooklyn and had wanted to be a Maryknoll sister since she was just 15. Initially rejected for health reasons, she worked as an editor at a publishing company before finally being accepted into the order when she was 31. Ita loved to dance and sing and among her sisters was known for her "twinkling eyes and elfin grin."
Dorothy, a Cleveland native, was born in 1939 and joined the Ursuline Sisters, a 16th century order devoted to teaching the poor, when she was 21. By the time she left for El Salvador in 1974 she had already taught in a women's prison and to poor and critically ill people in the United States.
More:
https://www.counterpunch.org/2020/12/04/martyred-missionaries-the-lives-and-legacies-of-maura-clarke-jean-donovan-ita-ford-and-dorothy-kazel/
4 replies, 361 views
Replies to this discussion thread
| | | | |
| --- | --- | --- | --- |
| 4 replies | Author | Time | Post |
| Martyred Missionaries: The Lives and Legacies of Maura Clarke, Jean Donovan, Ita Ford, and Dorothy K (Original post) | Judi Lynn | Dec 2020 | OP |
| | Judi Lynn | Dec 2020 | #1 |
| | Judi Lynn | Dec 2020 | #2 |
| | Judi Lynn | Dec 2020 | #3 |
| | Judi Lynn | Dec 2020 | #4 |
---
Response to Judi Lynn (Original post)
Fri Dec 4, 2020, 06:20 AM
Judi Lynn (149,447 posts)
1. Pope prays for missionaries slain 40 years ago in El Salvador
Four missionary women who were brutally murdured 40 years ago in El Salvador
Forty years after their death, Pope Francis recalls the brave missionary women who were brutally murdered in El Salvador as they worked to make the lives of those suffering the county's civil war easier.
By Vatican News staff writer
It was 2 December 1980, ten months after the start of the civil war in El Salvador, and eight since the murder of Salvadorian Archbishop, now Saint, Oscar Romero, when four American women were brutally murdered.
The four women, missionaries offering humanitarian aid to El Salvador and neighbouring countries, were seen as a threat to the right wing government, and accused by the regime of fomenting political opposition.
Sister Ita Ford, 40, and Sister Maura Clarke, 49, were both Maryknoll Sisters from New York; Sister Dorothy Kazel, 40, an Ursuline Sister from Cleveland; and Jean Donovan, 27, a lay missionary who was engaged to be married, also from Cleveland. All four were raped and murdered by five members of the El Salvadorean National Guard.
Pope's prayers at Audience
Pope Francis turned his thoughts to these four missionaries at the end his General Audience on Wednesday, the anniversary of their death. He said:
"Today is the 40th anniversary of the death of four missionaries killed in El Salvador... On the 2nd of December in 1980 they were kidnapped, raped and killed by a group of paramilitary forces. They were offering their services during the civil war and they were bringing food and medicine to those who had to flee, especially to the families that were the poorest. These women lived their faith with great generostiy. They are an example for all of us to become faithful missionary disciples."
More:
https://www.vaticannews.va/en/pope/news/2020-12/pope-francis-general-audience-prayer-el-salvador-martyrs.html
---
Response to Judi Lynn (Original post)
Fri Dec 4, 2020, 06:23 AM
Judi Lynn (149,447 posts)
2. Ita, Maura, Dorothy, Jean: The legacy of 4 missionaries murdered in El Salvador 40 years ago
Margaret Swedish
December 02, 2020
El Salvador had become a very dangerous place to be a missioner. Civil war was imminent. Popular movements were being crushed by government-sponsored violence. Repression from the military and its allied paramilitary death squads had become savage and widespread by 1980. Student activists, human rights workers, labor and campesino organizers and political opposition leaders were all being targeted. Bodies were turning up in ditches along roadsides, in garbage dumps or floating in rivers, often with thumbs tied behind their backs. Catechists, lay missionaries, priests and other pastoral workers were being threatened and killed.
Even St. Óscar Romero, then the archbishop of San Salvador, was not spared. Indeed, his assassination on March 24, 1980, sent a message to all those who had taken up the "preferential option for the poor" articulated by the Latin American bishops' council in 1979 and promulgated across the Americas. They were not safe.
Despite all of that—or because of it—the four churchwomen chose to stay and to suffer, as St. Romero had once said, "the same fate as the poor."
Reality in the light of faith
A little over a decade earlier, at a conference in Medellín, Colombia, in 1968, the Latin American bishops gathered to discuss the implications of the Second Vatican Council for the Latin American church. Special attention was given to "Gaudium et Spes," which called the church to enter into the modern world: "The joys and the hope, the griefs and the anxieties of the men of this age, especially those who are poor or in any way afflicted, these are the joys and hopes, the griefs and anxieties of the followers of Christ" (No. 1).
More:
https://www.americamagazine.org/faith/2020/12/02/four-catholic-churchwomen-murdered-el-salvador-40th-anniversary-239378
---
Response to Judi Lynn (Original post)
Fri Dec 4, 2020, 06:29 AM
Judi Lynn (149,447 posts)
3. On 40th anniversary of their killing, missionaries of El Salvador remembered for their political wit
On 40th anniversary of their killing, missionaries of El Salvador remembered for their political witness as much as their faith
Molly Cahill
December 02, 2020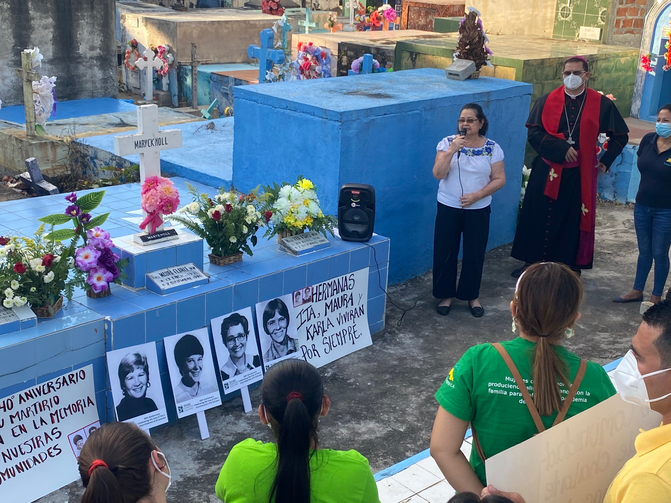 A group of pilgrims gathers near the tomb of Maryknoll Sisters Ita Ford and Maura Clarke Dec. 1, 2020, the eve of the 40th anniversary of their assassination in the Central American nation. Along with Ursuline Sister Dorothy Kazel and laywoman Jean Donovan, the Maryknoll sisters helped children and civilians find refuge but were subsequently raped and assassinated by military. Even with the COVID-19 pandemic, small groups stopped by with music and flowers to remember the U.S. Catholic women as "martyrs." (CNS photo/Rhina Guidos)
Cardinal Michael Czerny, S.J., marked the 40th anniversary of the martyrdom of four American missionary women in El Salvador on Dec. 2 with a memorial Mass in Rome. Ursuline Sister Dorothy Kazel, lay missionary Jean Donovan and Maryknoll Sisters Maura Clarke and Ita Ford were brutally murdered by Salvadoran National Guard members on Dec. 2, 1980. Mourning their violent deaths and testifying to lives spent working for justice, Cardinal Czerny cited the testimony of the Rev. Gregory Chisholm, a Canadian missionary who had met two of the women on the day they were murdered.
According to Father Chisholm's testimony, after meeting Kazel and Donovan at the airport in San Salvador, he and his companions departed in a mini-bus that was identical to the one the women would soon use to leave the airport. He remembers that Salvadoran National Guard members stopped his group, refusing to let them leave until they proved that they were Canadians, not Americans. He said that not long after that encounter, those same heavily armed men stopped the women's vehicle and forced them to an isolated location where they were assaulted and executed.
Father Chisholm and his group later came upon the women's abandoned bus. They learned shortly after that their bodies had been disposed of in a shallow grave.
. . .
According to Father Chisholm, in its response to the incident, the recently elected Reagan administration in the United States took a dismissive approach to the crime, questioning aspects of the missionary women's encounter with the Salvadoran Guard members. Jeane Kirkpatrick, soon to be Reagan's ambassador to the United Nations, denied that the Salvadoran military had played a role in the killings, saying, "The nuns were not just nuns. They were political activists."
More:
https://www.americamagazine.org/faith/2020/12/02/el-salvador-martyrs-churchwomen-anniversary-czerny-239388
---
Response to Judi Lynn (Original post)
Fri Dec 4, 2020, 06:32 AM
Judi Lynn (149,447 posts)
4. Reflecting on the inalienable humanity of martyrs
Andrew Hamilton 03 December 2020
. . .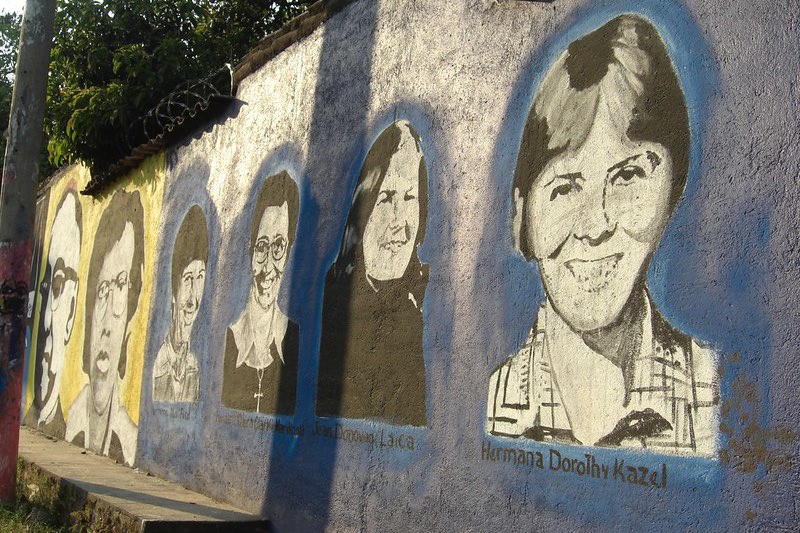 Ita Ford and Maura Clarke were Maryknoll Sisters. On December 2, 1980 they returned to El Salvador from a Maryknoll gathering in Nicaragua. At the airport they were picked up by Ursuline Sister Dorothy Kazel and Lay missionary Jean Donovan. The four were stopped by Salvadorean military acting under orders, were taken to an isolated place, beaten, raped, murdered and left lying there.
At the gathering Ita Ford had read an excerpt from a sermon preached by Oscar Romero shortly before his death earlier in the year. It concluded: 'Christ invites us not to fear persecution because, believe me, brothers and sisters, he who is committed to the poor must run the same fate as the poor, and in El Salvador we know what the fate of the poor signifies: to disappear, be tortured, to be captive — and to be found dead.'
My personal interest in Ita Forde and Maura Clarke began 12 years later through a brief association with a Catholic community named after them. In the aftermath of the killing of the six Jesuits, their housekeeper and her daughter, I spent six months in El Salvador visiting communities whose members had fled from military violence into surrounding nations and had returned to settle on deserted lands. Jesuit Refugee Services supported some of these communities. I also wanted to read Latin American theology in its own context. During the week I worked in the theological library, still scarred by the bullets fired during the murder of the Jesuits in the house, and at weekends visited different communities.
The community in which I spent most time was the Comunidad Ita Maura, named after the two Maryknoll Sisters. The people had fled some years before from villages in the Cabanas region. The counter insurgency policy of the Salvadorean army was to drain the lake so that the insurgent fish could not live there. They destroyed villages, killing their leaders (especially the catechists), and terrorised the people. The people who later settled at Ita Maura were among those who fled across the Rio Lempa border with Honduras and were fired on from both sides of the river. In the Honduras camps they had reflected on the Gospel and its meaning for them, and from frightened individuals had become a strong community. Against the wishes of the Government and accompanied by young volunteers from the United States, they re-entered El Salvador and settled on deserted land where they tried to be self-sufficient. They were regarded as intruders by the people in the neighbouring towns but were supported by sister communities in the United States.
More:
https://www.eurekastreet.com.au/article/reflecting-on-the-inalienable-humanity-of-martyrs