Wed Jan 13, 2021, 01:33 PM
Judi Lynn (149,749 posts)
Statue of mysterious woman with 'Star Wars'-like headdress found in Mexico
Statue of mysterious woman with 'Star Wars'-like headdress found in Mexico
By Laura Geggel - Associate Editor 21 hours ago
The 6.5-foot-tall statue was found in a citrus orchard.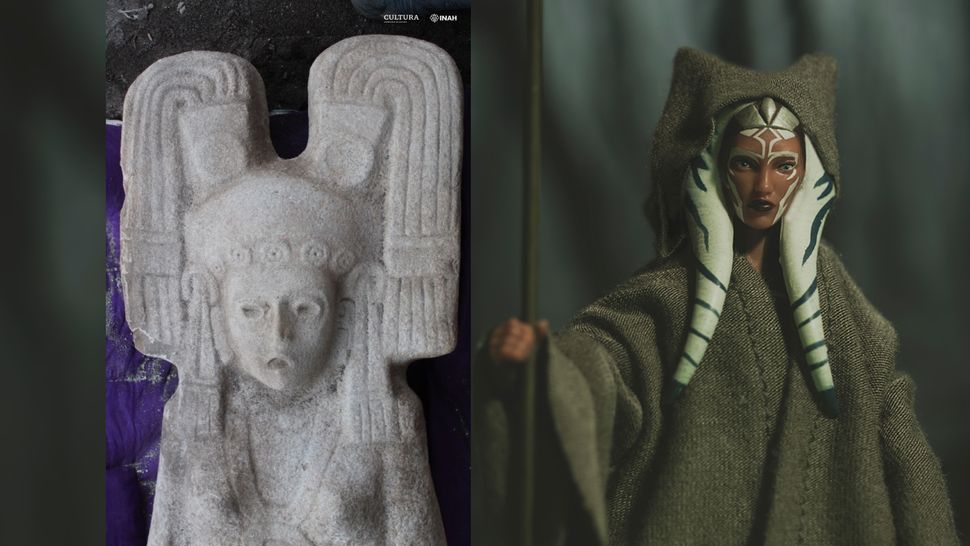 Farmers found the 500-year-old statue of mysterious woman (left), who has a headdress that looks like the head ornamentation of "Star Wars" former Jedi apprentice Ahsoka Tano (right), whose Hasbro action figure is shown here.
(Image: © María Eugenia Maldonado Vite; Shutterstock)
A 500-year-old statue of a mysterious woman wearing a large, "Star Wars"-like headdress has been discovered in central Mexico, according to Mexico's National Institute of Anthropology and History (INAH).
The 6.5-foot-tall (2 meters) limestone statue depicts a young woman dressed in elaborate clothes and jewelry, including a circular pendant, known as an "oyohualli," on a thick necklace; tassel-like earrings; and a headdress that rivals the head ornamentation of "Star Wars" Ahsoka Tano, a former Jedi apprentice turned warrior in the sci-fi series.
Just like Ahsoka Tano, this mysterious woman may have played a key role in her time. The statue likely depicts an elite woman, "possibly a ruler, because of her posture and attire, rather than a deity," María Eugenia Maldonado Vite, an archaeologist at the INAH Veracruz Center who is leading the excavation, said in a statement (translated from Spanish).
Local farmers found the figure in a citrus field in the town of Hidalgo Amajac, in the Mexican state of Veracruz, on Jan. 1. The statue likely dates to the late Postclassic period (1450-1521) and has features reminiscent of the Huastec culture, a group of people on the Mexican Gulf Coast that lived in a pre-Columbian crossroads for cultures, arts and trade. The discovery of what was likely an important female ruler "confirm[s] the active participation of ruling women in the Huastec social and political structure," Alejandra Frausto Guerrero, the Mexican secretary of culture, said in the statement.
More:
https://www.livescience.com/statue-woman-headdress-mexico.html
Also posted in Anthropology:
https://www.democraticunderground.com/12296547
6 replies, 1068 views
Replies to this discussion thread
| | | | |
| --- | --- | --- | --- |
| 6 replies | Author | Time | Post |
| Statue of mysterious woman with 'Star Wars'-like headdress found in Mexico (Original post) | Judi Lynn | Jan 2021 | OP |
| | niyad | Jan 2021 | #1 |
| | Judi Lynn | Jan 2021 | #3 |
| | niyad | Jan 2021 | #4 |
| | Judi Lynn | Jan 2021 | #5 |
| | niyad | Jan 2021 | #6 |
| | Judi Lynn | Jan 2021 | #2 |
---
Response to Judi Lynn (Original post)
Wed Jan 13, 2021, 01:40 PM
niyad (81,180 posts)
1. Fascinating! Thank you so much for sharing this great find.
---
Response to niyad (Reply #1)
Fri Jan 15, 2021, 01:27 AM
Judi Lynn (149,749 posts)
3. As soon as I saw the hairstyle I remembered photos I've seen over the years of Hopi women's hair!
There's an American man who was assigned a prodigeous task in trying to get accurate portraits in Native people in the United States while there was still a chance to see their native dress, environments, etc. around the end of the 1800's. I discovered his portraits around 1972, in a local library, and was astonished. At that time, his books couldn't be just picked up in book stores, they had to be special ordered. Have been unable to ever forget these people for a moment since then. There are photos you can locate on line, and there is a huge trove in the Library of Congress.
One thing I wanted to mention which I discovered by studying my own childhood photos: people in pictures are probably going to look unhappy if there is a painful association at the moment with the person taking the picture. I mention that, because once you start looking at the Curtis photos, you might note right away a lot of the people look very unhappy. It's important to remember what had happened to Native people by the end of the 1800's, many of them having lost parents, grandparents, possibly siblings, spouses, children, etc. to the European invaders and the ensuing genocide.
I grabbed some quick images from google images in a search for "Edward Sheriff Curtis Hopi woman squashblossom hair"
This hairstyle is so dramatic, so intense, so unique you never forget seeing it. "Squashblossom."
Once you start studying his photos you might want to see everyone you can find! I have bought his books and given them to people, so concerned that others might get the chance to think about the people who were degraded, defiled, despised, murdered, tortured, and forced to lose everything in their lives in deference to the greed of the people who "built" this great society.
Wikipedia on the photographer:
https://en.wikipedia.org/wiki/Edward_S._Curtis
Magazine article:
https://www.smithsonianmag.com/history/edward-curtis-epic-project-to-photograph-native-americans-162523282/
Excellent collection of prints you may find fascinating, after you get the hang of natigation. It took me a little while before I realized how many photographs are in this link:
https://www.edwardscurtis.com/

I may be crazy but do you see any resemblance between the elaborate hairstyle on the statue discovered in Mexico, and the hairstyle worn around the 1800's by Hopi females?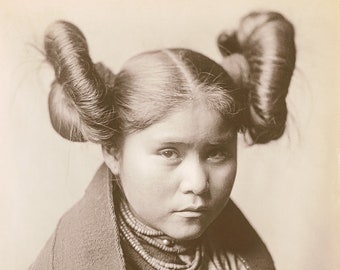 Edward Sheriff Curtis
Hopi women on a reservation, watching a dance in 1906.
---
Response to Judi Lynn (Reply #3)
Fri Jan 15, 2021, 09:58 AM
niyad (81,180 posts)
4. Thank you for sharing these amazing images. Living here in the West, I am familiar with Curtis'
work, and have seen a number of exhibits. But I know that I have not seen them all. So many of them are haunting, tear at your soul. I weep for what was done to the .First Nations. The history of this continent is soaked in blood.

Thank you again for all that you do in sharing, and enlarging our worldview. I learn so much!

Be safe and well.
---
Response to niyad (Reply #4)
Fri Jan 15, 2021, 11:03 AM
Judi Lynn (149,749 posts)
5. So good to see your comment on Curtis! It's more encouraging than you can know.
So very glad to hear he's well known there.

His work is priceless in every way.

Can't tell you how moved I am to know there have even been exhibits. Those images would be so much better in larger sizes which could be studied more deeply.

You expressed the impact of the faces so very well. They do reach with such intensity across the years.

Thank you, niyad.
---
Response to Judi Lynn (Reply #5)
Fri Jan 15, 2021, 11:12 AM
niyad (81,180 posts)
6. Did you know that there are calendars and desk calendars of his works? I have seen them
at our Barnes & Noble bookstores. I need to check with our Fine Arts Center to see I they carry any of his prints.
---
Response to Judi Lynn (Original post)
Thu Jan 14, 2021, 11:59 PM
Judi Lynn (149,749 posts)
2. Farmers Discover Rare Statue of Pre-Hispanic Woman in Mexican Citrus Grove
The sculpture may depict an elite ruler or a fusion of a goddess and a female leader
On New Year's Day, farmers in Mexico uncovered a sculpture dated to between roughly 1450 and 1521 A.D. (INAH)
By Isis Davis-Marks
SMITHSONIANMAG.COM
JANUARY 14, 2021 7:30AM
On New Year's Day, farmers in the Huasteca region of Mexico's Gulf Coast were ploughing soil in a citrus grove when they discovered something strange. After hitting an object they initially assumed was a rock, the group shoveled deeper, ultimately unearthing a six-foot-tall limestone statue of a Mesoamerican woman, according to a statement from the country's National Institute of Anthropology and History (INAH).
As the Associated Press reports, the statue likely dates to between roughly 1450 and 1521 A.D. After examining the artifact, INAH experts determined that it was the first of its kind to be found in the region.
Locals excavated the figurine between the pre-Hispanic Haustec ruins of El Tajín and the Aztec city of Tuxpan, in an area not previously identified as an archaeological site. Given the absence of similar historical objects in the grove, the team suggests the sculpture, which appears to shows Aztec influences, may have been moved there from its original location.
In the statement, as translated by the AP, archaeologist María Eugenia Maldonado Vite says the work could depict "a ruler, based on her posture and attire, [rather] than a goddess."
Maldonado adds that she could also be "a late fusion of the Teem goddesses with the representations of women of high social status or politician in the Huasteca."
Per the statement, the supine subject wears an ornate headdress, a necklace with a circular adornment known as an oyohualli, a long shirt and a skirt that grazes her ankles. (As Live Science's Laura Geggel points out, the headdress is reminiscent of one worn by Star Wars character Ahsoka Tano.)
The statue may depict an elite ruler or a fusion of a goddess and ruler. (INAH)
More:
https://www.smithsonianmag.com/smart-news/archaeologists-unearth-rare-female-statue-citrus-grove-180976746/