Fri Jan 29, 2021, 01:48 AM
Judi Lynn (149,445 posts)
Brazil authorities receive thousands of reports of slave-like labor Victims had no rights and no dec
Victims had no rights and no decent working conditions
Published in 28/01/2021 - 12:05 By Claudia Felzcak - Brasília
Late last year, the story of Madalena Gordiniano, who spent her whole life working in slave-like conditions, had Brazil distraught. The woman, who, at eight years old, asked for a piece of bread and ended up serving a family for 38 years, never received a salary and never had labor rights, was a secluded widow, was forced to get married, and had to ask neighbors for food and soap. Her plight was not over until November 2020, when, after a report was made, she was rescued by fiscal labor auditors in an apartment in the city of Patos de Minas, Minas Gerais state. She lived in a single room with no windows to be found.
Gordiniano was rescued in 2020—the twenty-first century. Like her, many people still struggle under conditions similar to those experienced by slaves in the colonial period. Forced labor, an exhausting working routine, degrading conditions, and debt servitude are some of the characteristics of what is termed modern-day slavery. In the last five years alone (2016–2020), Brazil's labor prosecutors received over 6 thousand reports linked to slave-like labor, enticement, and traffic of workers.
According to Italvar Medina, national vice-coordinator for efforts against slave labor and traffic of workers (CONAETE), a department within the Prosecution Service for Labor, last year alone over 900 workers were rescued from slavery-like working conditions. "Most of the situations took place in rural environments, especially in activities linked to coffee, charcoal production and storing, as well as planting and harvesting onion. We also did some city rescues in sewing workshops, and there were also cases linked to domestic labor."
Victims of present-day slave-like labor are highly socially vulnerable people with little education and few job opportunities, who are little aware of their rights - MPT
Vulnerability
Victims of present-day slave-like labor, Medina pointed out, are highly socially vulnerable people with little education and few job opportunities, who are little aware of their rights. "They are lured by great working conditions and remuneration, and are often made to leave their home states. Upon arrival, they realize the situation is far from what had been promised," he said.
He highlights what a typical modern slave is like: 70 percent of those rescued are brown or black, "which is telling of the structural racism in the country, as skin color today reflects that of slaves in former days," he argues. Most are men with very little schooling. Minas Gerais is the state with most cases of slavery-like work.
More:
https://agenciabrasil.ebc.com.br/en/direitos-humanos/noticia/2021-01/brazil-authorities-receive-thousands-reports-slave-labor#
2 replies, 421 views
Replies to this discussion thread
| | | | |
| --- | --- | --- | --- |
| 2 replies | Author | Time | Post |
| Brazil authorities receive thousands of reports of slave-like labor Victims had no rights and no dec (Original post) | Judi Lynn | Jan 2021 | OP |
| | Demovictory9 | Jan 2021 | #1 |
| | Judi Lynn | Jan 2021 | #2 |
---
Response to Judi Lynn (Original post)
Fri Jan 29, 2021, 02:52 AM
Demovictory9 (21,008 posts)
1. Omg 😳😳😳
---
Response to Demovictory9 (Reply #1)
Sat Jan 30, 2021, 08:54 AM
Judi Lynn (149,445 posts)
2. It's horrible. I started finding news articles on actual slavery situations in Brazil years ago.
Apparently there has never been an all-out effort made to prosecute it into oblivion there, and it seems to go on all over the place. The first story I ran across concerned very poor people being forced to work making charcoal from trees they were cutting down, and they had to sleep outdoors, in hammocks, and were what looked like prisoners, had no money to spend anywhere. It was so crazy I was just stunned, couldn't get it out of my mind....
Brazil continued to allow slavery AFTER the U.S. officially claimed it had outlawed slavery here. There were U.S. Southern plantation owners who took their families and their who operations and moved to Brazil, where their descendants today are called "Confederados."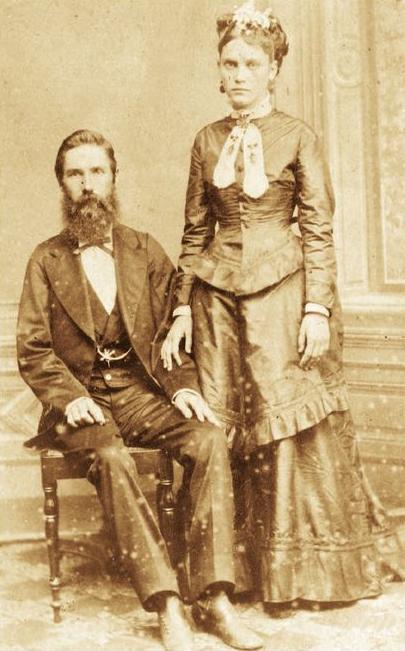 Joseph Withaker, and wife, Isabel
Early Confederados
They love to celebrate their atrocious legacy
Here's a bunch of google images of these U.S./Brazilian Confederados.
So pathetic!
https://tinyurl.com/y4me5pge