Fri Jan 29, 2021, 08:14 PM
Judi Lynn (149,397 posts)
Chile police officer sentenced for killing of Mapuche farmer on 'historic day'
Camilo Catrillanca, 24, was shot during a vehicle chase
Case highlights treatment of largest indigenous group
Charis McGowan in Santiago
Fri 29 Jan 2021 06.00 EST
A Chilean police officer has been jailed for killing a Mapuche farmer during a vehicle chase in a case that cast a harsh spotlight on the country's treatment of its largest indigenous group.
Camilo Catrillanca, the 24-year-old grandson of a prominent Mapuche indigenous leader, was shot in the back of the head in November 2018 in Temucuicui, a small community 600km south of the capital, Santiago.
His death – and a subsequent attempted cover-up by police officers – caused widespread public outrage and reignited deep-seated grievances over the Chilean state's treatment of the Mapuche.
On Thursday, the police officer, Carlos Alarcón, was sentenced to 11 years in prison over Catrillanca's death, with an extra five years for the attempted killing of a 15-year-old boy who was on a tractor with Catrillanca.
More:
https://www.theguardian.com/global-development/2021/jan/29/chile-police-officer-mapuche-killing-sentenced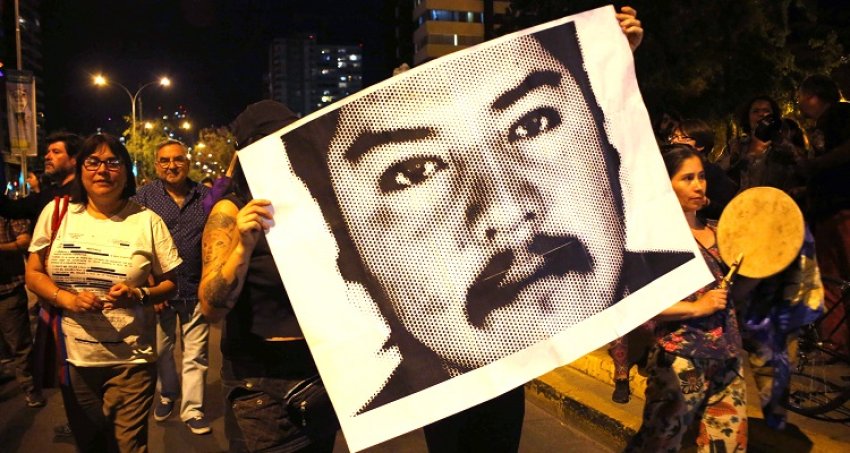 Funeral for assassinated Camilo Catrillanca.
~ ~ ~
The racist cop, a killer from the deadly Carabineros:
4 replies, 400 views
Replies to this discussion thread
| | | | |
| --- | --- | --- | --- |
| 4 replies | Author | Time | Post |
| Chile police officer sentenced for killing of Mapuche farmer on 'historic day' (Original post) | Judi Lynn | Jan 2021 | OP |
| | EarnestPutz | Jan 2021 | #1 |
| | Judi Lynn | Jan 2021 | #2 |
| | EarnestPutz | Jan 2021 | #3 |
| | Judi Lynn | Feb 2021 | #4 |
---
Response to Judi Lynn (Original post)
Fri Jan 29, 2021, 08:22 PM
EarnestPutz (1,192 posts)
1. Just a random thought, but maybe our own BLM protestors should dress in colorful and festive....
....."native" dress and carry flowers and bright flags, like these indigenous folks in Chile. I may be naive but perhaps the authorities would be less inclined to spray them with tear gas and beat them with clubs. No? Too optimistic? That is one of my many failings. Would be nice though.
---
Response to EarnestPutz (Reply #1)
Fri Jan 29, 2021, 09:22 PM
Judi Lynn (149,397 posts)
2. Something needs to work out for righteous protesters in our country by now, instead of murders.
It could be the Mapuche people are wearing their native clothing to bear out the assassination touches every one of the people of the Mapuche Nation, as always. They have been terrorized, abused, enslaved, murdered from the very first days, when the aggressive, greedy Spanish arived to claim ownership of everything above and below the surface of the Americas.

Their hatred of and abuse of the Mapuche original people is unbounded, still. Of course, they are also big enough they have enough room left in their hearts to still use their guns at protests in the large cities to indulge their last fad, blinding the young Chilean urban and suburban protesters. They have been entertaining themselves by shooting at the eyes of the high-school and college aged kids. They have gotten quite a few of them, too.

I have a feeling if protesters here wore bright, festive clothes, it would only energize our guardians of the peace, really fire'em up.
---
Response to Judi Lynn (Reply #2)
Sat Jan 30, 2021, 05:13 PM
EarnestPutz (1,192 posts)
3. Please don't think that I was being flip about the Mapuche protestors. I'm sure that...
....there are plenty of graves in Chile that hold the broken and deformed bones of overworked indigenous people who were victims of the Spanish "encomienda".
---
Response to EarnestPutz (Reply #3)
Mon Feb 1, 2021, 11:06 AM
Judi Lynn (149,397 posts)
4. It's amazing how self-righteous the Spanish government still feels about its "victories".
Of course we've observed every aggression has operated the same way, hasn't it?

It has been astonishing seeing how some nations actually create lies to explain their histories.

One has to wonder if the day will come when the world actually has uncovered the real story about the story of "mankind" after it has been deeply buried, by design, then whitewashed like crazy when discovered!