Sun Feb 14, 2021, 11:30 AM
sandensea (15,093 posts)
Former Argentine President Carlos Menem dies at age 90
Former Argentine President Carlos Menem died today after being hospitalized in Buenos Aires for a urinary tract infection. He was 90.
Though elected as a populist, the flamboyant Menem governed Argentina on largely pro-business lines from 1989 until 1999 - a decade remembered for prosperity clouded by rising unemployment and crime, as well as for a debt bubble that led to economic collapse in 2001.
Born in 1930 to Syrian immigrants in a small desert town in remote La Rioja Province, he became a lawyer in 1955 and was eventually elected governor of his province in 1973.
Elected on the Justicialist Party ticket - the party founded by the late populist leader Juan Perón - Menem, like many Peronist officials, was detained and jailed during the fascist 1976 coup.
He was released in 1978 and, with democracy restored in 1983, was returned by La Rioja voters as governor.
Menem unexpectedly won his party's 1988 presidential primary – a victory welcomed by the ruling UCR, who saw in the eccentric Menem an easier target. But amid
a debt crisis
inherited from the dictatorship and economic collapse, in 1989 he defeated conservative UCR nominee Eduardo Angeloz by 10%.
Carnal relations
Upon taking office in July he
quickly shed his populist platform
, appointing policymakers close to Argentina's landed and financial elites. He soon short-circuited resistance by packing the Supreme Court and using the Army as strike-breakers.
His adoption of the "Washington Consensus" - unconditional support of U.S. foreign policy by once non-aligned nations - heralded a U.S.-Argentine lockstep during the 1990s that Foreign Minister Guido di Tella famously termed "
carnal relations
."
Menem's first two years in office were, however, rocked by renewed financial crisis in November 1989, a historic seizure of bank deposits, record hyperinflation of 20,000% by March 1990, uproar over pardons for 1970s-era human rights abusers and far-left insurgents, allegations of money laundering by in-laws - and an acrimonious separation from First Lady
Zulema Yoma
in June.
But to supporters and detractors alike, his presidential legacy was defined by his appointment of Harvard-educated economist
Domingo Cavallo
as Economy Minister in 1991.
Cavallo's enactment of dollar-peso convertibility, led inflation to plummet from 1,344% in 1990 to 18% in 1992 - and the economy, declining since 1975,
grew by one third in just four years
.
Privatizations yielded improved and expanded public services while inflation remained near zero between 1993 and 2001 -
the longest stretch of stable prices since the 1940s,
and so far the last.
These results helped Menem secure support for a moderately progressive constitutional overhaul in 1994, as well as
a landslide re-election in 1995
- the first since Perón's in 1951.
From landslide to disrepute
Privatizations proceeds came largely in
near-worthless Brady bonds
however, and 1-to-1 peso-dollar convertibility required massive borrowing to maintain - with foreign debt ballooning from $61 billion in 1991, to
$166 billion by 2001
.
Layoffs resulting from privatizations as well as improved productivity led to 17% unemployment by 1995, and a subsequent
crime wave
.
His
20% landslide in 1995 turned into an 11% loss
in the 1997 mid-terms, and his Justicialist Party was defeated in 1999 by 10%.
He again sought the presidency in 2003, winning the first round by 2% - but forfeiting the runoff after polls showed him losing to center-left Peronist
Néstor Kirchner
by up to 50%.
Menem later faced charges for his alleged role in illegal arms sales to Croatia and Ecuador, obstruction of justice related to the
1994 AMIA Jewish center bombing
(which killed 85), and embezzlement - for which he was sentenced to a four-year prison term in 2015.
A senator since 2005, the seat shielded Menem from prison.
Menem is survived by ex-wife Zulema, 78; daughter Zulemita, 50; an illegitimate son, Carlos Nair, 39; and son Máximo, 17 – whose mother, Chilean model Cecilia Bolocco, 55, was married to Menem between 2001 and 2007.
His first son Carlos was killed at 26, in a 1995 accident still under investigation.
Netflix has announced an upcoming miniseries
based on Menem's life,
¡Síganme!
(
Follow Me!
) - his 1989 campaign slogan.
At:
https://translate.google.com/translate?sl=auto&tl=en&u=https://www.pagina12.com.ar/323746-murio-carlos-menem


Former Argentine President Carlos Menem and his daughter Zulemita greet Princess Diana during her last visit to Argentina in 1995.

The media-savvy Menem enjoyed mostly favorable press abroad, and dollar convertibility plus privatizations helped modernize Argentina's antiquated and inflation-wracked economy.

But the sale of flagship state enterprises for near-worthless bonds, sharp rises in unemployment and crime, a subsequent debt crisis, and myriad corruption allegations made him the most controversial public figure in Argentina since his mentor, the late populist leader Juan Perón - whose state-led, pro-labor policies Menem largely dismantled.
2 replies, 443 views
Replies to this discussion thread
| | | | |
| --- | --- | --- | --- |
| 2 replies | Author | Time | Post |
| Former Argentine President Carlos Menem dies at age 90 (Original post) | sandensea | Feb 2021 | OP |
| | Judi Lynn | Feb 2021 | #1 |
| | sandensea | Feb 2021 | #2 |
---
Response to sandensea (Original post)
Tue Feb 16, 2021, 01:59 AM
Judi Lynn (149,447 posts)
1. Carlos Menem was a fast friend of the whole family of George H. W. Bush.
There's a funny photo which has been withdrawn from public circulation showing him with Zulima Yoma, his first wife, entering the White House with George H. W. Bush, and Zulima looks furious. It wasn't long until she was out and he married a former "Miss Universe":
Yoma, the first wife.
Yoma, the first wife.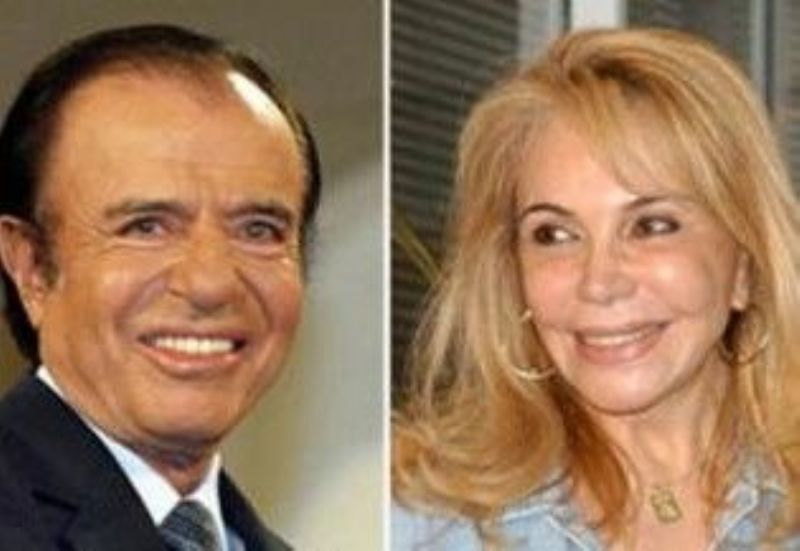 Yoma, the first wife.
The New One:
Once Menem had made the ultimate fool of himself,
the second wife, Cecilia Bolocco divorced him.
Did he ask to be buried in a Ferrari?
~ ~ ~
It was important to be reminded Carlos Menem delivered pardons to loathsome Dirty War criminals who wildly abused, tortured, murdered political prisoners, and made safe from officials who should have locked them away, instead. Important to remember he gleefully became a Senator, just like Chile's dictator Pinochet, and completely sidestepped any and all opportunities to try him for his personal crimes against the people of Argentina.
This summary of his pathetic life is wonderful, hitting on all the important features of a man living for himself at the desperate expense of the working people of Argentina.
Thank you, sandensea.
---
Response to Judi Lynn (Reply #1)
Tue Feb 16, 2021, 12:01 PM
sandensea (15,093 posts)
2. His was a complicated legacy - like so much in Argentina
Menem wanted a quick fix for the desperate situation he inherited - the lingering effects of the dictatorship's foreign debt bubble a decade earlier, which by 1989 had become a full-blown crisis.
The problem was that his quick fix wasn't sustainable.
Argentina has a perpetual dollar problem: lacking large-scale mineral resources (like the kind Chile or oil-rich countries have)
it doesn't earn enough
to pay for all its import needs, satisfy
local demand for dollars
(almost an obsession),
and
service large foreign debts.
But Menem's (actually Cavallo's) convertibility was predicated on precisely that: borrowing all the dollars needed to finance
all that and
keep a 1-to-1 exchange rate.
For Argentina,
impossible
.
When the country's access to dollars dried up, convertibility collapsed as well (the much-publicized 2001 crisis); Macri ran into that same wall in 2018 - though at least Menem accomplished serious growth for 8 years while the dollars rolled in (Macri? almost nothing).
Thanks for reading, Judi, and for the photos - which capture his flamboyant personality.
Menem's fondness for fast cars - and faster women - is, of course, common knowledge. But his
social skills
were actually the most interesting thing about him.
The elder George Bush, years after leaving office, revealed that he once mentioned to him that Syria's Hafez Assad wouldn't budge on a certain sticking point in negotiations Bush was brokering with Israel (which, you'll recall, had seized the fertile Golan heights from Syria - never to return them).



"Can I talk to him?" Menem asked.

"Sure - if you think it'll help," Bush said, incredulously.


Assad called Bush back a short while later - and they had a deal!

Years later, in 2000, Menem was invited to a book launching party for soccer great Diego Maradona - but there was a problem:

Maradona, who turned 40 that day, was in a foul mood - and wouldn't leave the hotel room. The guests (some 1,300+ people) were beginning to leave.



"Can I try?" Menem asked in that low-key tone of his.

"Sure!" the publisher said (no one else dared - given how temperamental Maradona got when in one of his moods)


And wouldn't you know it, a few minutes later there they were: both coming down the glass elevator, waving and all smiles.

"See?" Menem told the astounded publisher, "I told you I'd bring him down."
And that's how he was: truly gifted at smoothing ruffled feathers and solving spur-of-the-moment crises - but never a
sustainable
solution.
To be fair, those are always hard.
Thanks again, Judi.