Fri Apr 23, 2021, 01:35 PM
peppertree (15,095 posts)
Escazu Agreement set to bring environmental justice down to earth
The Escazú Agreement enters into force on Earth Day, April 22, 2021, three years after its adoption, kicking off a new phase of regional grassroots campaigns.
The challenge: to obtain government protection for land defenders and environmental activists in Latin America. This could be the toughest and most crucial phase yet.
The Escazú Agreement is the first treaty in the world to contain specific provisions on human rights defenders in environmental matters.
Civil society organizations and scientists took part in the U.N. negotiations that achieved government adoption of the agreement in
Escazú, Costa Rica
on March 4, 2018.
Its formal name describes it precisely as the
Regional Agreement on Access to Information, Public Participation, and Justice for Environmental Matters in Latin America and the Caribbean
.
It obliges member states to prevent and investigate attacks against those who protect and defend environmental rights. Parties to its terms must provide reparations to victims of violence resulting from their peaceful resistance to unscrupulous development schemes.
At:
https://www.counterpunch.org/2021/04/20/escazu-agreement-set-to-bring-environmental-justice-down-to-earth/


Delegates from 14 Latin American and Caribbean nations following the 2018 signing of the Escazú Agreement - the first treaty in the world to contain specific protections for environmental activists.

Though 24 Latin American and Caribbean nations eventually signed the treaty, ratification by 11 was required to bring the treaty into force.

Mexico's ratification yesterday, on Earth Day, reached that goal.
4 replies, 647 views
Replies to this discussion thread
| | | | |
| --- | --- | --- | --- |
| 4 replies | Author | Time | Post |
| Escazu Agreement set to bring environmental justice down to earth (Original post) | peppertree | Apr 2021 | OP |
| | Judi Lynn | Apr 2021 | #1 |
| | peppertree | Apr 2021 | #3 |
| | Judi Lynn | Apr 2021 | #2 |
| | Judi Lynn | Apr 2021 | #4 |
---
Response to peppertree (Original post)
Mon Apr 26, 2021, 12:48 AM
Judi Lynn (149,447 posts)
1. Innocent people have needed protection from the exploiters of Latin American resources SO LONG.
Death in the Devil's Paradise
Little over a hundred years ago, in March 1913, one of the least known, and most shameful, episodes in British colonial history was brought to an end in a London court room. The Peruvian Amazon Rubber Company was wound up in the High Court, the only hint at its dark secrets being a brief remark by the judge that 'it was impossible to acquit the partners of knowledge of the way in which the rubber had been collected for the company'.
What is known today as the rubber boom had its origin in the middle of the nineteenth century, with Charles Goodyear's discovery that cooking and treating latex harvested from rubber trees turned it into a product with a huge range of potential uses. With Henry Ford's mass production of the motor car a few decades later, and the invention of tyres by John Dunlop in 1888, the need for rubber suddenly became extremely pressing.
Thousands of Amazon Indians were enslaved and killed during the rubber boom
The rubber tree grew in profusion in the Amazon, especially in its western fringes, and soon a veritable 'rubber rush' was on. Entrepreneurs and fortune-seekers set off into the steamy jungle determined to cash in. Unaware of the impending disaster, tens of thousands of Indians for whom the western Amazon was home were experiencing their last years of peace.
One of the many chancers and treasure-seekers determined to make their fortunes in this brave new world was a Peruvian trader named Julio Cesar Arana. Arana acquired vast estates in a region named after its largest river, the Putumayo, and, as many others were doing at the time, realized that only by enslaving huge numbers of the local Indians to collect the latex could his visions of vast wealth become reality. (Slavery had, of course, been abolished decades earlier in the US, but brazenly continued in Amazonia).
Arana and his brother, the aptly-named Lizardo, moved quickly, bringing to Peru from Barbados a large number of overseers well-used to cracking the whip on workers in the British sugar-cane estates. The Bora, Witoto, Andoke and other tribes living in the Putumayo basin were quickly enslaved, and those who escaped the appalling treatment inflicted on them soon fell victim to waves of epidemics brought into remote rivers by traders and rubber-tappers.
In a few short years, thousands of Indians were killed or died from mistreatment or disease. The outside world remained unaware of the horrors the Arana brothers' empire was perpetrating until 1909, when a young American engineer, Walter Hardenburg, who had traveled through the region the year before and been held prisoner by the Arana brothers, wrote several articles for the magazine Truth.
Hardenburg's account of the abuses he had witnessed makes horrifying reading even today. 'The agents of the Company force the pacific Indians of the Putumayo to work day and night… without the slightest remuneration except the food needed to keep them alive. They are robbed of their crops, their women and their children… They are flogged inhumanly until their bones are laid bare… They are left to die, eaten by maggots, when they serve as food for the dogs… Their children are grasped by the feet and their heads are dashed against trees and walls until their brains fly out… Men, women and children are shot to provide amusement… they are burned with kerosene so that the employees may enjoy their desperate agony.'
More:
https://www.survivalinternational.org/articles/3282-rubber-boom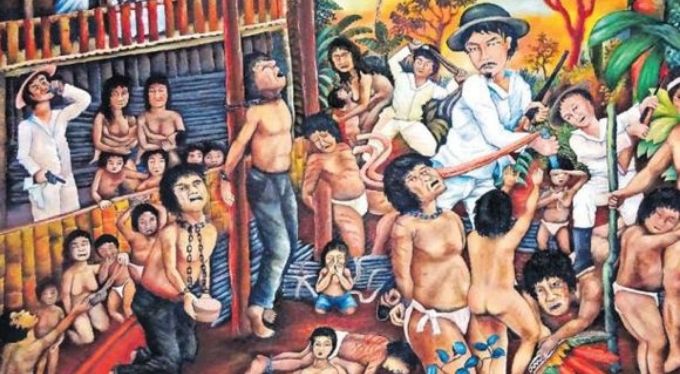 Julio Cesar Arana, the great rubber baron
Cristina Alvarado Ortiz 8 months ago
Google translation:
Between the years 1882 and 1912 the so-called "Rubber Boom" was a holocaust for Amazonian indigenous peoples such as the Huitotos, Boras and Andokes. Julio Cesar Arana was one of the Peruvians who marked the history of our country with his ambition. Little is known about the childhood and youth of this character who emerged from poverty as one of the most powerful and ruthless men in the history of Peru. In this chronicle we will learn more about its history.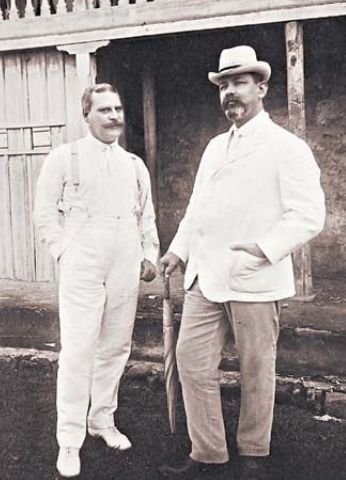 Julio Cesar Arana on the right. Source: El Comercio
. . .
His travels through the jungle as a vendor of supplies made him understand how easy it was to get the rubber tappers into debt by providing them with supplies and how important it was that they pay him in rubber and not with soles. Rubber used to rise in price in an unusual way, so it was earning up to four times what it invested.
. . .
Thus, Arana, acquired some land where rubber trees were grouped. But the real problem was who would extract the rubber. They could not be Asian or European workers, as they ended up decimated by disease.
The only ones who could carry out this task were the Indians, who were used to these pathogenic scenarios, or some human group that had no other option but to work in that environment. The latter was why Julio Cesar went, together with his brother-in-law, to Caerá, in the north of Brazil: he was going to recruit those who would extract his first rubber plantation.
Precisely this region was prone to prolonged and ferocious droughts for which its inhabitants had to migrate to other states or countries. It was in this exodus that a group ran into Julio Cesar Arana. It did not matter to him that they did not speak Spanish, since the only important thing was that they could extract the rubber.
The rubber tapper was indebted to be able to control him in perpetuity. In the first place, he charged the passage to the Yurimaguas at about thirty pounds sterling each; the tools needed to collect rubber, weapons, and supplies were also added to their debts. Nothing was free and Arana felt safe with this system because, according to his accounting books, three months of continuous work was not enough to pay off his debts. What's more, he didn't give them time to fish or hunt; in this way the debts increased with each new order for provisions.
. . .
Julio Cesar was making a prestigious name for himself in Iquitos. He was considered a prosperous rubber tapper and began promoting educational initiatives throughout the town. The first of his trips to Putumayo was in 1901; then it took almost fifteen days to be able to arrive. When he was in La Chorrea, a stop on the long journey, he did business, but he also got to know the Huitotos, an Amazonian community characterized by its passivity.
Possibly he has thought of the gains he would make by subduing this town for nothing, how easy it would be. Julio Cesar Arana saw the native Indians as the only ones who could work and survive in that habitat where the valuable rubber was.
When he returned, he was given a great position: mayor of Iquitos from 1902. His administration, which lasted a year, was one of constant absences since rubber was a priority in his life. Arana did not stop indebting his rubber tappers who, in reality, assumed themselves as part of his company. As his debts grew, Arana was able to make the most of his manpower.
The price of rubber rose every day to exorbitant levels and thus, in a short time, Arana was creating a great empire at the cost of debts and human miseries. Within a few years, Arana became the richest man in Peru. His empire was supported by his relatives and the government never condemned his injustices.
https://medialab.unmsm.edu.pe/chiqaqnews/julio-cesar-arana-el-gran-baron-del-caucho/
---
Response to Judi Lynn (Reply #1)
Mon Apr 26, 2021, 01:20 AM
peppertree (15,095 posts)
3. Amazing history and context, Judi. Thank you for that.
It dawned on me that the agreement should be called the Berta Cáceres Treaty - since it was, in fact, her 2016 murder that inspired the Echazú Agreement.

But then, environmental activism (or any) has always been risky in Latin America - and, sadly, will probably be for the foreseeable future no matter how many local laws or international agreements are enacted.

Money talks.
---
Response to peppertree (Original post)
Mon Apr 26, 2021, 01:15 AM
Judi Lynn (149,447 posts)
2. Brazil's famous rubber tree worker activist, martyred by business interests:
Wikipedia:
Chico Mendes
Francisco Alves Mendes Filho,[1] better known as Chico Mendes (Brazilian Portuguese: /ˈʃiku ˈmẽdʒis, -dʒiʃ, -dis/) 15 December 1944 – 22 December 1988), was a Brazilian rubber tapper, trade union leader and environmentalist. He fought to preserve the Amazon rainforest, and advocated for the human rights of Brazilian peasants and indigenous peoples. He was assassinated by a rancher on 22 December 1988. The Chico Mendes Institute for Conservation of Biodiversity (Instituto Chico Mendes de Conservação da Biodiversidade or ICMBio), a body under the jurisdiction of the Brazilian Ministry of the Environment, is named in his honor.
Chico Mendes and his wife,
Ilsamar Mendes,
at their home in Xapuri in 1988
Early life
Francisco "Loco" Alves Mendes Filho was born on 15 December 1944, in a rubber reserve called Seringal Bom Futuro,[2] outside of Xapuri, a small town in the state of Acre. He was the son of a second-generation rubber tapper, Francisco Mendes, and his wife, Iracê.[3] Chico was one of 17 siblings—only six of whom survived childhood.[4]
At age 9, Chico began work as a rubber tapper alongside his father.[citation needed] The primary use for rubber then was for the rapid need for condoms.[citation needed] The 80s was an era of unprotected intercourse, and the demand for the rubber suits were at alarming rate.[citation needed] The government and cattle ranchers expelled many seringueiros from their land, including areas near Xapuri due to tensions surrounding the new invention of latex.[citation needed] At the time, the rubber industry across the nation was in decline, and land was frequently sold and burned for cattle pastures.[citation needed]
Rubber tappers additionally faced a severe lack of education. Schools were frequently forbidden on and near plantations, as the owners did not want the workers to be able to read and do arithmetic. For this reason, Mendes did not learn to read until he was 18 years old, when he sought out help interpreting his bills.[5][6]
Mendes was taught to read and write by a man named Euclides Fernando Távora, an activist turned rubber tapper. Most of his practice came from newspaper clippings on social and political issues within Brazil. These articles opened Chico's eyes to the widespread injustices in society, adding to his dissatisfaction with the treatment of seringueiros.[citation needed]
After learning what he could from Távora, Mendes became a literacy teacher in hopes of educating his community. As his fellow workers became more aware of unjust treatment, they formed the Rural Workers' Union, and the more localized Xapuri Rubber Tappers Union. Both of these organizations worked through peaceful protest to stop the logging and burning of the rainforest that acted as their livelihood.[citation needed]
By the mid-1980s, Chico was known as both a radical unionist and an activist, though he also ran for several local political positions such as state deputy and city councilor.[7][6]
Activism
At first I thought I was fighting to save rubber trees, then I thought I was fighting to save the Amazon rainforest. Now I realize I am fighting for humanity.
— Chico Mendes
To save the rainforest, Chico Mendes and the rubber workers union asked the government to set up reserves as they wanted people to use the forest without damaging it. They also used a very effective technique they called the 'empate' where rubber tappers blocked the way into rubber reserves, preventing their destruction.[8] [9]
The Rubber Tappers' Union was created in 1975 in the nearby town of Brasileia, with Wilson Pinheiro elected as the union's president and Mendes as its secretary.[8][10]
Mendes also played a central role in the creation of the National Council of Rubber Tappers in the mid-1980s.[11] Mendes' group also had strong ties with the National Campaign for the Defence and Development of the Amazon, and helped organize local Workers' Party support.[12]
. . .
Assassination
Mendes had received death threats for years before his murder.[19] However, in the months prior to his death, various pairs of gunmen hired by Silva observed Mendes from a square near his house and the town union hall.[citation needed]
On the evening of Thursday, 22 December 1988, Mendes was assassinated in his Xapuri home by Darci, the son of Darly Alves da Silva. The shooting took place exactly one week after Mendes' 44th birthday when he had predicted he would "not live until Christmas".[citation needed]
Around his birthday, the gunmen who had been observing him disappeared completely. Their absence gave the community a sense of impending doom, as they had been constantly present since May of the same year. The timing of their disappearance led many to believe they had unsuccessfully attempted to kill Mendes on his birthday but had failed because of numerous guests present at his house.[5]
Mendes was the 90th rural activist murdered that year in Brazil.
[20] Many felt that although the trial was proceeding against Mendes' killers, the roles of the ranchers' union, the Rural Democratic Union, and the Brazilian Federal Police in his death were ignored.[21]
More:
https://en.wikipedia.org/wiki/Chico_Mendes#:~:text=Francisco%20Alves%20Mendes%20Filho%2C%20better,trade%20union%20leader%20and%20environmentalist.&text=He%20was%20assassinated%20by%20a%20rancher%20on%2022%20December%201988.
~ ~ ~
Brazil salutes Chico Mendes 25 years after his murder
This article is more than 7 years old
Jan Rocha in São Paulo and Jonathan Watts in Rio de Janeiro
@jonathanwatts
Fri 20 Dec 2013 12.35 EST
Tributes to man who campaigned to stop forest clearance in Amazon tempered by resurgent influence of landowners' lobby
When Chico Mendes was gunned down in the Amazon, the two policemen who were supposed to protect him were playing dominoes at his kitchen table. It was 22 December 1988.
The officers had been sent to the union activist's small wooden home in Xapuri after he received death threats from landowners, who were enraged by his campaign to prevent forest clearance. But the police dropped their guard when Mendes stepped out to have a shower in the backyard. A single bullet from a .22 rifle killed him instantly. The assassin, a rancher named Darcy Alves, said "it was like shooting a jaguar".
More:
https://www.theguardian.com/world/2013/dec/20/brazil-salutes-chico-mendes-25-years-after-murder
---
Response to peppertree (Original post)
Mon Apr 26, 2021, 01:44 AM
Judi Lynn (149,447 posts)
4. Brazilian rancher found guilty of ordering murder of U.S. nun and Amazon defender Dorothy Stang
By THE ASSOCIATED PRESS
APR 13, 2010 AT 2:27 AM
Vitalmiro Moura (left) was sentenced to 30 years in prison for ordering the murder of Amazon defender Dorothy Stang. (Silva, Martins/AP)
RIO DE JANEIRO - A Brazilian rancher accused of ordering the murder of U.S. nun and Amazon defender Dorothy Stang was found guilty and sentenced to 30 years in prison.
Jurors in the jungle city of Belem reached the decision late Monday after 15 hours of deliberations, according to a statement on the Web site of a Para state court.
The case was seen as a test of Brazil's ability to battle the near absolute impunity that reigns in the largely lawless Amazon region - whether it be the murder of activists or halting illegal deforestation.
In the last two decades, more than 1,200 people have been killed in land conflicts across Brazil, mostly in the Amazon region, according to the Catholic Land Pastoral, a watchdog group that tracks rural violence in Latin America's largest nation.
Prosecutors said Vitalmiro Moura ordered the 73-year-old Stang's killing in 2005 because she blocked him and another rancher from taking over land the government gave to farmers.
His guilty verdict makes him the only so-called "mastermind" behind the killing of such activists, landless farmers and others defending the rights of the poor in the Amazon, to be imprisoned for the crimes, the Catholic Land Pastoral said.
About 80 of the gunmen who prosecutors say were paid by powerful ranchers to carry out the slayings are behind bars.
More:
https://www.theguardian.com/world/2013/sep/20/brazlilan-rancher-jailed-dorothy-strang-murder#:~:text=A%20Brazilian%20rancher%20charged%20with,court%20annulled%20Moura's%20latest%20conviction.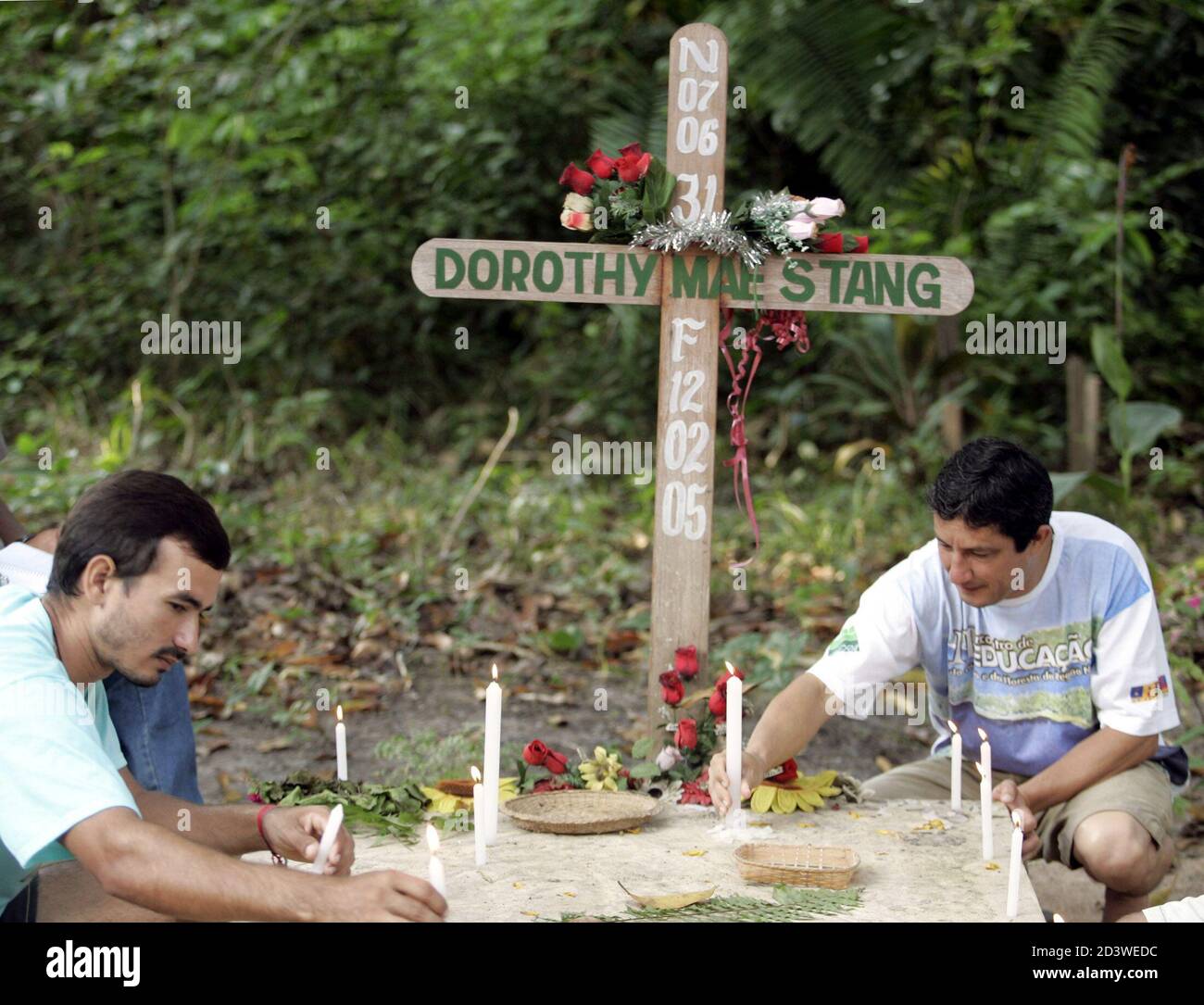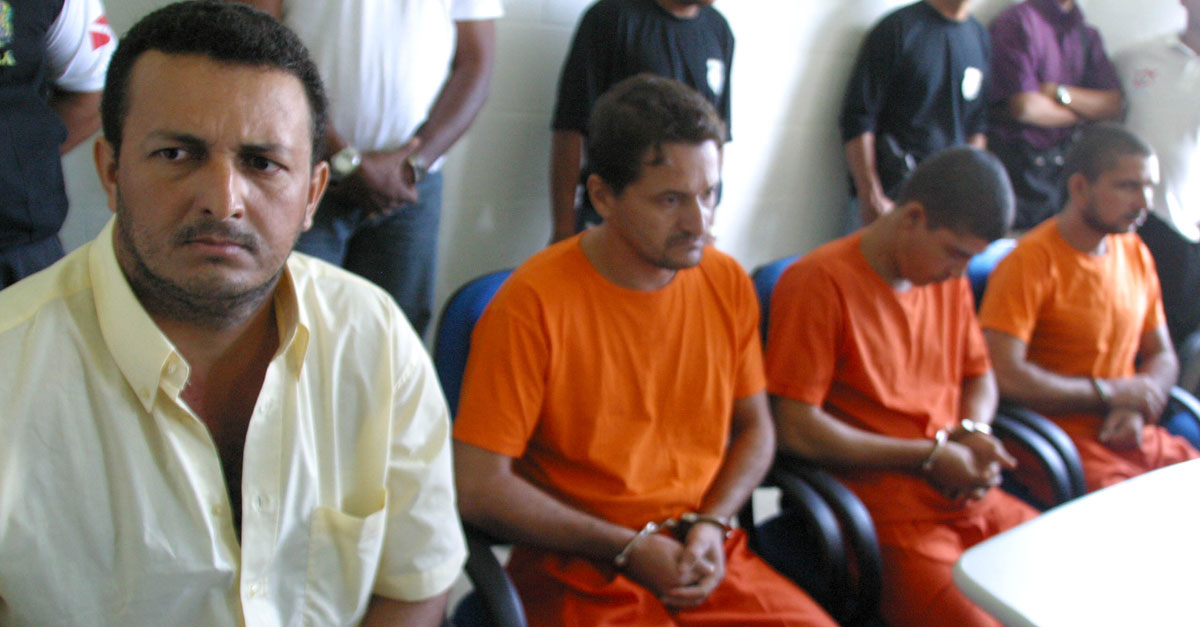 Vitalmiro Moura, the main rancher with the three assassins he hired to kill Sister Dorothy Stang