Fri Apr 30, 2021, 04:01 PM
Judi Lynn (149,493 posts)
Climate change: Amazon may be turning from friend to foe
Issued on: 30/04/2021 - 18:54
Modified: 30/04/2021 - 18:52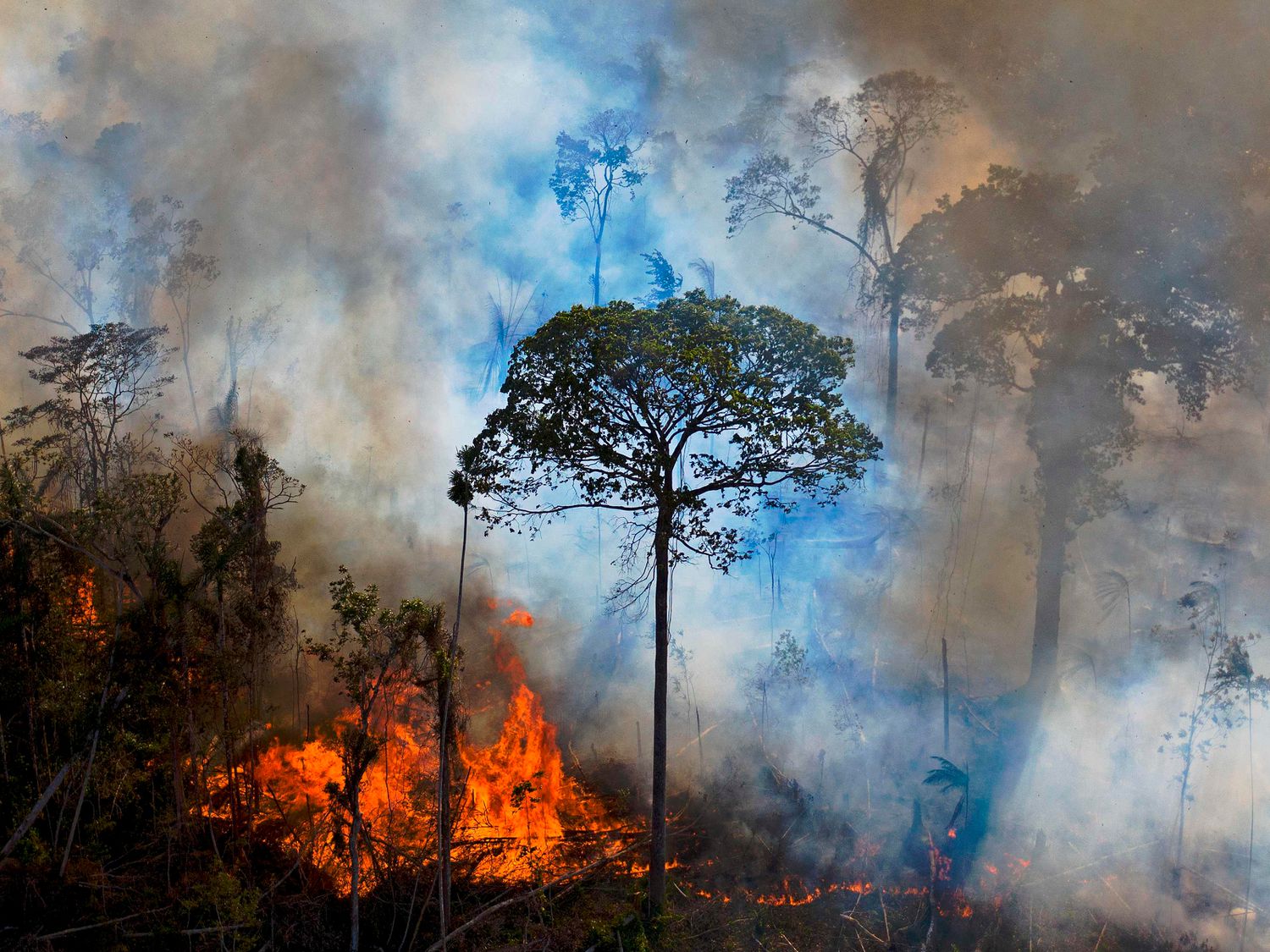 Deforestation in the Amazon, including through fires, increased nearly four-fold in 2019 CARL DE SOUZA AFP/File
3 min
Paris (AFP)
The Brazilian Amazon released nearly 20 percent more carbon dioxide into the atmosphere over the last decade than it absorbed, according to a stunning report that shows humanity can no longer depend on the world's largest tropical forest to help absorb manmade carbon pollution.
From 2010 through 2019, Brazil's Amazon basin gave off 16.6 billion tonnes of CO2, while drawing down only 13.9 billion tonnes, researchers reported Thursday in the journal Nature Climate Change.
The study looked at the volume of CO2 absorbed and stored as the forest grows, versus the amounts released back into the atmosphere as it has been burned down or destroyed.
"We half-expected it, but it is the first time that we have figures showing that the Brazilian Amazon has flipped, and is now a net emitter," said co-author Jean-Pierre Wigneron, a scientist at France's National Institute for Agronomic Research (INRA).
"We don't know at what point the changeover could become irreversible," he told AFP in an interview.
More:
https://www.france24.com/en/live-news/20210430-climate-change-amazon-may-be-turning-from-friend-to-foe
Also posted in Environment and energy:
https://www.democraticunderground.com/1127144751
4 replies, 295 views
Replies to this discussion thread
| | | | |
| --- | --- | --- | --- |
| 4 replies | Author | Time | Post |
| Climate change: Amazon may be turning from friend to foe (Original post) | Judi Lynn | Apr 2021 | OP |
| | Midnight Writer | Apr 2021 | #1 |
| | mahina | Apr 2021 | #2 |
| | Judi Lynn | Apr 2021 | #3 |
| | mahina | Apr 2021 | #4 |
---
Response to Judi Lynn (Original post)
Fri Apr 30, 2021, 04:13 PM
Midnight Writer (13,236 posts)
1. Our forests are the lungs of the earth. Destroy them and we all suffer.
---
Response to Judi Lynn (Original post)
Fri Apr 30, 2021, 05:13 PM
mahina (13,471 posts)
2. Maybe burning it down wasn't such a great idea? However
If we can find a way to replant the burned out areas with trees there is hope.

How?
---
Response to mahina (Reply #2)
Fri Apr 30, 2021, 07:36 PM
Judi Lynn (149,493 posts)
3. The men trying to seize the land, the ranchers, hire men to burn it down,
it also is often cut down, instead, and logging companies illegally profit from the trees, and the land itself gets stolen from Native Brazilians, and used to raise cattle, or occassionally raising crops, like soy beans, etc. Occassionally the ranchers and/or logging industrialists hire assassins to murder indigenous people who won't leave the land where their ancestors have lived for hundreds of years.

I have heard of people in some countries turning out in great numbers to replace burned areas with seeds, or seedlings, when conditions are possible.

If I see anything on it, I'll be sure to post it.

If the government changes in Brazil, and the administration then decides to reverse the destruction, maybe it could be reclaimed, but it would take a huge effort. So many countries around the world now are so concerned, it's likely a progressive Brazilian leader could summon a lot of support and assistance. That would be the best thing that could happen.

Things look completely dire, at the moment, and the world is running out of time.

Gotta hope for a government change, and progressives aren't nearly as eager to overthrow Presidencies and take control as are rightest fascist racist murderous right-wing monsters. It would take a massive effort by the voters, massive and organized.
---
Response to Judi Lynn (Reply #3)
Fri Apr 30, 2021, 08:36 PM
mahina (13,471 posts)
4. I read you all the way.