Wed May 5, 2021, 03:55 AM
Judi Lynn (147,843 posts)
Human Rights, Bolivia, and the Best of Harvard Law
By The Crimson Editorial Board
This staff editorial solely represents the majority view of The Crimson Editorial Board.
4 hours ago
In the last few months alone, we've seen several high-profile Harvard Law School graduates grace the news with unseemly headlines:
vacationing
during a massively impactful crisis,
distorting the truth
through non-stop falsities, or engaging in
inappropriate use
of governmental resources. The trend makes it tempting to view Harvard's legal education as a corrupting force.
But it isn't, or at least it doesn't have to be. Sometimes our Law School can make us proud, with brave alumni who showcase the very best of our ideals and ambitions — the very best of Harvard, even.
Last month was such an occasion. After over a
decade's worth
of litigation, Harvard Law School's International Human Rights Clinic secured a landmark victory: A federal judge
upheld
a
2018 ruling
that sentenced former Bolivian president Gonzalo Sánchez de Lozada and former Bolivian defense minister José Carlos Sánchez Berzaín to $10 million in compensatory damages for their role in the 2003 massacre of Indigenous Bolivians.
The decision brings some closure to a dark chapter of Bolivian history, a tiny but long overdue slice of justice to the families of the victims of state-organized violence. It offers some solace to those who, in the aftermath of massive protests against a government plan to export natural gas through Chile, witnessed how their own government instructed the military to turn violently against its own citizens.
The original suit, filed in 2007 by HLS's International Human Rights Clinic at the insistence of then second-year student Thomas B. Becker, charged Bolivia's former officials with ordering the killings of 67 civilians. The two officials had fled Bolivia for the United States, but Becker believed that justice could follow them here and he found a way to make it happen. This case marked the first time that a former head of state sat before his accusers in a U.S. human rights trial.
More:
https://www.thecrimson.com/article/2021/5/5/best-of-harvard-law/
~ ~ ~
Earlier article, worth reading for information. If you feel moved, pleases read the press release which gives a much deeper view of what happened in this outrageous assault in Aymara citizens ordered by a US-educated and supported monster who has fled to and found refuge, anlong with his defense minister in the US after his atrocities.
February 20, 2018
Clinic's case against former Bolivian president for role in 2003 massacre to proceed to trial
Posted by Susan Farbstein and Tyler Giannini
We've got thrilling news today: After more than 10 years of litigation, our case, Mamani et al. v. Sánchez de Lozada and Sánchez Berzaín, is finally headed to trial. This is an historic event. It's the first time a former head of state will stand trial in the U.S. for human rights abuses.
In less than two weeks, on March 5, the former President and Minister of Defense of Bolivia will stand trial in Federal District Court in Florida for their roles in a 2003 civilian massacre in Bolivia. And our clients will be in the courtroom to see it, and to testify.
Plaintiffs Eloy Rojas Mamani and Etelvina
Ramos Mamani and their children, Rosalia
Rojas Ramos, Heide Sonia Rojas Ramos,
Nancy Rojas Ramos, Maruja Rojas Ramos,
and Marlene Rojas Ramos (named after her
sister who died), with Thomas Becker, JD '08,
at top right.
We would not be here without the work of our partners, listed below, and dozens of clinical students who have contributed over the years, from fact-finding to drafting briefs to thinking strategically about how to move the case forward. Foremost among those students is Thomas Becker, JD '08. This case started as a seed of an idea in his mind, and he has been working tirelessly on it ever since.
Most importantly, we want to thank our clients, who have kept their wounds open so this case could move forward on behalf of those they lost, and the many other Bolivians whose lives were irrevocably damaged by the actions of these defendants. They inspire us every day with the extraordinary courage and dedication they have shown at every step of this journey.
Please see below for the press release in English and Spanish.
More:
https://hrp.law.harvard.edu/alien-tort-statute/clinics-case-against-former-bolivian-president-for-role-in-2003-massacre-to-proceed-to-trial/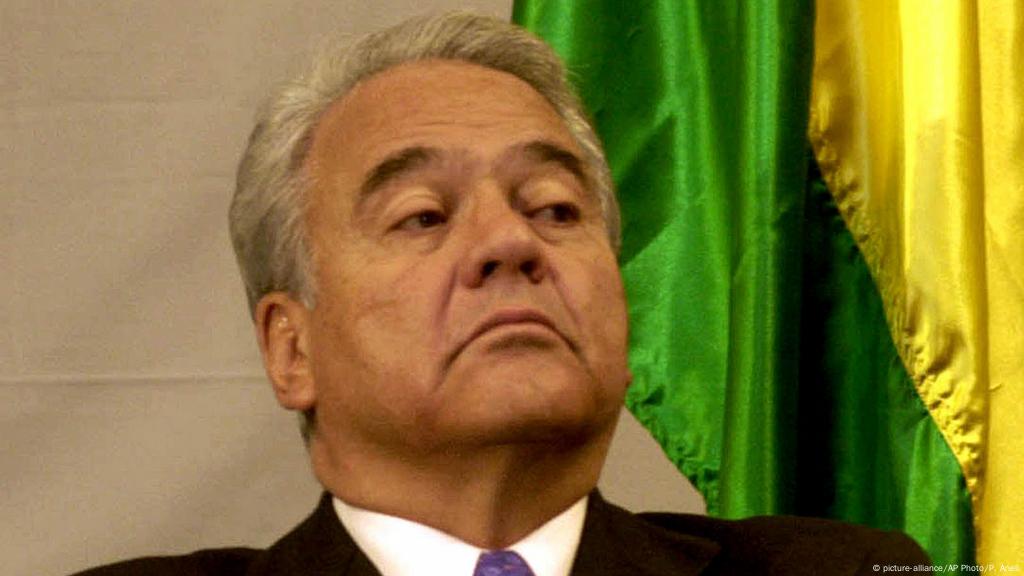 former Bolivian president Gonzalo Sánchez de Lozada, nicknamed "Goni".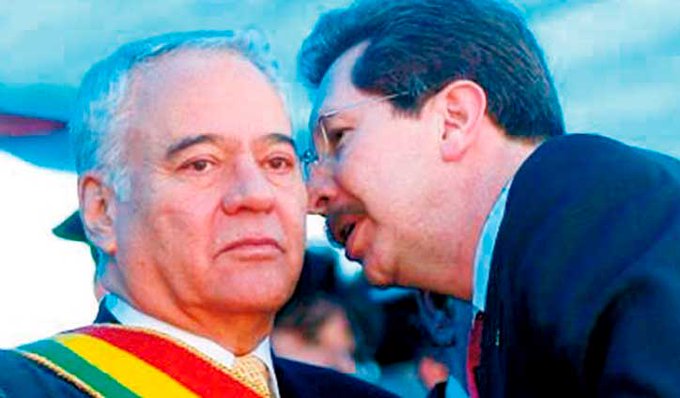 ~ ~ ~
Goni on Trial
U.S. economic and political intervention defined the political career of former Bolivian president Gonzalo "Goni" Sanchez de Lozada. Now, in an unprecedented move, the U.S. is putting him on trial.
Jacquelyn Kovarik
March 22, 2018
Gonzalo "Goni" Sánchez de Lozada, ex-president of Bolivia (From the documentary "Un Minuto de Silencio" )
Former Bolivian president Gonzalo "Goni" Sanchez de Lozada and his one-time defense minister Jose Carlos Sánchez Berzain took the defendants' stand on Tuesday March 6 in a United States civil trial in Fort Lauderdale, Florida. This marks the first time in U.S. history that any former head of state has been put on trial before his accusers in a U.S. court. Tracing Goni's decades-long relationship with U.S. politicians, economists, and political consultants makes this case all the more surprising—and emphasizes the importance of confronting U.S. intervention in modern Bolivian politics as this case unfolds in the following weeks.
The case against Goni alleges that the Bolivian military massacred over 60 citizens in October 2003 in El Alto, a case commonly referred to as "Black" or "Red" October. This violence marked the culmination of the Bolivian Gas War, when El Alto neighborhood organizations, Indigenous Aymara peasants, and citizens across various sectors of Bolivian society rose up to protest the privatization of natural gas reserves under Goni's government. The bloody clashes between protesters and the Bolivian army would eventually lead to Goni's forced resignation, two other short-lived presidencies, and finally the election of Bolivia's first Indigenous president Evo Morales, who is of Aymara descent and remains president of Bolivia today.
On the first day of the trial, Goni and Berzaín sat quietly as they listened to various Aymara survivors testify about the repression and violence that they and their families endured almost 15 years ago. "This trial will offer Indigenous Aymara people, who have historically been excluded from justice, a chance to testify about events that led to dozens of deaths and hundreds of injuries," said Beth Stephens of the Center of Constitutional Rights, one of the attorneys of the eight families presenting the case against Goni, in a press release. The U.S. court's decision to try Goni is an enormous victory for human rights activists, and especially for Indigenous peoples of Bolivia.
The trial results from a case that has been in various stages of litigation for over a decade. Bolivian plaintiffs were able to file Torture Victim Protection Act (TVPA) suits against Goni and Berzaín in the United States. This was possible due to a U.S. federal law that grants its federal courts jurisdiction to hear lawsuits filed by non-U.S. citizens for crimes that violate international law—in this case, the crime of state-led extrajudicial killings.
That Goni is being tried in a U.S. court is not only unprecedented, but incredible, considering the context of the case. The October Massacre was the end result of years of boiling tensions between Indigenous and non-Indigenous peoples over privatization—of natural resources and of elements of the Bolivian government—tensions that are deeply intertwined with the long history of U.S. presence in Bolivia.
The series of events prior to the Gas War, the massacre itself, and the subsequent protection of Goni in the United States for almost 15 years before his trial all point to the United States' ever-present hand in Bolivian politics. The significance of Goni being tried in a U.S. court, given these facts, is difficult to overstate.
More:
https://nacla.org/news/2018/03/22/goni-trial
0 replies, 236 views