Wed May 5, 2021, 04:31 AM
Judi Lynn (147,962 posts)
Supermarkets threaten Brazilian boycott over Amazon destruction
By Harry Holmes
5 May 2021
2 min read
Conservation groups have warned a potential new Brazilian law will legitimise illegal land grabs
British supermarkets have threatened to boycott Brazilian products if the national congress passes a bill to increase the speed of deforestation in the Amazon rainforest.
Nearly 40 food companies have signed an open letter calling on Brazil's legislature to reject a bill which would allow farmers legal rights over land occupied without authorisation.
Conservation groups have warned the new law will legitimise illegal land grabs and pave the way for more forests to be burned for agriculture such as beef and soy.
The same group of companies – including Tesco, Morrisons, Sainsbury's, Asda, Aldi, Lidl, M&S, Co-op and Waitrose – made a similar threat last year but withdrew it after the Brazilian government removed the bill.
Moy Park and Pilgrim's UK – both owned by Brazilian meat giant JBS – are also signatories. Activists have pressured supermarkets to drop JBS as a supplier after numerous alleged links to Amazonian destruction.
More:
https://www.thegrocer.co.uk/sourcing/supermarkets-threaten-brazilian-boycott-over-amazon-destruction/655749.article
4 replies, 365 views
Replies to this discussion thread
| | | | |
| --- | --- | --- | --- |
| 4 replies | Author | Time | Post |
| Supermarkets threaten Brazilian boycott over Amazon destruction (Original post) | Judi Lynn | May 5 | OP |
| | Judi Lynn | May 5 | #1 |
| | Judi Lynn | May 5 | #2 |
| | jimfields33 | May 5 | #3 |
| | Judi Lynn | May 6 | #4 |
---
Response to Judi Lynn (Original post)
Wed May 5, 2021, 04:40 AM
Judi Lynn (147,962 posts)
1. Retailers, investors urge Brazil to scrap bill seen boosting deforestation
by Reuters
Tuesday, 4 May 2021 23:01 GMT
By Simon Jessop and Jake Spring
LONDON/BRASILIA, May 5 (Reuters) - A group of European companies including Tesco and Marks & Spencer have threatened to stop using Brazilian agricultural commodities if the country's Congress passes a law expanding property rights for squatters on public land.
Environmental advocates warn that the proposal would encourage deforestation by rewarding land grabbers in the Amazon rainforest who occupy properties illegally, often clear-cutting areas for agricultural use in the process.
Proponents of the bill say that only by bringing properties into the legal system can they be forced to comply with Brazil's strict laws that limit deforestation in the Amazon to 20% of private property.
The retailers, also including Metro and John Lewis, as well as investors such as Norway's biggest pension company KLP, said that Brazil's environmental protections were increasingly inadequate, while the land bill potentially risked even greater threats to the Amazon.
More:
https://news.trust.org/item/20210504215424-3mm9m/
---
Response to Judi Lynn (Original post)
Wed May 5, 2021, 04:46 AM
Judi Lynn (147,962 posts)
2. European retailers urge Brazil to drop Amazon squatters bill
Dozens of companies are threatening to stop using Brazilian produce amid concerns that the proposed law could accelerate deforestation.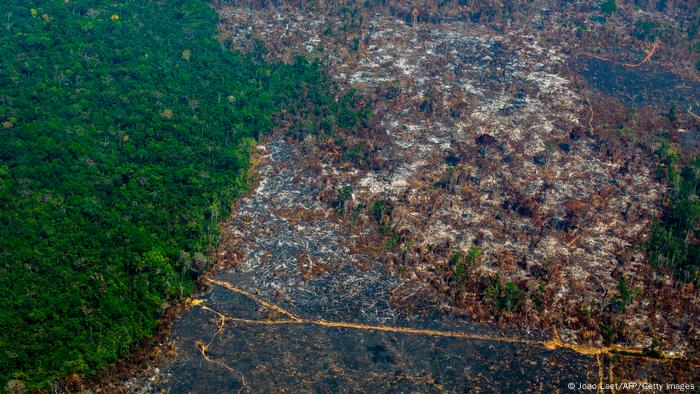 Deforestation in the Amazon rainforest last year reached its highest level since 2008
. . .
What is the controversial proposed law?
The bill is an expansion of a 2009 law that granted land rights to so-called "land-grabbers" living in the Amazon rainforest.
Critics of the proposed legislation have warned that it would undermine anti-deforestation efforts by rewarding squatters in the Amazon.
On the other hand, proponents argue that the bill could force such properties to comply with deforestation laws by bringing the settlers into the legal system.
Land-grabbers in the rainforest — who occupy properties illegally — typically cut down areas for agricultural use.
. . .
Bolsonaro has also repeatedly pledged to increase agricultural activity in the region.
More:
https://www.dw.com/en/european-retailers-urge-brazil-to-drop-amazon-squatters-bill/a-57431273
---
Response to Judi Lynn (Original post)
Wed May 5, 2021, 06:54 AM
jimfields33 (6,097 posts)
3. Wouldn't this hurt the citizens who have done nothing wrong?
Where will they get food? I say boycott president and lawmakers through no financial support for elections or anything else.
---
Response to jimfields33 (Reply #3)
Thu May 6, 2021, 12:11 AM
Judi Lynn (147,962 posts)
4. Those involved in stealing the land, burning or cutting the forests and selling the trees,
then using the stolen (from indigenous people who lived there from ancient times) land to raise cattle for meat sell that meat to food industries all over the world. The grocery chains they do highly profitable business with (while using many
slaves
to toil endlessly for nearly nothing whatsoever) are huge multinationals themselves, located throughout Europe, and the Americas, too. Aldi is one of them.
No one is holding a gun to JBS forcing them to steal land, destroy the lives of the people who were living there, forcing them to try to live in a foreign system, among strangers, without even basic worldly skills, or become slaves to the food producers, to keep taking more and more land, buying and killing more and more animals, and NEVER giving back to the world they are stealing and using up.
These mega-multinational grocery chains are not obligated to keep growing, expanding until they encircle the earth, either. Their involvement with the giant food producers keep raising the stakes.
Here's an interesting article published just this year:
JANUARY 5, 20211:48 PMUPDATED 4 MONTHS AGO
JBS among meat firms linked to slavery-tainted ranches in Brazil
By Fabio Teixeira
3 MIN READ
RIO DE JANEIRO (Thomson Reuters Foundation) - Brazilian meatpackers must clean up their supply chains, labor experts said on Tuesday, after an investigation showed six firms bought cattle from ranches that used slave labor.
Brazil's JBS, one of the world's largest meat processing firms, bought cattle from two ranches that later ended up on Brazil's "dirty list" of companies that employed slave labor, the anti-slavery rights group Reporter Brasil said this week.
JBS said it banned the two firms once they were on the dirty list, but it was unfair to expect JBS to stop working with any ranches facing allegations of slave labor from inspectors as those companies also had the right to defend their actions.
"Reporter Brasil is demanding JBS ... block producers based only on inspections (which) ... would be a disregard for that producer's right of defense before public authorities", JBS told the Thomson Reuters Foundation in a statement.
More:
https://www.reuters.com/article/us-brazil-trafficking-cattle/jbs-among-meat-firms-linked-to-slavery-tainted-ranches-in-brazil-idUSKBN29A2EW
~ ~ ~
Walmart selling beef from firm linked to Amazon deforestation
Exclusive: US chains Walmart, Costco and Kroger selling Brazilian beef produced by JBS linked to destruction of Brazilian rainforest
Andrew Wasley and Alexandra Heal
Sat 13 Feb 2021 02.00 EST
Three of the biggest US grocery chains sell Brazilian beef produced by a controversial meat company linked to the destruction of the Amazon rainforest, an investigation has revealed.

Food giants Walmart, Costco and Kroger – which together totalled net sales worth more than half a trillion dollars last year – are selling Brazilian beef products imported from JBS, the world's largest meat company, which has been linked to deforestation.

Brazilian beef has been identified as a key driver of deforestation in the Amazon, where swathes of forest are cleared for pasture used for cattle farming. The Amazon is a crucial buffer in stabilising the regional and global climate. Experts say preserving the world's rainforests is essential if further intensification of the climate emergency is to be averted.

Research by the Guardian, the Bureau of Investigative Journalism and the nonprofit data analysis agency C4ADS established that in recent years, the JBS subsidiary Sampco Inc has imported thousands of tonnes of Brazilian beef, destined for grocery chains and other food companies, into the US.
More:
https://www.theguardian.com/environment/2021/feb/13/walmart-selling-beef-from-firm-linked-to-amazon-deforestation
~ ~ ~
Earlier Trump gift to the dirty Brazilian meat producers:
Farm Bailout Paid to Brazilian Meat Processor Angers Lawmakers
Lawmakers want to know why a Brazilian-owned company got payments from a program aimed to help American farmers weather President Trump's trade war.
By Maggie Haberman and Alan Rappeport
Feb. 7, 2020
WASHINGTON — The Trump administration, confident that the Chinese government will follow through on its agreement to buy more American agriculture, plans to shutter its bailout program for farmers hurt by tariffs.
But allegations of unfairness and other criticisms continue to dog the $28 billion initiative, which President Trump created to ease the economic hardship on rural America, which constitutes a large portion of his political base.
What was meant to be a financial lifeline for struggling farmers has been widely derided by critics as a corporate bailout for big agriculture companies and those who live in metropolitan areas but own farms in rural America. The program has also been attacked for providing financial support to American subsidiaries of foreign agriculture companies that operate in the United States.
For months, a bipartisan group of lawmakers has been pressing the Trump administration to explain payments to a Brazilian-owned company with a troubled past.
About $67 million in bailout funds have gone to JBS USA, the subsidiary of JBS S.A., a Brazilian company that is the world's biggest meat-processing firm.
Lawmakers have argued that a company with foreign-held ownership should be getting more scrutiny, particularly one that encountered legal troubles three years ago. In 2017, two of JBS S.A.'s former top executives, brothers Wesley and Joesley Batista, pleaded guilty to corruption charges in Brazil.
More:
https://www.nytimes.com/2020/02/07/us/politics/farm-bailout-jbs.html