Fri May 7, 2021, 07:21 PM
Judi Lynn (147,997 posts)
Police Carry Out The Most Lethal Operation in The History of RJ, with at Least 25 Dead
Residents report shootings, invasions of houses and bodies in the Jacarezinho favela, in the north of Rio
May.7.2021 1:34PM
Júlia Barbon
Italo Nogueira
RIO DE JANEIRO
A police operation in a Rio de Janeiro favela left 25 people dead and is already considered the most lethal in history, according to researchers, associations, and professionals who operate in the area.
According to the UFF (Universidade Federal Fluminense) Study Group on New Illegalism, which has produced and maintained a database since 1989, there has never been a single operation with this number of deaths. The highest total recently occurred in Complexo do Alemăo in 2007, with 19 fatalities.
"This number of deaths can only be compared to the massacres of Vigário Geral [21 dead in 1993] and Baixada [Fluminense in 2005, with 29 dead], but caused by extralegal operations. It is necessary to hold the political agents responsible for this action," says the group's coordinator, Daniel Hirata.
Both the Vigário and Baixada massacres were provoked by police in clandestine acts, as part of death squad actions, and not in an official operation like this one.
https://www1.folha.uol.com.br/internacional/en/brazil/2021/05/police-carry-out-the-most-lethal-operation-in-the-history-of-rj-with-at-least-25-dead.shtml?utm_source=newsletter&utm_medium=email&utm_campaign=newsen
(Short article, no more at link.)
4 replies, 593 views
Replies to this discussion thread
| | | | |
| --- | --- | --- | --- |
| 4 replies | Author | Time | Post |
| Police Carry Out The Most Lethal Operation in The History of RJ, with at Least 25 Dead (Original post) | Judi Lynn | May 7 | OP |
| | Judi Lynn | May 7 | #1 |
| | abqtommy | May 7 | #2 |
| | Judi Lynn | May 8 | #3 |
| | Judi Lynn | May 8 | #4 |
---
Response to Judi Lynn (Original post)
Fri May 7, 2021, 07:23 PM
Judi Lynn (147,997 posts)
1. Brazil judge sees signs of 'arbitrary execution' in Rio police raid
May 7, 2021
4:28 PM CDT
Americas
Ricardo Brito
2 minute read
A Supreme Court justice called on Friday for Brazil's top prosecutor to investigate Rio de Janeiro's deadliest police raid in over a decade, which has drawn condemnation from the United Nations, human rights groups and local activists.
The shootout killed a police officer and 24 others in Rio's Jacarezinho neighborhood on Thursday. Police said it was the deadliest operation in Rio state since a 2005 raid on the city's northern outskirts. read more
"The facts reported seem grave and, in one of the videos, there are indications of acts that, in theory, could amount to arbitrary execution," said Judge Edson Fachin.
Last year, Fachin issued an order for Rio police to suspend operations during the coronavirus pandemic in the informal shantytowns known as favelas - "except in absolutely exceptional cases" that had been pre-approved by prosecutors.
More:
https://www.reuters.com/world/americas/brazil-judge-sees-signs-arbitrary-execution-rio-police-raid-2021-05-07/
---
Response to Judi Lynn (Original post)
Fri May 7, 2021, 08:19 PM
abqtommy (10,142 posts)
2. Of course these atrocities occur only among the poorest of the population. It's inequality
---
Response to abqtommy (Reply #2)
Sat May 8, 2021, 02:54 AM
Judi Lynn (147,997 posts)
3. Most surely. Bolsonaro has given the ghouls ihttn Brazil the green light starting with his campaign.
He was sending out his not-too-subtle signals from the first, getting his followers to copy him pretending to shoot guns in the air, with his obnoxious gnarly fingers. Before long fellow politicos in photo ops were also laughing and making gun gestures with their pudgy little hands.
Far more than a sickness. It's pure evil.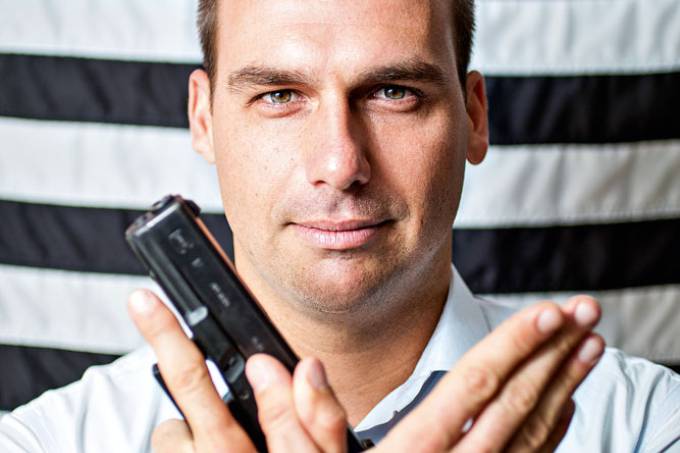 Eduardo, one of Bolsonaro's pathetic sons, imagining he's glamorous with his gun.
He made sure everyone knew during his campaign he was going to turn his police loose to run amuck among the poor once he got into office, and that's the way it has gone from his first day.
---
Response to Judi Lynn (Original post)
Sat May 8, 2021, 08:48 PM
Judi Lynn (147,997 posts)
4. Death toll from police raid in Rio de Janeiro favela rises to 28
Amnesty International says anti-drug trafficking operation in Jacarezinho favela 'reprehensible and unjustifiable'.
People protest against police violence outside the Jacarezinho favela in Rio de Janeiro after a deadly police operation on May 6 [Ricardo Moraes/Reuters]
8 May 2021
The death toll from a Brazilian police raid this week in a Rio de Janeiro favela has increased to 28, a police official said late on Friday, as international human rights groups condemned the violence.
One police officer and 27 people were killed in the raid early on Thursday, which authorities said aimed to root out drug traffickers in Jacarezinho, an impoverished community in the city's North Zone.
It was the
deadliest police operation
ever carried out in Rio de Janeiro.
"Intelligence confirmed that the dead were drug dealers. They fired at officers, to kill. They had orders to confront," Civil Police Chief Allan Turnowski told reporters.
More:
https://www.aljazeera.com/news/2021/5/8/death-toll-from-police-raid-on-rio-de-janeiro-favela-increases