Mon May 10, 2021, 01:01 AM
Judi Lynn (147,937 posts)
1,000 People Were Executed by El Salvador Troops in 1981 and This American May Have Known
New evidence has emerged connecting American military advisor Allen Bruce Hazelwood to the darkest episode in El Salvador's history.
By Emily Green
May 7, 2021, 11:07am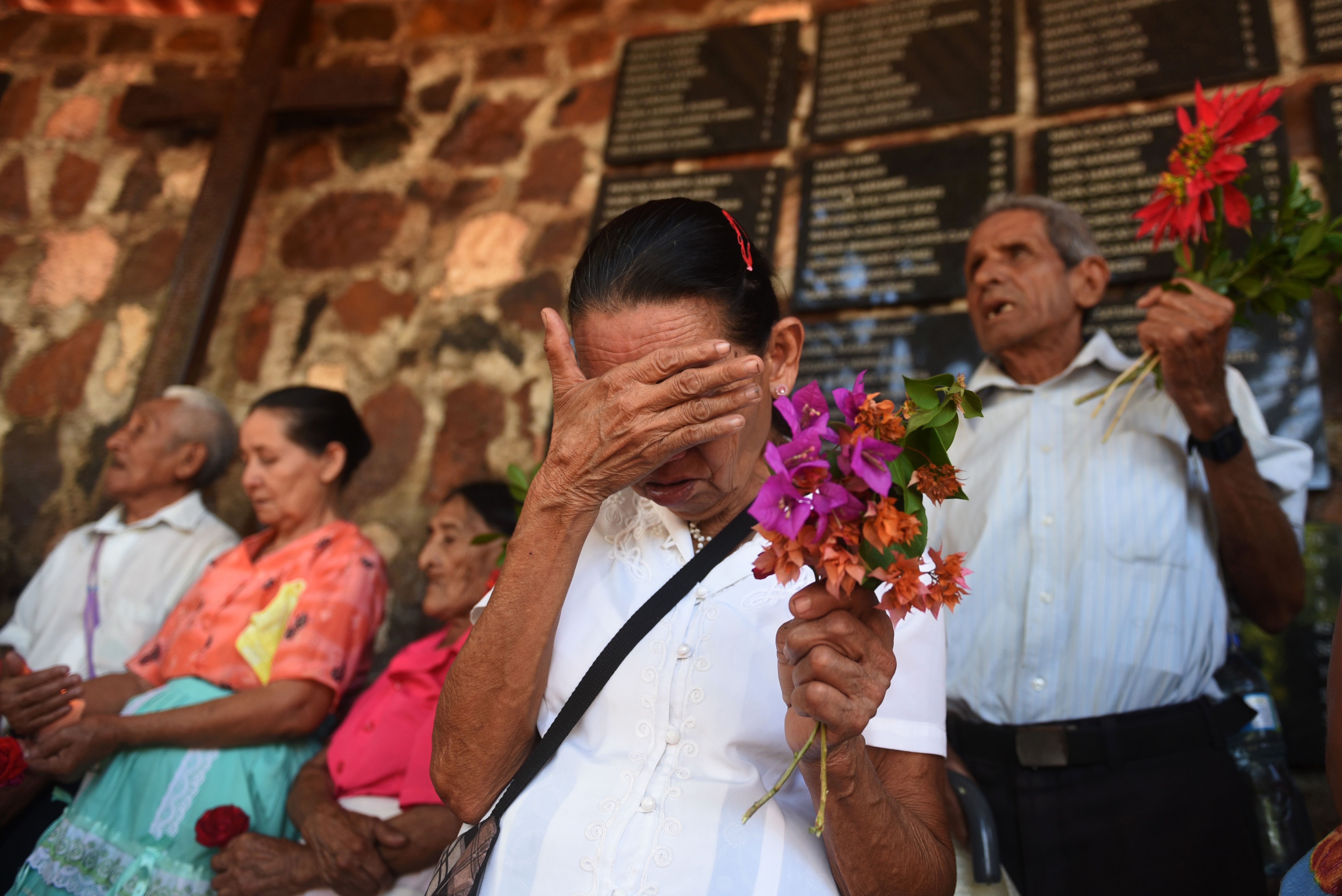 PEOPLE PARTICIPATE IN EVENTS HELD TO COMMEMORATE THE 1981 MASSACRE IN EL MOZOTE, 200 KM EAST OF SAN SALVADOR, ON DECEMBER 9, 2016. PHOTO: MARVIN RECINOS/AFP VIA GETTY IMAGES.
. . .
The execution of some 1,000 people by the military in 1981 during El Salvador's bloody civil war is one of the country's darkest chapters, which is now subject of one of the most anticipated and long-awaited legal proceedings in Latin American history.
. . .
"The deeper you get into it, the more lies you reveal," said American journalist Mark Danner, who wrote an investigative book about the massacre. "And what you thought was a level of truth turns out to have a trap door underneath it."
. . .
The facts were horrifying. It began with the Salvadoran military dropping bombs on Mozote and nearby villages, and then soldiers marched in on December 10, 1981 to interrogate residents about leftist guerrilla fighters. The following morning, the soldiers forced everyone to leave their homes and assembled them in the town square. The men and older boys were divided from the women and young children.
After murdering the men, the women were "machine gunned," according to the Inter-American Court of Human Rights. More than 400 children under the age of 12 were executed.
More:
https://www.vice.com/en/article/88nnda/1000-people-were-executed-by-el-salvador-troops-in-1981-and-this-american-may-have-known
2 replies, 478 views
Replies to this discussion thread
| | | | |
| --- | --- | --- | --- |
| 2 replies | Author | Time | Post |
| 1,000 People Were Executed by El Salvador Troops in 1981 and This American May Have Known (Original post) | Judi Lynn | May 10 | OP |
| | Make7 | May 10 | #1 |
| | 2naSalit | May 10 | #2 |
---
Response to Judi Lynn (Original post)
Mon May 10, 2021, 03:25 AM
Make7 (8,242 posts)
1. It seems impossible that Hazelwood wouldn't have known.
Hazelwood maintained during his testimony to the U.N. — and also in his email to VICE World News — that throughout the massacre, he was some 100 miles away training soldiers for the American-trained and American-armed Atlacatl Battalion, which carried out the slaughter. He also asserted that he "initiated every military program in El Salvador and was a key planner in formulating the national military strategy," according to the two-page summary of his testimony, which VICE World News reviewed.
State terrorism
was
the national military strategy — better known as death squads. That was the policy throughout most of Central and South America.
The National Security Archive has a large archive of documents pertaining to
El Salvador
. Unfortunately, most of the documents are not available online (that I can find), just references to them. I was hoping to find State Department cables from that time.
Since the massacre was reported in the New York Times six weeks after it happened, there is zero chance that U.S. military did not know what had happened — the troops that murdered those innocent civilians had training at the School Of The Americas.
MASSACRE OF HUNDREDS REPORTED IN SALVADOR VILLAGE
Jan. 27, 1982
From interviews with people who live in this small mountain village and surrounding hamlets, it is clear that a massacre of major proportions occurred here last month.
In some 20 mud brick huts here, this reporter saw the charred skulls and bones of dozens of bodies buried under burned-out roofs, beams and shattered tiles. There were more along the trail leading through the hills into the village, and at the edge of a nearby cornfield were the remains of 14 young men, women and children.
In separate interviews during a two-week period in the rebelcontrolled northern part of Morazan Province, 13 peasants said that all these, their relatives and friends, had been killed by Government soldiers of the Atlacatl Battalion in a sweep in December. 733 Victims Listed
The villagers have compiled a list of the names, ages and villages of 733 peasants, mostly children, women and old people, who they say were murdered by the Government soldiers. The Human Rights Commission of El Salvador, which works with the Roman Catholic Church, puts the number at 926.
A spokesman for the Salvadoran armed forces, Col. Alfonso Cotto, called the reports about ''hundreds of civilians'' being killed by Government soldiers ''totally false.'' Those reports were fabricated by ''subversives,'' he said.
...
https://www.nytimes.com/1982/01/27/world/massacre-of-hundreds-reported-in-salvador-village.html
---
Response to Judi Lynn (Original post)
Mon May 10, 2021, 07:25 AM
2naSalit (50,091 posts)
2. Of course he knew. ...nt