Mon May 24, 2021, 07:32 PM
Eugene (52,445 posts)
Peru: Shining Path splinter group kills 14 in pre-election jungle massacre
Source:
The Guardian
Peru: Shining Path splinter group kills 14 in pre-election jungle massacre
• Two children among dead in remote hamlet
• Leaflets threaten voters for rightwing candidate Keiko Fujimori
Dan Collynsin Lima
@yachay_dc
Mon 24 May 2021 23.08 BST
At least 14 people, including two children, have been killed by a splinter group of the Shining Path rebel group, in a brutal attack on a remote jungle hamlet, according to Peru's military.
Leaflets reportedly scattered at the site of Sunday's massacre warned locals to boycott upcoming presidential elections next month and said anyone who voted for the rightwing candidate Keiko Fujimori would be considered a "traitor".
The military called the murders "an act of genocide" and said the Shining Path had previously labeled such attacks a form of "social cleansing". The statement assured Peruvians of "a secure electoral process". They added the bodies of the victims had yet to be identified.
The massacre took place just two weeks before a polarised second-round ballot between three-time candidate Fujimori, the daughter of the jailed 1990s strongman Alberto Fujimori, and the leftist teacher Pedro Castillo, whose party Perú Libre is accused of containing MPs with links to Shining Path and the rival rebel group MRTA (Tupac Amaru Revolutionary Army) which both battled the state in a conflict that killed more than 69,000 in the 1980s and 90s.
-snip-
Read more:
https://www.theguardian.com/world/2021/may/24/peru-shining-path-jungle-massacre
3 replies, 652 views
Replies to this discussion thread
| | | | |
| --- | --- | --- | --- |
| 3 replies | Author | Time | Post |
| Peru: Shining Path splinter group kills 14 in pre-election jungle massacre (Original post) | Eugene | May 2021 | OP |
| | ShazamIam | May 2021 | #1 |
| | Judi Lynn | May 2021 | #2 |
| | Judi Lynn | May 2021 | #3 |
---
Response to Eugene (Original post)
Mon May 24, 2021, 10:26 PM
ShazamIam (1,190 posts)
1. Unfortunately that is Peru and it is just as likely a fake attack to affect the election, not so
for the locals as claimed but the general population which seems to be leaning left.

Like the way our MSM people in 2020 couldn't mention the word BLM OR Floyd protests without also mentioning riots and showing one of the same three scenes of burning buildings as if all our cities were on fire and it did affect the Congressional elections. And like how The FBI Director's congressional testimony stated that the people they had arrested for violence had been linked to militias, not to any left political group and that there is no antifa organized.

but sure why wouldn't long deat a left revolutionary group rise up and meddle in a election that was leaning left. /s


---
Response to ShazamIam (Reply #1)
Wed May 26, 2021, 05:35 AM
Judi Lynn (149,447 posts)
2. Exactly! I'm certain you nailed it! How fortunate for the corrupt dictator's daughter who's running!
Her dad, who's in prison for crimes against humanity, enjoyed a lot of support with the Peruvian right-wing voters for his bloody actions against the Shining Path, or whatever.

The pattern established in Colombia so many years ago, and still active, involved "death squads" composed of right-wing "paramilitaries" (often operating as the really vicious ally of the Colombian military, sometimes even WITH their actual involvement) who were the ones doing the "social cleansing" as they even slaughtered drunk Colombians, women they believed were prostitutes, indigenous people, etc., etc.

Seeing how that process works in Colombia leaves no doubt this is the pattern throughout the Americas. False flag operations, and the blame is placed DIRECTLY on the groups of people trying to fight against the state's violent repression of the poor.

Your post rings absolutely true.

Why, indeed, would a long beaten down, despised, deprived, diminished, racially targeted and isolated and denied native Peruvians, and African Peruvians, try to run amuck, go wild, violent, murderous when the whole world has been watching their candidate increase his lead over the dictator's daughter, day after day?

So very glad to see your comments. Thank you.
---
Response to Eugene (Original post)
Wed May 26, 2021, 09:13 PM
Judi Lynn (149,447 posts)
3. More than dozen slain in Peru, allegedly by Shining Path
By ASSOCIATED PRESS
PUBLISHED: 16:30 EDT, 24 May 2021 | UPDATED: 20:35 EDT, 24 May 2021
LIMA, Peru (AP) - More than a dozen people were slain in a remote area of central Peru by suspected members of the Shining Path rebel group, just two weeks ahead of the presidential runoff election, authorities said Monday.
Peru's police chief, César Cervantes, told the local TV channel N that at least 18 people were killed, while the military said in a press release there were 14 victims.
The killings took place in a community in Vizcatan de Ene, which is in an area of the Peruvian Amazon that authorities believe is being used as a hideout by remnants of the Shining Path movement that battled the government in the 1980s and 1990s. The area is also known for being used by some local criminal groups to produce cocaine for trafficking abroad.
Leonidas Casas, a local official, told The Associated Press that the victims were inside two bars, one in front of the other, when armed men stormed into them and opened fire. Some women and at least one child tried to hide in a room, but they were also killed. Some of the bodies were burned, he said.
Casas said authorities found some pamphlets signed by Shining Path saying the group will "clean up" the country of bars, "parasites" and "corrupts."
The June 6 runoff pits leftist Pedro Castillo against right-leaning Keiko Fujimori, the daughter of former authoritarian President Alberto Fujimori, who presided over the fight against Shining Path for two decades. He was later convicted of human rights abuses during the war.
In 2016, a day before that year's presidential election, a similar incident happened in a remote area, when alleged members of Shining Path ambushed a military convoy traveling to a community to guard the elections. Eight soldiers and two civilians were killed.
More:
https://www.dailymail.co.uk/wires/ap/article-9614389/More-dozen-slain-Peru-allegedly-Shining-Path.html
So, in 2016, guess who the two candidates were for the Presidential election.
Pedro Pablo Kuczynski and Keiko Fujimori. Pedro Pablo Kuczynski won.
- - -
The Downfall of Pedro Pablo Kuczynski and the Future of Peru
By Jon Lee Anderson
March 24, 2018
In December, 2016, at a private dinner with a handful of friends in a hotel in the Peruvian colonial city of Arequipa, Pedro Pablo Kuczynski, Peru's new President, sipped on a Martini and grumbled about his political enemies. He called them "the Fujis," a derisive reference to Keiko Fujimori, a former member of Congress and the leader of the Fuerza Popular Party; Kenji Fujimori, Keiko's brother and also a member of Fuerza Popular; and Alberto Fujimori, their father and the country's disgraced former President, who was doing time in prison. That June, Kuczynski—or P.P.K., as he is widely known—had unexpectedly defeated Keiko Fujimori in Peru's Presidential election, winning by less than one per cent of the over-all vote. But Fujimori's Fuerza Popular Party still dominated Congress. The Fujis, Kuczynski said, were clearly determined to make his life in office impossible; they had been blocking his Cabinet choices and voting against everything he proposed. Unless he could find a way to halt them, he would have a hard time getting anything done.
Kuczynski's worries turned out to be well placed. On Wednesday, one day ahead of an all-but-certain impeachment vote in Congress, he appeared on television to announce his resignation from the Presidency. Seated at a desk and flanked by his Cabinet members, who stood uncomfortably behind him, Kuczynski fulminated against those who had driven him from office. He said that he had been falsely painted as corrupt, and that his opponents had brought about "a situation of ungovernability." For the good of Peru, he said, he was stepping down.
Kuczynski's Presidency had been hanging by a thread since the end of last year, when he narrowly survived a first impeachment vote. His opponents—led by "the Fujis"—had moved against him following revelations that, while he had been a minister in a previous government, his private investment company had received several million dollars in payments from the Brazilian construction giant Odebrecht. For the past several years, Odebrecht has been implicated in one of Latin America's largest-ever corruption scandals, centered in Brazil and known there as Operation Car Wash. Odebrecht officials, who have been coöperating with prosecutors in exchange for lesser jail time, have revealed that, over a decade, the company spent eight hundred million dollars in bribes around Latin America to secure official contracts worth billions. They have provided evidence showing that twenty-nine million dollars of the total went into officials' pockets in Peru. Both of P.P.K.'s immediate predecessors, Alejandro Toledo and Ollanta Humala, were fingered as recipients of some of the bribe money. Early last year, Humala was arrested and imprisoned, where he remains, awaiting trial, while Toledo, who has been convicted in absentia, has refused to come home from an aerie in California.
Kuczynski had denied ever receiving any payments from Odebrecht. But late last year it emerged that while he was serving as a minister in Toledo's government, a business partner had received money from the company. Kuczynski claimed not to know about the payments, which were apparently legal ones—Odebrecht's officials, who knew about such things, have said that the fees paid to Kuczynski's firm were aboveboard and not part of their bribery scheme. Still, things did not look good.
More:
https://www.newyorker.com/news/news-desk/the-downfall-of-pedro-pablo-kuczynski-and-the-future-of-peru
The father, ex-President of Peru, imprisoned for his crimes against humanity,
given a medical pardon by former President Kuczynski.
Daddy Fujimori's two little angels, Peruvian politicians, Kenzi, and Keiko Fujimori
Kenzi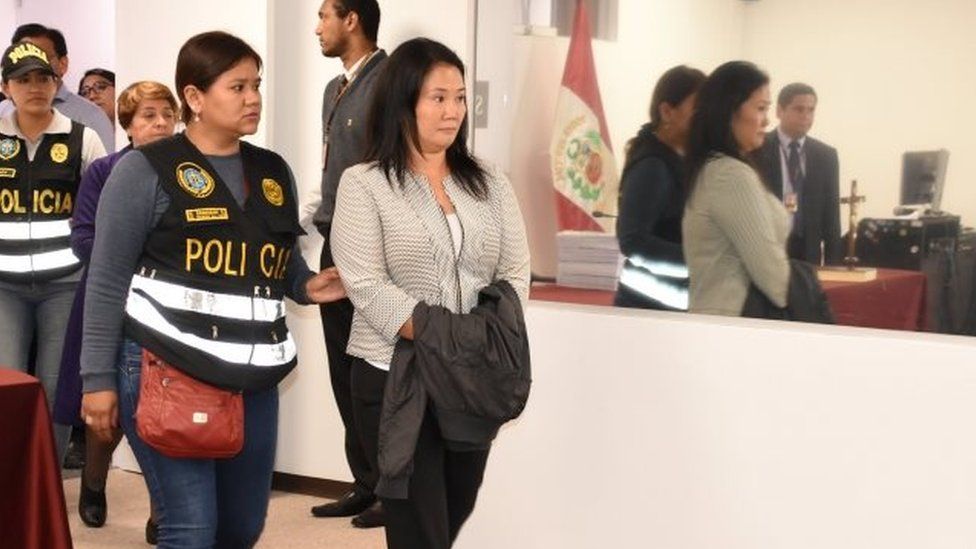 Keiko