Wed Jul 14, 2021, 12:15 AM
Judi Lynn (149,451 posts)
OPINION: JFK's Secret Negotiations with Fidel
By Robert F. Kennedy Jr
This is the second of three articles written by Robert F. Kennedy – son of late U.S. Attorney General Robert F. Kennedy and nephew of President John F. Kennedy – which address relations between the United States and Cuba during the 60-year period of the U.S. embargo against the island nation. The first article – "We Have So Much to Learn From Cuba" – was run on December 30, 2014, and the third – "Sabotaging U.S.-Cuba Détente in the Kennedy Era" – will run on January 6.
WHITE PLAINS, New York, Jan 5 2015 (IPS) - On the day of President John F. Kennedy's assassination in November 1963, one of his emissaries was secretly meeting with Fidel Castro at Varadero Beach in Cuba to discuss terms for ending the U.S. embargo against the island and beginning the process of détente between the two countries.
That was more than 50 years ago and now, finally, President Barack Obama is resuming the process of turning JFK's dream into reality by re-establishing diplomatic relations between the two countries.
. . .
JFK was intuitively sympathetic towards the Cuban revolution. His special assistant and biographer Arthur Schlesinger wrote that "President Kennedy had a natural sympathy for Latin American underdogs and understood the source of the widespread resentment against the United States."
He said that "the long history of abuse and exploitation had turned Fidel against the United States and toward the Soviets at a time when he might have turned toward the West. JFK's objection was to Cuba's role as a Soviet patsy and platform for expanding the Soviet sphere of influence and fomenting revolution and Soviet expansion throughout Latin America."
Castro had his own nationalistic reasons to bridle at Soviet dependency, particularly after the missile crisis. He made his desire for rapprochement clear during private talks with ABC newswoman Lisa Howard, who served as another informal emissary between JFK and Fidel.
Howard reported back to the White House that, "in our conversations [Fidel] made it quite clear that he was ready to discuss the Soviet personnel and military hardware on Cuban soil, compensation for expropriated American lands and investments, the question of Cuba as a base for communist subversion throughout the hemisphere.
Once the Cuban prisoners were free, JFK began seriously looking at rebooting relations with Castro. That impulse took him sailing into perilous waters. The very mention of détente with Fidel was political dynamite as the 1964 U.S. presidential elections approached.
Barry Goldwater [the Republican Party's nominee for president in the 1964 election], Richard Nixon [Vice-President under Eisenhower and JFK's rival for the presidency in 1960] and Nelson Rockefeller [Goldwater's competitor for nomination as Republican presidential candidate] all regarded Cuba as the Republican Party's greatest asset.
Certain murderous and violent Cuban exiles and their CIA handlers saw talk of co-existence as hell bound treachery.
In September 1963, JFK secretly asked William Attwood, a former journalist and U.S. diplomat attached to the United Nations, to open secret negotiations with Castro.
Atwood had known Castro since 1959 when he covered the Cuban Revolution for Look magazine before Castro turned against the United States.
Later that month, my father told Attwood to find a secure location to conduct a secret parlay with Fidel.
In October, Castro began arranging for Atwood to fly surreptitiously to a remote airstrip in Cuba to begin negotiations on détente. On November 18, 1963, four days before JFK's assassination in Dallas, Castro listened to his aide, Rene Vallejo, talk by phone with Attwood and agreed to an agenda for the meeting.
That same day, JFK prepared the path for rapprochement with a clear public message. Speaking to the Inter American Press Association in the heart of Cuba's exile community in Miami, he declared that U.S. policy was not to "dictate to any nation how to organise its economic life. Every nation is free to shape its own economic institution in accordance with its own national needs and will."
A month earlier, JFK had opened another secret channel to Castro through French journalist Jean Daniel, editor of the socialist newspaper Le Nouvel Observateur. On his way to interview Fidel in Cuba on October 24, 1963, Daniel visited the White House where JFK talked to him about U.S.-Cuba relations.
. . .
Then Castro sat in thoughtful silence, composing a careful reply that he knew JFK was awaiting. Finally he spoke carefully, measuring every word. "I believe Kennedy is sincere," he began. "I also believe that today the expression of this sincerity could have political significance."
He followed with a detailed critique of the Kennedy and Eisenhower administrations which had attacked his Cuban Revolution "long before there was the pretext and alibi of Communism."
But, he continued, "I feel that [Kennedy] inherited a difficult situation; I don't think a President of the United States is every really free, and I believe Kennedy is at present feeling the impact of this lack of freedom. I also believe he now understands the extent to which he has been misled, especially, for example, on Cuban reaction at the time of the attempted Bay of Pigs invasion."
He told Daniel: "I cannot help hoping that a leader will come to the fore in North America (why not Kennedy, there are things in his favour!), who will be willing to brave unpopularity, fight the corporations, tell the truth and, most important, let the various nations act as they see fit. Kennedy could still be this man."
More:
http://www.ipsnews.net/2015/01/opinion-jfks-secret-negotiations-with-fidel/
4 replies, 479 views
Replies to this discussion thread
| | | | |
| --- | --- | --- | --- |
| 4 replies | Author | Time | Post |
| OPINION: JFK's Secret Negotiations with Fidel (Original post) | Judi Lynn | Jul 14 | OP |
| | ArizonaLib | Jul 14 | #1 |
| | Judi Lynn | Jul 14 | #2 |
| | Judi Lynn | Jul 14 | #4 |
| | Judi Lynn | Jul 14 | #3 |
---
Response to Judi Lynn (Original post)
Wed Jul 14, 2021, 12:58 AM
ArizonaLib (1,052 posts)
1. This was a good, interesting read
No wonder republicans are jealous of the Kennedys. JFK and RFK very smart.
---
Response to Judi Lynn (Original post)
Wed Jul 14, 2021, 02:39 AM
Judi Lynn (149,451 posts)
2. Kennedy Sought Dialogue with Cuba
Kennedy Sought Dialogue with Cuba
INITIATIVE WITH CASTRO ABORTED BY ASSASSINATION,
DECLASSIFIED DOCUMENTS SHOW
Oval Office Tape Reveals Strategy to hold clandestine Meeting in Havana; Documents record role of ABC News correspondent Lisa Howard as secret intermediary in Rapprochement effort
Posted - November 24, 2003
Washington D.C. - On the 40th anniversary of the assassination of John F. Kennedy, and the eve of the broadcast of a new documentary film on Kennedy and Castro, the National Security Archive today posted an audio tape of the President and his national security advisor, McGeorge Bundy, discussing the possibility of a secret meeting in Havana with Castro. The tape, dated only seventeen days before Kennedy was shot in Dallas, records a briefing from Bundy on Castro's invitation to a U.S. official at the United Nations, William Attwood, to come to Havana for secret talks on improving relations with Washington. The tape captures President Kennedy's approval if official U.S. involvement could be plausibly denied.
The possibility of a meeting in Havana evolved from a shift in the President's thinking on the possibility of what declassified White House records called "an accommodation with Castro" in the aftermath of the Cuban Missile Crisis. Proposals from Bundy's office in the spring of 1963 called for pursuing "the sweet approach…enticing Castro over to us," as a potentially more successful policy than CIA covert efforts to overthrow his regime. Top Secret White House memos record Kennedy's position that "we should start thinking along more flexible lines" and that "the president, himself, is very interested in [the prospect for negotiations]." Castro, too, appeared interested. In a May 1963 ABC News special on Cuba, Castro told correspondent Lisa Howard that he considered a rapprochement with Washington "possible if the United States government wishes it. In that case," he said, "we would be agreed to seek and find a basis" for improved relations.
The untold story of the Kennedy-Castro effort to seek an accommodation is the subject of a new documentary film, KENNEDY AND CASTRO: THE SECRET HISTORY, broadcast on the Discovery/Times cable channel on November 25 at 8pm. The documentary film, which focuses on Ms. Howard's role as a secret intermediary in the effort toward dialogue, was based on an article -- "JFK and Castro: The Secret Quest for Accommodation" -- written by Archive Senior Analyst Peter Kornbluh in the magazine, Cigar Aficionado. Kornbluh served as consulting producer and provided key declassified documents that are highlighted in the film. "The documents show that JFK clearly wanted to change the framework of hostile U.S. relations with Cuba," according to Kornbluh. "His assassination, at the very moment this initiative was coming to fruition, leaves a major 'what if' in the ensuing history of the U.S. conflict with Cuba."
More:
https://nsarchive2.gwu.edu/NSAEBB/NSAEBB103/index.htm
---
Response to Judi Lynn (Reply #2)
Wed Jul 14, 2021, 03:40 AM
Judi Lynn (149,451 posts)
4. Obama's Cuba Policy: The Top Secret History Behind the Historic Breakthrough in U.S.-Cuban Relations
(Very informative speech by Peter Kornbluh, who spoke well before the Orange former guy stomped into the White House)

Obama's Cuba Policy: The Top Secret History Behind the Historic Breakthrough in U.S.-Cuban Relations
Feb 24, 2015


Watson Institute for International and Public Affairs
48K subscribers

Peter Kornbluh, Senior Analyst at the National Security Archive, has worked at the Archive since April 1986. He currently directs the Archive's Cuba and Chile Documentation Projects. He was co-director of the Iran-contra documentation project and director of the Archive's project on U.S. policy toward Nicaragua. From 1990-1999, he taught at Columbia University, as an adjunct assistant professor of international and public affairs.

His most recent book is Back Channel to Cuba: The Hidden History of Negotiations between Washington and Havana (UNC Press, 2014). He is the author/editor/co-editor of a number of Archive books: the Archive's first two documents readers: The Cuban Missile Crisis, 1962 and The Iran-Contra Scandal: The Declassified History, both published by the New Press, and Bay of Pigs Declassified: The Secret CIA Report on the Invasion of Cuba (The New Press, 1998). On the 30th anniversary of the Chilean military coup in September 2003 he published The Pinochet File: A Declassified Dossier on Atrocity and Accountability, which the Los Angeles Times selected as a "best book" of the year. The Pinochet File has been translated into Spanish and published in Barcelona as Pinochet: Los Archivos Secretos. A smaller book on the United States and the overthrow of the government of Salvador Allende has been published in Chile under the title: Los EEUU y el Derrocamiento de Allende.

His articles have been published in Foreign Policy, The New York Review of Books, the New Yorker, The New York Times, The Washington Post, Los Angeles Times, and many other journals and newspapers. He has appeared on national television and radio broadcasts, among them "60 Minutes," "The Charlie Rose show," "Nightline," CNN, All Things Considered, and "FreshAir" with Terri Gross. He has also worked on, and appeared in, numerous documentary films, including the Oscar winning "Panama Deception," the History Channel's "Bay of Pigs Declassified," and "The Trials of Henry Kissinger." In November 2003, he served as producing consultant on the Discovery Times documentary, "Kennedy and Castro: The Secret History," which was based on his article in Cigar Aficionado, "Kennedy and Castro: The Secret Quest for Accommodation." He is currently a weekly columnist for the Chilean newspaper, Diario Siete.


---
Response to Judi Lynn (Original post)
Wed Jul 14, 2021, 02:59 AM
Judi Lynn (149,451 posts)
3. Cuba and The U.S.: 'Intimate Diplomacy'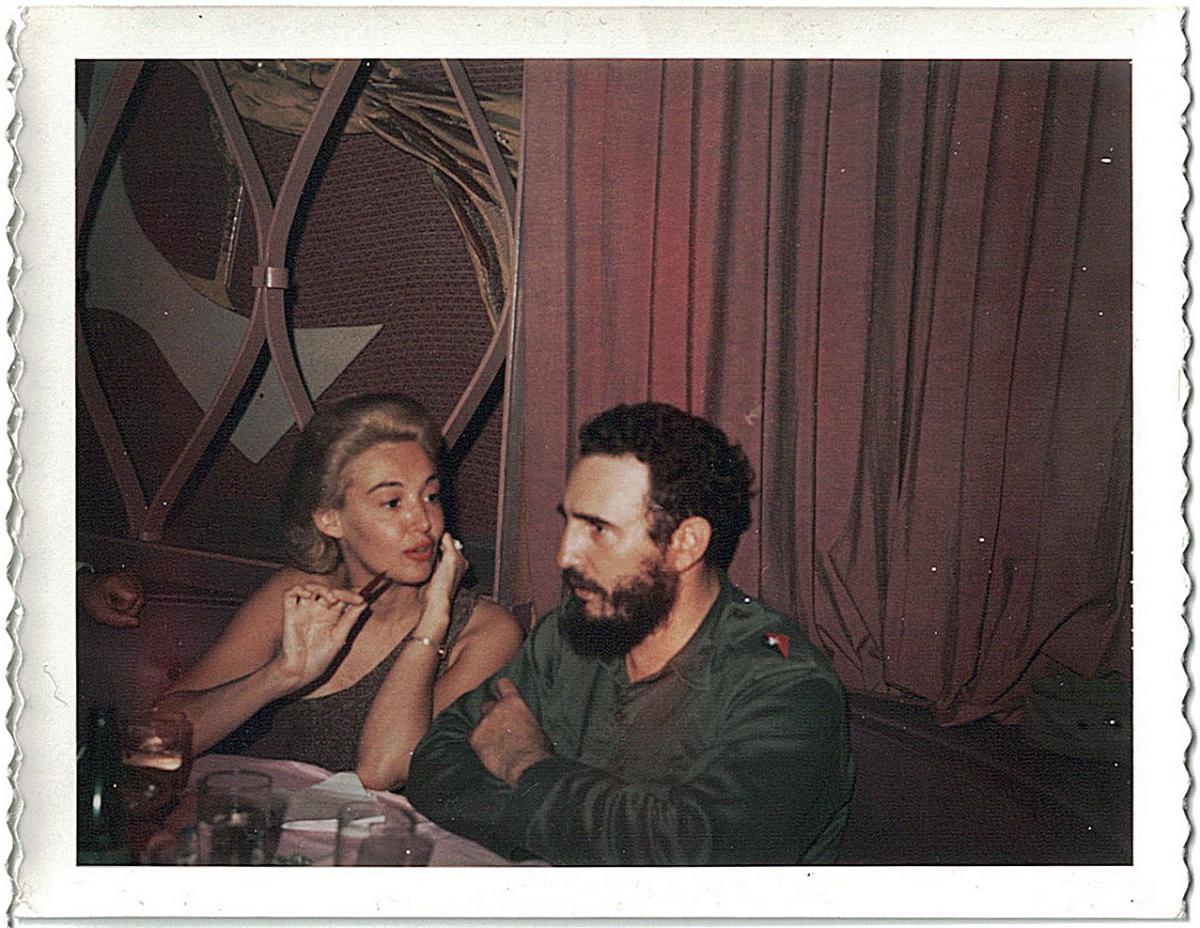 A Polaroid photo of Lisa Howard and Fidel Castro at their first meeting, Havana Riviera Hotel, April 21, 1963
As Castro Era Ends, the National Security Archive Posts
Records on Back-Channel Efforts toward Rapprochement
By Pioneering Journalist Lisa Howard
Washington D.C., April 20, 2018 – Back-channel diplomacy, conducted by an ABC News reporter named Lisa Howard resolved a potential crisis with Cuba in mid-1964, according to documents posted today by the National Security Archive. After the CIA obtained "disturbing" intelligence reports that Fidel Castro had threatened to shoot down U.S. reconnaissance planes in retaliation for the Coast Guard seizure of four Cuban fishing boats, Howard secretly traveled to Cuba to convey a U.S. government warning to Castro, and returned with his assurances that "nothing will happen to our planes, and that we do not need to send him any warnings" – a message passed through UN Ambassador Adlai Stevenson directly to President Johnson.
A comprehensive historical account of Howard's extensive involvement in back-channel diplomacy with Cuba was published today, for the first time, in Politico Magazine in an article by Archive analyst Peter Kornbluh – "My Dearest Fidel: An ABC Journalist's Secret Liaison With Fidel Castro." The article is subtitled: "The untold story of how Lisa Howard's intimate diplomacy with Cuba's revolutionary leader changed the course of the Cold War." The Archive today posted a selection of Howard's personal papers and documents on which the article is based.
Lisa Howard, a former soap opera actress who transformed herself into one of the leading female television news correspondents in the United States in the early 1960s, first met Fidel Castro when she convinced him to do an ABC News interview in April 1963. Howard was the first woman to anchor a television news show – "Lisa Howard and News with a Woman's Touch." Her two ABC specials on Cuba, "Fidel Castro: Self Portrait" in 1963 and "Cuba and Castro Today" in 1964, provided the most substantive coverage of Castro and the Cuban revolution in the early 1960s.
Off camera, Howard became the central intermediary between Castro and the Kennedy administration in the fall of 1963, turning her home in New York City into a hub of secret diplomatic communications between Washington and Havana. After Kennedy's assassination, she and Castro collaborated to revive the secret dialogue and establish a back channel to the Johnson White House. According to Kornbluh's Politico article, "her role as peacemaker was built on a complex, little-understood rapport she managed to forge with Castro himself – a relationship that was political and personal, intellectual and intimate." She died at age 39 in 1965.
"With her tireless efforts to achieve an honorable rapprochement with Cuba," according to Kornbluh, "Lisa Howard set the historical stage for the breakthrough in relations more than 50 years later under the Obama administration." The records of those efforts, he noted, are once again relevant as Raul Castro steps down as president and the Trump administration weighs future U.S. policy toward Cuba in the post-Castro era.
More:
https://nsarchive.gwu.edu/briefing-book/cuba/2018-04-20/cuba-us-intimate-diplomacy