Fri Jan 14, 2022, 03:16 PM
Judi Lynn (150,680 posts)
Book Review: Mario Vargas Llosa Takes On a Coup in Guatemala
BY NICK BURNS
JANUARY 12, 2022
The Peruvian novelist brings Central America's bloody Cold War past to life – with a surprising political angle.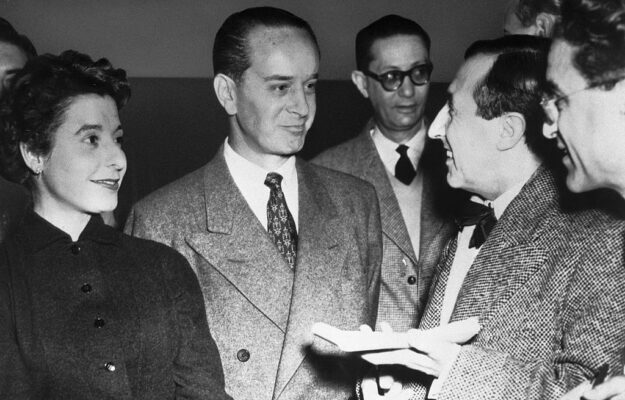 Jacobo Árbenz Guzmán, after being ousted in a coup, speaks with reporters in Paris in 1955.
Bettmann/Getty Images
One of the most sinister episodes in the history of U.S. entanglement in Latin America forms the subject of Mario Vargas Llosa's latest novel, Harsh Times. The scene is Guatemala during the first decade of the Cold War when, as U.S. fears of Soviet influence ramped up, President Jacobo Árbenz's plan for land reform worried the powerful, U.S.-run United Fruit Company.
Vargas Llosa describes what happened next in a narrative that draws both on historical records and his own imagination. United Fruit concluded that Árbenz was not a communist, but that his program would damage their interests in the country, which had been favored by previous military rulers. So they devised a campaign to persuade the U.S. government of something they believed not to be true: that Árbenz represented a communist threat in the American hemisphere.
"The danger, gentlemen, lies in setting a bad example. Not so much communism as democracy in Guatemala." So Vargas Llosa imagines the plan might have been described by Edward L. Bernays, the "father of public relations" and a key figure in the United Fruit–sponsored propaganda campaign against Árbenz.
The campaign was largely successful, and the CIA went on to carry out Operation PBSuccess, supporting an invasion of the country in 1954 led by Carlos Castillo Armas. The invasion toppled Árbenz's government and ushered in a chaotic period of violence and anticommunist purges.
More:
https://americasquarterly.org/article/book-review-mario-vargas-llosa-takes-on-a-coup-in-guatemala/
0 replies, 242 views