Thu Oct 1, 2020, 04:46 AM
Celerity (14,512 posts)
The 'bazooka': Modern Monetary Theory in action

Peter Bofinger argues that large-scale injections of money to bring economies out of the coronavirus coma have vindicated Modern Monetary Theory.
https://www.socialeurope.eu/the-bazooka-modern-monetary-theory-in-action
Six months ago,
I wrote a column
for Social Europe with the title 'Coronavirus crisis: now is the hour of Modern Monetary Theory'. While I think it is unlikely that the economists of the US government and the Federal Reserve read it, they seem to have come up with the same idea. In any case, the monetary and fiscal policies which have been pursued in the United States over the past six months are perfectly in line with the recipes of Modern Monetary Theory (MMT).
Let's start with fiscal policy. In the second quarter of 2020 the federal government's fiscal balance reached -30.2 per cent of gross domestic product. This value by far exceeds the previous quarterly record deficit of 11.6 per cent, in the second quarter of 2010. What did the government do with all the money? A large amount was used for transfers to private households. The Coronavirus Aid, Relief, and Economic Security (CARES) Act, enacted in March, gave the unemployed an extra $600 a week in benefits. This supplement played a crucial role in limiting extreme hardship; poverty may even have gone down.
What about monetary policy? In line with MMT the Fed started already in the first quarter to purchase huge amounts of Treasury securities. In a longer-term perspective the amount of these transactions far exceeded any historical precedent. During the 'quantitative easing' period in the first quarter of 2011, the Fed purchased a maximum amount of Treasuries, totalling 8.4 per cent of GDP. In the first quarter of 2020 the purchases reached 18.9 per cent and 21.2 per cent in the second quarter
(see graphs)
. While MMT envisages direct central-bank lending to the government, the Fed typically purchases bonds on the secondary market from primary dealers—large, globally active banks. But if the banks know that the Fed is willing to purchase, in effect, unlimited amounts of Treasuries, this does not make an economic difference.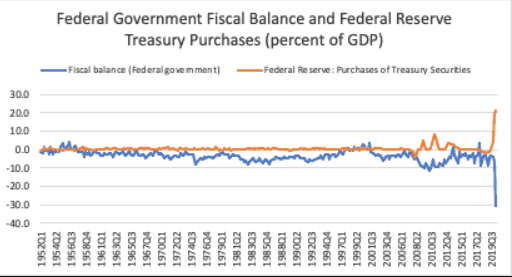 Immediate impact
What were the economic effects of this strategy? It had an immediate impact on disposable personal income—again, way beyond any precedent. Net transfers (after tax) reached almost one-fifth of GDP; in the Great Recession the maximum was 7.5 per cent, in the first quarter of 2010. Thus, the transfer payments did not only compensate for the decline in wage incomes: they boosted the disposable incomes of American households to a record high
(see bar chart)
.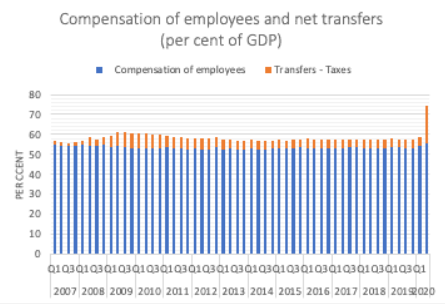 snip
0 replies, 446 views