Wed Apr 7, 2021, 10:07 PM
Omaha Steve (79,367 posts)
EXPLAINER: What to know about the Amazon union vote count
https://apnews.com/article/amazoncom-inc-race-and-ethnicity-coronavirus-pandemic-0520bde22022d1f47880181ac6c2d39f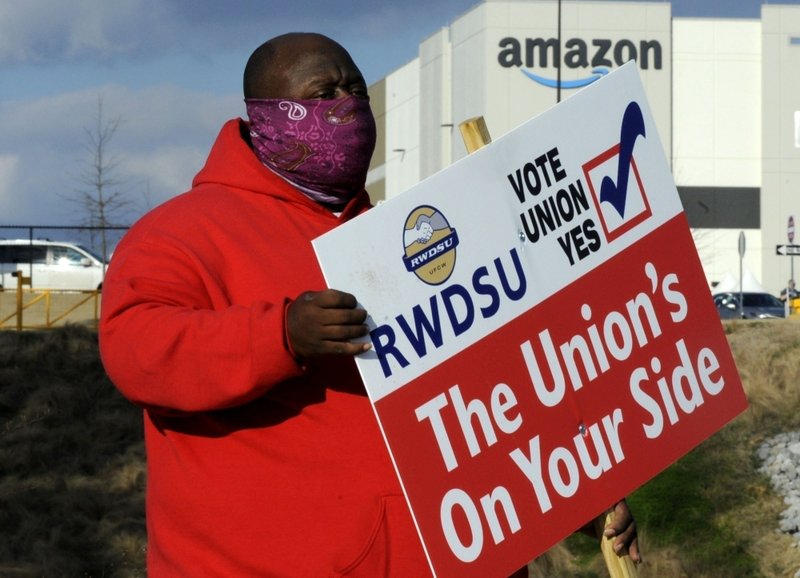 FILE - In this Tuesday, Feb. 9, 2021, file photo, Michael Foster of the Retail, Wholesale and Department Store Union holds a sign outside an Amazon facility where labor is trying to organize workers in Bessemer, Ala. Nearly 6,000 Amazon warehouse workers in Bessemer, Alabama, have voted on whether or not to form a union. But the process to tally all the ballots and determine an outcome will continue for a second week, according to the National Labor Relations Board, a government agency that's conducting the election.(AP Photo/Jay Reeves, File)
By JOSEPH PISANI
Amazon is known for quick delivery. But finding out whether Amazon warehouse workers voted for or against unionizing is going to take some more time.
The final day for the nearly 6,000 workers in Bessemer, Alabama, to cast their ballots was more than a week ago. But it could still take a few more days — or longer — to tally all the votes before the outcome is known.
The vote itself has garnered national attention because of the potentially wide-reaching implications. Labor organizers hope a win in Bessemer will inspire thousands of workers nationwide — and not just at Amazon — to consider unionizing. For Amazon, it would mean a big blow to its profits and could alter its business operations.
Here's what we know about the vote:
___
WHAT DO ORGANIZERS WANT?
Besides higher pay, they want Amazon to give warehouse workers more break time and to be treated with respect. Many complain about their back-breaking 10-hour workdays with only two 30-minute breaks. Workers are on their feet for most of that time, packing boxes, shelving products or unpacking goods that arrive in trucks.
FULL story at link above.
2 replies, 795 views
Replies to this discussion thread
| | | | |
| --- | --- | --- | --- |
| 2 replies | Author | Time | Post |
| EXPLAINER: What to know about the Amazon union vote count (Original post) | Omaha Steve | Apr 7 | OP |
| | The Roux Comes First | Apr 7 | #1 |
| | James48 | Apr 7 | #2 |
---
Response to Omaha Steve (Original post)
Wed Apr 7, 2021, 10:16 PM
The Roux Comes First (792 posts)
1. Many Thanks for the Update and Clarification!
I'm certain that there are many of us impatient to learn the results, but it is better to be realistic about when the outcome will be known.
---
Response to Omaha Steve (Original post)
Wed Apr 7, 2021, 10:30 PM
James48 (2,878 posts)
2. Prayers for the men and women who voted
And had the opportunity to decide for themselves, their families, and those that they work with. I wish them all the best