Tue Dec 9, 2014, 09:41 AM
unhappycamper (60,364 posts)
Like Taking Candy From A Baby
Last edited Tue Dec 9, 2014, 10:27 AM - Edit history (1)
Let's start with the basics: where does military money come from?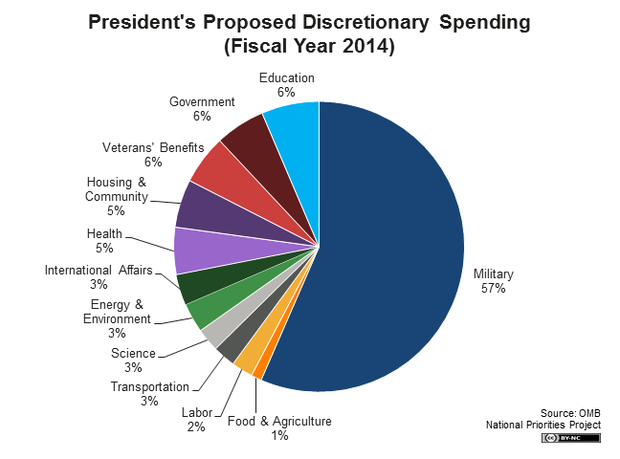 The answer is the discretionary budget.
What is the military doing that eats up 57% of all discretionary spending in the United States? This artist's concept illustrates where the bucks go in the US Navy:
http://news.usni.org/2014/10/29/opinion-u-s-navy-entering-new-future-electronic-warfare
An artist concept of USS Gerald R. Ford (CVN-78) an Arleigh Burke-class guided missile destroyer, USS Zumwalt (DDG-1000) and both variants of the Littoral Combat Ship using the Surface Electronic Warfare Improvement Program (SEWIP). Lockheed Martin image
First up: the USS Gerald R Ford
The USS Gerald R Ford is the first of a new class of aircraft carriers. The USS Gerald R Ford is the first Naval warship I can recall being delivered
UNFINISHED
. Yup, UNFINISHED.
http://dailycaller.com/2014/11/21/navy-aircraft-unfinished-for-launch-will-require-a-billion-dollars-more/
Navy Aircraft Unfinished For Launch, Will Require A Billion Dollars More
Jonah Bennett
9:29 PM 11/21/2014
A government watchdog report sheds light on the disaster that is the Gerald R. Ford aircraft carrier. Not only will the Navy carrier be incomplete at launch date, but completing construction will cost upwards of $998 million dollars.
The aircraft carrier stands at only 80 percent complete, according to the Government Accountability Office (GAO), which began the study at the behest of a Senate report. Not only have costs risen 20 percent since 2006, but the launch has been delayed a year. It was supposed to be cleared for a September 2015 date, but now has been pushed back to March 2016. Even still, some of the most important features of the carrier intended to separate it from older models will remain dormant while on display. Current total costs are estimated at $12.9 billion dollars.
"With the shipbuilder embarking on one of the most complex phases of construction with the greatest likelihood for cost growth, cost increases beyond the current $12.9 billion cost cap appear likely," the watchdog agency said. Delayed construction, the Navy argues, is an effort to avoid going over the cost cap. Satellite communication will have to wait. Defects will be present, too, until almost a billion dollars more is spent to correct the errors.
Arizona Republican Sen. John McCain wasn't buying the Navy's statement on cost overruns.
Next up: Arleigh Burke-class destroyer
http://en.wikipedia.org/wiki/Arleigh_Burke-class_destroyer
The Arleigh Burke-class of guided missile destroyers (DDGs) is the United States Navy's first class of destroyer built around the Aegis Combat System and the SPY-1D multi-function phased array radar. The class is named for Admiral Arleigh Burke, the most famous American destroyer officer of World War II, and later Chief of Naval Operations. The class leader, USS Arleigh Burke, was commissioned during Admiral Burke's lifetime.
They were designed as multi-role destroyers[9] to fit the AAW (Anti-Aircraft Warfare) role with their powerful Aegis radar and anti-aircraft missiles; ASW (Anti-submarine warfare) role, with their towed sonar array, anti-submarine rockets, and ASW helicopter; ASUW (Anti-surface warfare) role with their Harpoon missile launcher; and strategic land strike role with their Tomahawk missiles. Some versions of the class no longer have the towed sonar, or Harpoon missile launcher. Their hull and superstructure were designed to have a reduced radar cross section[10] The first ship of the class was commissioned on 4 July 1991. With the decommissioning of the last Spruance-class destroyer, Cushing, on 21 September 2005, the Arleigh Burke–class ships became the U.S. Navy's only active destroyers; the class has the longest production run for any postwar U.S. Navy surface combatant.[11] Besides the 62 vessels of this class (comprising 21 of Flight I, 7 of Flight II and 34 of Flight IIA) in service by 2013, up to a further 42 (of Flight III) have been envisaged.
With an overall length of 505 feet (154 m) to 509 feet (155 m), displacement ranging from 8,315 to 9,200 tons, and weaponry including over 90 missiles, the Arleigh Burke–class ships are larger and more heavily armed than most previous ships classified as guided missile cruisers.[12]
It's big, it's bad, and it costs $2 billion dollars.
Next up: Zumwalt-class destroyers.
http://en.wikipedia.org/wiki/USS_Zumwalt_%28DDG-1000%29
USS Zumwalt (DDG-1000)
History
See also: Zumwalt-class destroyer § History
Zumwalt '​s deckhouse in transit on 6 November 2012
Many of the ship's features were originally developed under the DD21 program ("21st Century Destroyer"
. In 2001, Congress cut the DD-21 program by half as part of the SC21 program. To save it, the acquisition program was renamed as DD(X) and heavily reworked. The initial funding allocation for DDG-1000 was included in the National Defense Authorization Act of 2007.[10]
A contract worth $1.4 billion was awarded to General Dynamics on 14 February 2008 for the construction of Zumwalt at Bath Iron Works in Bath, Maine.[11]
Full rate production officially began on 11 February 2009.[12]
As of July 2008, the construction timetable was for General Dynamics to deliver the ship in April 2013, with March 2015 as the target for Zumwalt to meet her initial operating capability.[13] However, by 2012, the planned completion and delivery of the vessel had slipped to the 2014 fiscal year.[14]
The first section of the ship was laid down on the slipway at Bath Iron Works on 17 November 2011.[14] By this point, fabrication of the ship was over 60% complete.[14] The naming ceremony was planned for 19 October 2013,[15] but was canceled due to the United States federal government shutdown of 2013.[16]
Despite rumors that the launch of Zumwalt would be delayed until early 2014, the vessel was launched from its shipyard in Bath, Maine on 29 October 2013.[17][18]
In January 2014, Zumwalt began to prepare for heavy weather trials. The trials will see how the ship and her instrumentation reacts to high winds, stormy seas, and adverse weather conditions. The ship's new wave-piercing tumblehome hull configuration is made to reduce her radar cross-section. Tests will involve lateral and vertical accelerations and pitch and roll. Later tests will include fuel on-loading, data center tests, propulsion events, X-band radar evaluations, and mission systems activation to finalize integration of electronics, currently 90 percent complete out of 6 million lines of code. These all culminate in builders trials and acceptance trials, with delivery for U.S. Navy tests in late 2014 with initial operating capability (IOC) to be reached by 2016.[19]
Here's what really frosts my ass about the ship.
in the last century battleships with 16-inch guns were king. Missouri-class battleships were the top of the line and they cost $100 million dollars each.
In contrast the USS Zumwalt costs $5.6 billion dollars each. That's 56 Iowa-class WW II battleships.
Last up: Littoral Combat Ships.
According the Navy's Bluewater program from the 90s, Littoral Combat Ships were supposed to cost $200 million each. LCS#1 (second from bottom) cost $584 million dollars, LCS #2 (bottom) cost $784 million dollars.
From top to bottom:
$12.9 billion dollars (UNFINISHED)
At least $1 billion dollars to FINISH
$2 billion dollars
$5.6 billion dollars
$1.2 billion dollars
==============
$22.7 billion dollars ($22,700,000,000)
And we haven't talked buying ammo and aircraft for these things. Ka'ching.
2 replies, 8725 views
Replies to this discussion thread
| | | | |
| --- | --- | --- | --- |
| 2 replies | Author | Time | Post |
| Like Taking Candy From A Baby (Original post) | unhappycamper | Dec 2014 | OP |
| | Erich Bloodaxe BSN | Dec 2014 | #1 |
| | JayhawkSD | Dec 2014 | #2 |
---
Response to unhappycamper (Original post)
Tue Dec 9, 2014, 10:27 AM
Erich Bloodaxe BSN (14,733 posts)
1. I think part of the contracts needs to be an enforcement clause
that states that costs cannot run more than 10% over original bid, and if they do, that company never again gets a government contract, that the company forfeits the entire cost of the contract, that the company owes the entire amount paid to date back to the government, cannot go 'bankrupt' to avoid paying, and that any salaries and bonuses paid to executives above 100k a year must be repaid by those executives.

Ie, you either deliver what you promise, or you go out of business and go broke personally. No more simply lying about costs to the government to get contracts.
---
Response to unhappycamper (Original post)
Wed Dec 10, 2014, 11:56 AM
JayhawkSD (3,163 posts)
2. Gerald R. Ford.
"Not only will the Navy carrier be incomplete at launch date, but completing construction will cost upwards of $998 million dollars."

That is entirely routine with ships of any kind. The incomplete portion, at just under 8%, is actually lower than I would expect it to be. Normally the completion after launce is closer to 10%.

Ships are launched when the hull is complete, along with the completion of work requiring massive overhead cranes. Keeping them in the ways for finishing work would be wasteful, and they are launched and moved to another portion of the yard for completion so that construction of another new ship can be begun with the laying of a keel. The final construction after launch can take up to a year or more, depending on the type of ship. This process is the same for warships, cargo ships, and passenger liners.

I have watched ships launched at NASSCO, here in San Diego, and some of them look like nothing more than hulks.