Tue May 19, 2020, 02:41 PM
Fla Dem (14,793 posts)
I have never had a problem with the IRS until now. Need some advice
I submitted my tax return on March 19,2020. Got USPS tracking verification it arrived at the IRS on 3/23/2020. I filed a simple 1040-SR with a relatively small refund.
Usually it will take about 6 weeks or the latest 8 weeks for my refund to reach me. It's been exactly 8 weeks. No refund. I went onto the IRS web site, filled out the online status inquiry and the response I got back was they had no information on my return.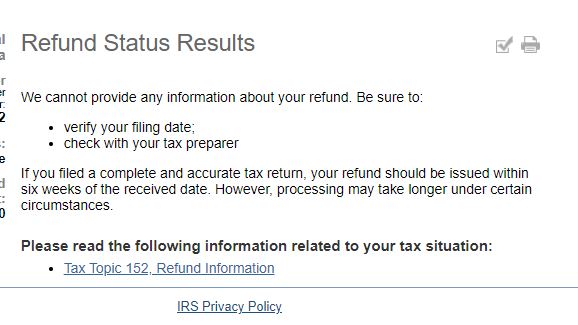 So now what? The only number I could find for the IRS 800-829-1040. That's just a voice version of the online inquiry form. It tells me the same thing. They can give me no information.
I checked for a local IRS office and it's an hour away and they have the same phone number. So now what?
I guess I'll wait another couple of weeks before I take any real action, but at this point I don't even know what action to take.
Any suggestions / advice?
Thanks
Cross posted in GD as not sure how much traffic this topic group gets.
9 replies, 859 views
Replies to this discussion thread
| | | | |
| --- | --- | --- | --- |
| 9 replies | Author | Time | Post |
| I have never had a problem with the IRS until now. Need some advice (Original post) | Fla Dem | May 2020 | OP |
| | safeinOhio | May 2020 | #1 |
| | pbmus | May 2020 | #2 |
| | elleng | May 2020 | #6 |
| | Thomas Hurt | May 2020 | #3 |
| | Rorey | May 2020 | #4 |
| | lastlib | May 2020 | #9 |
| | question everything | May 2020 | #5 |
| | Yonnie3 | May 2020 | #7 |
| | SWBTATTReg | May 2020 | #8 |
---
Response to Fla Dem (Original post)
Tue May 19, 2020, 02:46 PM
safeinOhio (20,756 posts)
1. If they tell you that you are under audit
run for mayor. You'll be covered.
---
Response to Fla Dem (Original post)
Tue May 19, 2020, 02:47 PM
pbmus (10,881 posts)
2. The IRS was one of the worst hit agencies in our government
Hit by the Con and his cronies...thousands of agents were let go , they are anywhere between 2-6 weeks behind and in some cases many months....you will be lucky to hear something in another 2 weeks....more like another month or two
---
Response to pbmus (Reply #2)
Tue May 19, 2020, 03:36 PM
elleng (100,233 posts)
6. Right, one of the worst hit agencies
---
Response to Fla Dem (Original post)
Tue May 19, 2020, 02:47 PM
Thomas Hurt (7,891 posts)
3. Given the incompetence of the Trump admin...odds are they lost it.
I filed mine online early in February and got mine in couple of weeks direct deposit.

Online just makes it much easier for me. If you can, you may want to try that.

---
Response to Fla Dem (Original post)
Tue May 19, 2020, 02:49 PM
Rorey (4,342 posts)
4. The IRS is ignoring me too
I actually haven't filed yet because I don't want to.
I will have to pay, so why hurry. I have, however, gone to the site to see if there's any info on my stimulus payment, and I get basically that same message that you're getting. They have no information on me.
I got a divorce last year and also have had to pay in for a lot of years, so they don't have any direct deposit info on me. I do get social security, so that entity has my bank information.
I'm sure eventually it'll all get figured out. (I'm kidding. I'm not sure of anything anymore.)
---
Response to Rorey (Reply #4)
Tue May 19, 2020, 05:53 PM
lastlib (15,974 posts)
9. From my experience with the IRS, it's a wonder ANYTHING ever gets out of there.
This is the outfit that lost a million-dollar-plus check on the floor!
---
Response to Fla Dem (Original post)
Tue May 19, 2020, 03:32 PM
question everything (39,287 posts)
5. Do you still have the USPS verification?
Try call your member of Congress. Even if he is a Trumpien, they like to brag how they help their constituents.
---
Response to Fla Dem (Original post)
Tue May 19, 2020, 04:02 PM
Yonnie3 (9,743 posts)
7. They are not processing paper returns
---
Response to Fla Dem (Original post)
Tue May 19, 2020, 04:11 PM
SWBTATTReg (12,789 posts)
8. I think personally you are being rather optimistic in when you'll receive the proceeds (if any) from
your filed tax returns (w/ state too). I don't pay attention to dates, being that the IRS seems to have their own minds as to when stuff gets done. I got my state refund just a week or so ago (filed really early this year), and nothing really heard yet from the IRS (a small refund too).

If you have requested electronic filing of refund(s) of your amounts from the tax agencies (state too), you'll have an electronic means (vs. the mail) of verifying if and when the returns (and $ amounts come into your checking/savings accounts).

If you're handling via the mail all paper returns, then you'l have somewhat of an iffy time frame (in my experience as a tax person) being that paper returns are being handled by both the IRS/state tax authorities and the US mail.

Who knows exactly what issues they're having with the CV?

I don't know for sure, but they may be kind of swamped w/ the tax stimulus checks going out recently so this may be throwing a bug into the works. From what I've heard, they had to call people back in (the IRS), but I could be wrong.

Good luck.