Wed May 15, 2019, 12:47 PM
Cattledog (5,066 posts)
After Walking Thousands Of Miles, Mink The Bear Is Almost Back Home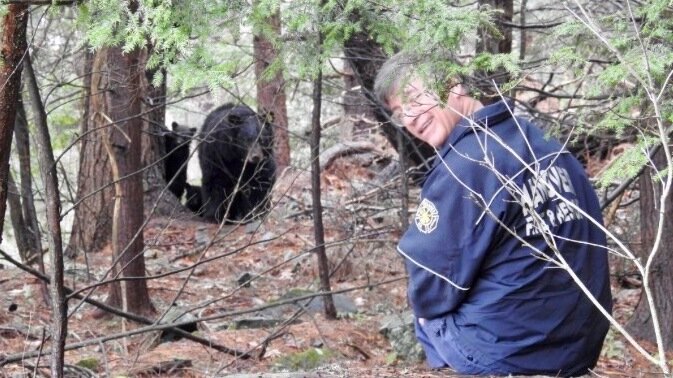 For years, an elderly resident of Hanover, N.H., fed one particular female black bear. The old man's food offer of choice? Birdseed and maple-glazed doughnuts from a diner down the street.
Then the man died, and the bear started venturing out farther in search of more delicious treats.
She had become comfortable around humans, and people in town grew to love her — a lumbering, strong but gentle animal that would come right up to your door. She's named Mink, after a local natural area called Mink Brook.
"She's a beautiful bear. She's an amazing bear," said Hanover Town Manager Julia Griffin. "Anybody that likes animals was enchanted by her."
But others were scared, and state wildlife officials decided, for safety's sake, the bear needed to go. They planned to shoot her, but local news outlets picked up the story and a petition to save Mink got thousands of signatures.
Then New Hampshire's governor intervened, and had Mink relocated instead.
Mink had to move
Just under a year ago, officials dropped Mink off with a tracking collar far north, near the Canadian border.
But she immediately started making her way back.
"She was going 30 miles a day," said Ben Kilham, a biologist who has been tracking Mink's location. "If anything, we should get her into a triathlon."
She has logged thousands of looping miles, crossing Interstate 91 and the Connecticut River multiple times.
The lead bear official for the state of New Hampshire said he's never dealt with an animal that's traveled so long, hibernating for the winter and then continuing on. He now checks her progress first thing every morning.
https://www.npr.org/2019/05/15/723466473/wildlife-officials-track-black-bears-journey-home-to-hanover-n-h?utm_source=facebook.com&utm_medium=social&utm_campaign=npr&utm_term=nprnews&utm_content=20190515&fbclid=IwAR33zU-FO7M6bH_YuN9rn70-WVGZ3OQdORWsrvv6fEyJafl-3Mj7gqBQkTc
8 replies, 1169 views
Replies to this discussion thread
| | | | |
| --- | --- | --- | --- |
| 8 replies | Author | Time | Post |
| After Walking Thousands Of Miles, Mink The Bear Is Almost Back Home (Original post) | Cattledog | May 2019 | OP |
| | emmaverybo | May 2019 | #1 |
| | sinkingfeeling | May 2019 | #2 |
| | Little Star | May 2019 | #3 |
| | demigoddess | May 2019 | #4 |
| | Duppers | May 2019 | #5 |
| | Duppers | May 2019 | #6 |
| | Bayard | May 2019 | #7 |
| | japple | May 2019 | #8 |
---
Response to Cattledog (Original post)
Wed May 15, 2019, 12:54 PM
emmaverybo (7,929 posts)
1. Glad she is still going. A tribute to the old man.
---
Response to Cattledog (Original post)
Wed May 15, 2019, 12:57 PM
sinkingfeeling (43,861 posts)
2. I hope they decide to leave her alone. She wants to come home.
---
Response to sinkingfeeling (Reply #2)
Wed May 15, 2019, 01:03 PM
Little Star (17,055 posts)
3. +1000000
---
Response to Cattledog (Original post)
Wed May 15, 2019, 01:22 PM
demigoddess (5,705 posts)
4. +1,000,000,000
If she harms none and the town wants her, let her stay.
---
Response to Cattledog (Original post)
Wed May 15, 2019, 04:53 PM
Duppers (21,499 posts)
5. Take action to Save Mink. Write!
If anyone can find a better addy or site, please post.
Email addy:
info@hanovernh.org
Subject:
"
Save Mink the Bear
"
Body:
"
Suggestion: a GoFundMe page to pay for a multi-acre enclosure with hibernating den. I would most certainly donate.
Please save this sweet old bear. She belongs in Hanover!
"
I then added my personal info.
It's worth a try and I'd certainly donate to a GoFundMe page to save this sweet old critter. I love black bears after observing and having many encounters with them in the GSMNP over the decades.
Cattledog, thank you for posting this.
---
Response to Cattledog (Original post)
Wed May 15, 2019, 05:18 PM
Duppers (21,499 posts)
6. I cross-posted in the Pet forum.
I think Mink should qualify as a pet, at least for the old guy who died.


---
Response to Cattledog (Original post)
Wed May 15, 2019, 11:39 PM
Bayard (11,049 posts)
7. It looks like she has cubs in this pic?
I can understand why some people would be freaked by a bear coming to their door (demanding pic-a-nic baskets). Wondering if there may be a wildlife preserve in the area where she could go......and be safe. The problem now is that she's not afraid of humans, and sees them as a source of food.

Sooner or later, there's going to be a clash.
---
Response to Cattledog (Original post)
Thu May 16, 2019, 06:48 AM
japple (8,476 posts)
8. I heard this story yesterday. Poor girl doesn't know anywhere else but home and
that is where she wants to be. My fear is that some idiot with a gun will take her out. I hope the state can find a preserve for live out her days.