Sat Jul 4, 2020, 07:51 PM
Judi Lynn (141,794 posts)
The Coronavirus Is Bringing Back Aztec-Era "Floating Gardens"
13 HOURS AGO
Business is booming for farmers in Mexico City who plant on man-made islands.
AMANDA GOKEE
Chinampas.Especial/Zuma
In the south of Mexico City, about 100 miles of murky canals wind their way through the Xochimilco neighborhood. Here, the urban sprawl of one of the world's densest cities yields to a lake region where indigenous farmers have been cultivating a unique system of floating gardens since pre-colonial times. Called
chinampas,
these floating gardens were built by the Aztecs to feed a growing population.
Xochimilco became one of the city's main sources of food, but rapid urbanization in the 1900s meant less land available for farming. In 1985, when an earthquake struck Mexico City, many chinampas were abandoned as people who had lost their homes built shanty towns. Today, only an estimated 20 percent of the approximately 5,000 acres of chinampas are in use, and only 3 percent are used for farming.
But since the COVID-19 pandemic hit Mexico, interrupting the industrial food supply in important ways, small farmers have increased production and rehabilitated abandoned chinampas to fill the demand for fresh, local food.
"We're talking about something that's 1,000 years old. We have to preserve this," says Raúl Mondragón on a Zoom call from his home in Mexico City. Mondragón has been recuperating chinampas since 2016, when he founded Colectivo Ahuejote. Now the virus is revealing the strength of this model in the midst of a crisis.
More:
https://www.motherjones.com/environment/2020/07/the-coronavirus-is-bringing-back-aztec-era-floating-gardens/
~ ~ ~
7 APRIL, 2014 - 22:47 DHWTY
Chinampas, The Floating Gardens of Mexico
Human sacrifice. This is probably the first thing that comes to people's minds when they think about the Aztecs. However, there is much more to Aztec civilisation than this practice. By 1519, when the first Spanish conquistadors under Hernán Cortés landed in Mexico, the Aztecs were in control of an empire that was inhabited by a population of 5 to 6 million people. This large population meant that the exploitation of the landscape for agricultural purposes had to be intensified. This can be seen in the use of the chinampa agricultural system, the so-called 'floating gardens' which can be found on the shallow lake beds in the Valley of Mexico.
An a rtist's impression of part of the canal network linking chinampas around Tenochtitlan. Photo source: Mexicolore
Although the origins of chinampa agriculture in the Valley of Mexico remain unclear, it is said to have been used throughout Mesoamerica centuries prior to the rise of the Aztecs. However, with the dawn of the Aztec Empire, a systematic programme of construction was carried out over a short period of time. This planning can be seen in the overall uniformity in chinampa size and orientation, as observed in aerial surveys. While the need to sustain large population provided prompted the Aztecs to undertake this massive project, its ability to organise manpower provided the means for its accomplishment.
More:
https://www.ancient-origins.net/ancient-places-americas/chinampas-floating-gardens-mexico-001537
Farmers on a trajinera, a traditional flat-bottomed river boat. RONALDO SCHEMIDT/AFP VIA GETTY IMAGES
How to Feed a Megacity Like the Aztecs
The chinampas that nourished Tenochtitlan may hold the key to better urban gardens.
BY REINA GATTUSO
WHEN CONQUISTADOR HERNÁN CORTÉS REACHED Tenochtitlan in 1519, he beheld a floating city. The temples and palaces of the Aztec capital gleamed white from an island in the middle of a vast lake, all spread under a searing blue sky. With an estimated population of 200,000, roughly the size of contemporary Paris, the city overflowed with people. Around the metropolis, an archipelago of lush islands emerged from the lake's glassy surface, overflowing with plants.
These were the floating gardens, or chinampas, that fed the Aztec Empire. Constructed of layers of earth taken from the lake bottom, and held together by the tangled roots of diverse and rotating crops, chinampas are rich islands of soil that can produce up to seven harvests a year. The result of Aztec adaptations of earlier agricultural forms, chinampas' efficiency has gained them UN recognition as a marvel of agricultural ingenuity.
Today, the parched asphalt streets of Mexico City—built on top of the filled-in lake that once bore Tecnochtitlan—show little trace of these lush Edens. But if you head to the southern borough of Xochimilco, where the cusp of the city touches the countryside, the landscape still bears an ancient crisscross of canals. Some of these chinampas have been in use since Aztec times. Most have been built and deconstructed again and again, part of a living current of agricultural knowledge flowing through centuries.
An early Spanish colonial document, the Florentine Codex, details chinampa agriculture in what is now Mexico. THE DIGITAL EDITION OF THE FLORENTINE CODEX/CC BY 3.0
"The way they are built is almost identical to the way they were built in pre-Columbian times," says Roland Ebel, a Postgraduate Research Associate in Health and Human Development at Montana State University.
NOVEMBER 18, 2019
More:
https://www.atlasobscura.com/articles/floating-farms-mexico-city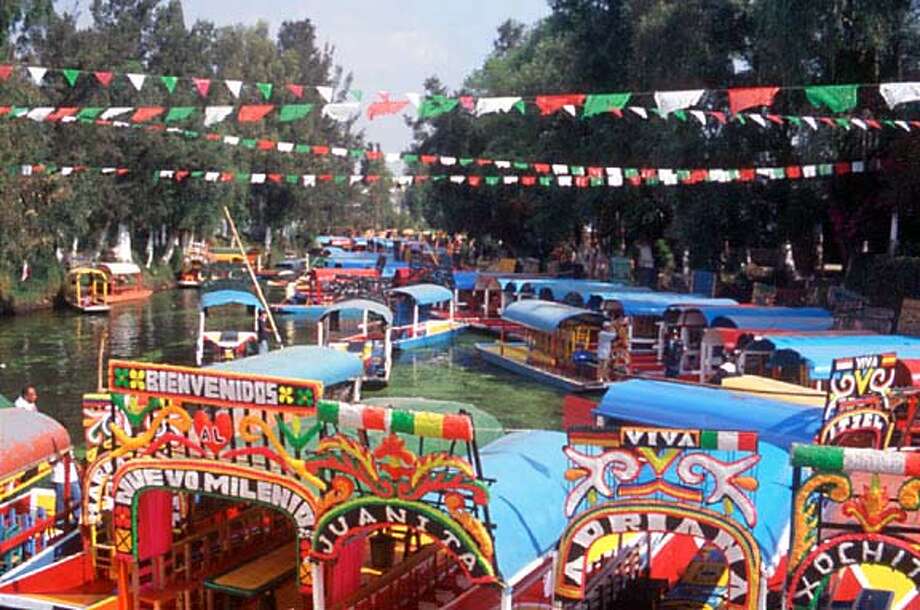 Many, many more photographs with articles:
https://tinyurl.com/y94yo7pq
7 replies, 897 views
Replies to this discussion thread
| | | | |
| --- | --- | --- | --- |
| 7 replies | Author | Time | Post |
| The Coronavirus Is Bringing Back Aztec-Era "Floating Gardens" (Original post) | Judi Lynn | Jul 4 | OP |
| | gristy | Jul 4 | #1 |
| | Judi Lynn | Jul 6 | #4 |
| | Ferrets are Cool | Jul 4 | #2 |
| | Judi Lynn | Jul 6 | #5 |
| | hunter | Jul 5 | #3 |
| | Judi Lynn | Jul 6 | #6 |
| | Judi Lynn | Jul 6 | #7 |
---
Response to Judi Lynn (Original post)
Sat Jul 4, 2020, 08:35 PM
gristy (9,887 posts)
1. thank you for the very interesting (and nicely put-together) OP!
K&R!
---
Response to gristy (Reply #1)
Mon Jul 6, 2020, 06:24 AM
Judi Lynn (141,794 posts)
4. Thank you, gristy. I can never forget the amazing concept, so beautiful.
---
Response to Judi Lynn (Original post)
Sat Jul 4, 2020, 09:00 PM
Ferrets are Cool (8,863 posts)
2. Thank you for posting this.
---
Response to Ferrets are Cool (Reply #2)
Mon Jul 6, 2020, 06:31 AM
Judi Lynn (141,794 posts)
5. Thank you, Ferrets are Cool. 🦦
---
Response to Judi Lynn (Original post)
Sun Jul 5, 2020, 09:42 PM
hunter (31,670 posts)
3. Protecting these lands and traditional way of life has been difficult.
Developers want to fill it in. Groundwater is pumped out leaving some areas high and dry and other areas filled with stagnant water polluted by urban run-off and raw sewage.
The other lakes in the Valley of Mexico have mostly been drained or filled in.
This destruction began in the 1520s when the conquering Spaniards destroyed the sluice gates and dams that supported a vast network of farms in these lakes.
https://en.wikipedia.org/wiki/Lake_Xochimilco
---
Response to hunter (Reply #3)
Mon Jul 6, 2020, 06:54 AM
Judi Lynn (141,794 posts)
6. Thank you for the reality on their physical condition. Had no idea this has happened.
Hoping there will be enough people who can organize to restore this vision to its original state of being, when it was working for the creators. Hoping there will be enough appreciation and respect still living to repair what has been damaged through malice and greed.
The very idea of Xochimilco is almost haunting, as wonderful spiritually, as it is practically, and aesthetically.
---
Response to hunter (Reply #3)
Mon Jul 6, 2020, 07:07 AM
Judi Lynn (141,794 posts)
7. Found this after reading your comments: Clean Aztecs, Dirty Spaniards
This article was kindly written specially for us (well, we helped a little with the Aztecs bit...) by Katherine Ashenburg, prize-winning non-fiction author, lecturer and journalist. Her latest book, 'The Dirt on Clean', is a social history of Western cleanliness, which 'holds a welcome mirror up to our intimate selves...'
Many things about Aztec civilization amazed the Spanish Conquistadores, including their intensive, highly productive agricultural system of
chinampas
or 'floating gardens' (Picture 1), and the size and sophistication of their great city Tenochtitlan (Picture 2). At a time in Europe when street cleaning was almost non-existent and people emptied their overflowing chamber pots into the streets as a matter of course, the Aztecs employed a thousand public service cleaners to sweep and water their streets daily, built public toilets in every neighbourhood, and transported human waste in canoes for use as fertilizer.
Pic 1: Some of the remaining 'chinampas', Xochimilco, near Mexico City
While London was still drawing its drinking water from the polluted River Thames as late as 1854, the Aztecs supplied their capital city with fresh water from the nearby hill of Chapultepec by means of two aqueducts, the first built by Netzahualcóyotl between 1466 and 1478, the second some 20 years later by the ruler Ahuitzotl. The symbolic importance of water to the Aztecs is clear from their (metaphorical) word for 'city' - altepetl which means literally 'water-mountain' in Náhuatl.
The aqueducts were described by Hernán Cortés in 1520:
Along one of the causeways to this great city run two aqueducts made of mortar. Each one is two paces wide and some six feet deep, and along one of them a stream of very good fresh water, as wide as a man's body, flows into the heart of the city and from this they all drink. The other, which is empty, is used when they wish to clean the first channel. Where the aqueducts cross the bridges, the water passes along some channels which are as wide as an ox; and so they serve the whole city.
Pic 2: The city of Tenochtitlan - painting by Miguel Covarrubias, National Museum of Anthropology, Mexico City
But probably nothing seemed more bizarre to the Spaniards than the Aztec attitude to personal hygiene. In a word, they valued cleanliness. The conquistador Andres de Tapia reported, in a tone of wonder, that Montezuma bathed twice a day. He did, but there was nothing extraordinary about that for an Aztec, since everybody, according to the Jesuit historian Francisco Javier Clavijero, 'bathed often, and many of them every day' in the rivers, lakes or pools.
Pic 3: Stylized image of Aztec daily life: detail of mural by Regina Raúll 'Paisaje Mexica', 1964, National Museum of Anthropology, Mexico City
They lacked true soap but made up for it with the fruit of the copalxocotl, called the 'soap-tree' by the Spanish, and the sticky root of the xiuhamolli or soap-plant [Saponaria Americana]; both gave a lather rich enough to wash body and clothes. The encyclopedic Florentine Codex, written with Aztec informants shortly after the Conquest, includes a small illustration and description of the amolli soap plant (see Picture 4):
It is long and narrow like reeds. It has a shoot; its flower is white. It is a cleanser. The large, the thick [roots] remove one's hair, make one bald; the small, the slender ones are cleansers, a soap. They wash, they cleanse, they remove the filth.
Pic 4: Copalxocotl ('soap-tree') (Left); Xiuhamolli (soap plant) (Middle & Right) - L & M: Badianus Manuscript (pls 104 & 11), R: Florentine Codex Book 11
More:
https://www.mexicolore.co.uk/aztecs/home/clean-aztecs-dirty-spaniards
Straight from the horse's mouth!