Sat Sep 5, 2020, 08:52 AM
Eugene (50,179 posts)
'Hotel Rwanda' hero denied access to lawyer, supporters say
Source:
Associated Press
'Hotel Rwanda' hero denied access to lawyer, supporters say
By CARA ANNA
September 5, 2020
JOHANNESBURG (AP) — Supporters of the man portrayed in "Hotel Rwanda" say Rwandan authorities have denied a lawyer access to Paul Rusesabagina nearly a week after the outspoken government critic was paraded in handcuffs and accused of terrorism.
In a statement early Saturday, the Hotel Rwanda Rusesabagina Foundation said Rusesabagina, a U.S. permanent resident and Belgian citizen, has had no consular visits, and it rejected the Rwandan government's claim that it had talked to his sons about a potential visit as "not true."
"Paul's wife has called the jail and has not been allowed to talk to him," it added.
The family has said they believe he was "kidnapped" during a visit to Dubai and that he would never knowingly have boarded a plane for Rwanda's capital, Kigali. He has lived outside the East African nation since 1996.
-snip-
Rwandan authorities have not responded to questions about how and where Rusesabagina was apprehended, and have not publicly shared any international arrest warrant. They have referred to "international cooperation" but given no details.
-snip-
Read more:
https://apnews.com/729631a3c37ee761b6c54131cd3067b2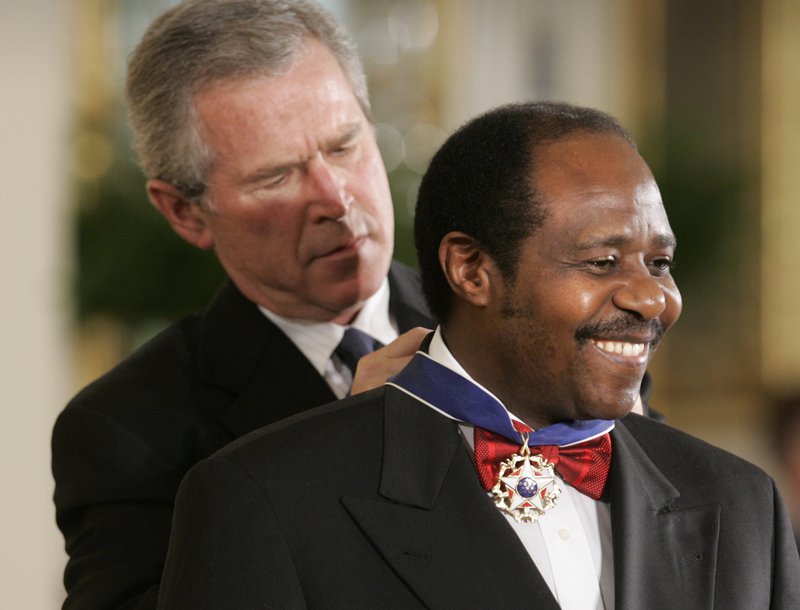 FILE - In this Wednesday, Nov. 9, 2005 file photo, President Bush awards Paul Rusesabagina, who sheltered people at a hotel he managed during the 1994 Rwandan genocide, the Presidential Medal of Freedom Award in the East Room of the White House, in Washington. Rusesabagina, who was portrayed in the film "Hotel Rwanda" as a hero who saved the lives of more than 1,200 people from the country's 1994 genocide, and is a well-known critic of President Paul Kagame, has been arrested by the Rwandan government on terror charges, police announced on Monday, Aug. 31, 2020. (AP Photo/Lawrence Jackson, File)
0 replies, 431 views