Sun Sep 6, 2020, 06:41 PM
Eugene (49,840 posts)
100,000 march in Minsk to demand Belarus leader resigns
Source:
Associated Press
100,000 march in Minsk to demand Belarus leader resigns
By YURAS KARMANAU
September 6, 2020
KYIV, Ukraine (AP) — Tens of thousands of demonstrators marched Sunday to the outskirts of the presidential residence in the capital of Belarus, calling for the country's authoritarian leader to resign as protests against President Alexander Lukashenko entered their fifth week.
Protests also took place in major cities throughout Belarus, said Interior Ministry spokeswoman Olga Chemodanova. Crowd sizes for those protests were not immediately reported, but Ales Bialiatski, head of the Viasna human rights organization, said the demonstration in Minsk attracted more than 100,000 people.
The protests, unprecedented in Belarus for their size and duration, began after the Aug. 9 presidential vote that election officials said gave Lukashenko a sixth term in office with 80% support. Protesters say the results were rigged, and some have explained to Associated Press journalists exactly how the fraud took place in their districts.
Lukashenko has ruled the country with an iron fist since 1994, regularly repressing dissent and press freedom.
Police violently cracked down on demonstrators in the first days of the protests, arresting some 7,000 people and beating hundreds. Although they have scaled back, detentions continue; Viasna reported scores of people were arrested in Minsk and in the city of Grodno on Sunday.
-snip-
Read more:
https://apnews.com/4ef8821248cbdbc03c6b9d5a79527184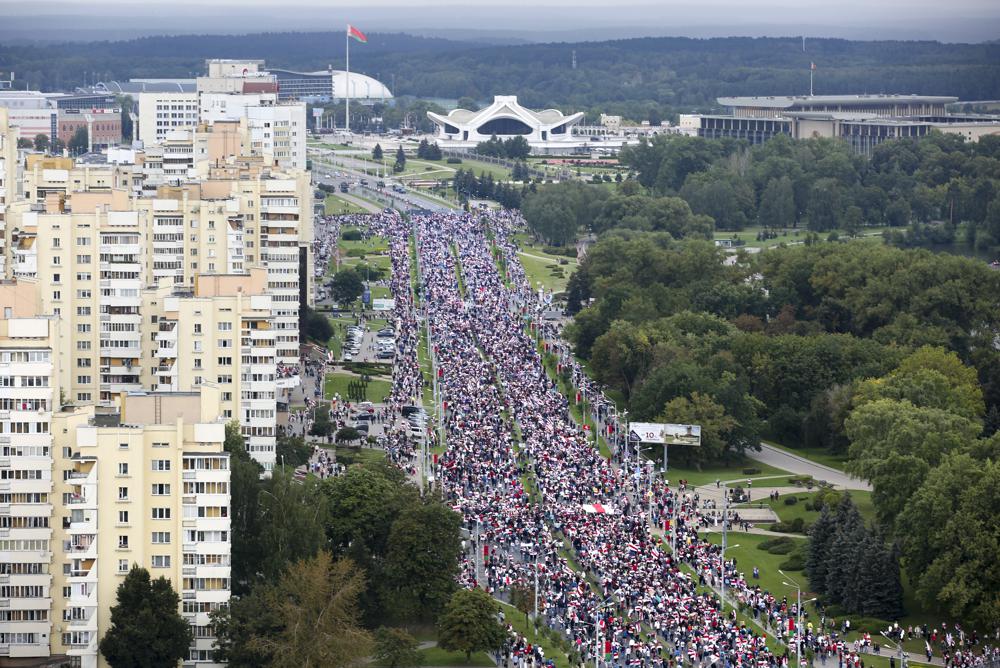 Belarusian opposition supporters with old Belarusian national flags gather toward the Independence Palace, the residential of Belarusian President Alexander Lukashenko in Minsk, Belarus, Sunday, Sept. 6, 2020. Sunday's demonstration marked the beginning of the fifth week of daily protests calling for Belarusian President Alexander Lukashenko's resignation in the wake of allegedly manipulated elections. (AP Photo/TUT.by)
2 replies, 359 views
Replies to this discussion thread
| | | | |
| --- | --- | --- | --- |
| 2 replies | Author | Time | Post |
| 100,000 march in Minsk to demand Belarus leader resigns (Original post) | Eugene | Sep 6 | OP |
| | SheltieLover | Sep 6 | #1 |
| | regnaD kciN | Sep 6 | #2 |
---
Response to Eugene (Original post)
Sun Sep 6, 2020, 06:47 PM
SheltieLover (11,616 posts)
1. This would not be happening
If our rightful president were in office! Putin would not dare!
---
Response to Eugene (Original post)
Sun Sep 6, 2020, 07:32 PM
regnaD kciN (22,616 posts)
2. Coming soon to a country near you...!
...if Donnie "wins" while losing the popular vote once again, or loses but declares victory and refuses to leave office.