Wed Jul 3, 2019, 03:39 AM
Behind the Aegis (48,388 posts)
LGBT+ Labour members said to be driven out by 'homophobic takeover'
LGBT+ Labour Party members in an east London borough are being driven out by "homophobic bullying," a local councillor has told PinkNews.
Rohit Dasgupta, Labour councillor for Canning Town South, said that he and his peers have been made to feel "unsafe and intimidated" by a "homophobic" faction of the West Ham Labour Party.
"I had been the local party's LGBT+ officer for two years," he said.
"There has been a distinct change in dynamics with lots of new members joining in the last year or so from faith groups."
Dasgupta said that the influx of new members have voiced their opposition to LGBT-inclusive relationship education and their support for so-called gay conversion therapy.
more...
Seems it not just the Jews that they find to be a problem. Wonder how
this
will go over with regular members?!
3 replies, 722 views
Replies to this discussion thread
| | | | |
| --- | --- | --- | --- |
| 3 replies | Author | Time | Post |
| LGBT+ Labour members said to be driven out by 'homophobic takeover' (Original post) | Behind the Aegis | Jul 2019 | OP |
| | Celerity | Jul 2019 | #1 |
| | Behind the Aegis | Jul 2019 | #2 |
| | Celerity | Jul 2019 | #3 |
---
Response to Behind the Aegis (Original post)
Wed Jul 3, 2019, 03:57 AM
Celerity (22,365 posts)
1. more background
Newham Labour Party member shares homophobic content online which 'drives LGBT+ children to suicide
A group of LGBT+ councillors say they no longer 'feel safe' after a Labour Party member shared a video online calling for Muslims to stand against sex education plans.
https://www.newhamrecorder.co.uk/news/education/west-ham-labour-rift-1-6131987
In a series of messages on social media Cllr Joshua Garfield slams the Newham Labour member for sharing content which "drives LGBT+ children to suicide and fuels bigotry and hate crime". Josephine Grahl, chairman of West Ham Labour, resigned following a meeting of members last night. In a statement she said: "The exhausting experience of chairing a set of increasingly hostile meetings has taken a personal toll.
"If there is a time when the left ought to be generous, confident and open it is surely now. "I have no intention of continuing to preside over a battleground." On the LGBT+ members' complaints, Cllr Garfield tweeted: "While members share homophobic content online [and] incite hostility towards the LGBT+ community, we cannot feel safe at @WestHamLabour meetings. "West Ham Labour has still not sorted its problem with antisemitism or misogyny. Now, another group are (sic) at risk of being ostracised".
The councillors' complaint centres around a video by Amir Ahmed who campaigns against elements of the compulsory teaching of relationships in primaries, and sex education in secondaries, changes due to start in 2020. Under the plans parents will not have a right to withdraw their children from primary school lessons on relationships. The government expects secondaries to teach pupils about lesbian, gay, bisexual and transgender (LGBT) relationships while primaries are "enabled and encouraged" to cover this "if they consider it age appropriate".
The video was posted on Tuesday, captioned "#Newham it's time to listen" and shared by the Labour member.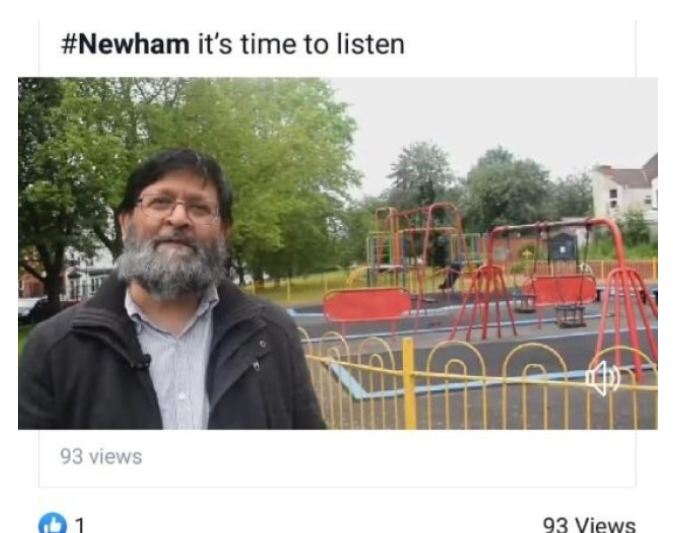 In it Mr Ahmed calls on "brothers and uncles" to stand with opponents of RSE and join the campaign "fighting for the survival of our traditional family values and the welfare of our children and our future generations". He says: "We as a community need to stand up, stand together, raise our voices and be heard." Cllr Rohit Dasgupta, who is openly gay, commented: "It's a worrying trend."
But in a further development, at a West Ham Labour meeting on Thursday, Cllr Dasgupta was stripped of his role as West Ham Labour's LGBT+ officer and replaced by someone he described as "a straight white man".
Link to tweet
Link to tweet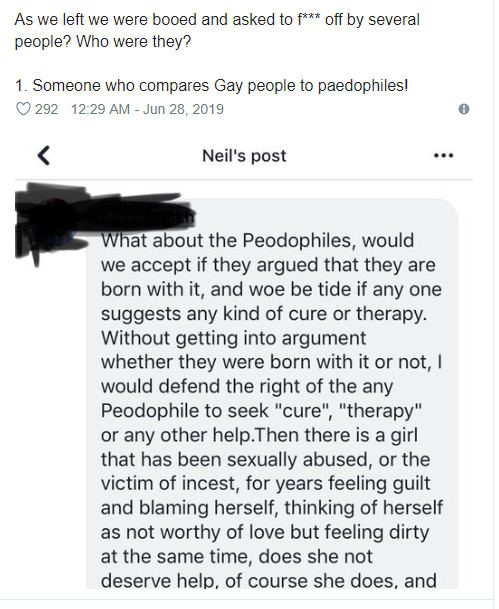 ---
Response to Celerity (Reply #1)
Wed Jul 3, 2019, 03:59 AM
Behind the Aegis (48,388 posts)
2. What the fuck is going on there?!
This is just so confusing, especially when the Labour party is supposed to be the "good guys".
---
Response to Behind the Aegis (Reply #2)
Wed Jul 3, 2019, 04:15 AM
Celerity (22,365 posts)
3. Radical homophobic Muslims feeling more free to go all billy big bollocks
Birmingham is far worse than London, and London is not the best. 90% of the stick I got growing up in London as an 'out' lesbian (came out at 13) was from, unfortunately, radical Islamic rotters. It deffo seems to be getting worse now, as they are slithering into the political power structure more and more, even if not via direct election to Parliament. I am in Sweden and London for the summer and it seems to be getting worse. In Sweden it is more of suburban issue, as the segregation here is off the charts.
The US (we live in Southern California when we are in the US) has far less of an issue (that I have seen, but I am not an authority on the problem) it seems with the radical Muslims displaying outright, hostile homophobia than it does with other elements (fundie xians especially) of the population doing so, but who knows, maybe with time it also takes on a more virulent face there as well.
It is a global, systemic problem unfortunately.