Thu Dec 2, 2021, 05:21 PM
BeckyDem (7,582 posts)
How Ghislaine Maxwell's Lawyers Are Attempting to Discredit Her Accusers: Very aggressively.
By Seth Stevenson
Dec 01, 20219:58 PM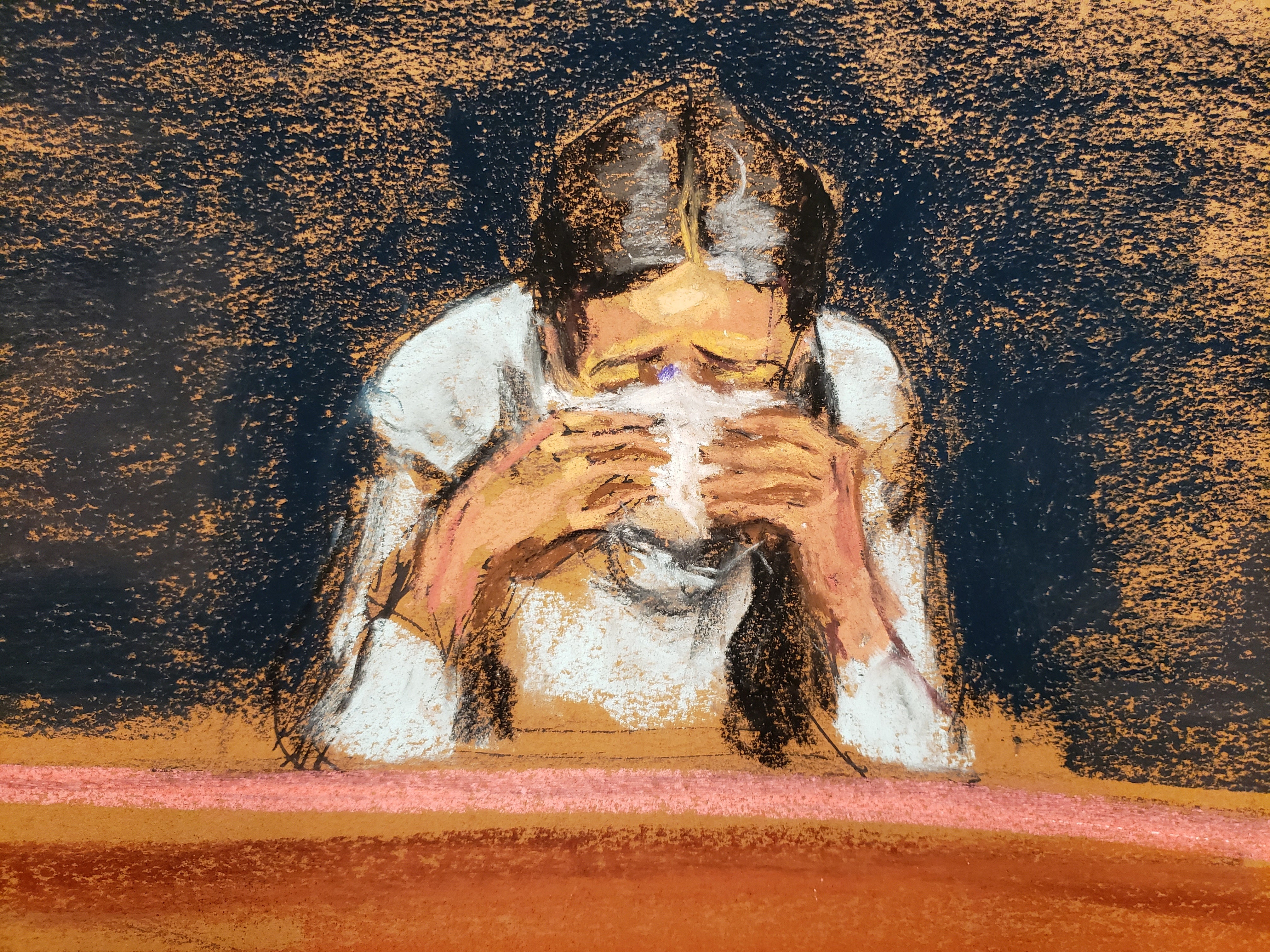 Witness "Jane" cries as she testifies on day three of the Maxwell trial. REUTERS/Jane Rosenberg
Day three of the Ghislaine Maxwell trial began with the defense resuming its cross-examination of "Jane"—an accuser who's been granted a pseudonym. Again and again, defense attorney Laura Menninger tried to trip up Jane by highlighting inconsistencies in statements she's made at various times. Menninger noted things Jane has said in FBI interviews or in meetings with government prosecutors over the past couple of years, and then contrasted them with the testimony that Jane gave in the courtroom yesterday.
Jane, who says she was a victim of sexual abuse perpetrated by Maxwell and Jeffrey Epstein, kept her composure amid the onslaught. The defense's aim was to poke holes in her credibility by suggesting her memory is faulty, but few of Menninger's gotchas landed. Does it really matter whether Jeffrey Epstein took Jane to see the Lion King on Broadway in prime mezzanine seats when she was 14 (as Jane claimed in one statement) or a few years later, while she was still a teenager (as she later amended)? Seems like the sort of mistake a jury is unlikely to hold against a witness. Menninger also tried to ensnare Jane in a confusing and ultimately fruitless back and forth over when she'd first seen Maxwell "without her clothes" (during an alleged incident of abuse) versus when she first saw Maxwell topless (while lounging by Epstein's pool), which mostly just served as a reminder that Jane remembers seeing Maxwell in states of undress on multiple occasions.
Menninger did, however, create one powerful moment, when she introduced the fact that, in a document prepared by Jane's personal lawyer prior to the trial, Jane named only Epstein as her abuser, while making no mention of Maxwell. This could undercut Jane's testimony yesterday that Maxwell was present and intimately involved in some of the abuse Jane alleges. I wouldn't call it a home run for the defense, as the document didn't specifically rule out the possibility that Maxwell played a role. But establishing evidence like this is crucial to the defense's grand strategy, which involves convincing the jury that Maxwell has been ret-conned into the case—that Ghislaine was never a part of the government's narrative until Epstein died and the story suddenly required a new antagonist.
https://slate.com/news-and-politics/2021/12/ghislaine-maxwell-trial-day-three-jane-matt-interlochen.html
( The fight for justice here will not go without more pain and suffering for the victims. This is not to suggest Maxwell has no right to a defense, but it is important to note the agony victims must go through when they come forward. )
3 replies, 1045 views
Replies to this discussion thread
| | | | |
| --- | --- | --- | --- |
| 3 replies | Author | Time | Post |
| How Ghislaine Maxwell's Lawyers Are Attempting to Discredit Her Accusers: Very aggressively. (Original post) | BeckyDem | Dec 2021 | OP |
| | abqtommy | Dec 2021 | #1 |
| | BeckyDem | Dec 2021 | #2 |
| | TheRealNorth | Dec 2021 | #3 |
---
Response to BeckyDem (Original post)
Thu Dec 2, 2021, 05:25 PM
abqtommy (14,118 posts)
1. It must be nice to have the money to hire aggressive lawyers. I don't think
all her money is gonna help Ghislaine "The Fluffer" Maxwell here at all.
---
Response to abqtommy (Reply #1)
Thu Dec 2, 2021, 05:30 PM
BeckyDem (7,582 posts)
2. I hope not, but they will try with a vengeance.
---
Response to BeckyDem (Original post)
Thu Dec 2, 2021, 06:06 PM
TheRealNorth (6,398 posts)
3. It's what shithole Conservative lawyers do when they don't have a case
They try to rattle the witness and get them to make a mistake to discredit them. I think that was what Megan Kelly specialized in before going on Faux News.