Tue May 18, 2021, 03:27 AM
appalachiablue (31,319 posts)
Clinic Helps Long-Haul Patients In London's "COVID Triangle"
AP News, by Jill Lawless, May 18, 2021. - Excerpts:
LONDON (AP) — Gary Miller drove a London taxi. Rohit Patel worked behind the till in a supermarket. Barry Bwalya was in customer service. When the coronavirus tore through their London neighborhoods in early 2020, they all got sick. More than a year later, they are still struggling. "It's like a rollercoaster," said Miller, a previously fit, gym-loving 57-year-old who is coping with leg and joint pain, headaches and breathlessness. "There are times that I see light at the end of the tunnel. I feel like I'm taking one step forward, and then all of a sudden — bang — I'm ill again and I take two steps back."
Even as London looks to life after lockdown, thousands of people are still grappling with long-term physical and mental effects of the virus.
Help is coming through "long COVID" clinics, where medics, patients — and Britain's overstretched health system — are confronting the virus's enduring effects... At King George Hospital in the east London district of Ilford, respiratory consultant Adam Ainley began noticing last summer that some coronavirus patients who had been discharged were not getting better. They had a wide range of symptoms, including fatigue, muscle pain, breathlessness, headaches, anxiety and depression. The hospital serves an area dubbed the "COVID triangle," 3 outer London boroughs that have had some of Britain's highest infection rates. It's a multi-ethnic area, home to many Black and South Asian Londoners, groups that saw higher rates of serious COVID-19 illness and death than white Britons.
High rates of poverty, crowded housing and residents in frontline jobs — including medics, taxi drivers and retail workers — all helped the virus spread.
There is no universal definition of long COVID, a term applied to a range of persistent post-viral symptoms. While most people recover from coronavirus infections within a few weeks, Britain's statistics office says almost 14% still report symptoms 12 weeks later. Ainley's clinic has seen 700 patients, with another 120 on the waiting list. Their symptoms are often mental as well as physical. Psychologist Marc Kingsley said many experience memory loss and "brain fog," as well as loneliness and low moods.
Ainley says "there's no gold standard or evidence-based treatment yet for long COVID," but he's encouraged to see many patients getting better. "I've followed some of their journeys from their first admission," he said. "People admitted last April we have now discharged from our clinic because now they're back to functioning in life. We've had people attend weddings ... people reunited with their families ... people who were essentially housebound, who are now going out." Progress can feel agonizingly slow. Bwayla, 66, struggles with his breath and his memory and relies on around-the-clock support from his wife, Barbara. "I never thought I would walk, but now at least I can walk with a stick," he said. "But at times I get so frustrated... I love my granddaughter, but I can't even play with her."...
More,
https://apnews.com/article/london-europe-coronavirus-pandemic-health-government-and-politics-5fc17fa17fbd56de7aef136fe4631a17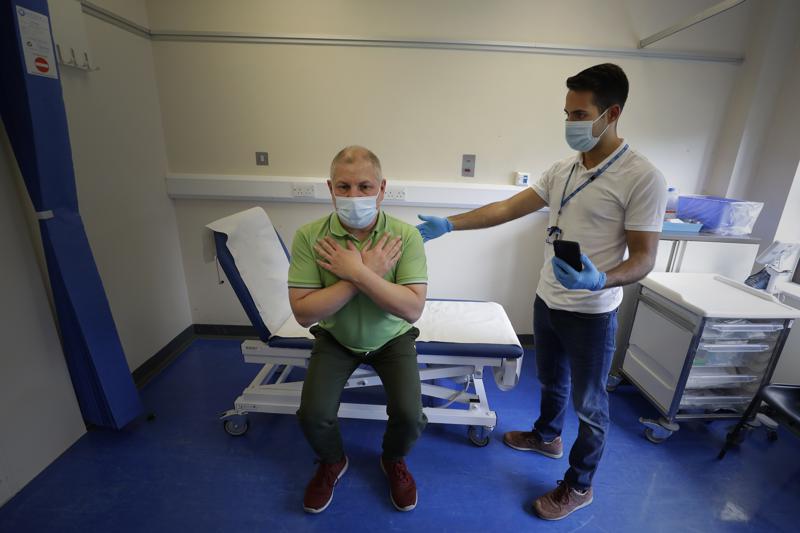 - Patient Gary Miller, left, treated by physiotherapist Joan Del Arco at the Long COVID Clinic, King George Hospital in Ilford, London, May 11, 2021. The clinic has been set up to help patients suffering months after they were infected with COVID-19. It's one of 83 "long COVID" clinics in England. For taxi driver Miller, recovery is agonizingly slow. There are times "I feel like I'm taking one step forward, and then all of a sudden- bang- I'm ill again & I take two steps back."
0 replies, 380 views